This Margherita flatbread pizza with fresh basil, mozzarella, and tomato is light, healthy, and a simple way to enjoy fresh Italian flavors! Perfect with fresh summer tomatoes!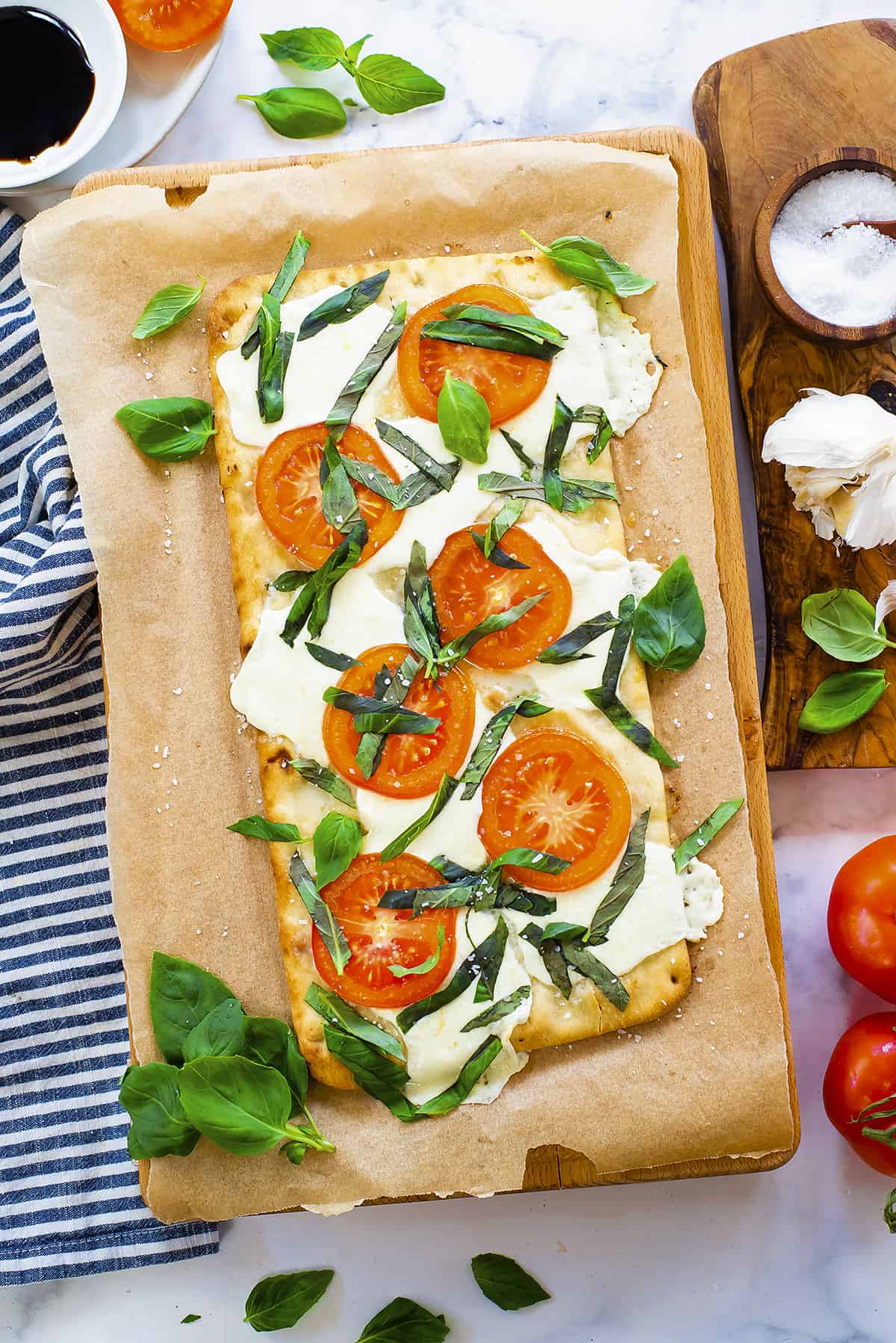 We planted seven tomato plants this year for the three of us that live in this house.
Seems like a reasonable amount considering I'm the only one here that truly loves tomatoes and eats them in all forms possible. 😉
My husband and daughter both pick the tomatoes off of this margherita flatbread and send them my way, but honestly, that just makes me happier to serve this up. Extra tomatoes? Don't mind if I do!
This is one of those easy summer lunches that I love to make. We always have flatbread on hand, tomatoes are coming in hot, and nothing beats melty fresh mozzarella cheese and a sprinkle of fresh basil.
Ingredient Notes:
This post contains affiliate links. As an Amazon associate and member of other qualifying programs, I earn from qualifying purchases.
Flatbread – This recipe starts with your favorite flatbread. You could make your own (I'll share our recipe soon!) or buy a pack from the store. We really like the Stonefire flatbreads. Naan or pita bread would also work well for this recipe.
Tomato – Some thinly sliced, fresh ripe tomato will pair perfectly with the fresh mozzarella, olive oil, garlic, and basil.
Fresh Mozzarella – I'd certainly recommend using fresh vs. low moisture mozzarella. It's going to taste a lot better, and it'll get perfectly melty.
Garlic & Olive Oil – Instead of a tomato based sauce you'll use a mixture of olive oil and freshly minced garlic to brush on the flatbread pizza before topping it with the mozzarella and thinly sliced tomato!
Basil – You'll chop up some fresh basil leaves to go on to the Margherita flatbread pizza just before serving. It's going to add so much flavor!
What We Love About This Recipe:
All that fresh flavor! Fresh mozzarella, tomato, and basil are so good together. We use store bought flatbread but you could make your own too for the ultimate fresh flatbread pizza!
We keep it pretty simple with the classic toppings you'd find in a Margherita pizza, but you can switch it up with extra topping too!
This is the perfect lunch recipe, coming together in about 15 minutes.
How To Make Margherita Flatbread Pizza:
Garlic & Oil: Mince up the garlic and then sprinkle it with some salt. Use the back of a knife to press the garlic and salt into a paste. Next, add the garlic to a small bowl of olive oil and stir to combine.
Assemble: Start brushing the flatbread with the garlic oil mix and then arrange the slices of fresh mozzarella over the flatbread. Finally, top the cheese with the thin slices of tomato.
Bake: Pop this in the oven and bake the Margherita flatbread for 10 to 15 minutes or until the mozzarella cheese has melted!
Finish: While the flatbread is baking place the basil leaves in a single stack, roll them up, and then slice them into thin strips. Sprinkle the basil and a bit of salt over the flatbread pizza before slicing and serving!
Helpful Tip!
An easy way to up the flavors in this flatbread pizza is to add a light drizzle of some balsamic vinegar! It's so good!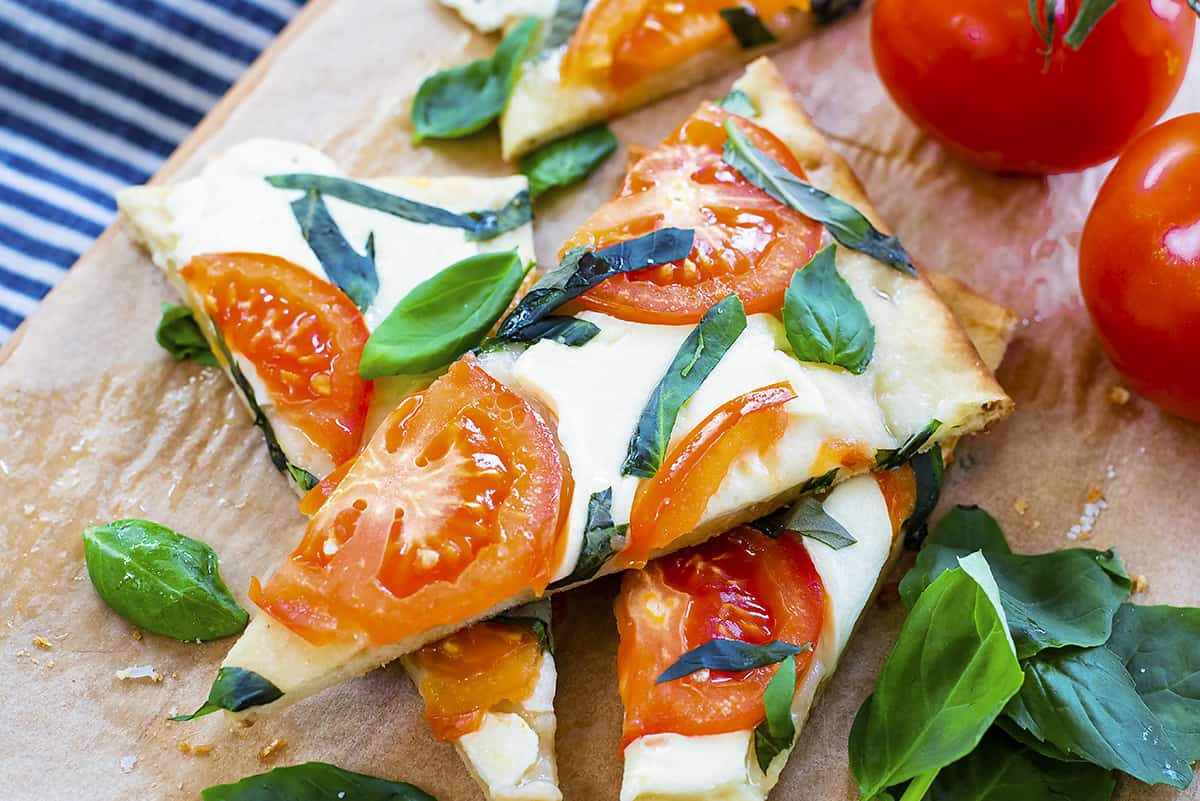 FAQ's:
What is Margherita flatbread pizza?
This classic recipe is basically a Margherita style pizza on a flatbread! Margherita pizza is made with fresh mozzarella, tomatoes, and basil, just like this flatbread recipe.
How to store leftovers?
If you have any leftovers keep them stored in an airtight container in the fridge up to 2 to 3 days. You can reheat in the oven or microwave, or just enjoy it cold from the fridge!
What is flatbread?
Flatbread is a type of bread that bakes up, well, flat. It is sometimes unleavened (no rising agents, like yeast or baking soda), but it can also be leavened and then flattened before baking.
A few examples of flatbreads include tortillas, pita, naan, roti, and lavash.
Swaps & Substitutions:
Crust – We love the Stonefire flatbreads for a quick lunch, but this recipe is also great on naan, pita, or lavash bread. You could even use traditional pizza dough, if you prefer. The dough from our buffalo chicken pizza is our go to pizza dough.
Tomatoes – This margherita flatbread is best made in the summer with juicy, ripe, garden fresh tomatoes, but it can certainly be made all year long. We like to use the tomatoes that are still on the vine from the grocery store for the best results.
Mozzarella – Highly recommend purchasing a ball of fresh mozzarella and slicing it, but you could use shredded mozzarella if you must.
Balsamic – Finish this of with a drizzle of balsamic glaze for an extra layer of flavor!
MORE Italian Inspired Favorites: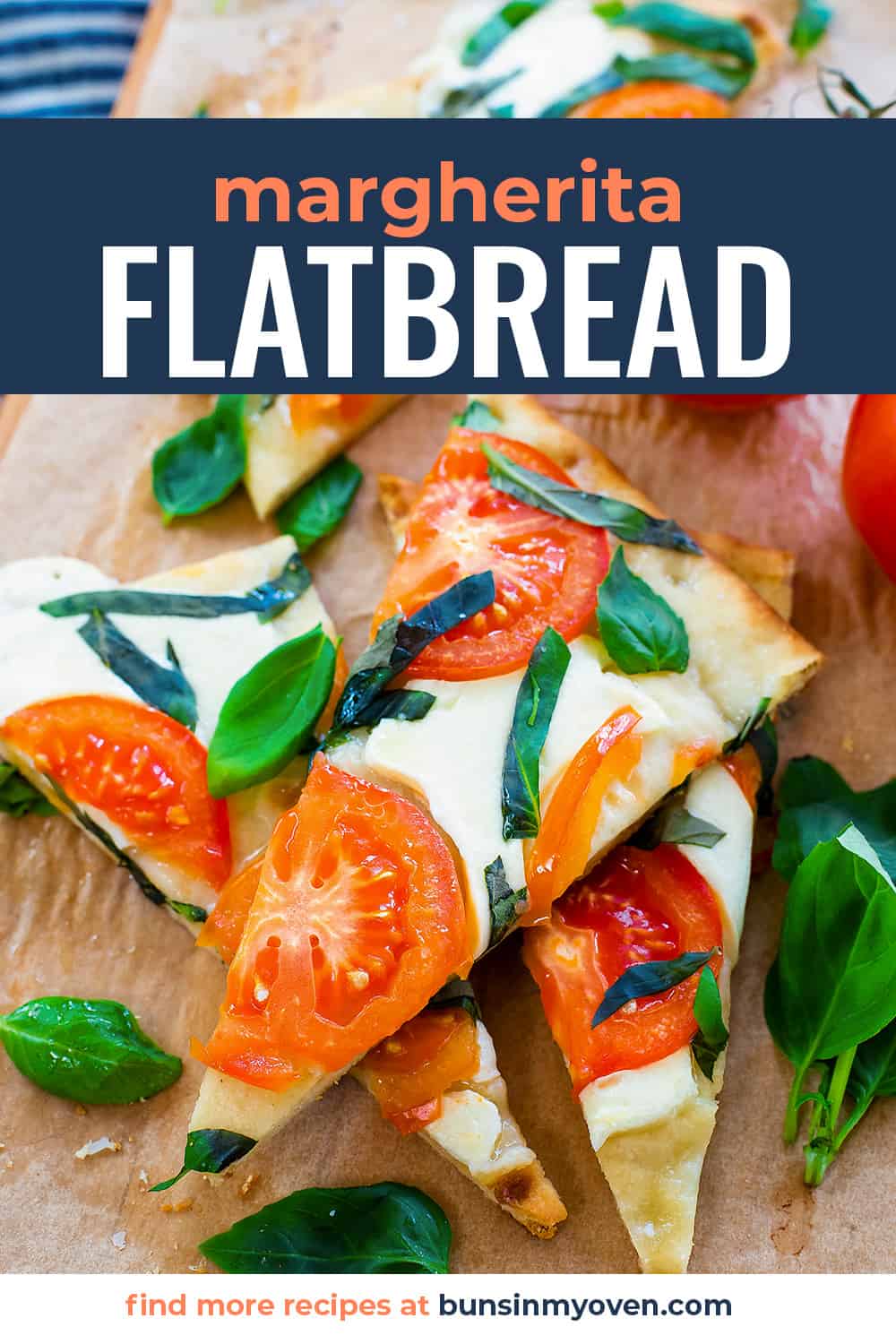 Margherita Flatbread
This flatbread makes the perfect summer lunch, with just a handful of fresh, simple ingredients. Finish it off with a drizzle of balsamic glaze if you'd like an extra pop of flavor.
Prep5 minutes
Cook15 minutes
Total20 minutes
Ingredients
1 flatbread see notes
2 garlic cloves
¼ teaspoon kosher salt more to taste
2 tablespoons olive oil
4-5 slices fresh mozzarella
1 ripe tomato
2-3 basil leaves
Instructions
Preheat the oven to 400 degrees. Line a baking sheet with parchment paper and place the flatbread on the parchment.

Mince the garlic, sprinkle with salt, and then use the back of the knife to press the garlic into a paste.

Add the garlic to the oil and stir to combine. Brush the garlic oil over the flatbread.

Arrange the mozzarella slices over the flatbread.

Thinly slice the tomato and arrange over the flatbread.

Bake for 10-15 minutes or until cheese has melted.

While flatbread is baking, place the basil leaves in a single stack. Roll them up and slice into thin strips.

Sprinkle the flatbread with basil and additional salt before slicing and serving.
Tips & Notes:
We use Stonefire flatbreads, easily found in many grocery stores. Naan or pita bread also work well. A light drizzle of balsamic glaze is a delicious way to finish off the pizza.
Nutrition Information:
Calories: 364kcal (18%)| Carbohydrates: 16g (5%)| Protein: 15g (30%)| Fat: 27g (42%)| Saturated Fat: 9g (56%)| Polyunsaturated Fat: 2g| Monounsaturated Fat: 14g| Cholesterol: 45mg (15%)| Sodium: 757mg (33%)| Potassium: 226mg (6%)| Fiber: 1g (4%)| Sugar: 2g (2%)| Vitamin A: 917IU (18%)| Vitamin C: 9mg (11%)| Calcium: 316mg (32%)| Iron: 1mg (6%)