This buffalo chicken pizza is full of spicy buffalo sauce, chicken, and drizzled with a creamy ranch dressing. Use my easy homemade pizza dough or start with a store bought crust.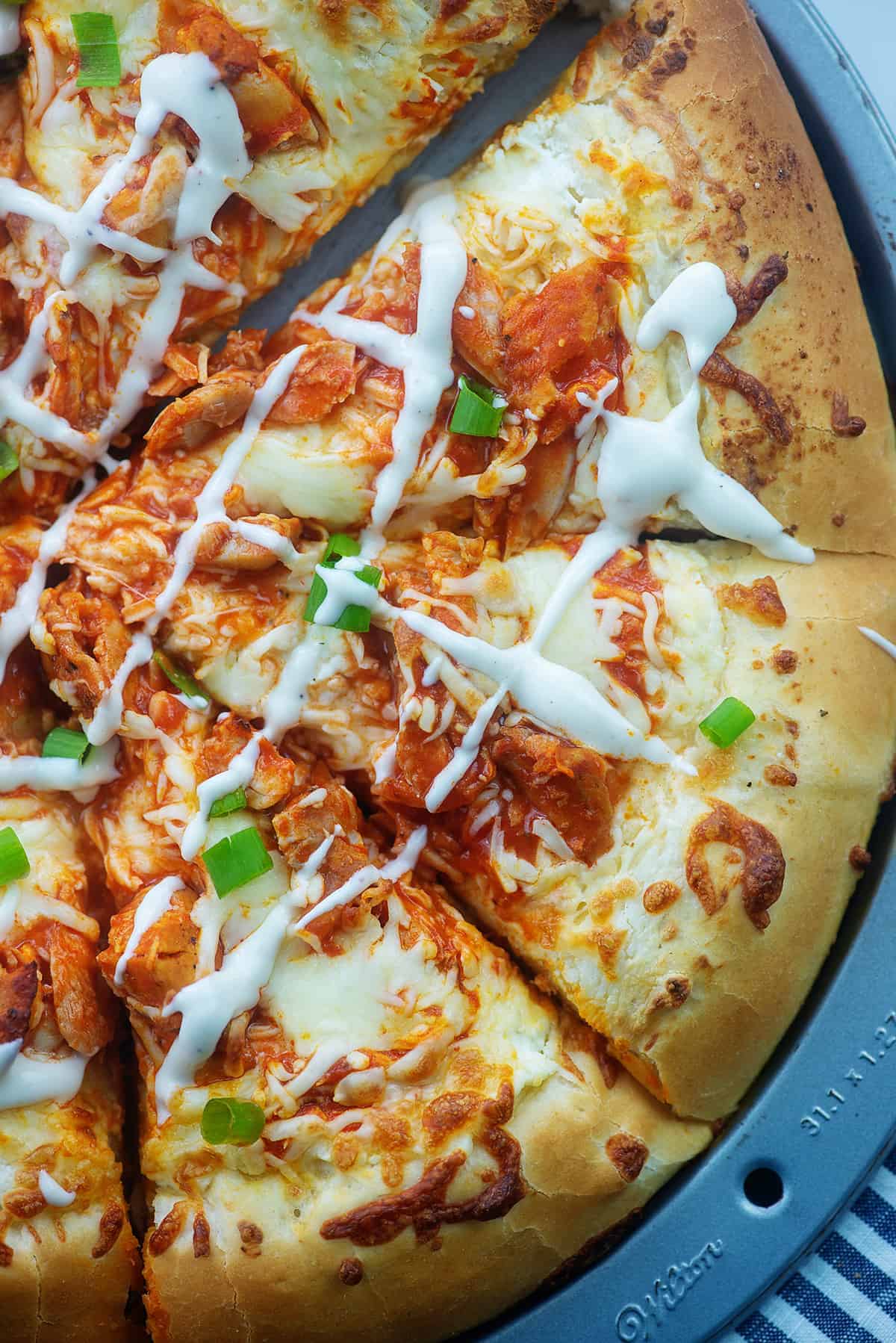 Alright, let's talk homemade pizza.
I feel like there are people who LOVE making pizza at home and then there are people who are like, but it's so easy to just have it delivered straight to your door!
I'm very much right smack in the middle of those two groups.
I LOVE homemade pizza and I also LOVE delivery.
What I really like about homemade pizza is the ability to get creative. You can make as many small pizzas as you want so everyone has their own perfect pizza and you don't break the bank doing it. Or you can go all out and make one big pizza for everyone with all the crazy toppings you like.
This buffalo chicken pizza starts with an EASY homemade pizza crust, but you can totally use storebought if you're not feeling all Betty Crocker about it.
The topping is super simple, loaded with flavor, and easy to make more mild or spicy.
Keep on reading for all my tips and tricks or scroll down past the photos to the recipe card!
What Readers are Saying!
"Made this Friday night and all who ate it agreed that it was the best pizza they ever had! thanks!" – Richard
Ingredients Notes:
Pizza Dough – We start with a standard wheat pizza dough that bakes up soft and chewy. You can use store bought pizza crust to make things go faster.
Chicken – This recipe was made for that leftover chicken! Or grab a rotisserie chicken the next time you're at the store!
Sauce: Rather than a traditional sauce, we're using a mixture of cream cheese and ranch seasoning as the base for our pizza.
Drizzle: We drizzle our buffalo chicken pizza with ranch dressing, but blue cheese is a solid choice as well.
How to:
Crust: Our homemade pizza dough is made with warm water, active dry yeast, sugar, flour, olive oil, and salt.
You'll start by adding the yeast to warm water with a bit of sugar until it gets foamy. This takes about 10 minutes.
Then you just mix in the flour, oil, and salt. We use a stand mixer for this and let the mixer knead the dough for a few minutes to get it nice and smooth.
This dough takes one hour to rise and then you'll punch it down, shape it on a pizza pan, and start with the toppings.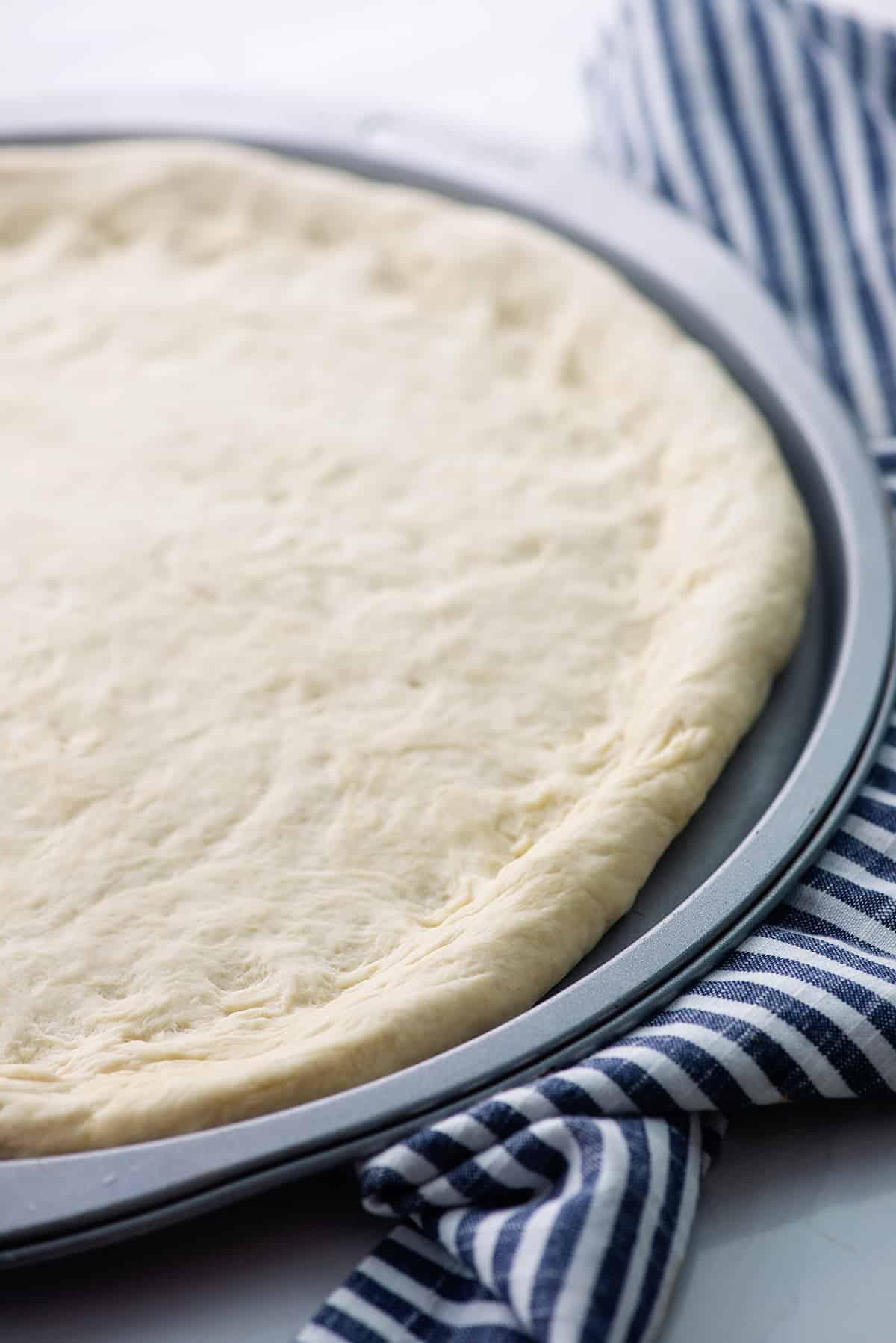 Preheat: We want a screaming hot oven when it's time to bake the pizza. Once the dough has risen for about 40 minutes, go ahead and turn your oven to 500 degrees. We want it to be at temperature for about 20 minutes before you put the oven in, just to be sure it's good and hot.
Sauce: Rather than a traditional red pizza sauce, we're using a mixture of cream cheese and ranch seasoning. Spread this mixture over the pizza crust. Top with mozzarella.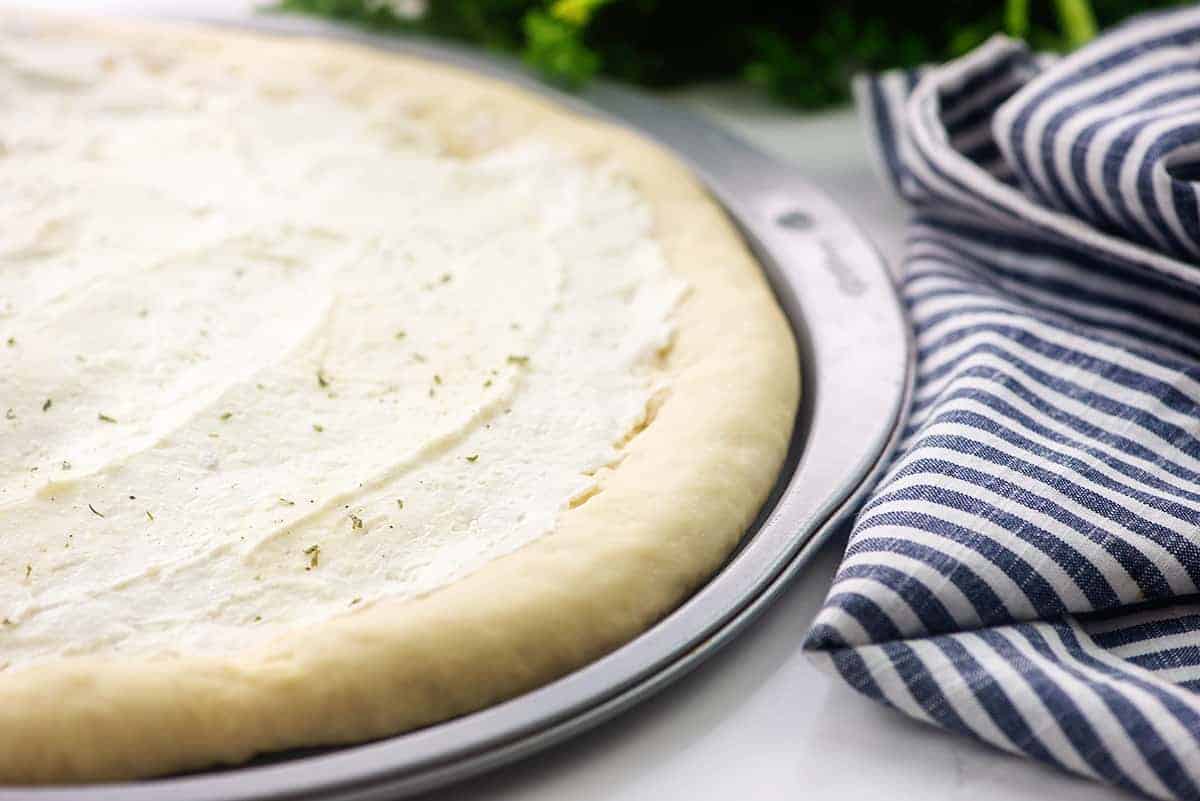 Helpful Tip!
We use Hidden Valley Ranch in our house. Be sure to look at the packets closely. You'll find both ranch seasoning and ranch dressing mix in the little packets. The seasoning is what you want, as it has quite a bit less sodium than the dressing. You can use the dressing mix, if that's what you have on hand, but your final result will be a bit saltier.
Topping: This recipe is the perfect use for leftover rotisserie chicken. You can also use my crockpot shredded chicken for this one.
Toss the chicken in buffalo sauce and sprinkle it over the pizza.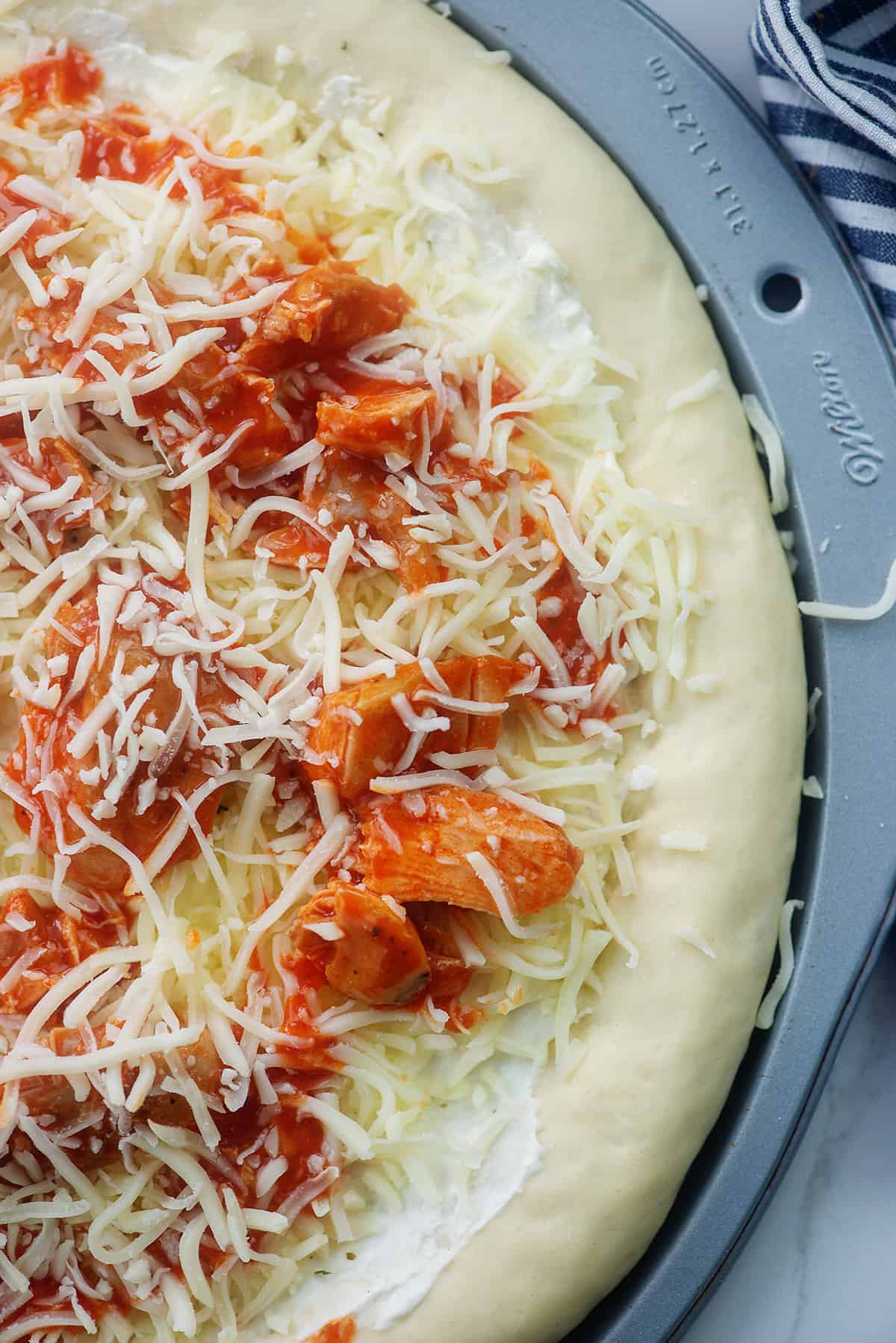 Bake: Your oven should be good and hot at this point. Pop the pizza in and let it bake for 10 minutes or until the crust is golden and the cheese is all melty and gooey.
FAQ's:
Why isn't my pizza dough rising?
You'll want to be sure that your yeast isn't old and that your water is the right temperature. Right around 110 degrees is perfect for yeast…too cold and it won't bloom, too hot and it will die.
How can I make my dough rise faster?
Keeping your dough in a warm spot will help it to rise a bit more quickly. We use the proof function on our oven and keep the bowl in there. It still takes awhile, but it's quicker than letting it sit on a cool countertop.
What type of flour should I use for pizza dough?
We tend to use all purpose flour because that's what we always have on hand. If you have bread flour or want to purchase some, that will create a chewier crust due to the higher gluten content in bread flour.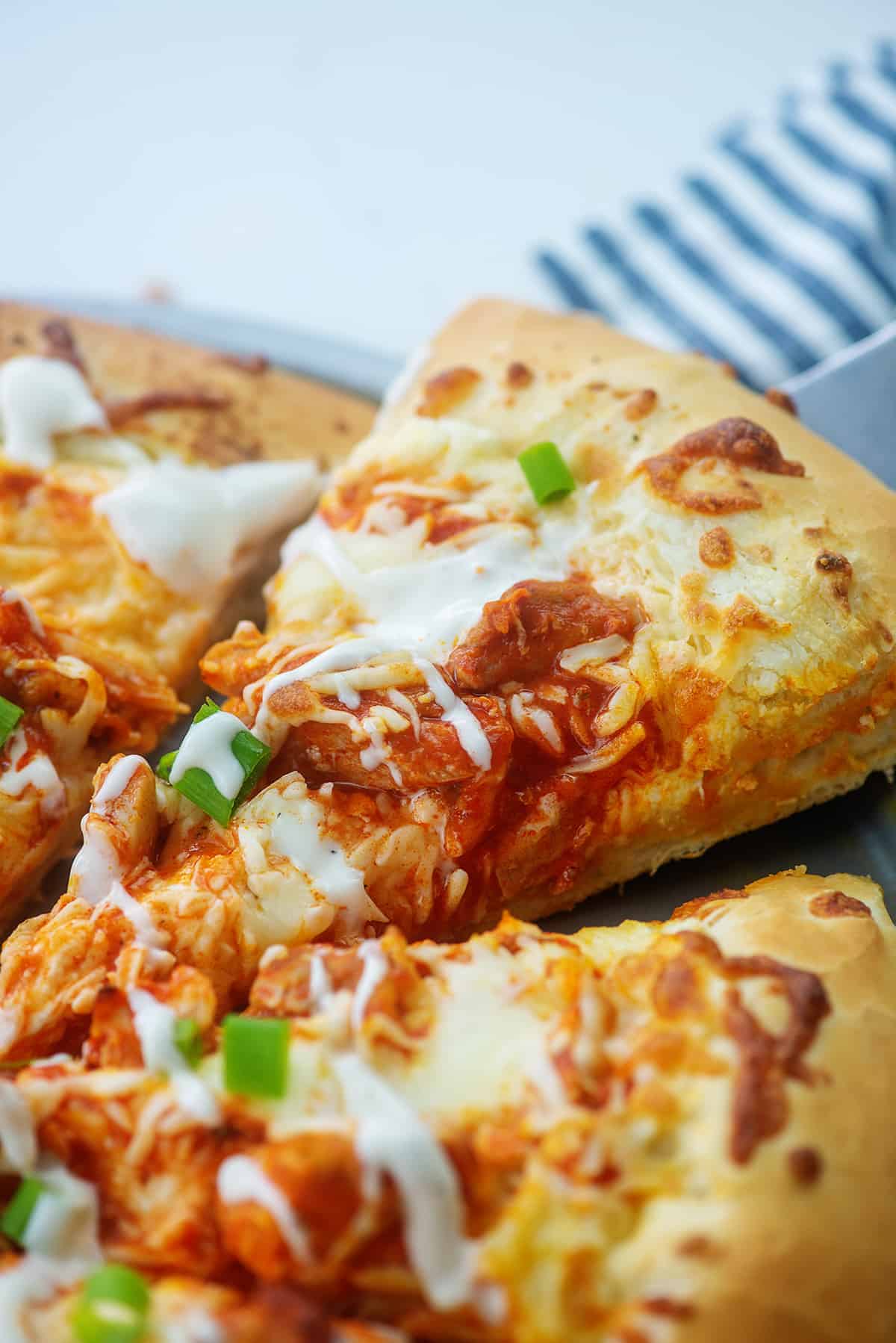 Substitutions:
Swap the cream cheese and ranch mixture for blue cheese dressing.
Sprinkle blue cheese over the pizza before baking.
Use canned chicken in place of leftover cooked chicken.
Reduce the buffalo sauce to make this more mild.
Use Frank's Red Hot instead of buffalo sauce to make it spicier. Add ground cayenne to the mix if you really like it hot.
More buffalo chicken recipes: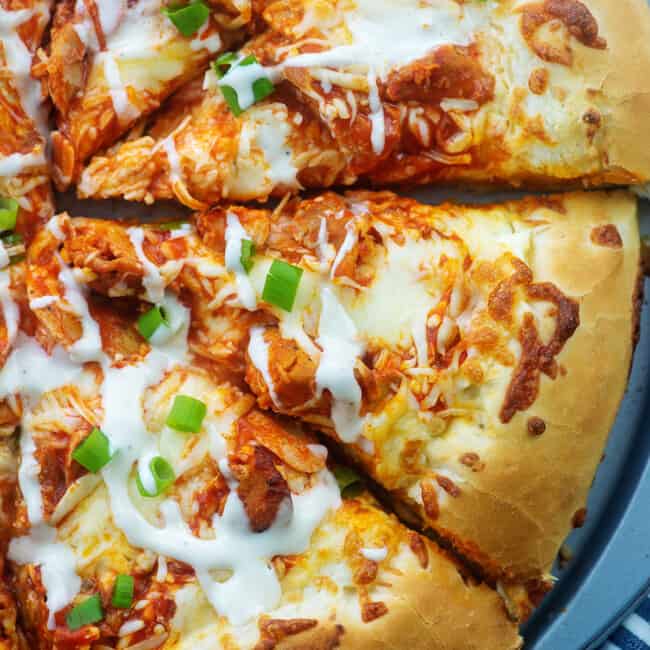 Buffalo Chicken Pizza
This buffalo chicken pizza is full of spicy buffalo sauce, chicken, and drizzled with a creamy ranch dressing.

Prep15 minutes
Cook10 minutes
Rise Time1 hour
Total1 hour 25 minutes
Ingredients
For the dough:
3/4 cup warm water around 110 degrees
1 teaspoon sugar
2 1/4 teaspoons active dry yeast
2 cups flour all-purpose or bread flour
3 tablespoons olive oil
1/2 teaspoon salt
Toppings:
4 ounces cream cheese room temperature
1 teaspoon ranch seasoning mix
1 cup chopped cooked chicken
1/2 cup buffalo sauce
8 ounces mozzarella shredded
1 tablespoon chopped green onions
ranch dressing or blue cheese for serving
Instructions
To make the dough, place the warm water and sugar in the bowl of a stand mixer. Sprinkle the yeast on top and let bloom, about 10 minutes.

Add the flour, olive oil, and salt to the yeast mixture and turn the mixer (fitted with the dough hook) to medium. Knead until the dough comes together to form a smooth dough. You may need to add more flour, a few tablespoons at a time, until the dough comes together. Remove dough to an oiled bowl and place in the oven with the light turned on.

Let rise for one hour, or until doubled in bulk.

Set the oven to 500 degrees after the dough has risen for about 30 minutes.

When the dough has doubled, punch it down.

Roll the dough out on a well floured surface to a 12 inch circle and place on a pizza stone or pan.

Microwave the cream cheese until very soft and melty. Stir the ranch seasoning into the cream cheese to combine.

Spread the cream cheese mixture over the crust evenly.

Sprinkle all but 1/4 cup of the cheese over the crust.

Toss the chicken with the hot sauce to coat and spread the chicken evenly over the cheese.

Top with the remaining cheese.

Bake for 10 minutes or until the dough is golden and the cheese has melted.

Sprinkle with green onions and drizzle ranch or blue cheese dressing over the pizza before serving, if desired.
Tips & Notes:
The water should be around 110 degrees for the yeast to bloom. For a spicier buffalo chicken, use a hot variety of buffalo sauce or swap in Frank's Red Hot. You could also mix in cayenne.
Nutrition Information:
Serving: 1slice| Calories: 392kcal (20%)| Carbohydrates: 27g (9%)| Protein: 11g (22%)| Fat: 26g (40%)| Saturated Fat: 8g (50%)| Cholesterol: 37mg (12%)| Sodium: 741mg (32%)| Potassium: 137mg (4%)| Fiber: 2g (8%)| Sugar: 1g (1%)| Vitamin A: 390IU (8%)| Vitamin C: 0.2mg| Calcium: 171mg (17%)| Iron: 2mg (11%)