August 26, 2018
Mexican Chicken Flatbread
If you're looking for an easy and healthy weeknight dinner recipe, look no further! This flatbread pizza recipe is ready in less than 20 minutes and your whole family will go crazy for it! Big thanks to Stonefire for sponsoring this post!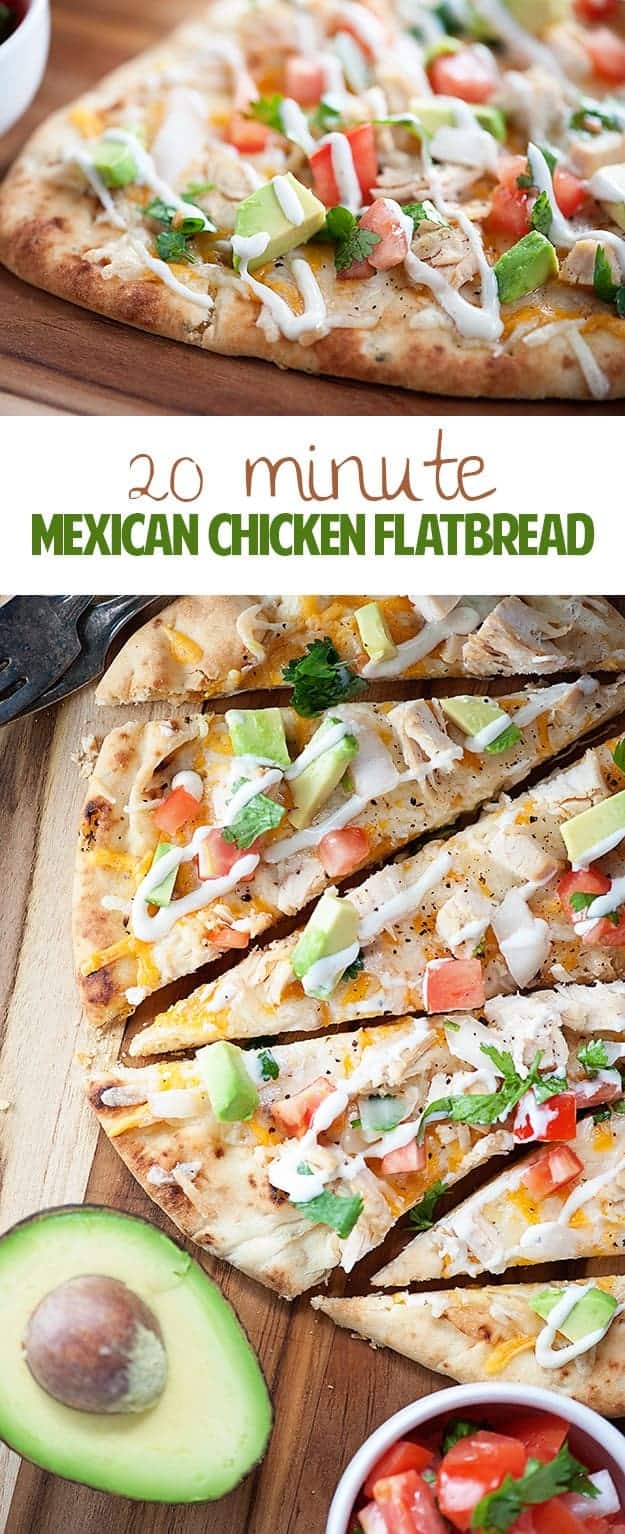 Have I told you guys about my newest bad habit?
It's a doozy.
I feed my kids breakfast. Then I feed them lunch. Then I scrounge around in the kitchen around dinner time and feed myself some random foods as a snack.
I'll make dinner later, I think. You know, when I'm hungry.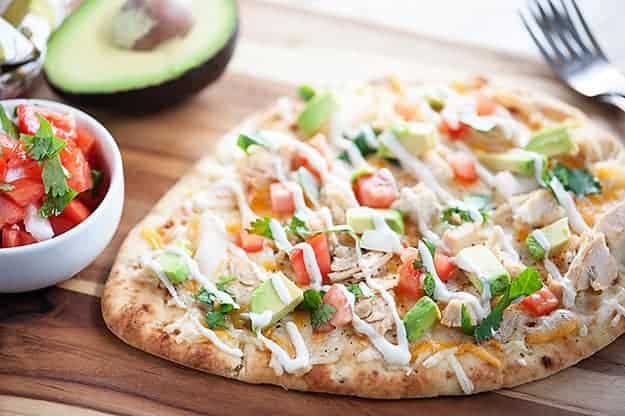 The thing is, my dinner time snack is basically a full blown meal that fills me up and then it's 9pm and my daughter comes wandering into the room to inquire about dinner.
I get this panicked look on my face and she shouts, "AGAIN?"
Yes. I forget to feed my children dinner so often that she can recognize the look of "uh oh" on my face and know instantly what it means. This is what happens when your husband works out of state and isn't home on weeknights.
Please don't take my kids away from me? I like them. You know…mostly?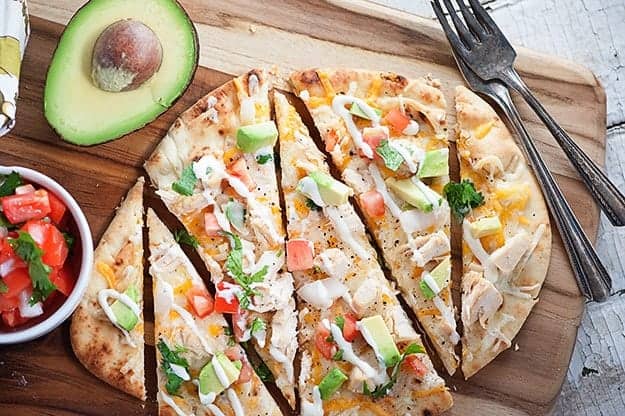 The other day Emma came up to me and said, "I almost told you not to forget to feed us again tonight, but then I remembered that we're staying all night at Nana's and I trust her."
Sooooo, basically I fail at motherhood.
Luckily for both me and my kids, I've excelled at whipping up a last minute dinner that they'll love and doesn't take more than 20 minutes to get on their big empty plates.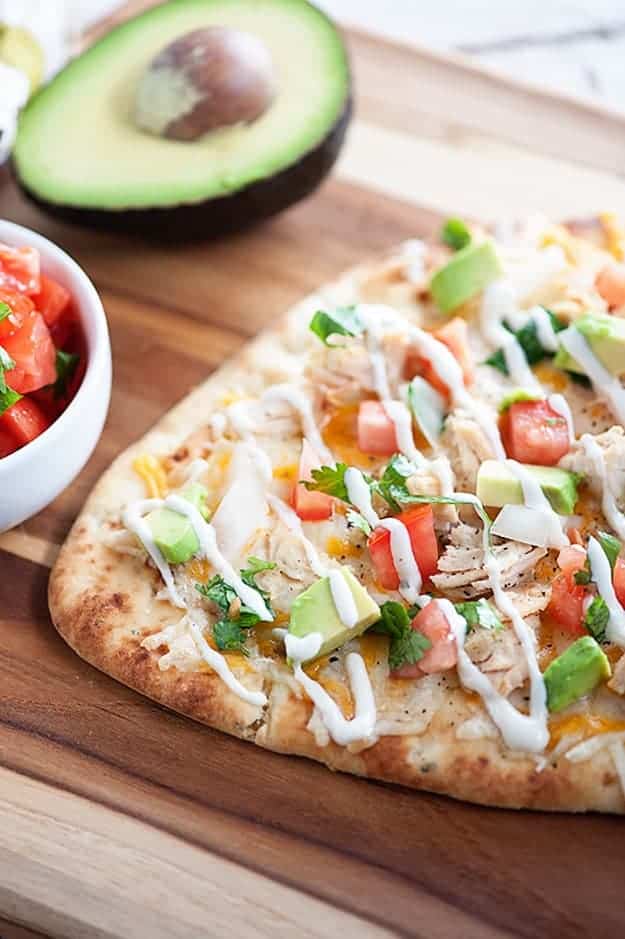 Stonefire Naan is perfect for these nights! They're the perfect size for a quick couple of flatbreads or pizzas and my kids go nuts for them. The garlic flavor is outta this world. I keep my freezer stocked with these and grab and go as needed.
The original flavor is pretty fab spread with Nutella and topped with sliced strawberries for a sweet treat, too!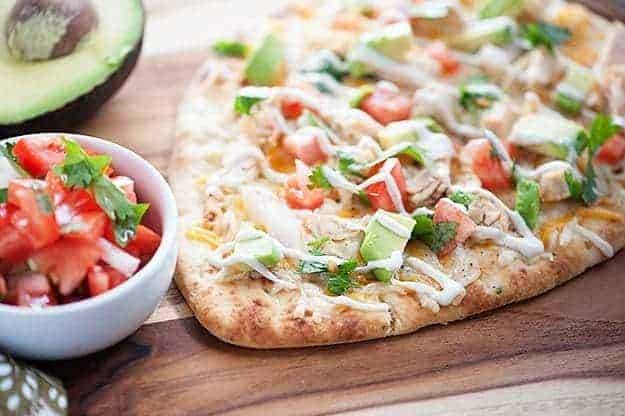 As you know, I'm a Mexican food fanatic, so I went that route with these flatbreads. Cheese, rotisserie chicken, some homemade pico de gallo, a little avocado, and a drizzle of ranch dressing. (I bet my southwestern avocado salad dressing would be an excellent replacement for the ranch!) And they're literally ready in 20 minutes and still packed with flavor.
If you love copycat recipes, this is a pretty good copycat of Chili's California Grilled Chicken Flatbread…just add bacon to make it more like their version!
Don't forget to check out my Indian butter chicken dip that I paired with Stonefire's Naan Crisps! Or, for more pizza, don't miss my buffalo chicken pizza!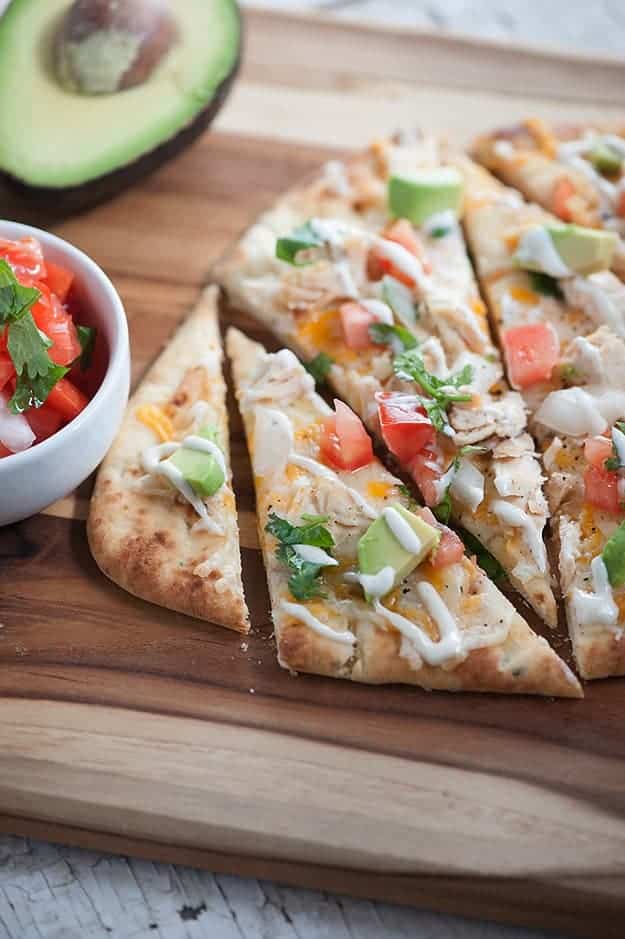 Mexican Chicken Flatbread
Servings: 2 servings
Course: Main Course
Cuisine: Mexican
Keyword: game day recipes, party recipes, weeknight dinner recipes
Calories: 612 kcal
If you're looking for an easy and healthy weeknight dinner recipe, look no further! This flatbread pizza recipe is ready in less than 20 minutes and your whole family will go crazy for it!

Ingredients
2 pieces Stonefire garlic naan
1/2 cup shredded Mexican blend cheese
1/2 cup diced cooked chicken seasoned with salt and pepper
1 roma tomato
1/4 sweet onion
1 tablespoon chopped cilantro
1/2 teaspoon lime juice
1/4 avocado diced
Ranch dressing for drizzling
Instructions
Preheat oven to 400 degrees. Place the naan on a large baking sheet.

Top with the cheese and chicken.

Bake for 8 minutes or until the cheese is melted.

To make the pico de gallo, chop the tomato and onion into small pieces. Add to a small bowl with the cilantro and lime juice. Stir to combine.

Remove the naan from the oven and top with the pico de gallo and diced avocado.

Lightly drizzle with ranch dressing.
Nutrition Facts
Mexican Chicken Flatbread
Amount Per Serving (1 flatbread)
Calories 612 Calories from Fat 234
% Daily Value*
Fat 26g40%
Saturated Fat 8g50%
Cholesterol 63mg21%
Sodium 1074mg47%
Potassium 342mg10%
Carbohydrates 66g22%
Fiber 4g17%
Sugar 7g8%
Protein 25g50%
Vitamin A 510IU10%
Vitamin C 8.7mg11%
Calcium 272mg27%
Iron 0.8mg4%
* Percent Daily Values are based on a 2000 calorie diet.
Nutrition Disclaimer: All information presented on this site is intended for informational purposes only. I am not a certified nutritionist and any nutritional information shared on bunsinmyoven.com should only be used as a general guideline.