If you're looking for an Indian Butter Chicken recipe, this dip will hit the spot! It's perfect for snacking and is a fun twist on traditional Indian chicken recipes! Big thanks to Stonefire for sponsoring this post.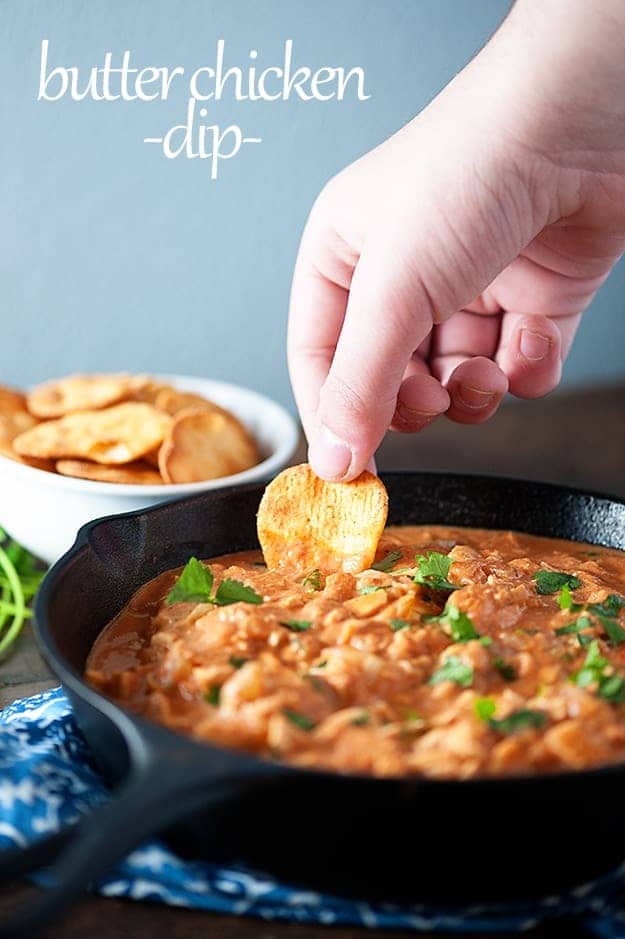 Show of hands, guys. How many of you hit up the local Indian joint as often as possible?
Well, my family is scared to death of Indian food. It's ridiculous. There are onions and spices and things are all saucy and basically every time I suggest Indian food they start crying like little babies.
I'm not one to be deterred, though. When I want Indian food, I want Indian food. Suck it up, buttercup. We're having butter chicken and that's final.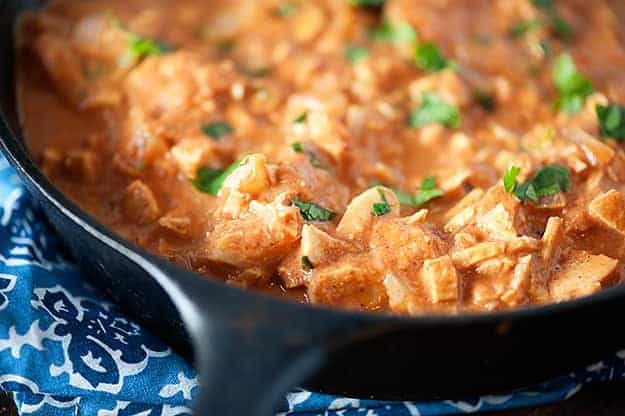 So. Rather than drag my cry babies out in public with me, I've started easing them into the idea by making my own Chicken Makhani (that's butter chicken, y'all) at home. You guyyyyyyys. It's so good.
Full of all the traditional spices, it's so warm and comforting. The thick sauce is made with tomatoes, yogurt, and cream and then finished off with some butter leaving it silky and creamy and just melt in your mouth amazing.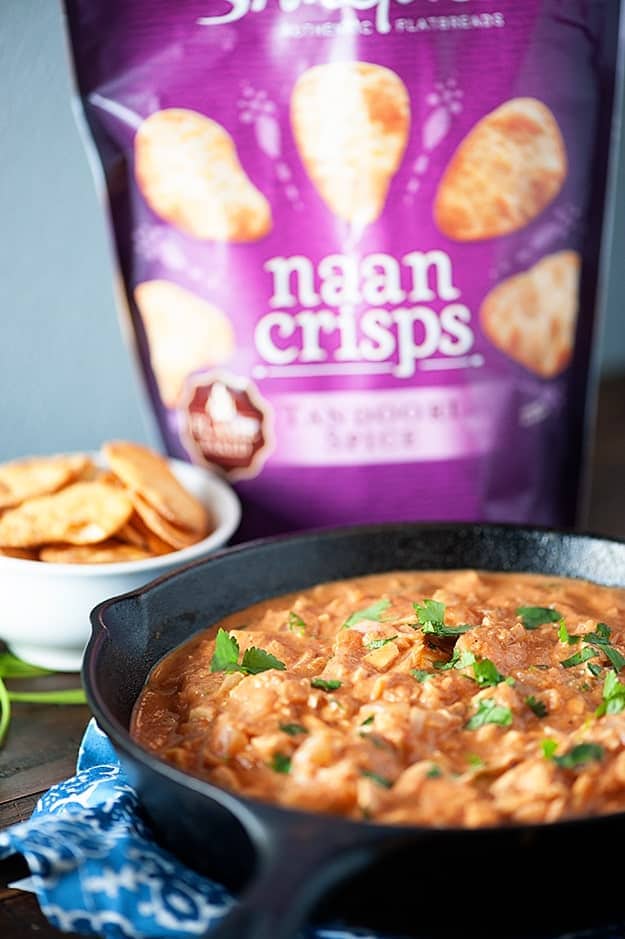 When Stonefire reached out to me about their new Naan Crisps, I knew I had to create a butter chicken dip that would be perfect for dipping the little Naan Crisps! Dudes. This was one of my most brilliant ideas yet!
I made a quick and dirty version of butter chicken. No marinating the chicken means no wait which means you can have this dip in your face in less than 30 minutes. You can just dice up a rotisserie chicken or you can use my favorite crockpot shredded chicken. Either way works brilliantly.
I like to sprinkle in lots of fresh cilantro to brighten up the flavors too, but if you're a cilantro hater, just add a little parsley. I don't understand you cilantro haters, but to each their own, right?
I dipped the Tandoori flavor of Naan Crisps in this butter chicken. I love the way the spices on the crisps pair with the butter chicken. Absolute perfection! The Naan Crisps are flame-baked for authenticity and are tasty all on their own. I never turn down an opportunity to dip, though. (More dip recipes here!) And at just 120 calories per serving, these little crisps can make for a pretty good choice!
This would also be great as a main dish. Serve with Stonefire Naan and devour with a fork.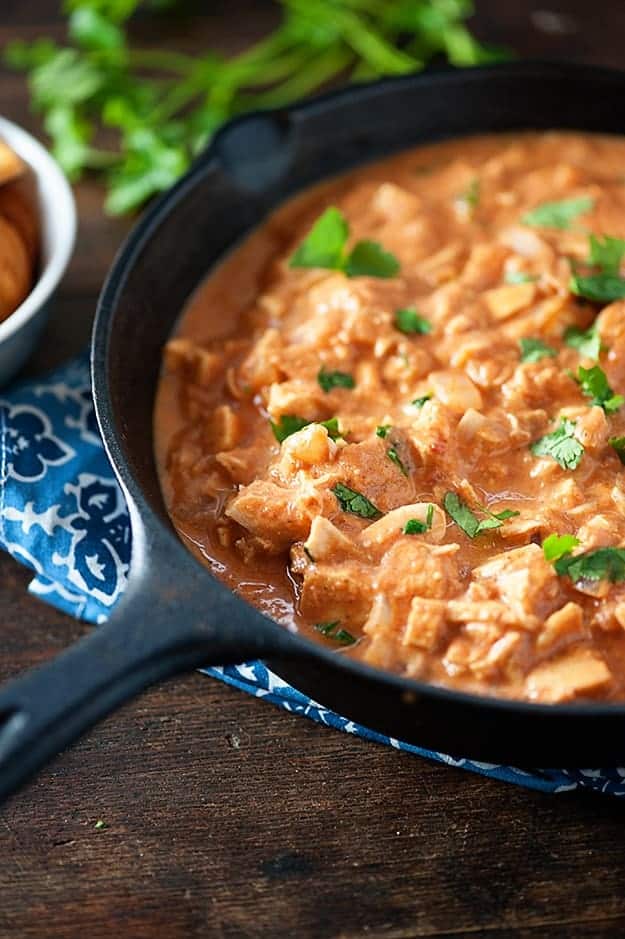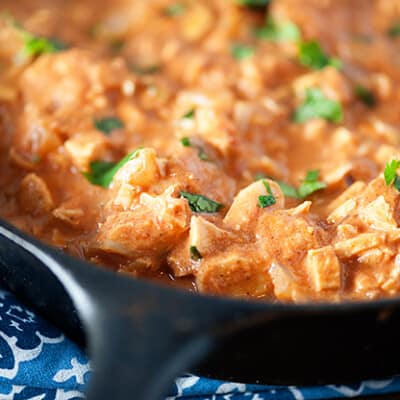 Indian Butter Chicken Dip
If you're looking for an Indian Butter Chicken recipe, this dip will hit the spot! It's perfect for snacking and is a fun twist on traditional Indian chicken recipes!

Prep10 minutes
Cook15 minutes
Total25 minutes
Ingredients
1 1/2 cups cooked diced chicken
1 tablespoon olive oil
1/2 sweet onion
2 cloves garlic
1 teaspoon finely diced ginger
1 1/2 teaspoons garam masala
1 1/2 cups tomato puree
1/2 cup heavy cream
1/4 cup Greek yogurt
2 tablespoons butter
1 teaspoon ground cumin
1/2 teaspoon cayenne pepper more or less to taste
1/2 teaspoon ground cinnamon
1/4 teaspoon salt
1/4 teaspoon black pepper
1/4 cup cilantro minced
Instructions
Heat olive oil in a medium skillet over medium heat.

Dice the onion and add to the oil, cooking until soft and translucent, about 5 minutes.

Dice the garlic and stir into the onion along with the ginger and garam marsala. Stir and cook for 1 minute.

Add the tomato, cream, yogurt, butter cumin, caynee, cinnamon, salt, and pepper to the skillet and stir well to combine.

Stir the chicken into the tomato mixture and cook for 10 minutes over low heat.

Top with fresh cilantro and serve with Stonefire Naan Crisps for dipping.
Nutrition Information:
Calories: 245kcal (12%)| Carbohydrates: 9g (3%)| Protein: 11g (22%)| Fat: 18g (28%)| Saturated Fat: 8g (50%)| Cholesterol: 64mg (21%)| Sodium: 188mg (8%)| Potassium: 426mg (12%)| Fiber: 1g (4%)| Sugar: 4g (4%)| Vitamin A: 885IU (18%)| Vitamin C: 8.7mg (11%)| Calcium: 48mg (5%)| Iron: 1.9mg (11%)