This buffalo chicken dip recipe is a classic that everyone will love! It's perfect football food!

I may not know who is playing in the Superbowl this year (Does anyone? Have the teams been chosen? Do they even get chosen? How does this thing you call "football" even work?), but I know darn good and well that I'm going to be required to make thirty-seven different appetizers and dips for the game. Oh, yes. My husband had that written into our marriage vows.
"I promise to love you forever 'til death to us part so long as you make me snacks on Superbowl Sunday."
The wedding guests had never seen a more ridiculous wedding before.
Back to the food! I really think that "dip" should be it's own food group. Fruits, vegetables, dairy, protein, and dip. That's the way the food pyramid would look if I were the President of Food. Five servings of dip per day. Ah, that'd be the life.
This Buffalo Chicken Dip (also known as "crack dip" because it's addicting like crack!) is so good. It's got a good bit of spice, but the cream cheese and the ranch dressing cools it off just enough. This one really is like crack. You won't be able to stop dipping!
I would like to note real quick that the original recipe called for (gag) canned chunks (puke) of chicken (vomit). Personally, I think that canned meat (blech) is evil and wrong and terribly bad. I recommend buying a rotisserie chicken and shredding the meat with a fork, but if you are brave (and crazy) go ahead and use the (ewwww) canned chicken. I won't judge you. At least, not out loud where you can hear me.
Also, while I'm being all picky about my ingredients, I should mention that I'm not a fan of blue cheese. I omitted the blue cheese salad dressing and used all ranch and I substituted the crumbled blue cheese for shredded mozzarella.
Finally, I like to serve this with sliced French bread, but it would also be yummy on chips or crackers.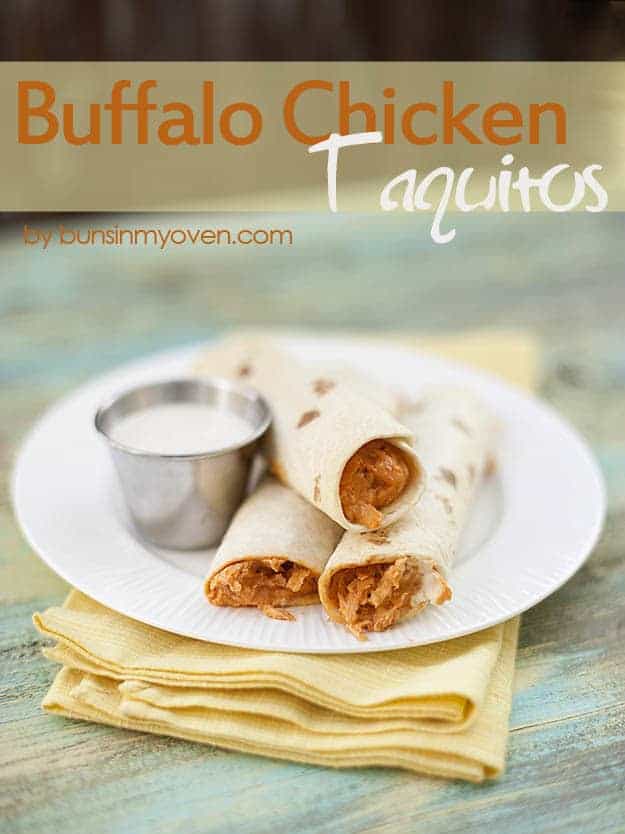 If you're hungry for more buffalo chicken, check out these Buffalo Chicken Taquitos! They're very similar to the dip, but all rolled up in a tortilla and baked! Perfect for a quick game day lunch.

Buffalo Chicken Dip
This buffalo chicken dip recipe is a classic that everyone will love! It's perfect football food!
Prep5 minutes
Cook20 minutes
Total25 minutes
Ingredients
1 rotisserie chicken meat shredded with a fork
8 ounces cream cheese softened
1/4 cup blue cheese salad dressing omit and use 1/2 cup ranch dressing total, if you prefer
1/4 cup ranch salad dressing
1/2 cup crumbled blue cheese substitute shredded mozzarella if you prefer
1/2 cup Frank's Red Hot sauce any hot sauce will do
Instructions
Mix together all ingredients until well combined. Bake in a preheated 350 degree oven for 20 minutes. Serve with crackers, chips, or sliced bread.
Nutrition Information:
Calories: 376kcal (19%)| Carbohydrates: 1g| Protein: 25g (50%)| Fat: 29g (45%)| Saturated Fat: 10g (63%)| Cholesterol: 107mg (36%)| Sodium: 741mg (32%)| Potassium: 254mg (7%)| Sugar: 1g (1%)| Vitamin A: 435IU (9%)| Vitamin C: 0.2mg| Calcium: 74mg (7%)| Iron: 1.4mg (8%)