This chicken enchilada casserole is creamy cheesy perfection and it's so easy to throw together since everything is layered together instead of rolled.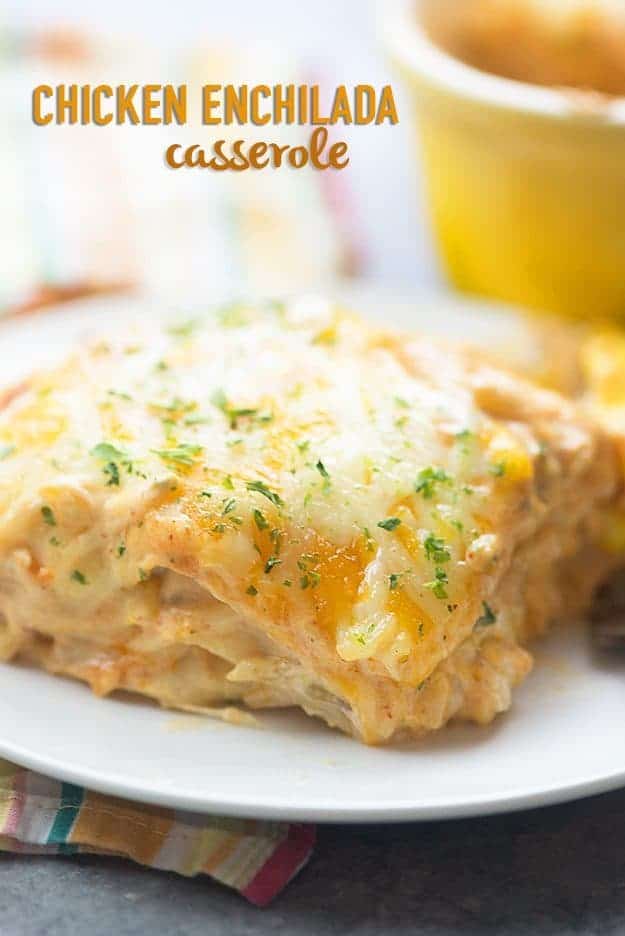 I have a question for you guys.
Have any of you ever played a virtual reality game?
Did you die?
Because my husband got the HTC Vive last year and I very nearly die of a heart attack every time I play it.
I knew it would be cool, but I had no idea that it would be so immersive and realistic.
It is literally like stepping into another world. I've never experienced anything else like it.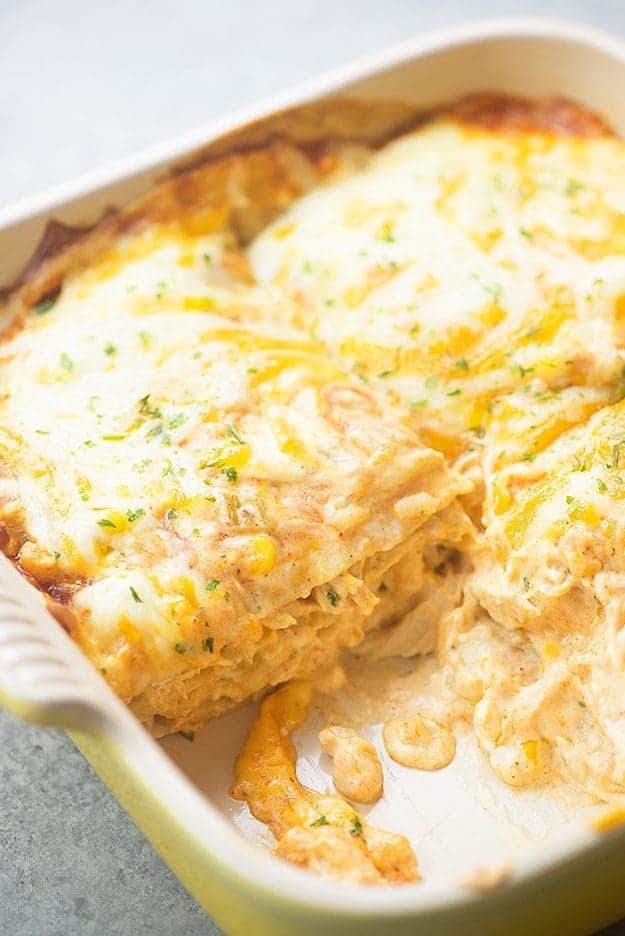 Which is cool, except that my husband and son always make me play scary games so they can laugh at me while I scream.
Hence the nearly dying every time I put the headset on.
I was playing a zombie game yesterday and, let me tell you, I am going to be the first to go in the zombie apocalypse. I stand no chance.
I basically flail around like an idiot while shouting "please don't please don't please don't."
The zombies never listen. They just eat my brains anyway. *sigh*
And honestly, I'm not sure it'd even be worth living in a situation like that.
Just eat my brains and leave me in peace, you know?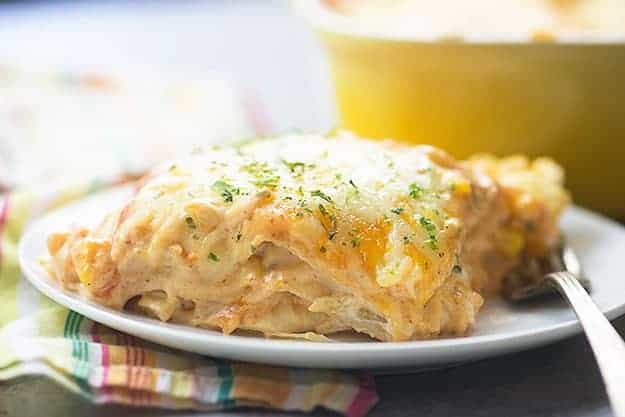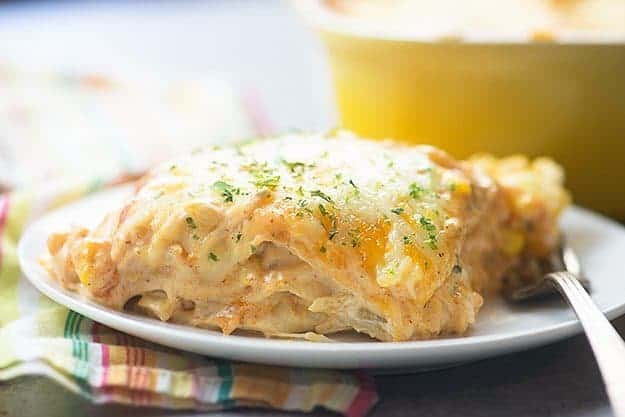 Anyway, that has nothing to do with anything, but it's how I spent my weekend and now I'm in serious need of some comfort food.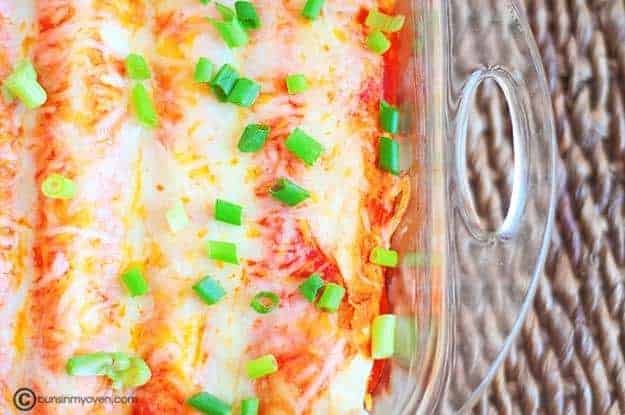 Enter this enchilada pie. It's basically my favorite cream cheese chicken enchiladas in pie form.
My kids are straight up obsessed with those enchiladas and I love them, too.
But, who has time to be rolling enchiladas the time?
This enchilada casserole is way easier than rolling up individual enchiladas!
My kids love this chicken enchilada casserole and I bet yours will too!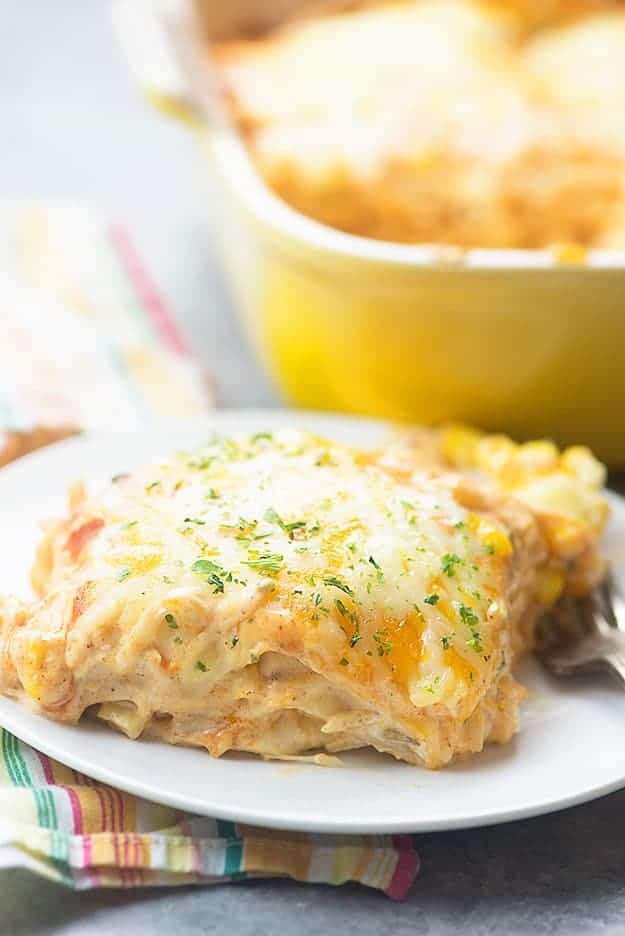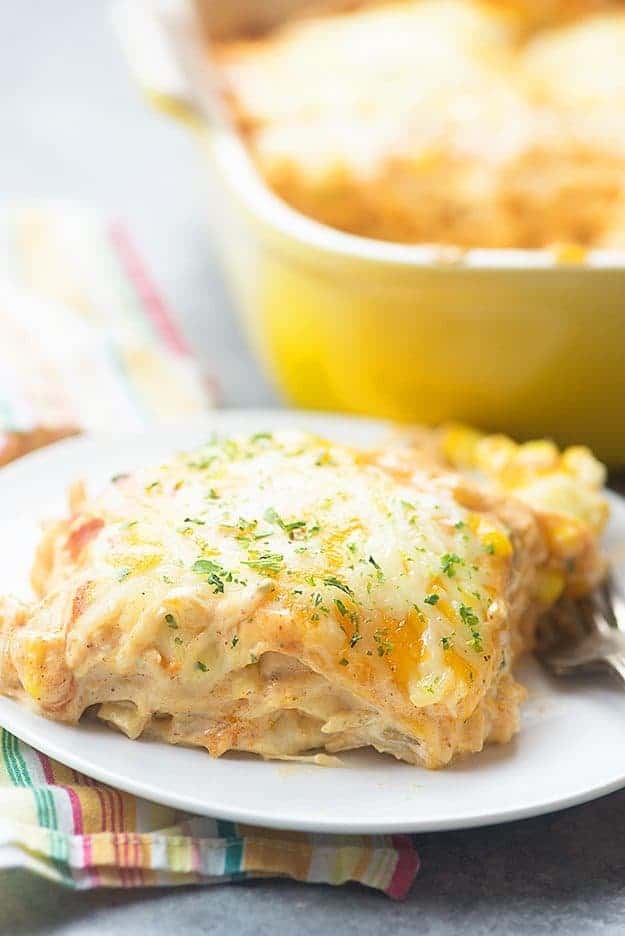 This was a total hit on my dinner table. Of course, my kids will gobble up anything creamy, cheesy, and chicken-y. I imagine yours will too?
If you liked my taco lasagna or my burrito casserole, you're sure to love this enchilada pie too!
You can get creative with this and use taco meat or ground chicken if you prefer. Adding in some diced jalapeno in place of the green chiles will spice the dish up if you like that sort of thing.
My daughter is a bit of a wimp when it comes to spice, so I used mild green chiles in this one. They add some nice flavor without adding heat.
Give this chicken enchilada casserole a try and let me know what you think!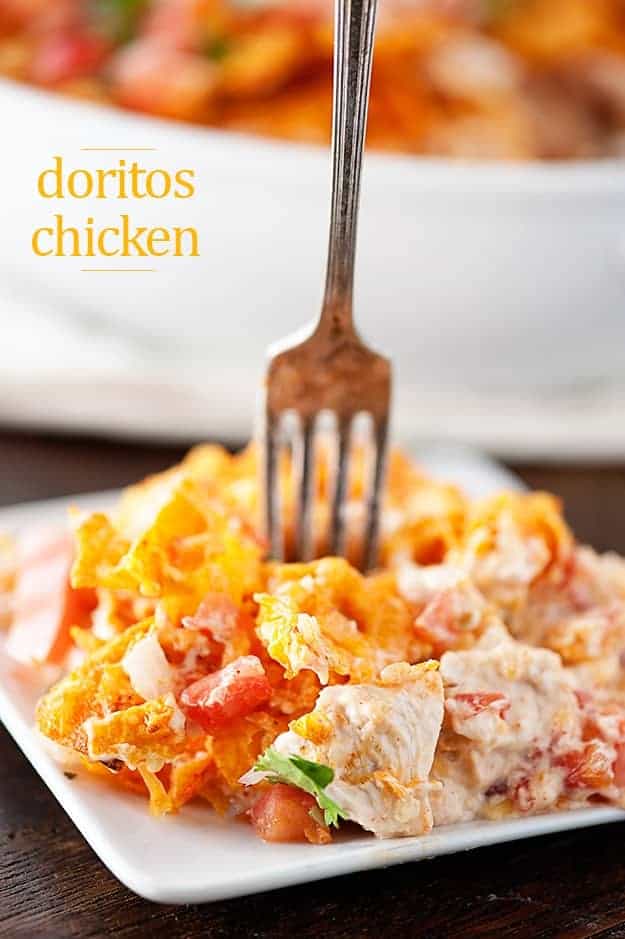 If you love Mexican-inspired flavors, you should try my Doritos casserole too.
Yes. I make casseroles out of Doritos. Do not judge me.
It's delicious. 😉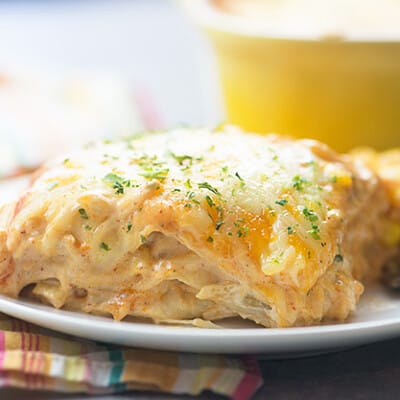 Chicken Enchilada Casserole
This chicken enchilada casserole has all the flavors of my favorite enchilada recipe without all of the work involved in rolling up individual enchiladas! It's such a family favorite in our house.
Prep10 minutes
Cook20 minutes
Total30 minutes
Ingredients
8 ounces cream cheese softened
1/4 cup sour cream
3/4 cup enchilada sauce divided
1/2 cup frozen corn kernels
4 ounces canned green chiles
1 cup grated monterey jack cheese divided
1 cup grated cheddar cheese divided
1 teaspoon ground cumin
1 teaspoon chili powder
2 cups cooked shredded chicken
4 8-inch flour tortillas
Instructions
Preheat oven to 350. Spray an 8x8 baking dish with non-stick spray.

Add the cream cheese, sour cream, 1/2 cup of enchilada sauce, corn, green chiles, 1/2 cup of monterey jack, 1/2 cup of cheddar, cumin, and chili powder to a mixing bowl and stir until well combined.

Place one tortilla in the bottom of the baking dish. Top with 1/4 of the filling. Top with 1/3 of the chicken.

Repeat the layers. The top layer will have just a tortilla and the filling. Spread remaining enchilada sauce over the top layer and sprinkle on the remaining cheese.

Bake for 20 minutes. Cool 5 minutes before cutting and serving.
Nutrition Information:
Calories: 445kcal (22%)| Carbohydrates: 25g (8%)| Protein: 19g (38%)| Fat: 29g (45%)| Saturated Fat: 16g (100%)| Cholesterol: 93mg (31%)| Sodium: 940mg (41%)| Potassium: 274mg (8%)| Fiber: 2g (8%)| Sugar: 5g (6%)| Vitamin A: 1255IU (25%)| Vitamin C: 8mg (10%)| Calcium: 370mg (37%)| Iron: 2.4mg (13%)