Do y'all remember that carnitas recipe I shared a couple of weeks ago? Well, I do believe that I promised you a solution to the leftovers.
First, you grab one of those dry ice packs that fancy people use for shipping cold food. Then you pack that, along with the leftover carnitas, into a box. Next you drop it off at the post office and have the leftovers shipped directly to me.
Problem solved!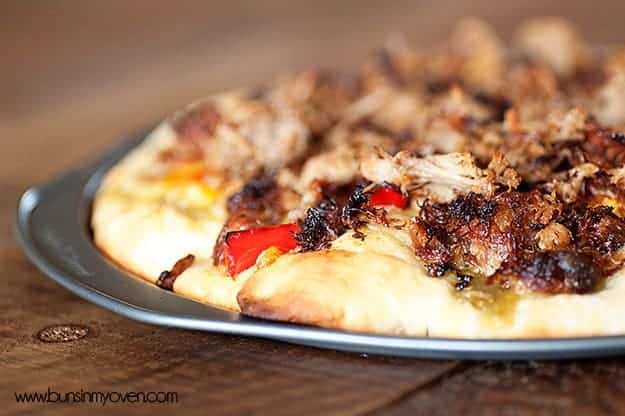 Fine. Whatever. I'm scared of the post office too. I don't have too many phobias, but bugs/spiders and the post office are up there at the top of the list, if you must know. So, I won't blame you if you are also frightened of the post office and would rather just eat your leftovers yourself. It's completely selfish of you, but I guess I can sort of understand.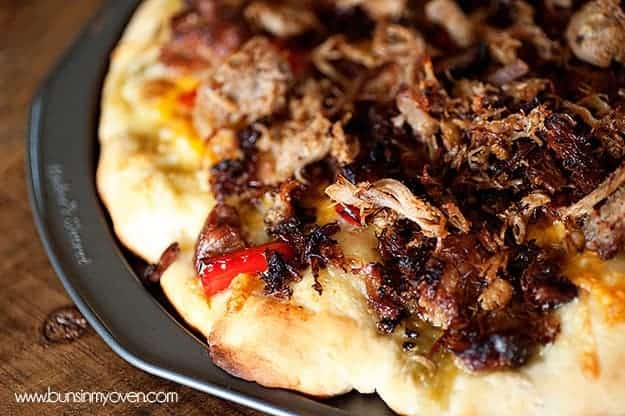 You'll probably have a hard time not just eating the leftover meat in tacos, because honestly, those carnitas are fabulous, right? If you can manage it, though, try this Carnitas Pizza. The dough is super simple to whip up and is really quite quick for a yeast dough!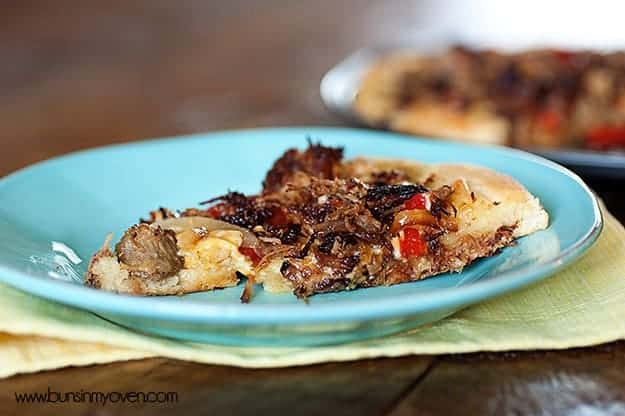 I topped the dough with a nice layer of salsa verde, a couple handfuls of grated monterey jack (though pepper jack would be very nice too), and lots of meat. I also threw in some sauteed onions and peppers for extra flavor. This pizza was phenomenal and I hope you'll give it a try!
Carnitas Pizza
If you can manage it, save your leftover carnitas to try this Carnitas Pizza. The dough is super simple to whip up and is really quite quick for a yeast dough!
Prep20 minutes
Cook10 minutes
Total30 minutes
Ingredients
For the crust:
3/4 cup warm water about 110 degrees
2 1/4 teaspoons active dry yeast
1 teaspoon sugar
2 cups all-purpose flour
3 tablespoons olive oil
1/2 teaspoon salt
For the toppings:
1/2 cup salsa verde or more to taste
2 handfuls Monterey or pepper jack cheese
1 onion thinly sliced
1 red bell pepper thinly sliced
1-2 cups leftover Carnitas to taste
Instructions
To prepare the dough, place the warm water in the bowl of a stand mixer. Sprinkle the yeast and sugar on top and let bloom, about 10 minutes.

Add the flour, salt, and olive oil to the yeast mixture and turn the mixer (fitted with the dough hook) to medium. Knead until the dough comes together to form a smooth dough. Remove dough to an oiled bowl and place in the oven with the light turned on.

Let rise for one hour, or until doubled in bulk.

Heat a medium skill over medium heat and add 2 tablespoons of butter to the pan. Add the onion and peppers to the skillet and cook, stirring frequently, until soft and beginning to brown, about 5-10 minutes. Set aside.

When the dough has doubled, punch it down.

Preheat the oven to 500 degrees.

Roll the dough out on a well floured surface to a 12 inch circle and place on a pizza stone or pan.

Spread the salsa verde in a thin layer of the dough, adding more salsa verde if desired. Sprinkle with the cheese and top with the meat and vegetables.

Bake on the middle rack for 8-10 minutes or until the edges of the crust are golden brown and the cheese is melted.
Nutrition Information:
Calories: 237kcal (12%)| Carbohydrates: 27g (9%)| Protein: 7g (14%)| Fat: 10g (15%)| Saturated Fat: 3g (19%)| Cholesterol: 14mg (5%)| Sodium: 472mg (21%)| Potassium: 132mg (4%)| Fiber: 1g (4%)| Sugar: 2g (2%)| Vitamin A: 665IU (13%)| Vitamin C: 20.5mg (25%)| Calcium: 114mg (11%)| Iron: 1.7mg (9%)