August 25, 2018
Pulled Pork Mac and Cheese Pizza
Oh boy, do I have some good leftover pulled pork recipes for you! This macaroni and cheese pizza is topped with my crock pot pulled pork for a fun way to enjoy dinner tonight!

"Can we have pizza?"
Do you even know how many times a week I hear that? Actually, now that I think about it, I should more likely ask, "Do you even know how many times a day I hear that?"
Many times. Many many many times. All the times. It's the only words my teenage son even speaks anymore.
I'm so sick of frozen pepperoni pizza that if I could throw myself off a building and land in a pile of this intensely cheesy, packed with flavor, loaded to the max pizza, I would do it in a heartbeat. I mean, who wouldn't?
Basically, I took everyone's favorites. My son – pizza. My husband – pulled pork. My daughter – mac and cheese. Me – an easy recipe that uses leftovers and is ready in less than 30 minutes. (Okay, fine, my actual favorite is Mexican, but I couldn't incorporate it into this one. See my Mexican Chicken Flabtread or my Mexican Potato Salad instead, k?)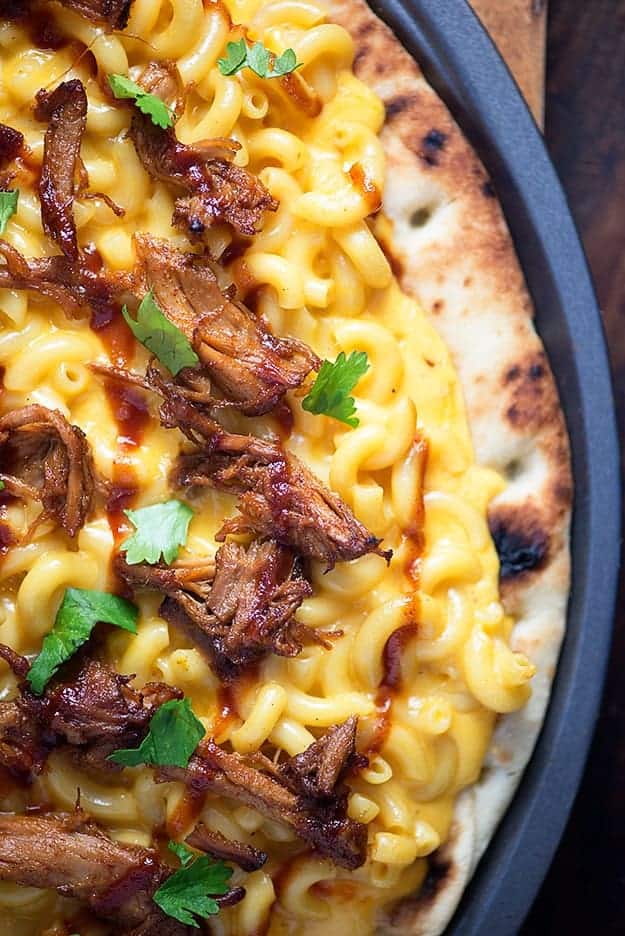 So, let's talk about this thang.
I'm so happy that I've partnered with Stonefire and had an excuse to use their Artisan Pizza Crust in this recipe. They use high quality ingredients and no artificial preservatives, colors, or flavors. Their crusts are baked at a high heat giving them those gorgeous blackened spots that authentic Italian crust has. Aaaaaand you just pull them straight from your fridge or freezer, add your toppings, and bake. They're done in about 8 minutes when using a frozen crust.
I started this recipe with Alton Brown's perfect stove top mac and cheese recipe. It's simple to make and we all love it. I used the entire batch on this pizza, but you could sneak out a bowlful or two for another day if you didn't want things loaded up quite as much as I did.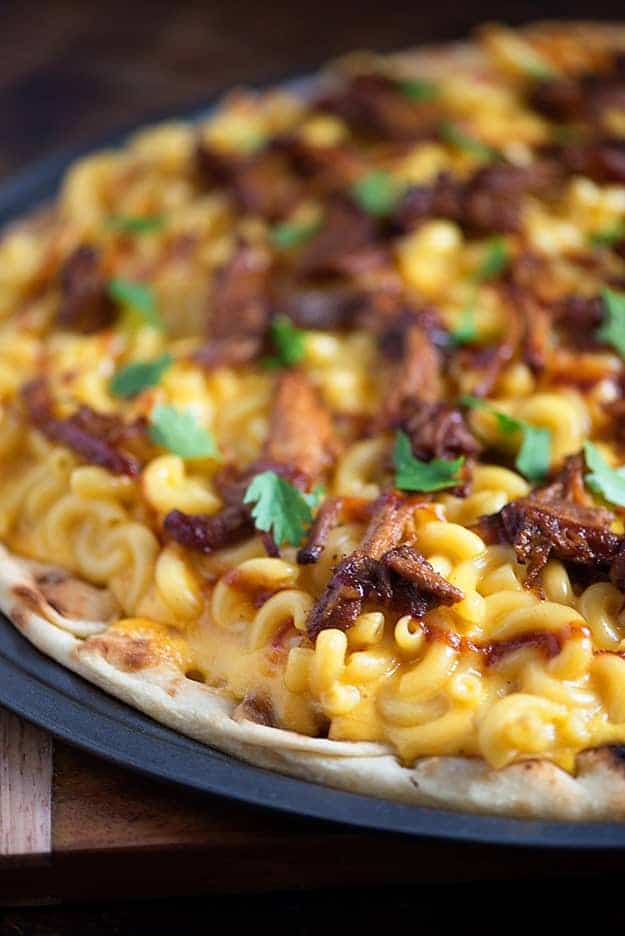 As for the pork, I used my crock pot pulled pork recipe that I shared the other day. It's my favorite, it's simple to make, and people always beg for the recipe.
To finish things off, I drizzled on just a bit of my homemade Carolina barbecue sauce and sprinkled on some chopped cilantro. You can add more or less barbecue sauce depending on your tastes and omit the cilantro or substitute it with parsley if you think cilantro tastes like soap. I know you cilantro haters exist. I'll never understand you, but I know you're out there. 😉
Hope you guys love this man-pleasing pizza as much as we do!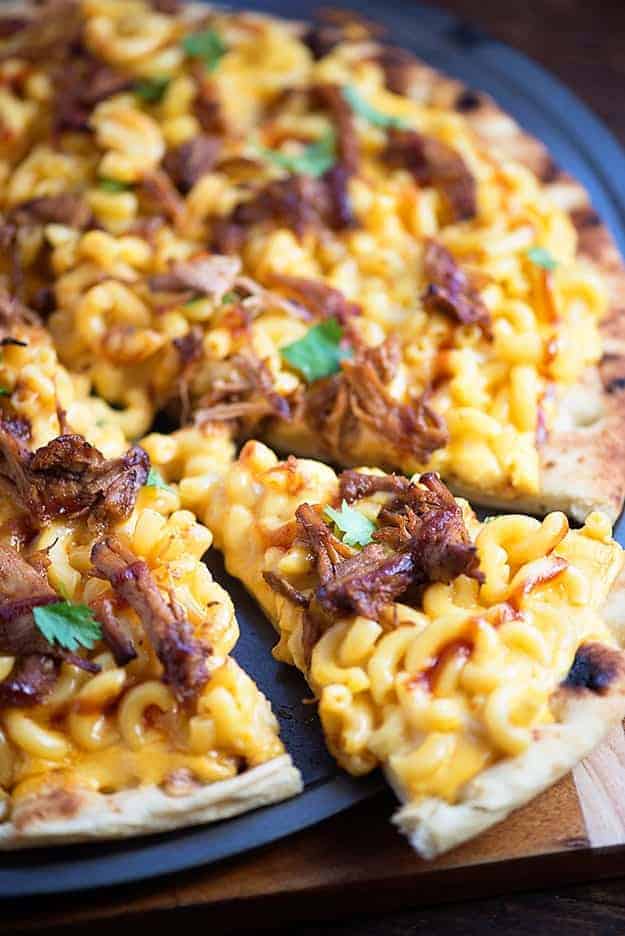 Pulled Pork Mac and Cheese Pizza
Servings: 8 servings
Course: Main Course
Cuisine: American
Keyword: easy dinner recipes, kid-friendly recipes, weeknight dinner recipes
Calories: 554 kcal
Oh boy, do I have some good leftover pulled pork recipes for you! This macaroni and cheese pizza is topped with my crock pot pulled pork for a fun way to enjoy dinner tonight!

Ingredients
For the macaroni and cheese:
8 ounces macaroni
4 tablespoons butter
2 large eggs
6 ounces evaporated milk
1 teaspoon salt
3/4 teaspoon ground mustard
1/2 teaspoon pepper
10 ounces cheddar cheese grated
Instructions
To make the macaroni and cheese, boil the macaroni according to package directions. Drain and return to pan over low heat.

Set oven to 425 degrees to preheat.

Add the butter to the noodles and stir to coat until butter has melted.

In a small bowl, whisk together eggs, evaporated milk, slat, mustard, and pepper. Pour over noodles and stir to combine.

Add in cheese and stir until melted. Remove from heat.

Place pizza crust on pizza pan. Sprinkle with 2 ounces grated cheddar.

Spoon macaroni and cheese evenly over the crust and cheese.

Place pulled pork over the macaroni and cheese. Drizzle with barbecue sauce and sprinkle with cilanro.

Bake for 7 minutes.

Remove from heat and let sit for 5 minutes before cutting.
Nutrition Facts
Pulled Pork Mac and Cheese Pizza
Amount Per Serving
Calories 554 Calories from Fat 234
% Daily Value*
Fat 26g40%
Saturated Fat 15g94%
Cholesterol 125mg42%
Sodium 1012mg44%
Potassium 287mg8%
Carbohydrates 51g17%
Fiber 1g4%
Sugar 6g7%
Protein 26g52%
Vitamin A 745IU15%
Vitamin C 0.4mg0%
Calcium 427mg43%
Iron 2.5mg14%
* Percent Daily Values are based on a 2000 calorie diet.
Nutrition Disclaimer: All information presented on this site is intended for informational purposes only. I am not a certified nutritionist and any nutritional information shared on bunsinmyoven.com should only be used as a general guideline.