These little sliders are filled with saucy pulled pork and creamy macaroni and cheese! Big thanks to Bob Evans for sponsoring this post! And thank you for supporting the brands that help support this blog!

I hate to break it to you, but I'm basically one of those annoying couples on House Hunters who is always talking about entertaining. "This space is perfect for entertaining." "We love to entertain." "I'm not sure we could entertain with this kitchen."
First of all, using the word 'entertain' in this manner makes me think of standing up in front of a crowd of people and juggling a bunch of bowling pins for their amusement.
Second of all, I never actually say entertain in real life. I just say, "let's have some friends over and feed them." <—- I say this a lot.

Anyway, when I'm entertaining (ugh) I like to keep things as simple as possible as far as prep work goes. I mean, no one wants to spend all day preparing food for a houseful of people, because when it comes time to enjoy those people, you'll be too tired to move. Trust me, I've been there.
Sliders are one of my go to recipes anytime we have people over. On New Year's Eve last year we had a huge group over and I made 6 different types of sliders and served them with chips and dip. It was fairly simple and a total hit. Everyone loves variety and everyone loves sliders. Fact. (One of them were my buffalo chicken sliders. Yesssss.)
I have a new slider recipe to share with you and I think you're going to love it.
Imagine this – pulled pork in a sweet barbecue sauce, creamy macaroni and cheese, Hawaiian rolls, and a super simple buttery topping drizzled over everything.
You're drooling right?
In my quest to keep things simple, I started with Bob Evans Original Macaroni and Cheese. You'll find this in the refrigerated section of your grocery store and my word, you guys. If you haven't tried this yet, you should go try it immediately. It's the creamiest macaroni and cheese ever and it takes less than ten minutes to go from your fridge to your plate.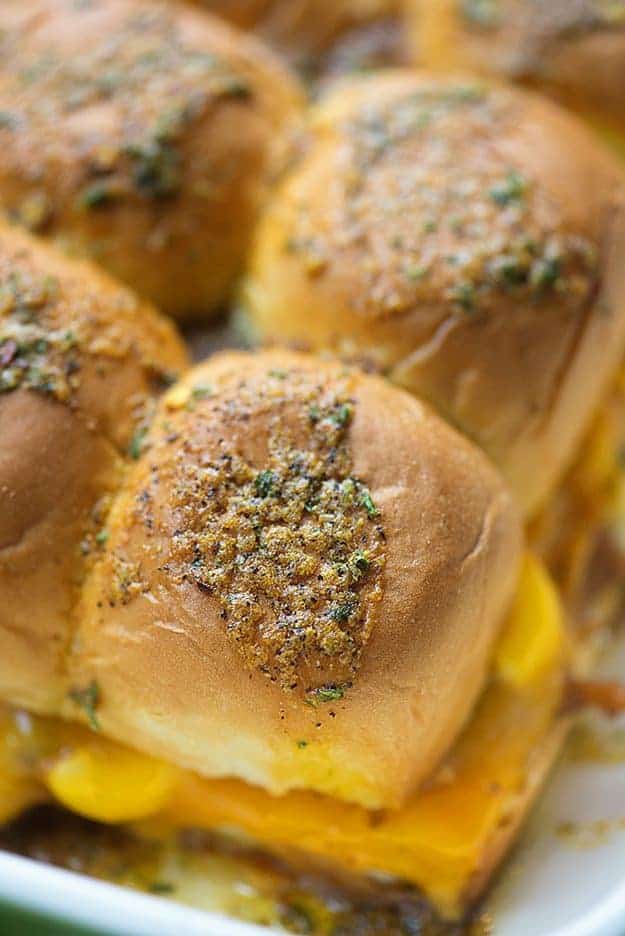 My kids love this stuff and I always keep some on hand for a quick side dish with dinner.
I used their white cheddar mac and cheese (also divine) in these bacon wrapped jalapeno poppers. Those poppers would be great served along these sliders! Finger foods are the best foods, right?
Anyway, as I said – simple, simple, simple. I'm starting with a package of refrigerated pulled pork, but you can totally use my slow cooker pulled pork if you prefer. It's my favorite and I make it a lot, but if you don't happen to have it on hand and you're in a rush, the prepackaged version is great too!
Top your sandwich rolls with a bit of pork, some creamy mac and cheese, a drizzle of extra barbecue sauce, and some sliced cheese. Easy peasy! The topping that goes over the top really makes these sandwiches special, but it's super quick to toss together and I promise you won't regret it!
Enjoy, friends!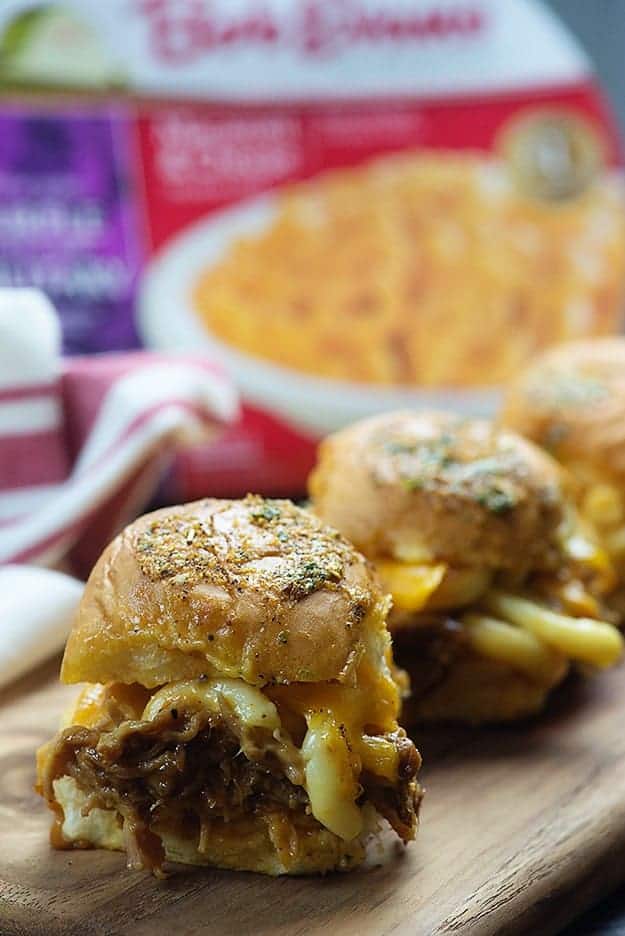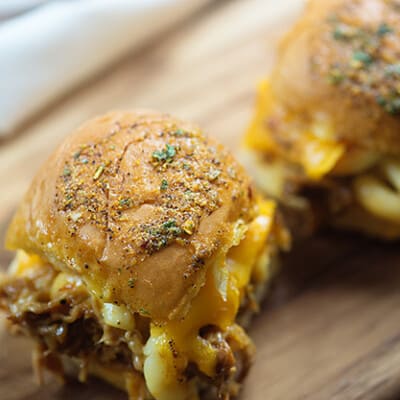 Pulled Pork Mac and Cheese Sliders
These little sliders are filled with saucy pulled pork and creamy macaroni and cheese!

Prep15 minutes
Cook10 minutes
Total25 minutes
Ingredients
16 ounces prepackaged fully cooked pulled pork in sauce
12 slider rolls
20 ounce package Bob Evans Macaroni and Cheese
6 slices cheddar cheese
2-3 tablespoons prepared barbecue sauce
1 tablespoons barbecue dry rub
1/4 cup butter
1 teaspoon dried parsley
Instructions
Preheat oven to 350 degrees.

Warm the pulled pork in the microwave as directed on the package.

Slice rolls in half. Place the bottom halves of the slider rolls in a 9x13 baking dish and top each half with the pulled pork.

Microwave the macaroni and cheese according to package directions and spoon it evenly over the pork on each sandwich roll.

Drizzle the barbecue sauce over the sandwiches.

Lay the cheese in 2 rows of 3 over the sliders to cover each sandwich.

Top with the top halves of the slider rolls.

Stir the dry rub into the melted butter. Spoon evenly over the tops of the sandwiches. Sprinkle with the parsley.

Bake, uncovered, for 10 minutes.

Serve immediately.
Nutrition Information:
Calories: 437kcal (22%)| Carbohydrates: 43g (14%)| Protein: 23g (46%)| Fat: 18g (28%)| Saturated Fat: 7g (44%)| Cholesterol: 53mg (18%)| Sodium: 763mg (33%)| Potassium: 335mg (10%)| Fiber: 1g (4%)| Sugar: 1g (1%)| Vitamin A: 275IU (6%)| Calcium: 255mg (26%)| Iron: 3.1mg (17%)