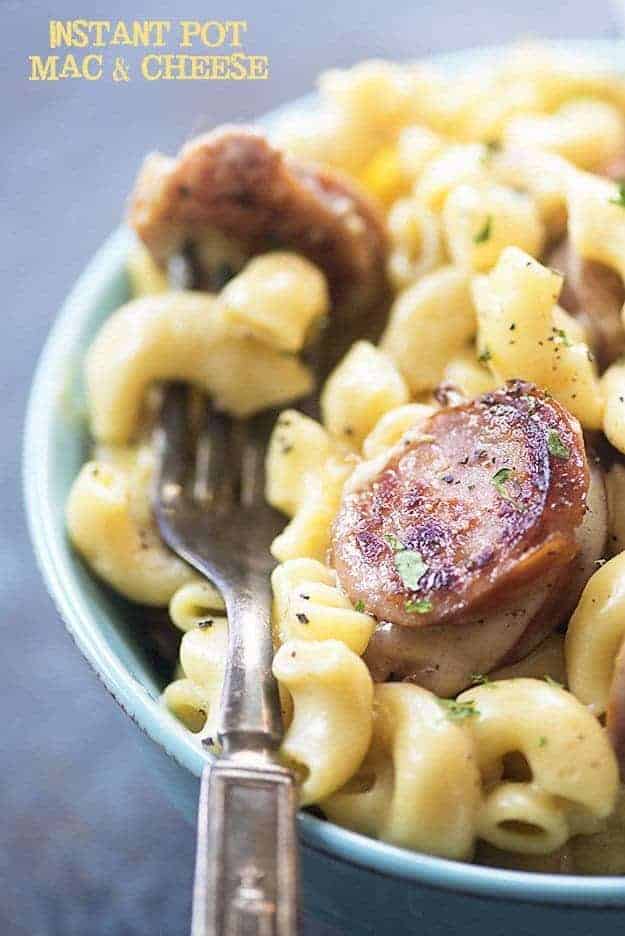 Back when I had my first baby, my husband's grandma brought over a big casserole dish full of mac and cheese.
You guys, I was ecstatic. I loved mac and cheese and I was exhausted beyond belief. An already cooked dinner that I knew I was going to enjoy. Yasss.
Then I peeled back the foil to heat it up and I saw all of this weirdness happening in there. To be specific, there was smoked sausage. All up in my macaroni and cheese.
I admit to nothing, but there may have been tears.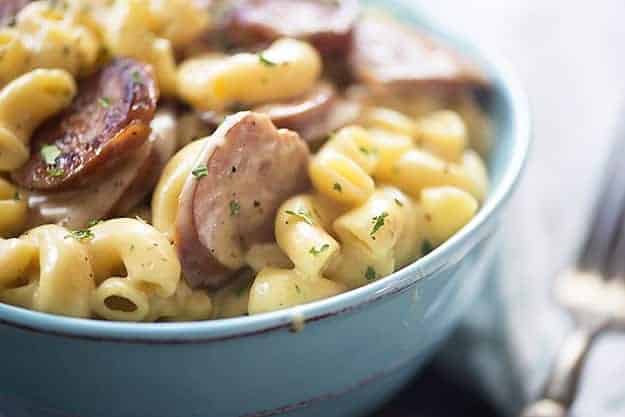 I mean, who would ruin mac and cheese that way and then give it to a hormonal new mother?
I decided to just pick around the sausage until my husband convinced me to just grow up and try a bite of the sausage.
Y'all. I am forever in that man's debt. I'm now hooked on mac and cheese with smoked sausage. Why is it so good? I will never know. But I will always keep eating it and trying to find out.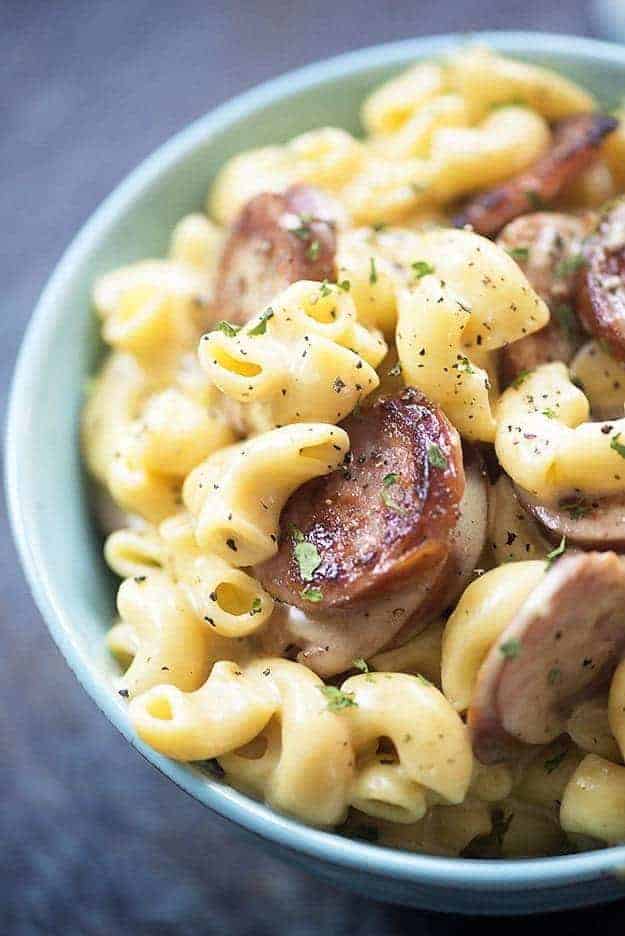 Anyway, I jumped on the Instant Pot craze, along with the rest of the country, and I figured I'd better learn how to make some pressure cooker mac and cheese. I've made this a few times now, experimenting a little each time until I came to this piece of perfection. I started this off with a base recipe I picked up in one of those huge Instant Pot facebook groups, but I've changed things up a bit to suit my taste.
I think you're going to love how this turns out. It's so creamy and super cheesy. The smoked sausage is divine in here and, in my opinion, switches this over from a side dish to a main dish. Serve with a green salad and you're good to go.
Check out my pressure cooker pinto beans and my pressure cooker carnitas, too!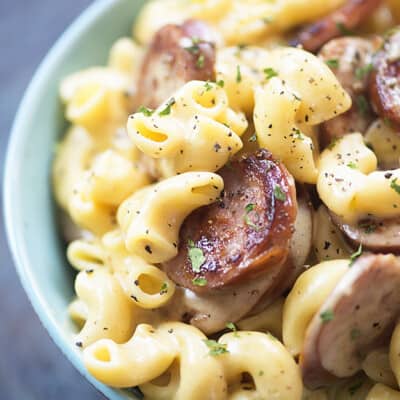 Pressure Cooker Mac and Cheese with Smoked Sausage
Instant Pot mac and chese with smoked sausage! This recipe is ready in just 15 minutes.
Prep5 minutes
Cook10 minutes
Total15 minutes
Ingredients
1 pound smoked sausage
1 teaspoon olive oil
1 pound macaroni uncooked
4 cups water
2 teaspoons dry mustard powder
1 teaspoon salt
1 teaspoon pepper
12 ounces evaporated milk
16 ounces sharp cheddar grated
4 ounces Monterey Jack grated
1 tablespoon chopped parsley
Instructions
Set the Instant Pot or electric pressure cooker to saute on high. Heat the oil in the pot.

Slice the smoked sausage into 1/4 inch rounds and place in the pot, cooking until browned on each. Remove sausage from the pot and set aside.

Add the macaroni, water, mustard powder, salt, and pepper to the pot.

Place the lid on the pressure cooker and set to sealing.

Cook on manual pressure for 3 minutes.

Quick release the pressure and remove the lid.

Turn the pressure cooker to saute and stir in the evaporate milk.

Stir in the cheese, one handful at a time, until it's all melted and combined.

Stir the sausage into the macaroni and cheese, top with parsley, and serve.
Tips & Notes:
Recipe serves 8 as a side dish or 4 as a main dish.
Nutrition Information:
Calories: 724kcal (36%)| Carbohydrates: 49g (16%)| Protein: 36g (72%)| Fat: 42g (65%)| Saturated Fat: 20g (125%)| Cholesterol: 121mg (40%)| Sodium: 923mg (40%)| Fiber: 2g (8%)| Sugar: 7g (8%)