The Instant Pot is a great way to make these PRESSURE COOKER CARNITAS! Juicy, tender meat with a crisp exterior and loads of flavor.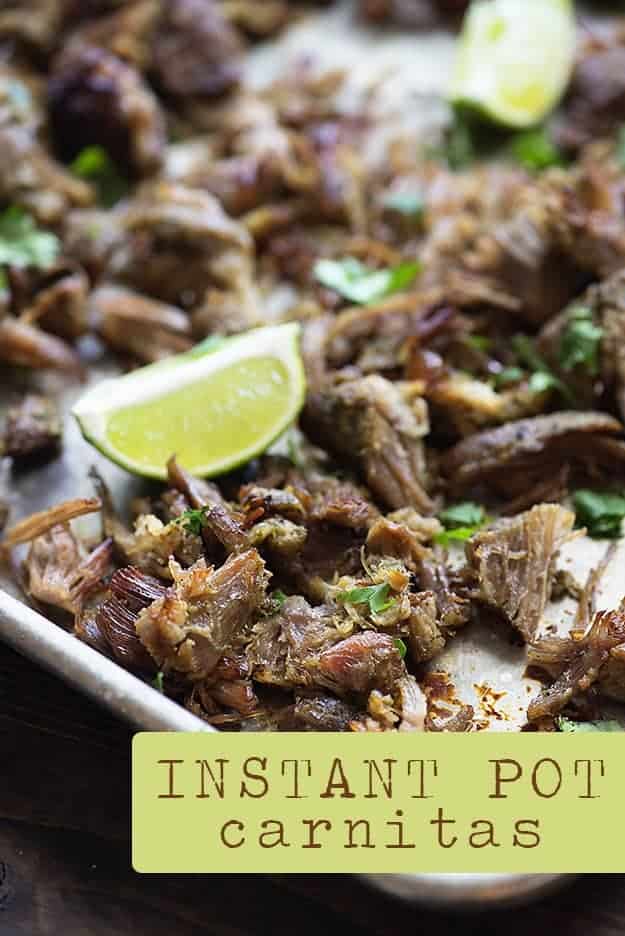 I'm pretty in love with my Instant Pot. We use it regularly for all kinds of things like hard boiled eggs, mashed potatoes, soups, and rice.
But my favorite is to cook up a big hunk of meat in a fraction of the time it would take in the oven or slow cooker.
Carnitas are a favorite in our house and I often make these authentic carnitas on the stove. They are a serious family favorite.
Cooking them on the stove is great, but you do have to pay a bit more attention to them and the clean up isn't nearly as easy.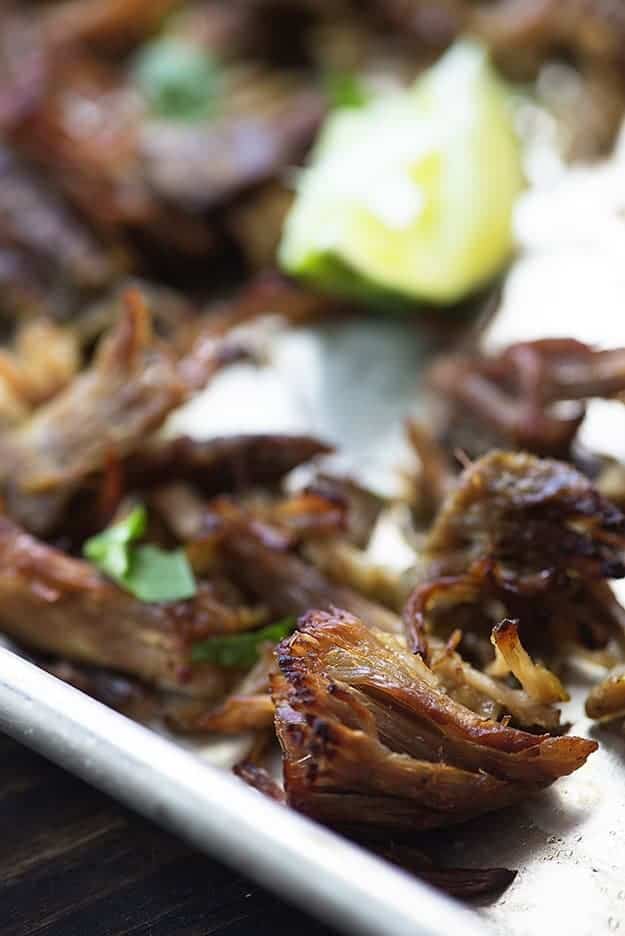 How to pressure cook carnitas:
This post contains affiliate links. As a member of Amazon and other affiliate programs I earn from qualifying purchases.
Full recipe down below in the recipe card! This is just a simple walk through and extra tips. 🙂
Prep: Cut the pork shoulder into cubes about 2 inches thick. The smaller size will help the pork to cook a bit quicker than if we threw in the whole piece of meat.
Season: Cover the pork with a mix of spices and brown sugar and then pour orange juice over the top.
Pressure Cook: Cook on high pressure for 27 minutes and then let the pressure naturally release. This may take another 15 minutes. It's important not to quick release the pressure as that can cause the meat to be tough.
Shred: Remove the pork from the liquid and shred it with a couple forks. Place the meat on a metal cookie sheet and squeeze lime juice over the top of the meat and sprinkle with salt. The lime juice gives it a bright pop of fresh flavor. We do find that food cooked in the Instant Pot tends to need extra salt, so give it a taste now and salt accordingly.
Broil: Place under the broiler in your oven until meat is crisp on the edges. Stir this occasionally. This step should only take about 5 minutes. Keep an eye out, because the broiler works quick and things can go from perfect to burnt in seconds.
Serve: Sprinkle the meat with cilantro and serve as a filling for tacos, a burrito, or over rice!
Why We Love This Recipe:
I love the contrast of tender meat with smoky seasonings against the sweetness from the orange juice and the crispiness from the broiler. These carnitas hit all the right notes in every bite.
It's all just magical.
If you don't have a pressure cooker yet, go buy this one. Right now! Highly recommend it. Anytime you can take a hunk of pork and get it tender enough to shred in less than an hour, you know you're living life right.
Serving Suggestions:
Tacos: Our preferred carnitas taco starts with warmed corn tortillas topped with carnitas, cilantro, and onions, and a dash of Cholula.
Empanadas: Get creative and give these carnitas empanadas a shot. The homemade empanada dough is a dream to work with and the avocado dip is always a plus.
Pizza: I also like to put leftover carnitas on pizza crust for a carnitas pizza. The richness of the meat, the chewy crust – it's a match made in heaven. Throw in some onions and peppers, a little cheese…mmm. So good!
Breakfast: We look forward to leftover carnitas for breakfast the next day. Scramble a couple of eggs, add in reheated carnitas, some cheese, and top it off with cilantro and onions. You could also use the meat in an omelet!
More Mexican-inspired Recipes: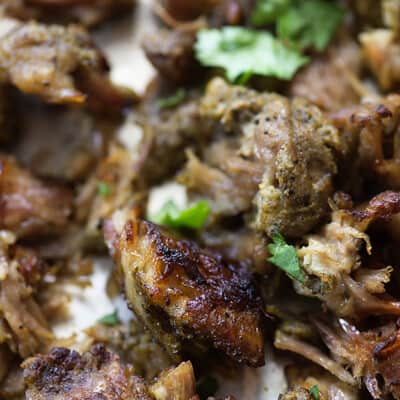 Pressure Cooker Carnitas
Pressure cooker carnitas are ready in less than half the time it takes for the traditional stove top version!
Prep5 minutes
Cook45 minutes
Total50 minutes
Ingredients
2 1/2 pounds boneless pork shoulder roast
2 tablespoons brown sugar
1 tablespoon ground cumin
1 tablespoon onion powder
1 tablespoon garlic powder
2 teaspoons salt divided
1 1/2 cups orange juice
1 lime
2 tablespoons chopped cilantro
Instructions
Cut the pork shoulder into 2 inch cubes and place in the pot of an electric pressure cooker.

Sprinkle with the brown sugar, cumin, onion powder, garlic powder, and 1 teaspoon of salt. Stir to coat the meat.

Pour in the orange juice.

Place the lid on the pressure cook and set vent to sealing.

Cook on high pressure for 27 minutes. Let pressure release naturally, about 15 minutes.

Remove the pork from the liquid and shred with two forks.

Place meat on a metal cookie sheet and squeeze lime juice over the top of the meat. Sprinkle with the remaining salt. Taste and add additional salt, if needed.

Place under the broiler until meat is crisp on the edges, about 5 minutes, stirring occasionally.

Sprinkle meat with cilantro and serve as a filling for tacos, in a burrito, or over rice.
Nutrition Information:
Calories: 172kcal (9%)| Carbohydrates: 10g (3%)| Protein: 18g (36%)| Fat: 6g (9%)| Saturated Fat: 2g (13%)| Cholesterol: 58mg (19%)| Sodium: 651mg (28%)| Potassium: 435mg (12%)| Fiber: 1g (4%)| Sugar: 7g (8%)| Vitamin A: 119IU (2%)| Vitamin C: 27mg (33%)| Calcium: 34mg (3%)| Iron: 2mg (11%)