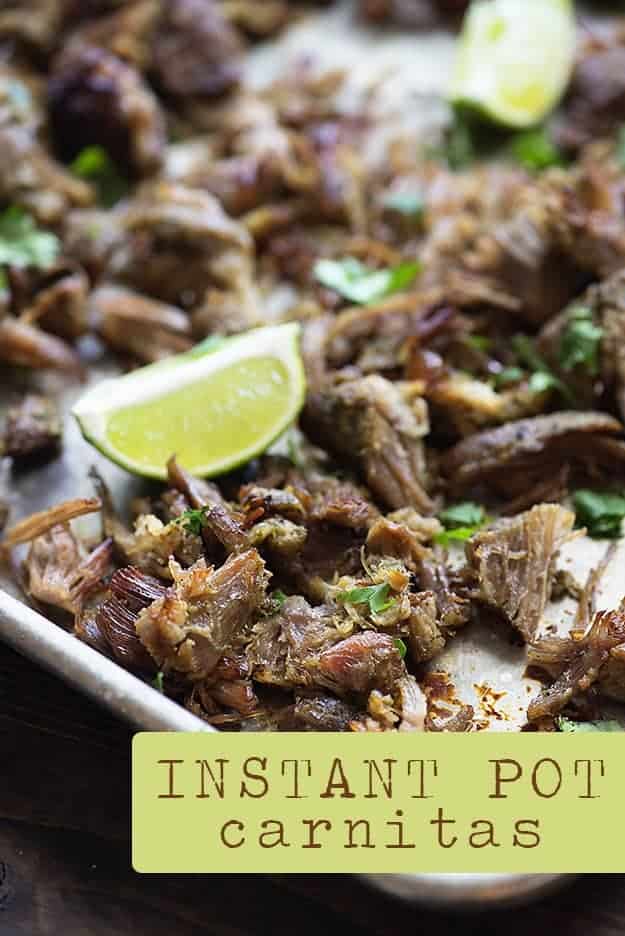 Alright, spill the beans. What did Santa bring you this year?
I bet I can guess – an Instant Pot. They are all the rage right now and with good reason. I'm pretty obsessed with mine! I used it to whip up these pressure cooker carnitas in less than an hour. That's some sort of miracle if you ask me!
After the holidays, we're all looking for something a little quick and easy. These pressure cooker carnitas fit the bill perfectly. I've been working with Smithfield this year to bring you new recipes featuring their delicious cuts of pork. They just recently came out with boneless pork shoulder seasoned carnitas and they're so good! I love that they do the seasoning work for you! You just pop open the package and cook 'em up. Talk about easy!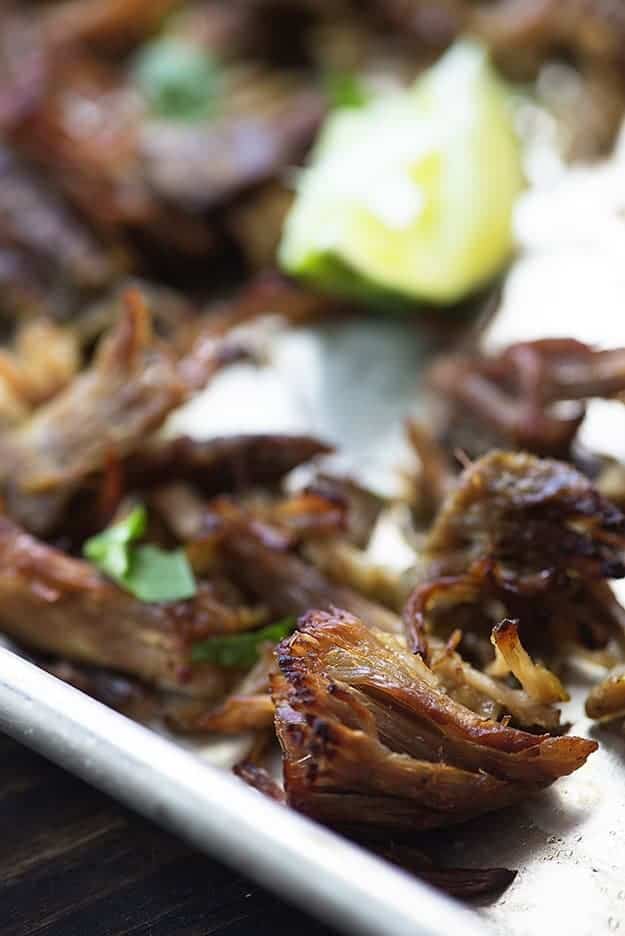 These carnitas come perfectly seasoned with garlic, cumin, onion, and oregano. I cut the meat into 2 inch chunks and placed it in my pressure cooker with some orange juice for a little bit of citrus sweetness. These will cook on high pressure for 27 minutes and then you'll let the pressure naturally release. This took about 15 minutes for me.
Once the pin has dropped and the pressure has released, you'll shred the meat and pop it onto a cookie sheet. These crisp up beautifully under the broiler in no time at all.
I love the contrast of tender meat with smoky seasonings against the sweetness from the orange juice and the crispiness from the broiler. It's all just magical.
If you didn't get a pressure cooker for Christmas, go buy this one. Right now! Highly recommend it. Anytime you can take a hunk of pork and get it tender enough to shred in less than an hour, you know you're living life right.
I've turned carnitas into many different dinners in my day. They obviously make fabulous tacos, topped with a bit of cilantro and onion, and a dash of Cholula.
But, I like to get creative and these carnitas empanadas are a real winner. The homemade empanada dough is a dream to work with and the avocado dip is always a plus.
I also like to put leftover carnitas on pizza crust for a carnitas pizza. The richness of the meat, the chewy crust – it's a match made in heaven. Throw in some onions and peppers, a little cheese…mmm. So good!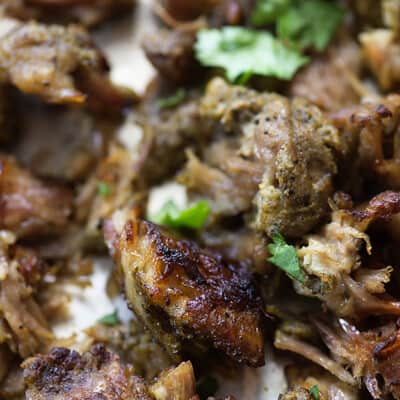 Pressure Cooker Carnitas
Pressure cooker carnitas are ready in less than half the time it takes for the traditional stove top version!
Prep5 minutes
Cook45 minutes
Total50 minutes
Ingredients
1 package Smithfield Boneless Pork Shoulder Seasoned Carnitas about 2 1/2 pounds
1 1/2 cups orange juice
2 tablespoons brown sugar
1 lime
1/2 teaspoon salt
2 tablespoons chopped cilantro
Instructions
Cut the pork shoulder into 2 inch cubes and place in the pot of an electric pressure cooker.

Cover with the orange juice and brown sugar. Close lid and set vent to sealing.

Cook on high pressure for 27 minutes. Let pressure release naturally, about 15 minutes.

Remove the pork from the liquid and shred with two forks.

Place meat on a metal cookie sheet and squeeze lime juice over the top of the meat. Sprinkle with salt.

Place under the broiler until meat is crisp on the edges, about 5 minutes, stirring occasionally.

Sprinkle meat with cilantro and serve as a filling for tacos, in a burrito, or over rice.
Nutrition Information:
Calories: 1223kcal (61%)| Carbohydrates: 11g (4%)| Protein: 86g (172%)| Fat: 90g (138%)| Saturated Fat: 31g (194%)| Cholesterol: 355mg (118%)| Sodium: 521mg (23%)| Sugar: 8g (9%)