Who wants a new smoked sausage recipe? I've got the BEST sun-dried tomato pasta recipe loaded with smoked sausage for you right here and it's so easy!


When I was growing up, my dad would make smoked sausage for lunch on the regular. Like, he'd slice it up, brown it in a pan, and then serve it alongside some corn or cornbread.
We ate it alllll the time. Especially the corn and/or cornbread – the man was obsessed with the stuff!
Now that I'm the parent, I totally get his obsession with smoked sausage.
I mean, not only is it totally delicious, it's easy peasy. Literally, there is probably nothing easier than slicing it into rounds and browning it.
Plus, the flavor you get when it gets all crispy? Heaven.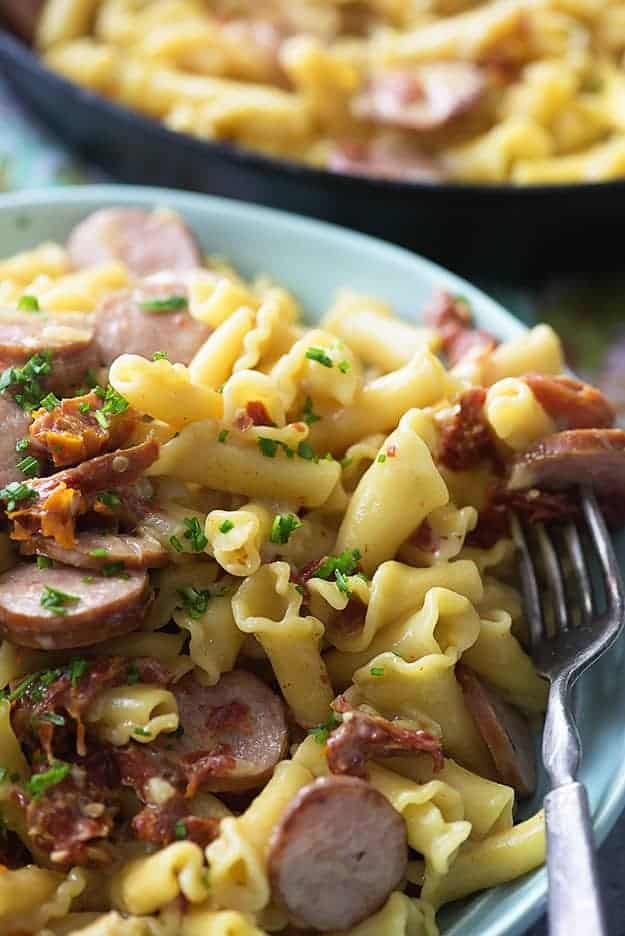 Anyway, I can't just serve up pieces of smoked sausage, because I'm an experimenter.
I get bored with simple foods way too quickly. I'm always adding this or that and coming up with new ways to serve dinner.
Enter this smoked sausage recipe! It's a pasta dish, because hi. Have we met? Pasta for life.
It's also a one dish dinner, because ain't nobody got time to be washing 32 dishes on a weeknight. Not when there are important Netflix shows to be catching up on anyway.
I'm currently in love with sun-dried tomatoes, so I knew I was throwing those guys in this dish. I mean, how could I not?
They're sweet and tangy and chewy and it's really hard to go wrong with them.
You'll want the dry pack version – not the kind that are packed in oil.
If you're also a sun-dried tomato lover, you should try my Tuscan white bean soup! It's full of 'em. Same goes for my chicken florentine.
I just browned up my sausage with some onion and garlic, tossed in the sun-dried tomatoes, and poured in chicken broth and half 'n half.
I always get questions when I use half 'n half…it must be an American only kinda thing?
For those of you that don't have half 'n half available or just have never heard of it, it's basically just half heavy cream and half milk.
You can totally make your own, which is what I always do since I use cream in my coffee and milk in my cereal. I don't bother buying the half 'n half for recipes since I have the other two things on hand ready to go.
Anyway, this cooks up in about 25 minutes and what comes out is pure comfort food.
Feel free to change up the cheese to suit your tastes. I'm pretty in love with Gruyere and it works great here, but swiss or cheddar would be great too.
Speaking of cheddar – what do you guys think of making this with cheddar bratwurst instead of smoked sausage? Weird? Awesome? I can't wait to find out. 😉
Let me know if you guys give this one a try. Curious to hear what you think!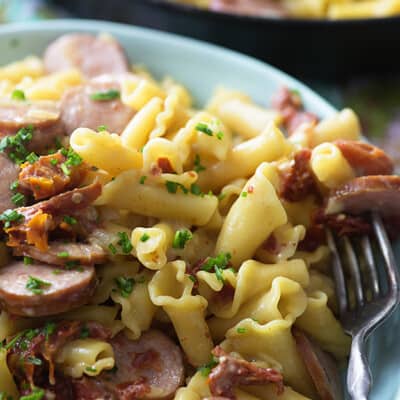 Sun-Dried Tomato Pasta Skillet
This one dish pasta recipe is seriously one of my all time favorites. It's just bursting with flavor!
Prep5 minutes
Cook20 minutes
Total25 minutes
Ingredients
13 ounces smoked sausage
1 sweet onion diced
1 teaspoon olive oil
2 cloves garlic minced
1 pound campanelle pasta
4 ounces sun-dried tomatoes not packed in oil
4 cups chicken broth
1 1/4 cups half and half
3/4 cup grated Gruyere cheese
1/4 cup chopped chives
Instructions
Slice the sausage into thin rounds.

Heat a 12 inch skillet over medium heat and add the olive oil.

Add the smoked sausage and onions to the skillet and cook, stirring often, until the onions are browned and the edges of the sausage are golden, about 5 minutes.

Add the garlic to the pan and cook 30 seconds.

Add the pasta and sun-dried tomatoes to the skillet. Pour in the broth and half and half. Stir well to combine.

Bring to a boil, cover, and reduce to a simmer.

Cook for 12 minutes or until pasta is tender.

Remove the lid and stir in the grated cheese until melted.

Sprinkle with chives before serving.
Nutrition Information:
Serving: 6people| Calories: 723kcal (36%)| Carbohydrates: 80g (27%)| Protein: 33g (66%)| Fat: 31g (48%)| Saturated Fat: 12g (75%)| Cholesterol: 85mg (28%)| Sodium: 878mg (38%)| Fiber: 5g (21%)| Sugar: 17g (19%)