This chicken broccoli pasta is one of those fast and easy dinner recipes that your whole family will ask for again and again!
So, do you guys want to know a little secret about me?
Of course you do.
My secret is this: The main reason I homeschool is to avoid the school pickup line.
There, I said it. The truth has been made public.
Every now and then I pick my nephew up from school. He's adorable and sweet and he has these cute little freckles on his nose and I just love him.
I'm not a super big fan of picking him up from school though, because it means I have to arrive at least 15 minutes early in order to get a spot that's not a million miles away. It also means that I have to watch all the other weirdo parents park with, like, 10 feet of space between each of their cars. It makes the line so long and there is only a limited amount of space to park! Why? Why do they do this?
That's a rhetorical question, because I know why they do it. They do it so that they can whip out of the line and cut in front of everyone else when they're ready to leave. It's pretty cut throat out there after the bell rings, y'all.
Anyway, on the days when I pick my nephew up from school and I'm all crabby and stressed out from the pick up line, I need something easy to feed my people for dinner. <—- See? See how I tied this all together?
Enter my kids' favorite way to eat broccoli!
This chicken broccoli pasta recipe is total comfort food!
I just boil up some pasta, toss in some broccoli, stir in shredded chicken, and whip up a simple creamy cheese sauce. Total comfort food and you'll have it on the table in about 20 minutes, if you don't take the time it counts to bring the water to a boil, which I don't because 20 minutes sounds better than 30 minutes. Also, some people have those magical stoves that bring water to a boil in under 2 minutes, so it's not technically a lie. Right? Go with me on that.
For more comfort food recipes, try my fried cabbage, cheeseburger soup, or taco casserole!
PLEASE NOTE: This recipe does not produce a ton of cheese sauce. The pasta, chicken, and broccoli will be lightly coated in sauce. If you like your pasta dishes more saucy, double the amount of cheese sauce below. Also, feel free to serve this with some crusty bread for dunking in any of that extra cheese sauce if you do choose to double it, because YUM.
Chicken and broccoli pasta is always a hit with my kiddos!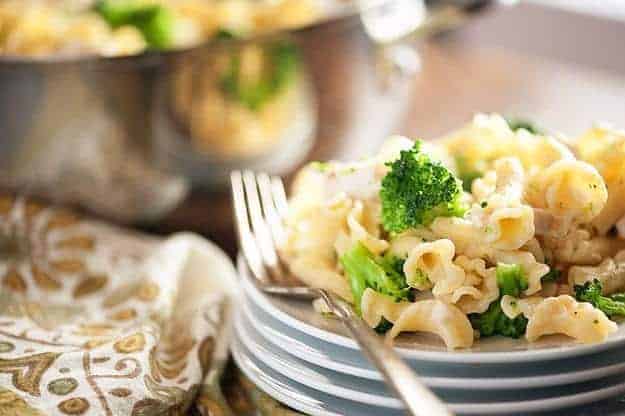 Chicken Broccoli Pasta
This chicken broccoli pasta is one of those fast and easy dinner recipes that your whole family will ask for again and again!

Prep10 minutes
Cook10 minutes
Total20 minutes
Ingredients
1 pound Campanelle pasta
1 head broccoli
2 cups chopped cooked chicken
2 tablespoons butter
2 tablespoons flour
1 1/2 cups milk
1/2 cup grated Gruyere cheese
Salt and pepper to taste
Instructions
Add the pasta to a large pot of boiling water. Set the timer for 7 minutes.

Meanwhile, rinse and chop the broccoli into bite sized florets. When the pasta has cooked for 7 minutes, add the broccoli to the pot and continue cooking for 3 minutes or until the pasta is al dente and the broccoli is bright green and tender crisp.

While the pasta is cooking, make the cheese sauce. Melt the butter in a small saucepan over medium heat. Whisk in the flour and continue whisking for 1 minute.

Whisk in the milk slowly. Cook over medium heat, whisking constantly, until the sauce thickens, about 5 minutes. Remove from the heat and stir in the grated cheese until smooth and creamy.

Drain the pasta and broccoli and return to the pan. Stir in the chopped chicken. Top with the cheese sauce, stir to coat, and sprinkle with salt and pepper.
Nutrition Information:
Calories: 691kcal (35%)| Carbohydrates: 73g (24%)| Protein: 21g (42%)| Fat: 37g (57%)| Saturated Fat: 8g (50%)| Cholesterol: 28mg (9%)| Sodium: 134mg (6%)| Potassium: 727mg (21%)| Fiber: 8g (33%)| Sugar: 8g (9%)| Vitamin A: 970IU (19%)| Vitamin C: 90.8mg (110%)| Calcium: 269mg (27%)| Iron: 2.8mg (16%)