I'm all about the sun-dried tomatoes recipes lately and these pinwheels are full of their tangy flavor!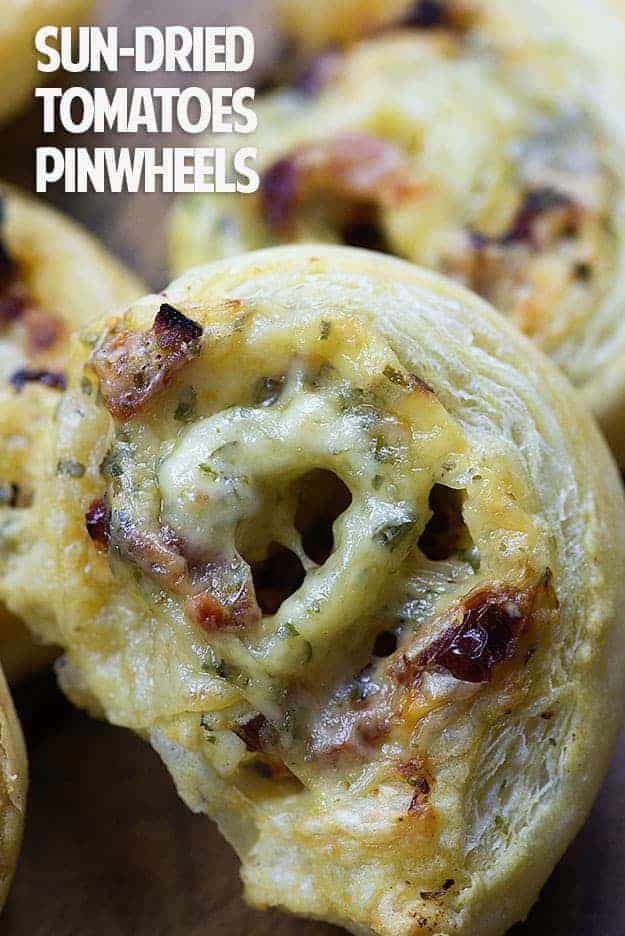 You guys.

It hit 62 degrees today.
That might not sound all that exciting to those of you in the south, but up here in Central Illinois, 62 degrees was a welcome change from the cold.
I've been dealing with below zero temperatures and snow. So much snow.
Of course, it's raining all day, so the 62 degree day isn't quite the ray of sunshine it could have been, but I can't complain.
It stopped raining long enough for me to walk my dog without freezing to death and I have to count that as a win.
Also, I'm trying to convince my husband to move somewhere warmer. It's not going well.
We both hate just about everything about Illinois, but our entire family lives within about 20 miles of us. It's hard to walk away from that, you know?
Though, if we're being completely honest, I'd do it. I mean, people would visit us if we lived somewhere warm.
The husband is a much bigger softy than I am though, so I guess we're stuck here for now. 😉
Anyway! Let's talk about this pinwheel recipe I have for you today.
Way back when, my aunt brought these cheddar bacon pinwheels to a family get-together and I've been rolling things up pinwheel-style ever since.
This version is loaded with creamy Havarti cheese and tangy sun-dried tomatoes.
For just a couple of ingredients, these pinwheels are seriously packing some flavor.
Did you guys try my sun-dried tomato pasta? It's literally bursting with goodness. Smoked sausage, sun-dried tomatoes, cream, cheese, and pasta – all cooked in one skillet! That's a total win, right?
Anyway, these little pinwheels are a total win too.
You're going to love the creamy mild cheese paired with the tangy and chewy sun-dried tomatoes.
I used puff pastry in this recipe, because I like how flaky it is.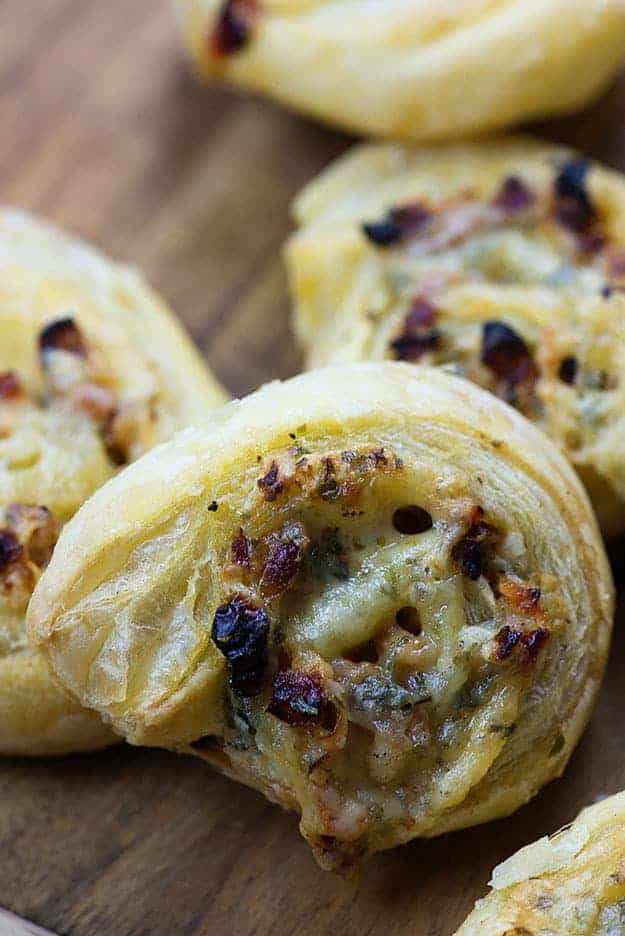 You can definitely use crescent roll dough if you prefer. Both work great, though the crescent dough might not need quite as much time in the oven so just keep an eye on that.
These make a great snack or appetizer!
If you love pinwheel recipes, try my cream cheese pinwheels and my bacon pinwheels! Both are full of goodness and always a hit with guests.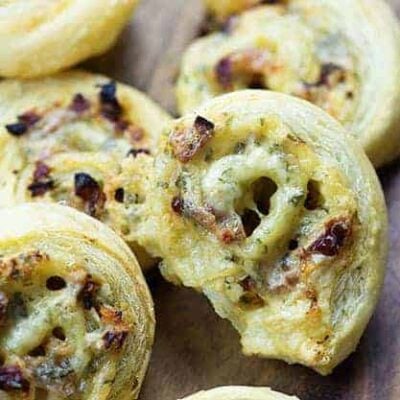 Sun-Dried Tomatoes Pinwheels
These pinwheels are filled with tangy sun-dried tomatoes and creamy Havarti cheese. Such a simple appetizer that's full of flavor.
Prep5 minutes
Cook15 minutes
Total20 minutes
Ingredients
1 sheet frozen puff pastry thawed for 15 minutes
3 tablespoons sun-dried tomatoes packed in oil drained and finely diced
6 ounces grated Havarti cheese
2 teaspoons minced parsley
Instructions
Preheat oven to 400 degrees. Line a baking sheet with parchment paper.

Unfold the puff pastry and lay on a flat work surface.

Sprinkle the top with the sun-dried tomatoes, cheese, and parsley.

Roll up, jelly-roll style. Slice into 9 equal sized pieces and transfer to the prepared baking sheet.

Bake for 15 mintues or until golden brown.

Serve hot or at room temperature.
Nutrition Information:
Calories: 225kcal (11%)| Carbohydrates: 13g (4%)| Protein: 6g (12%)| Fat: 16g (25%)| Saturated Fat: 5g (31%)| Cholesterol: 16mg (5%)| Sodium: 223mg (10%)| Potassium: 106mg (3%)| Vitamin A: 215IU (4%)| Vitamin C: 5.1mg (6%)| Calcium: 120mg (12%)| Iron: 0.9mg (5%)