This pinwheel recipe is loaded with sweet caramelized onions and melty cheese for a decadent appetizer anytime of the year. Big thanks to Roth Cheese for sponsoring this post!
I still remember the first time I had one of those pinwheel appetizers that were loaded with bacon and cheese and made with crescent roll dough. It was like I'd died and gone to heaven.
Every party I had for the next 3 years featured those pinwheels.
And then I started branching out.
Oh, how I branched out.

I started with savory pinwheels: ham and cheese pinwheels, cream cheese pinwheels with bacon and chicken, and tortilla roll-ups loaded with fresh veggies. Then I moved on to the sweet pinwheels: apple pie pinwheels, pecan pie pinwheels, and peanut butter and jelly pinwheels.
Pinwheel appetizers are always a hit with my friends and family, which is a good thing because I'm obviously obsessed.
Today's pinwheel recipe is loaded with sweet caramelized onion and Butterkäse cheese. Have you tried Butterkäse before? It's very mild, buttery, and perfect for melting.
I'm working with Roth Cheese to bring you cheesy goodness like these pinwheels this year. Did you spot the cheesy cauliflower gratin I shared last month featuring their Havarti cheese? Divine.
Anyway, I really love the smooth creaminess of the Butterkäse paired with the sweet onions and the flaky pastry.
Now, I'm not going to lie to you – caramelizing onions properly takes for.ev.er. It's not hard (not at all!!), but it's just a process that you really can't rush. It's not super hands on, so you can have the onions going while you work on other things. And I promise – caramelized onions are worth every second of cooking. They get so sweet and tender and just all around amazing.
Aside from the time to cook the onions, these are super quick. You'll just thaw some puff pastry, sprinkle with grated Butterkäse, and spread on the onions. These bake in a hot oven in just 15 minutes.
Enjoy, friends!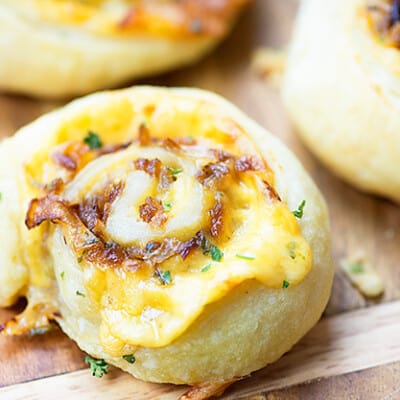 Cheesy Caramelized Onion Pinwheels
This pinwheel recipe is loaded with sweet caramelized onions and melty cheese for a decadent appetizer anytime of the year.

Prep10 minutes
Cook1 hour 15 minutes
Total1 hour 25 minutes
Ingredients
1 tablespoon butter
2 teaspoons olive oil
4 sweet onions thinly sliced
1 teaspoon salt
1 teaspoon sugar
6 ounces Roth Butterkäse grated
2 sheets frozen puff pastry thawed
2 teaspoons minced parsley
Instructions
Heat a 12 inch heavy bottomed skillet over medium heat. Add the butter and oil to coat the bottom.

Add the onions to the skillet and stir well to coat in the butter and oil. Cook 10 minutes over medium low heat.

Sprinkle the onions with the salt and sugar and stir well.

Continue cooking for 50 minutes, stirring every 5 to 10 minutes, until the onions are soft and browned. You may need to reduce the heat to keep the onions from burning. If the onions start to look dry while cooking, add 2 tablespoons of water to the pan and stir.

When onions are finished cooking, unroll the puff pastry sheets and top each sheet with the cheese, onions, and parsley. Roll the sheets up jelly-roll style.

Slice into 8 rounds per sheet with a serrated knife.

Place on a parchment lined baking sheet and bake at 400 degrees for 15 minutes.

Serve immediately.
Nutrition Information:
Calories: 243kcal (12%)| Carbohydrates: 20g (7%)| Protein: 5g (10%)| Fat: 15g (23%)| Saturated Fat: 5g (31%)| Cholesterol: 11mg (4%)| Sodium: 314mg (14%)| Potassium: 124mg (4%)| Fiber: 1g (4%)| Sugar: 4g (4%)| Vitamin A: 105IU (2%)| Vitamin C: 4mg (5%)| Calcium: 84mg (8%)| Iron: 1mg (6%)