This broccoli and cauliflower gratin is cheesy vegetable perfection. It's easy enough for a weeknight, but delicious enough for the holidays and it's always gobbled up.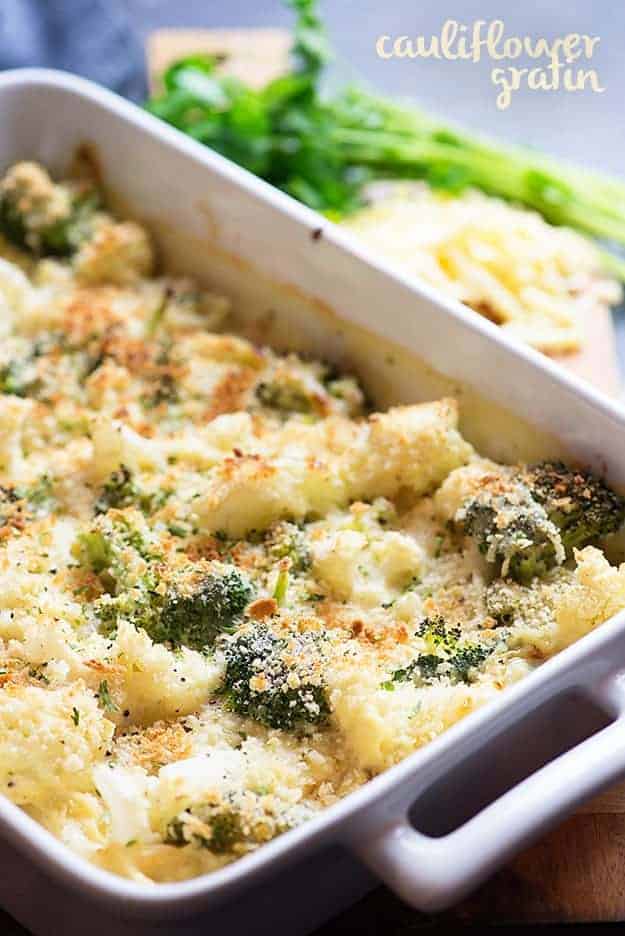 I am a total sucker for roasted vegetables and I bet most of you are too!
So, rather than steam the cauliflower and broccoli in this gratin recipe, I popped it in the oven to roast. And THEN! (this is the part where it gets really good) I made this utterly heavenly cheese sauce.
I am a fan of creamy dreamy Havarti cheese. I normally just slice it up and serve with crackers, but it is divine when melted into a cheese sauce. Like, out of this world good and it pairs so well with the nutty flavors of roasted broccoli and cauliflower.
This one is easy to make, but it's fancy enough for a holiday dinner and I love that!
Ingredient Notes:
This post contains affiliate links. As an Amazon associate and member of other affiliate programs, I earn from qualifying purchases.
Broccoli & Cauliflower – You'll start with some fresh, raw broccoli & cauliflower. I haven't tested this recipe with frozen, but I do always recommend fresh.
Cheese Sauce – We're going to make this super creamy cheese sauce using some grated Havarti cheese, milk, garlic, butter, flour and seasonings!
Panko – This adds a bit of crunch to the top.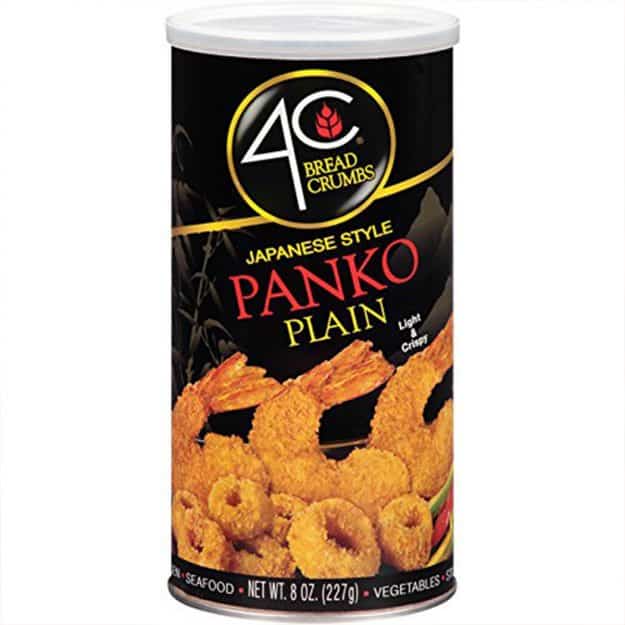 Panko is a Japanese bread crumb that is light, airy, and crispy. It can be found in most any grocery store. We highly recommend using Panko over traditional bread crumbs in any breading recipe where you want a crispy finished product.
What We Love About This Recipe!
Roasted veggies are already delicious, thanks to those nutty flavors. But adding a gourmet (but simple!) cheese sauce to the vegetables really takes things over the top! I love that this is pretty easy to throw together, my whole family likes it, and it's a bit different than your usual veggies and cheese sauce.
How to Make Broccoli & Cauliflower Gratin:
Roast the Veggies: Roasting brings out flavor and completely changes the flavor of broccoli and cauliflower. Add the broccoli & cauliflower to a buttered baking dish and drizzle with olive oil and sprinkle with a little salt and pepper.
Pop that in the oven and let it bake for about twenty minutes, stirring once halfway through so that both sides of the veggies can get good and roasted.
Cheese Sauce: The creamy Havarti cheese sauce is the star of this recipe! You'll start by melting some butter in a sauce pan with some garlic, letting it cook about a minute or so while stirring constantly.
Whisk in the flour and some more salt and pepper and then start slowly adding in the milk, whisking constantly. Let the milk, butter, and flour mixture cook for about five minutes or until it reaches the consistency of a thin gravy.
Finally, remove the sauce pan from the heat and whisk in the grated Havarti cheese, letting it melt from the heat while constantly stirring until it forms a smooth, creamy cheese sauce!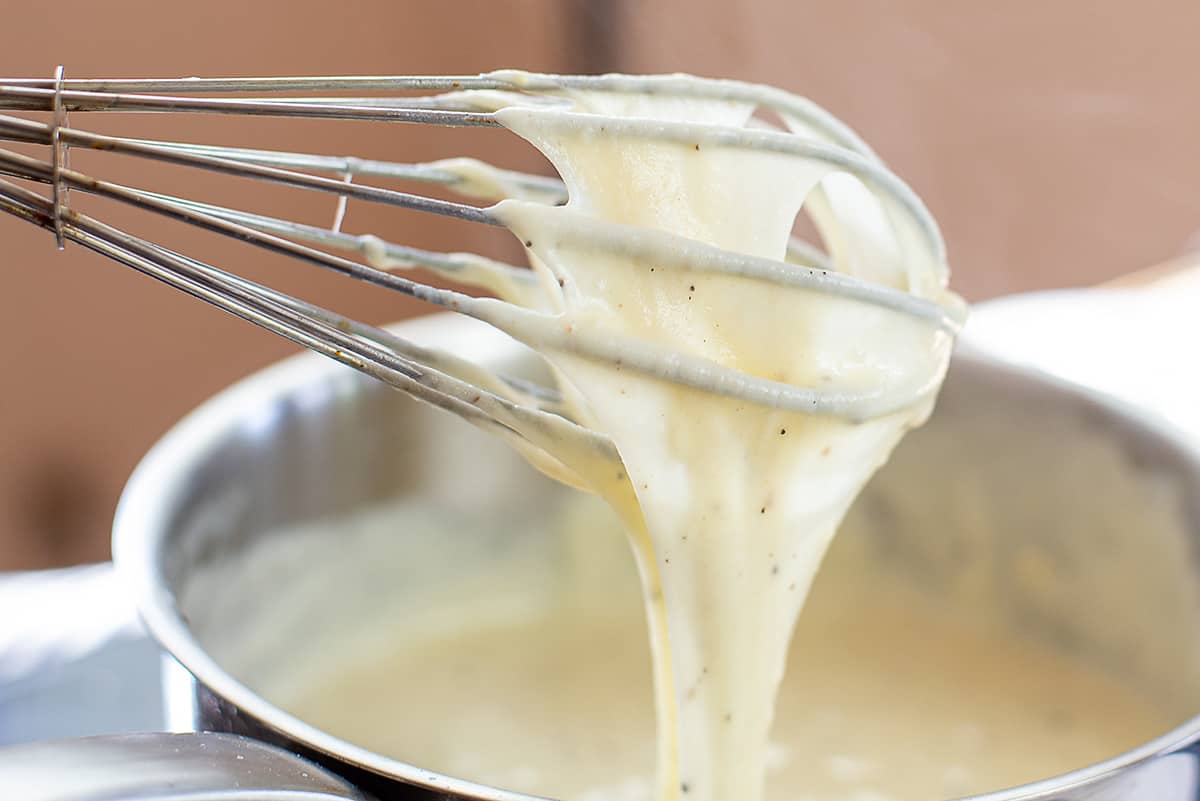 Helpful Tip!
If you are using a different cheese than Havarti, just follow all the same steps for making the cheese sauce and substitute the Havarti with your preferred grated cheese. Cheddar is a classic, but feel free to get creative!
Toppings: When you've finished the first bake of the veggies and the cheese sauce is ready, go ahead and start evenly pouring all that creamy sauce over the top of the roasted broccoli & cauliflower! Finally, sprinkle the Panko bread crumbs over the cheese sauce. One more step…
Bake & Broil: When you've finished topping the veggies with the cheese sauce and Panko, it's time to do one last bake in the oven. Place the dish back in for another ten minutes and then finally we'll finish it off in the broiler!
Watch closely so it does not burn. When it's a nice golden brown on top you can go ahead and serve this gratin dish while it's still good and hot!
FAQs:
Can I make this with frozen broccoli and cauliflower?
Fresh is best, but frozen vegetables will likely work. We haven't tested it ourselves, but give it a try if you like.
Do I have to use Havarti cheese?
Nope, you can use any cheese you like! We love Havarti because it's so rich and creamy, but cheddar is also a good choice.
MORE EASY CHEESY RECIPES!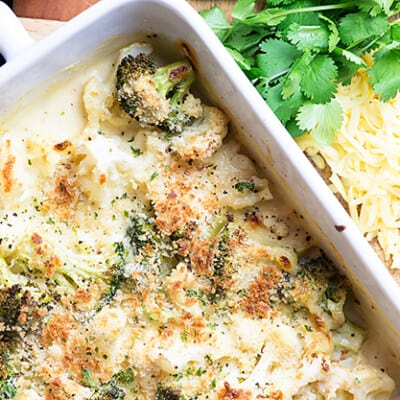 Broccoli and Cauliflower Gratin
This broccoli and cauliflower au gratin is cheesy vegetable perfection. It's easy enough for a weeknight, but delicious enough for the holidays and it's always gobbled up.
Prep10 minutes
Cook35 minutes
Total45 minutes
Ingredients
For the vegetables
1 tablespoon butter
1 pound broccoli florets
1 pound cauliflower florets
1 tablespoon olive oil
1/2 teaspoon salt
1/2 teaspoon pepper
For the cheese sauce
3 tablespoons butter
2 cloves garlic minced
3 tablespoons flour
1 teaspoon salt
1 teaspoon ground pepper
1 1/2 cups whole milk
6 ounces havarti grated
For the topping
1/3 cup Panko bread crumbs
2 tablespoons melted butter
1 tablespoon chopped parsley
Instructions
To roast the vegetables
Preheat oven to 350 degrees. Butter the bottom and sides of a 9×13 baking dish with one tablespoon of butter.

Add the broccoli and cauliflower to the buttered dish and drizzle with the oil. Season with salt and pepper.

Bake for 20 minutes, stirring once halfway through.

Start the cheese sauce when the vegetables have 8 minutes left to bake.
To make the cheese sauce
To make the cheese sauce, melt the butter in a medium sauce pan.

Add the garlic to the melted butter and cook, stirring constantly, for 1 minute.

Whisk in the flour, salt, and pepper. Cook for 1 minute.

Slowly add the milk to the flour mixture, whisking constantly. Cook, whisking constantly, for 4-5 minutes or until mixture reaches the consistency of a thin gravy.

Remove from the heat and whisk in the cheese until the sauce is smooth and creamy.
To bake
Remove the vegetables from the oven and stir. Pour the cheese sauce evenly over the vegetables.

Combine the Panko and melted butter and sprinkle over the dish.

Return to the oven for 10 minutes.

Place the pan under the broiler and broil until the bread crumbs are browned, about 2 minutes, if desired.

Remove from the oven, sprinkle with parsley, and serve.
Tips & Notes:
We prefer fresh vegetables in this dish, but frozen will likely work. You may swap out the Havarti for shredded cheddar, if you prefer.
Nutrition Information:
Calories: 204kcal (10%)| Carbohydrates: 13g (4%)| Protein: 10g (20%)| Fat: 13g (20%)| Saturated Fat: 8g (50%)| Cholesterol: 38mg (13%)| Sodium: 716mg (31%)| Potassium: 430mg (12%)| Fiber: 2g (8%)| Sugar: 4g (4%)| Vitamin A: 815IU (16%)| Vitamin C: 78.9mg (96%)| Calcium: 229mg (23%)| Iron: 1mg (6%)