This broccoli and cauliflower au gratin is cheesy vegetable perfection. It's easy enough for a weeknight, but delicious enough for the holidays and it's always gobbled up. Big thanks to Roth for sponsoring this post.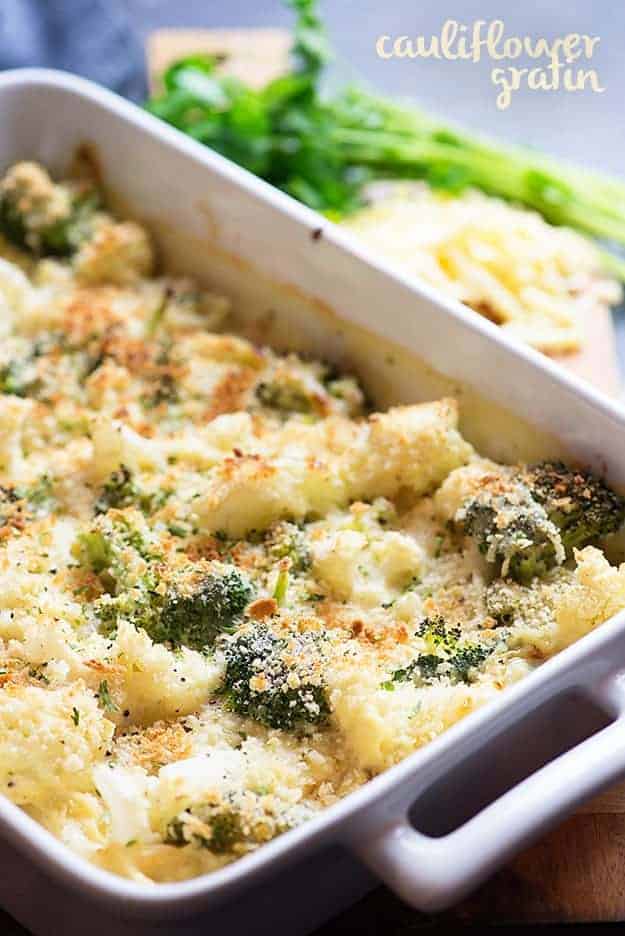 Guys, get ready.
I'm about to share some exciting news with you and I want you to be fully prepared. Hold on to your hats. Take a seat. Buckle up.
This is big.
My kids ate vegetables last night and they were happy about it.
I mean, maybe just maaaaaaaybe it has something to do with the ultra creamy cheese sauce that I poured over the top, but who can say for sure.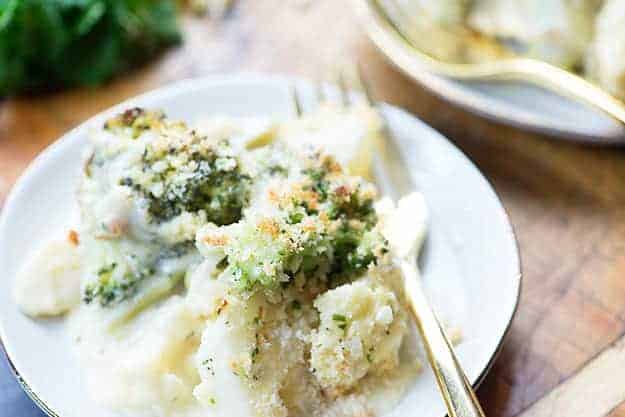 I am a total sucker for roasted vegetables and I bet most of you are too. So, rather than steam the cauliflower and broccoli in this gratin recipe, I popped it in the oven to roast. And THEN! (this is the part where it gets really good) I made this utterly heavenly cheese sauce with Roth Original Havarti Cheese.
Y'all.
This cauliflower au gratin is so good that even my picky kids asked for seconds.
I am a fan of creamy dreamy Havarti cheese. I normally just slice it up and serve with crackers, but it is divine when melted into a cheese sauce. Like, out of this world good and it pairs so well with the nutty flavors of roasted broccoli and cauliflower.
Basically, if my kids ate a vegetable recipe and didn't complain, you are for sure going to like that recipe. Because my kids, man. They can sure complain about some vegetables, if you know what I'm saying.
Also, hello, silky smooth cheese sauce. I want to marry you and have your babies.
Roth uses traditional cheese making methods with milk from local Wisconsin farmers to create an ultra creamy Havarti. The original flavor is perfect for this cauliflower gratin, but be sure to snag a package of the jalapeno Havarti too. Because how could you not? I mean, imagine that on your cheese plate for Thanksgiving alongside some cranberry jelly. Cracker + jalapeno Havarti + cranberry jelly = life.
I'm so excited to dump this cheese sauce over some pasta next time. Think about how amazing mac and cheese would be with creamy Havarti in place of the dreaded block of orange cheese-like substance? Totally dreamy. Or maybe just grating it over my French dip sandwich for a delightful dinner experience. I just know I want more cheese in my life, okay?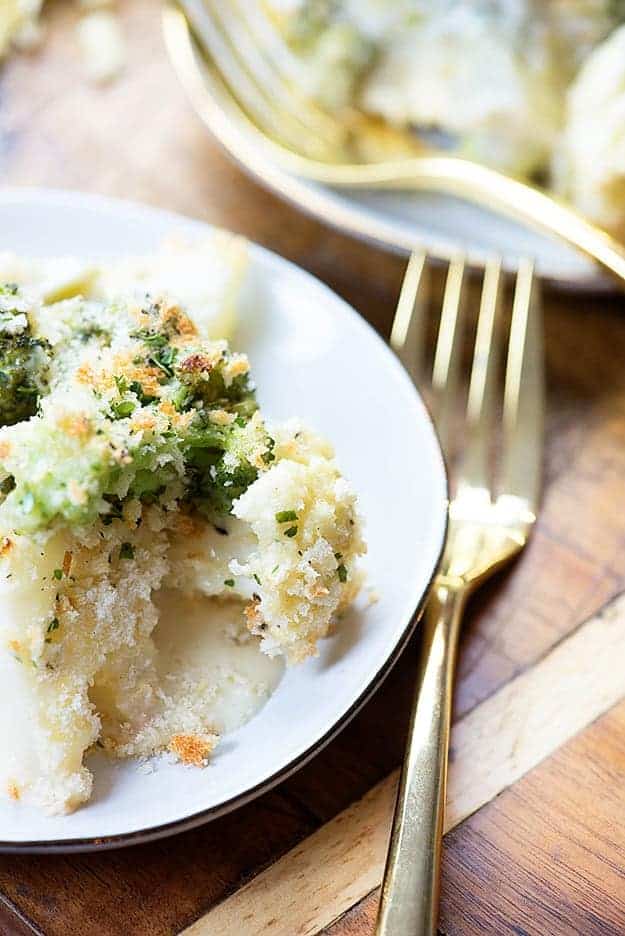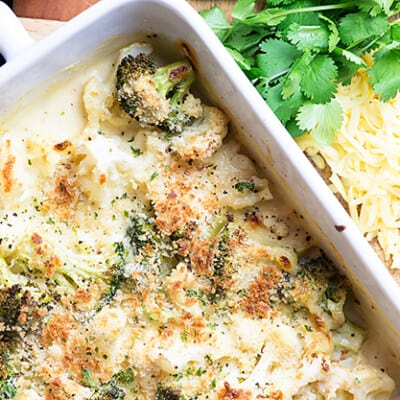 Broccoli and Cauliflower Gratin
This broccoli and cauliflower au gratin is cheesy vegetable perfection. It's easy enough for a weeknight, but delicious enough for the holidays and it's always gobbled up. Big thanks to Roth for sponsoring this post.

Prep10 minutes
Cook35 minutes
Total45 minutes
Ingredients
1 pound broccoli florets
1 pound cauliflower florets
4 tablespoons butter divided
2 cloves garlic minced
3 tablespoons flour
1 1/2 teaspoons salt
2 teaspoons ground pepper
1 1/2 cups whole milk
6 ounces Roth Original Havarti Cheese grated
1/4 cup Panko bread crumbs
1 tablespoon chopped parsley
Instructions
Preheat oven to 350 degrees. Butter the bottom and sides of a 9x13 baking dish with one tablespoon of butter.

Add the broccoli and cauliflower to the buttered dish and sprinkle with 1/2 teaspoon of salt and 1 teaspoon pepper.

Bake for 20 minutes, stirring once halfway through.

Start the cheese sauce when the vegetables have 8 minutes left to bake.

To make the cheese sauce, melt the remaining 3 tablespoons of butter in a medium sauce pan.

Add the garlic to the melted butter and cook, stirring constantly, for 1 minute.

Whisk in the flour, remaining teaspoon of salt, and remaining teaspoon of pepper. Cook for 1 minute.

Slowly add the milk to the flour mixture, whisking constantly. Cook, whisking constantly, for 4-5 minutes or until mixture reaches the consistency of a thin gravy.

Remove from the heat and whisk in the grated Roth Original Havarti Cheese until the sauce is smooth and creamy.

Remove the vegetables from the oven and stir. Pour the cheese sauce evenly over the vegetables and sprinkle the top with the Panko bread crumbs.

Return to the oven for 10 minutes.

Place the pan under the broiler and broil until the bread crumbs are browned, about 2 minutes.

Remove from the oven, sprinkle with parsley, and serve.
Nutrition Information:
Calories: 204kcal (10%)| Carbohydrates: 13g (4%)| Protein: 10g (20%)| Fat: 13g (20%)| Saturated Fat: 8g (50%)| Cholesterol: 38mg (13%)| Sodium: 716mg (31%)| Potassium: 430mg (12%)| Fiber: 2g (8%)| Sugar: 4g (4%)| Vitamin A: 815IU (16%)| Vitamin C: 78.9mg (96%)| Calcium: 229mg (23%)| Iron: 1mg (6%)
I've worked with Roth in the past too! Check out my bacon jam recipe, potato pancakes with ham and cheese, caramelized onion dip, and French onion soup burgers!