This Cheesy chicken and rice recipe is cooked in one skillet with broccoli and carrots! This hearty dish is a family favorite and I make it often on crazy weeknights.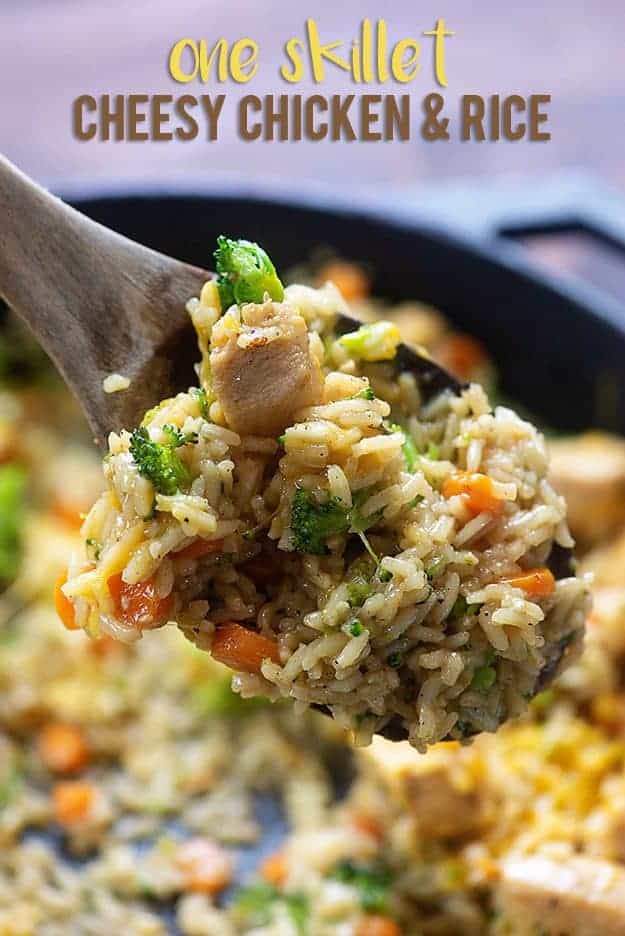 Things I am currently obsessing over: this weather, The Handmaid's Tale, and one dish dinners.
They all correlate, if you think about it. I need plenty of time to watch The Handmaid's Tale with the windows open letting in the nice Spring breeze and I can't do that if I'm spending hours in the kitchen cooking and washing dishes.
Right? 😉
So, yes, I'm lazy and that's partly why I love this chicken and rice recipe. Not to worry, I also love it because it's kid-friendly, healthy, packing in two veggies in one dish, made with lean chicken, and did I mention that it's DELICIOUS?
Busy mama's, tell me the truth – do you want this easy chicken and rice recipe or nah?
Right. I had a feeling you'd want the recipe.

How to make cheesy chicken and rice with broccoli and carrots:
We're going to start by chopping up some chicken breasts into bite-sized chunks. You could also use thighs, if that's more your style.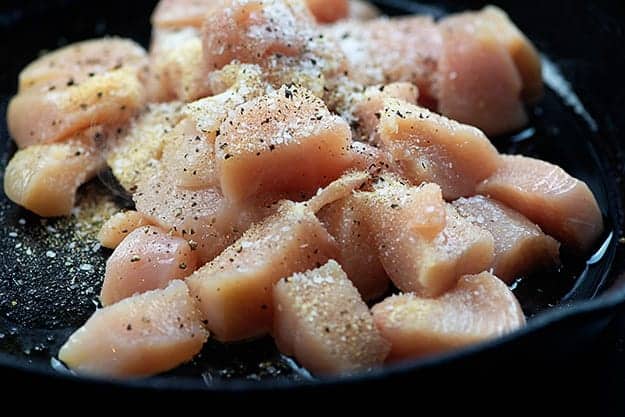 Season the chicken with a little garlic powder, salt, and pepper and toss it in a hot skillet with some olive oil.
Cook the chicken until browned on the outside. No need to cook it through at this stage of the game.
Next, you'll stir in some minced garlic, diced carrots, white rice, and chicken broth.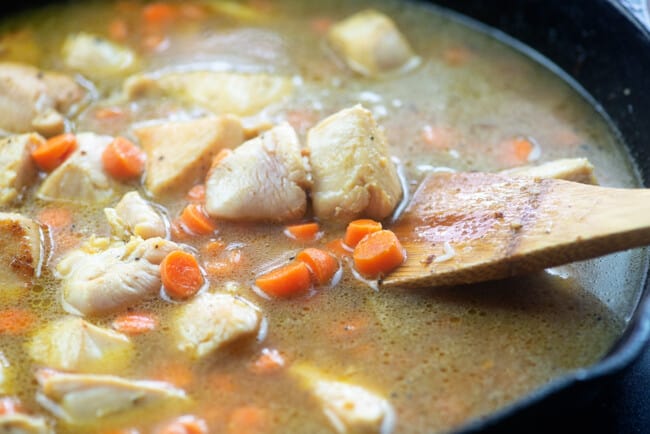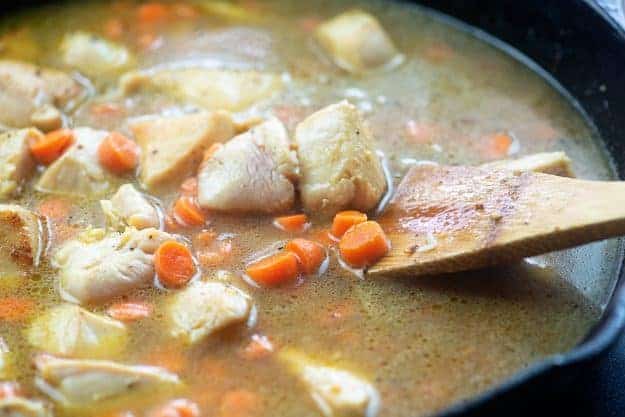 Bring that goodness to a boil and pop a lid on. Go sit on the back porch and enjoy some peace and quiet while this cooks. You've got ten minutes. 😉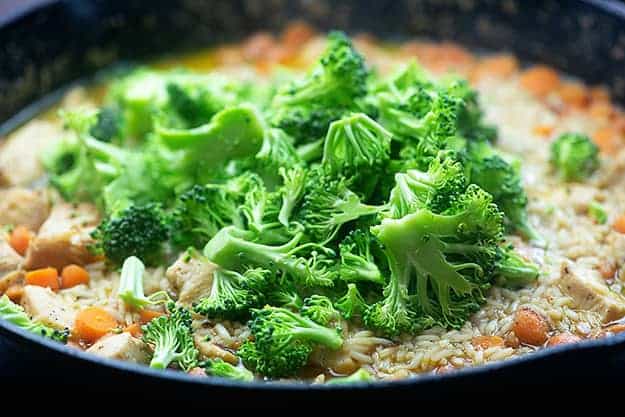 After ten minutes is up, give it a stir and add the broccoli. Chicken and broccoli go together so perfectly!
Pop the lid back on and cook for another ten minutes or until the liquid is absorbed and the rice is tender. Back to the porch with you. This time with a glass of my vodka collins.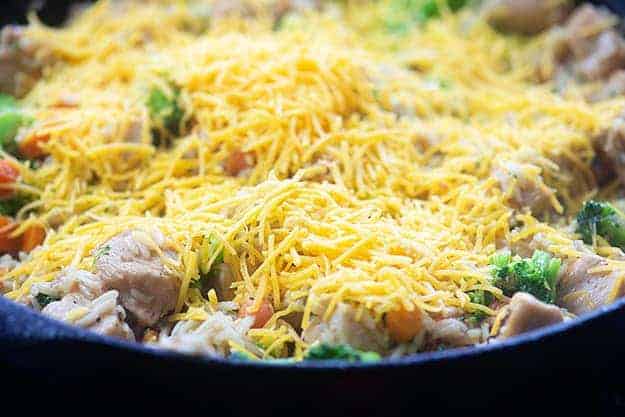 Remove the pan from the heat, sprinkle on some grated cheddar (or whatever cheese you fancy), and pop the lid back on for two minutes to allow the cheese to melt.
That's it, friends. You're done. This chicken rice recipe is ready to devour!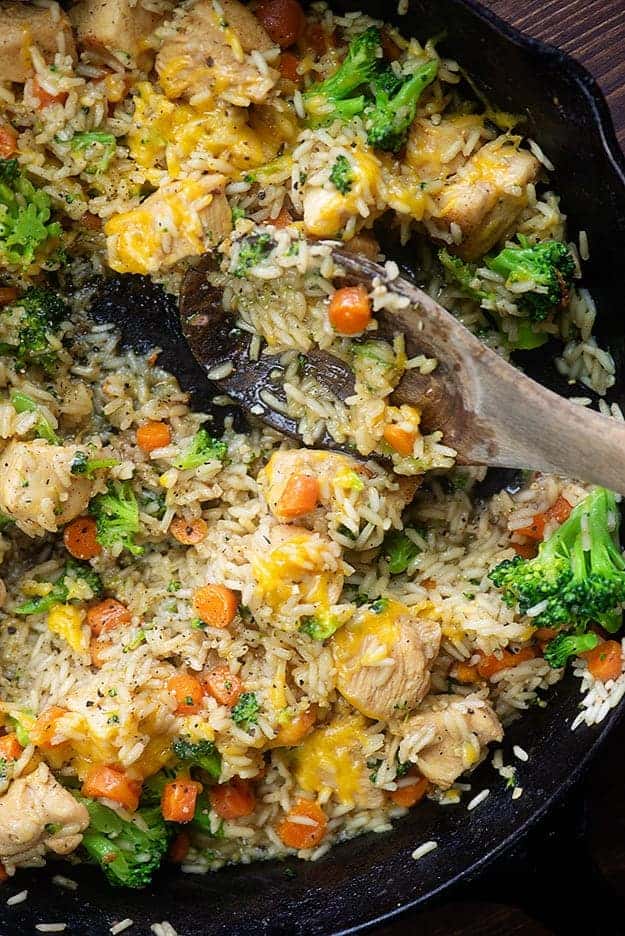 Call your people to the dinner table, dish up some of this cheesy broccoli rice casserole, and dig in!
Serve this with a big green salad on the side and you're good to go.
I'm putting this under my 'skinny' category, because it's fairly light and healthy! Use reduced fat cheese if you prefer to limit the calories and fat even more!
For a quick dessert, try my chocolate chip cookies. They're ready from start to finish in about 20 minutes – no weird ingredients, no chilling the dough, and they are literally the best chocolate chip cookies ever.
More rice recipes you'll love:
Bacon Fried Rice – I make this for lunch weekly!
Chicken Bacon Ranch Casserole – everyone's favorite flavors, right?
Chicken Rice Casserole – this one is baked in the oven and it's so comforting.
Chicken Fried Cauliflower Rice: Low carb!!
If you love this cheesy broccoli rice casserole, be sure to follow me on Pinterest for more simple family-friendly recipes!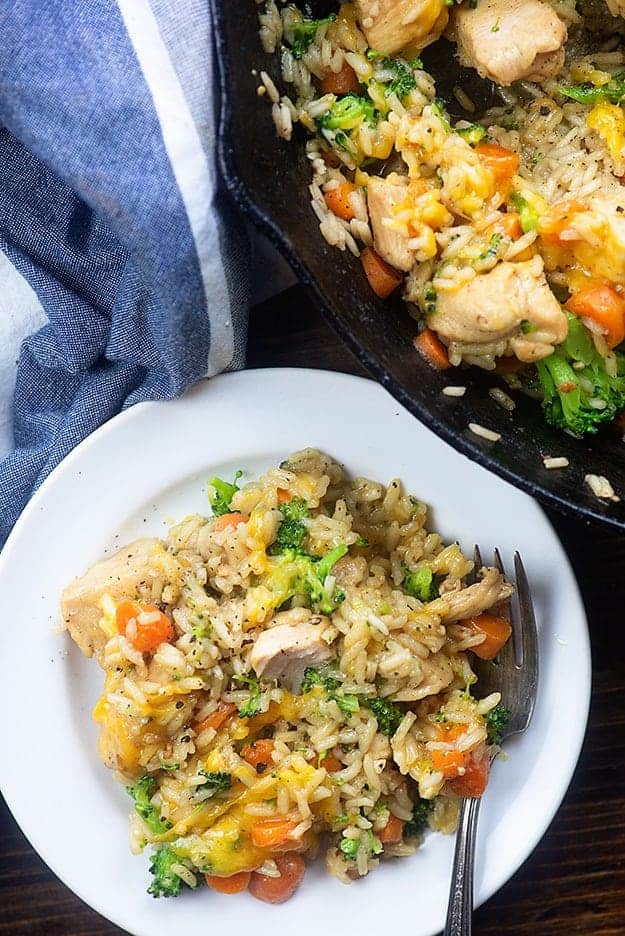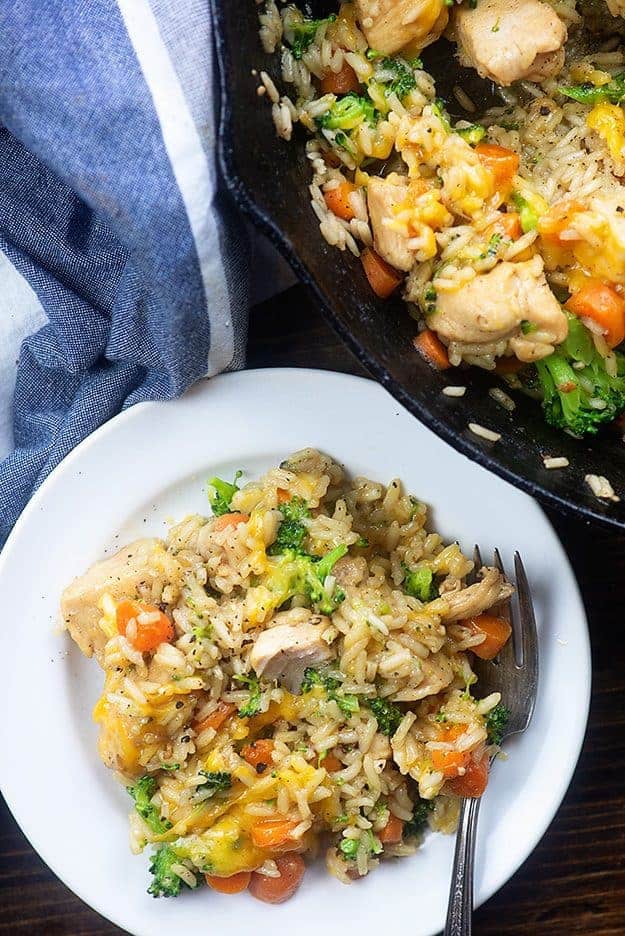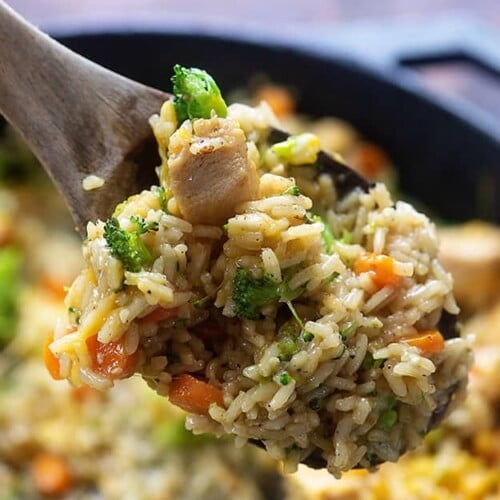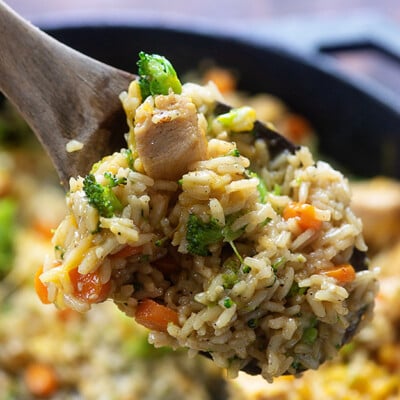 Cheesy Chicken and Rice with Broccoli
This one dish dinner is perfect for crazy weeknights. Chicken, rice, carrots, and broccoli are always a hit with my kiddos.
Prep5 minutes
Cook20 minutes
Total25 minutes
Ingredients
1 pound chicken breasts cut into chunks
1 teaspoon salt
1 teaspoon pepper
1 teaspoon garlic powder
1 tablespoon olive oil
1 cup white rice
1 cup carrots diced
3 cloves garlic minced
2 1/2 cups chicken stock
2 cups broccoli florets
1 cup grated cheddar
Instructions
Season the chicken with the salt, pepper, and garlic powder.

1 pound chicken breasts, 1 teaspoon salt, 1 teaspoon pepper, 1 teaspoon garlic powder

Add the olive oil to a large, deep skillet and heat until shimmering.

1 tablespoon olive oil

Add the chicken to the hot pan and cook, stirring often, until chicken is nearly cooked through and browned on the outside.

1 pound chicken breasts

Add the rice, carrots, and garlic to the pan and stir to combine. Stir in the chicken broth and bring to a boil.

1 cup white rice, 1 cup carrots, 3 cloves garlic, 2 1/2 cups chicken stock

Reduce to a simmer, cover pan and cook for 10 minutes.

Remove lid and stir well. Add the broccoli and cover the pan. Continue cooking for 10 minutes or until the liquid has evaporated and the rice is tender.

Remove the pan from the heat and sprinkle the cheese on top of the rice mixture. Cover with a lid for 5 minutes to allow cheese to melt.

1 cup grated cheddar
Nutrition Information:
Calories: 532kcal (27%)| Carbohydrates: 50g (17%)| Protein: 40g (80%)| Fat: 18g (28%)| Saturated Fat: 7g (44%)| Cholesterol: 106mg (35%)| Sodium: 1143mg (50%)| Potassium: 922mg (26%)| Fiber: 2g (8%)| Sugar: 4g (4%)| Vitamin A: 5945IU (119%)| Vitamin C: 44.8mg (54%)| Calcium: 263mg (26%)| Iron: 1.8mg (10%)