August 25, 2018
Veggie Tortilla Roll Ups
These tortilla roll-ups are loaded with creamy dill dip and lots of crunchy, fresh veggies. These little tortilla pinwheels make a great light lunch, healthy snack, or grab and go appetizer. Big thanks to Marzetti® for sponsoring this post.
I'm a sucker for a good veggie sandwich. It totally weirds my kids out.
They know as well as I do that I'm not the most healthful eater in the world. I mean, I like vegetables. I just also like Nutella brownies. And a good chocolate donut.
But, you know, believe it or not, I actually sometimes also consume vegetables. On purpose. My most favorite way happens to be with dip, because as I've said before, dip makes everything better. There is basically nothing that a good dip can't fix.
So, I introduced my veggie sandwich to some Marzetti Dill Dip and the rest was history. They're engaged now. Soon to be married. Starting a family any day. Expect your Christmas card next week. <—Sometimes I don't even make sense and you people still read my blog. It always surprises me.

Anyway!
Let's stop listening to me be strange and instead listen to me help you plan your next holiday party. I'm sure it'll be fine. Don't be scared.
Everyone knows that you're going to be having tons of indulgent options on the menu, like my grape jelly meatballs. They're the first thing to go at every get-together and you don't want to miss out on them.
But, maybe just maybe you'd like to include a few lighter options on the table? You know, maybe a vegetable or two? *gasp*
Yes, really. Just trust me – people will be happy to see something bright and colorful and fresh and crunchy. Promise.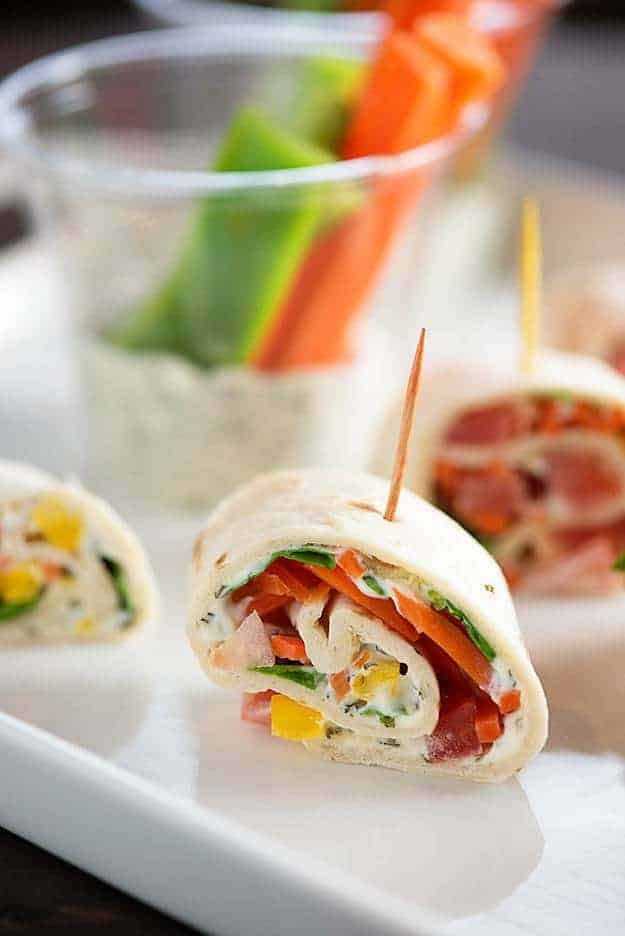 By now, I feel like everyone has already seen and done the cute little individual cups of dip and veggie sticks, right? Just because it's already been done, doesn't mean you shouldn't keep doing it. It's my favorite way to serve veggies and dip at a party – mostly because it means I can double dip all night long without getting punched.
But, because I love you, I thought we could use a new idea. And that's where Mr. and Mrs. Dill Dip Veggie Tortilla Roll Ups come into play. These are beyond easy, but they are packed with crunchy, fresh flavor. I love using Marzetti dips in here because they're thick, rich, and creamy. The savory flavors pair perfectly with the fresh vegetables. There are quite a few different flavors of veggie dips and I think any of them would work well in this recipe. Use what you love!
Find more recipes and information at Marzetti Kitchens and Facebook.
GIVEAWAY! Marzetti is giving away a $50 gift card! To win, just comment below and tell me what your favorite flavor of dip is! Easy peasy chicken squeezy!

Veggie Tortilla Roll Ups
Servings: 20 bite-sized roll ups
Course: Appetizer
Cuisine: American
Keyword: easy appetizer recipes, game day recipes, light recipes
Calories: 35 kcal
These tortilla roll-ups are loaded with creamy dill dip and lots of crunchy, fresh veggies. These little tortilla pinwheels make a great light lunch, healthy snack, or grab and go appetizer.

Ingredients
4 8-inch soft flour tortillas
1/4 cup Marzetti Dill Dip or any other flavor you prefer
1/4 cup baby spinach
1/4 cup shredded carrots
2 small roma tomatoes
1 small yellow pepper
Instructions
Chop the baby spinach into small pieces. Dice the tomatoes and pepper. Set aside.

Spread each tortilla with one tablespoon of dip.

Sprinkle the spinach, carrots, tomatoes, and pepper evenly between each tortilla.

Roll the tortillas up tightly. Slice into one inch pieces.

Secure with a toothpick and serve.
Nutrition Facts
Veggie Tortilla Roll Ups
Amount Per Serving
Calories 35 Calories from Fat 9
% Daily Value*
Fat 1g2%
Sodium 86mg4%
Potassium 22mg1%
Carbohydrates 5g2%
Vitamin A 310IU6%
Vitamin C 0.3mg0%
Calcium 15mg2%
Iron 0.3mg2%
* Percent Daily Values are based on a 2000 calorie diet.
Nutrition Disclaimer: All information presented on this site is intended for informational purposes only. I am not a certified nutritionist and any nutritional information shared on bunsinmyoven.com should only be used as a general guideline.
This is a sponsored conversation written by me on behalf of Marzetti Veggie Dips. The opinions and text are all mine.