These baked donuts have a sweet cinnamon and sugar topping and a powdered sugar glaze, just like your favorite cinnamon roll recipe!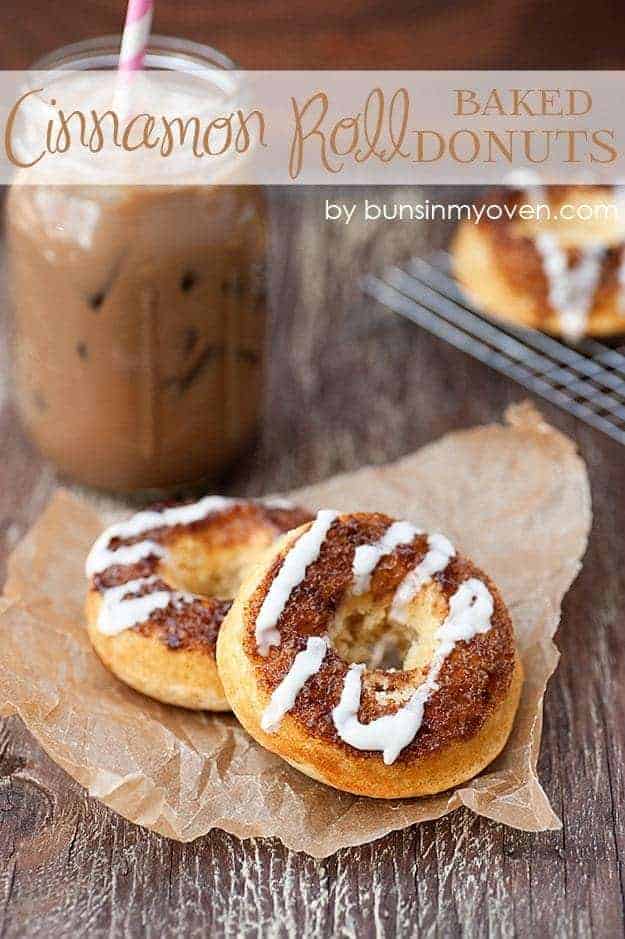 Is it weird to have food dreams?
There is this ridiculous pudding recipe that I developed in my sleep. I haven't tested it while awake, but I'm pretty sure it's going to be fabulous. I mean, it's pudding. What's not to love?
Drinks? I mix drinks like a professional in my sleep. During the day? Not so much. I've never been very good at playing bartender, but it's fun to dream about!
These donuts? I dreamed them. And then I ate the heck out of them.
It's a good thing that calories don't count while you're dreaming. Then again, wouldn't it be awesome if you could just dream exercise? I'd have plenty of time for cardio, weights, and whatever other stupid sweaty things I'm supposed to be doing!
But, let's stop talking about that. Let's focus on the donuts.
You'll need a donut pan for this recipe, but they're less than $10 and they are so much fun! I use mine weekly and my kids LOVE it! Check below for links to more donut recipes that will help you put that pan to good use!
I started with my usual base recipe, but then livened things up a bit with this cinnamon topping I spotted over at Top With Cinnamon. From there I whipped up a thick, sweet, two ingredient glaze that knocks my socks off. Powdered sugar glazes are so easy, but they're so pretty when you make them extra thick and creamy. And my word, nothing is easier!
These cinnamon roll baked donuts made for a quick and simple breakfast. Definitely easier than kneading dough and waiting for it to rise! Did I mention they were even tastier than the ones I ate in my dreams? Because they totally were.
Not quite as calorie-free though, unfortunately. Guess it's back to the stupid sweaty things I'm supposed to be doing when I eat donuts. Darn it.
Cinnamon Roll Baked Donuts
These baked donuts have a sweet cinnamon and sugar topping and a powdered sugar glaze, just like your favorite cinnamon roll recipe!

Prep10 minutes
Cook10 minutes
Total20 minutes
Ingredients
For the donuts:
1 cup flour
1/4 cup plus 2 tablespoons white sugar
1 teaspoon baking powder
1/8 teaspoon ground nutmeg
1/2 teaspoon ground cinnamon
1/2 teaspoon salt
1/4 cup plus 2 tablespoons tablespoons buttermilk or regular milk with a teaspoon of white vinegar added
1 large egg beaten
1/2 teaspoon vanilla
1 1/2 teaspoons vegetable or canola oil
For the cinnamon topping:
2 tablespoons butter
2 teaspoons cinnamon
5 tablespoons dark brown sugar
1 teaspoon milk
1 teaspoon cornstarch
1 teaspoon vanilla
For the glaze:
1/4 cup powdered sugar
1 tablespoon plus 2 teaspoons heavy cream
Instructions
To make the cinnamon topping, melt the butter in a small saucepan. Stir in the cinnamon, brown sugar, milk, and cornstarch.

Heat just until it begins to boil. Remove from the heat and stir in the vanilla.

Pour the cinnamon topping evenly into each well of your well greased donut pan.

To make the donuts. reheat the oven to 325 degrees. Lightly grease a donut pan.

In a large bowl, whisk together the flour, sugar, baking powder, nutmeg, cinnamon, and salt.

In a small bowl, stir together the butter milk, egg, and oil.

Add the wet ingredients to the dry and stir with a wooden spoon until fully incorporated.

Drop spoonfuls of the batter into the donut pan over the cinnamon topping and bake for 10 minutes or until lightly browned and cooked through.

Remove from the oven and cool in the pan for two minutes before transferring to a wire rack. Some of the cinnamon topping will likely be left in your donut pan, but a good portion of it will have transferred to your donuts.

Cool donuts before glazing.

To make the glaze. whisk together the powdered sugar and cream until smooth. Spoon into a baggie and cut off a small corner of the bag. Pipe the glaze onto the donuts.

Serve immediately.
Nutrition Information:
Calories: 242kcal (12%)| Carbohydrates: 41g (14%)| Protein: 3g (6%)| Fat: 7g (11%)| Saturated Fat: 3g (19%)| Cholesterol: 45mg (15%)| Sodium: 254mg (11%)| Potassium: 127mg (4%)| Fiber: 1g (4%)| Sugar: 23g (26%)| Vitamin A: 215IU (4%)| Calcium: 63mg (6%)| Iron: 1.3mg (7%)
If you like this baked donut recipe, you'll love my others! I have a whole section on this site that will put your donut pan to good use! Go check out all of my baked donut recipes (and some fried donuts, too!)
This post contains affiliate links.