This CHOCOLATE CHIP CINNAMON ROLL CAKE is loaded with chocolate and swirls of cinnamon and sugar, and then topped with an easy homemade glaze!
We've been on a major breakfast kick around my house lately. I've been testing new recipe and sort of fell into a 'cake for breakfast' trap.
It happened with my original cinnamon roll cake. Then came along our blueberry cinnamon roll cake. Not long after that was the pumpkin cinnamon roll cake.
You know a recipe is GOOD when I create every variation under the sun and share it with you.
And here I am with a chocolate chip cinnamon roll cake recipe that I'm going to need you to try immediately!
I don't know what it is about this cake recipe (yes, I do – it's the moist, tender crumb…the thick swirl of cinnamon and sugar…the simple vanilla glaze…the fact that it's cake and it's also 8am and I'm eating it with a cup of coffee…), but I'm actually obsessed.
I'll try to hold off on sharing any other variations, lest you get tired of this cake. Unless…do you want more variations? Because I can do that, too. 😉
Serve this up with some air fryer sausage links and some baked scrambled eggs.
Cinnamon Roll Cake Ingredients:
Cake Batter – This is a simple cake made with flour, sugar, butter, eggs, milk, and baking powder.
Mix-ins – This time around we're stirring in chocolate chips. Use any variety you love!
Cinnamon Swirl – Brown sugar and cinnamon get sprinkled over the cake batter and swirled right in.
Glaze – Just a simple mix of powdered sugar and milk.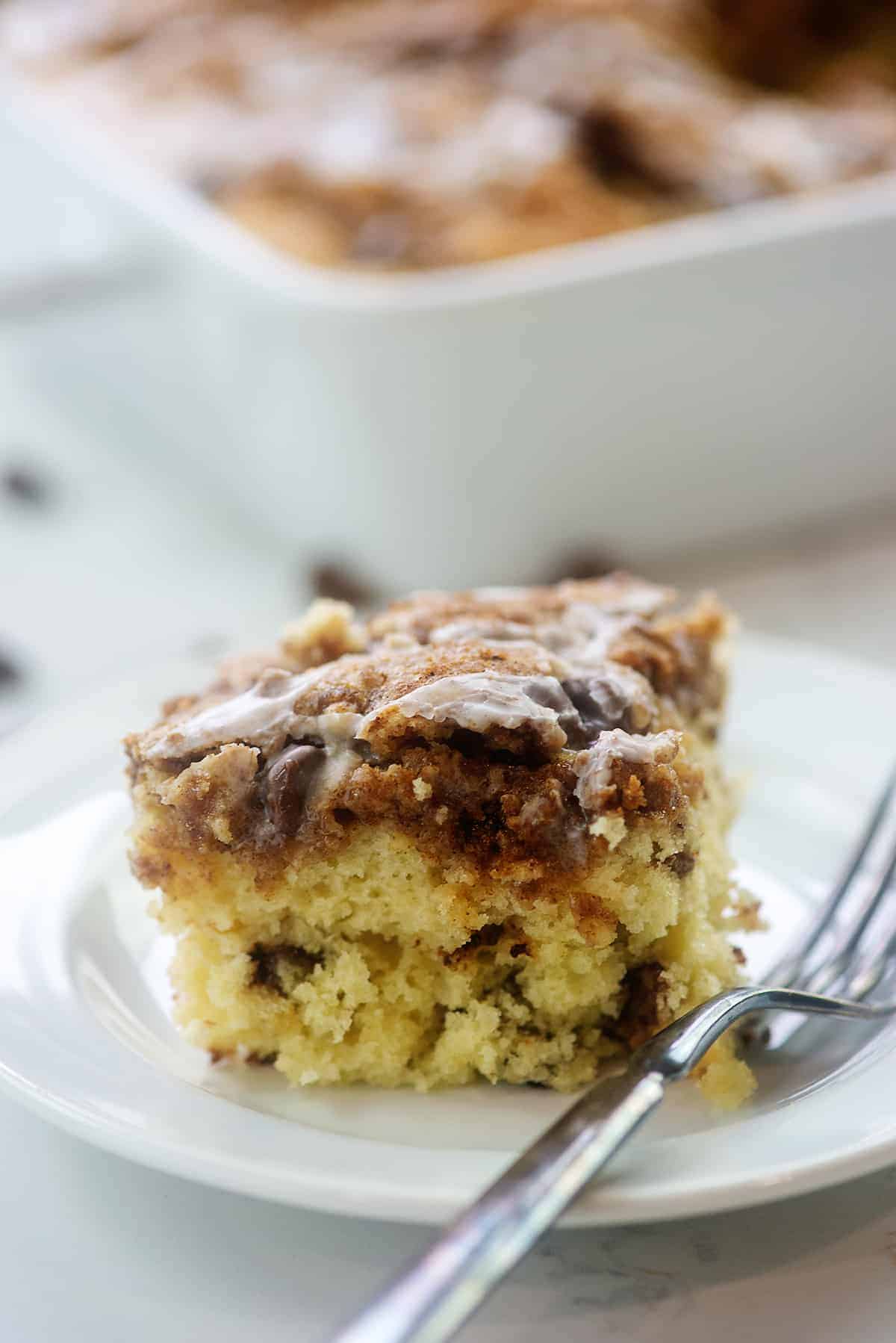 How to Make:
Batter: We'll start by making the cinnamon roll cake batter! In a large mixing bowl, add all of the cake ingredients except for the melted butter and chocolate chips and mix until everything is well combined.
Next you can pour in the melted butter and mix until just combined, and finally go ahead and pour in the chocolate chips and mix again until just combined. Do not over mix the butter and chocolate or your cake won't be as tender.
Helpful Tip!
In a hurry?
If you don't have the time (or the ingredients) to make some homemade cake batter, you can use a box mix instead! Just prepare according to the instructions and add the chocolate chips.
Topping: When the batter is ready you can pour it into a prepared baking dish and move on to making the sweet, cinnamon topping! In a small mixing bowl add the brown sugar and cinnamon and whisk together.
Sprinkle the topping over the batter evenly and then use a butter knife to swirl the cinnamon and sugar topping into the batter.
You can't have enough chocolate in this cinnamon roll cake recipe so go ahead and top it off with some more chocolate chips!
Bake: Once you've finished topping the cinnamon roll cake batter with all that sweet sweet chocolate you can go ahead and start baking. This shouldn't take long, only about 35 to 40 minutes.
Once it has finished let it cool for at least ten minutes and resist eating it now before beginning the final step; the glaze!
Glaze: Cinnamon rolls aren't cinnamon rolls without frosting on top, right? Let's do that!
You can make a quick, simple glaze by whisking together some powdered sugar and milk. If you want to change the consistency you can add more milk to thin it out.
Pour the glaze over the cake and let it firm up and set before slicing and serving!
Breakfast or Dessert!
Not sure about cake for breakfast? This makes a fabulous dessert as well!
It's sweet enough to double as dessert, but also makes a fun treat for breakfast. Eat it any time the craving hits.
Make It a Meal!
Looking for the perfect breakfast? Serve your cake alongside these breakfast options: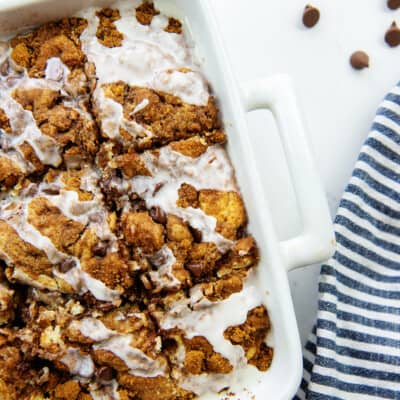 Chocolate Chip Cinnamon Roll Cake
We took a simple yellow cake and stirred in chocolate chips and a thick swirl of brown sugar and cinnamon. Whether you enjoy this cake for breakfast or as a sweet treat after dinner, it's sure to quickly become a family favorite.
Prep15 minutes
Cook40 minutes
Total55 minutes
Ingredients
For the cake:
3 cups flour
3/4 cup granulated sugar
¼ cup brown sugar
4 teaspoons baking powder
½ teaspoon salt
1 1/2 cups milk
2 large eggs
1 tablespoon vanilla
1/2 cup butter melted
1 cup chocolate chips any variety
For topping:
1 cup brown sugar
1 tablespoon ground cinnamon
For the glaze:
2 cups powdered sugar
3 tablespoons milk or more
Instructions
To make the cake:
Preheat oven to 350 degrees. Spray a 9×13 baking dish with nonstick spray.

Add all of the ingredients except for the butter to a mixing bowl and whisk well to combine.

Pour in the melted butter and chocolate chips into the batter and use an electric mixer on low speed, mixing the batter until it's just combined. Do not overmix.

Pour batter into the prepared baking dish.
For the topping:
To make the topping, whisk together the brown sugar and cinnamon.

Sprinkle the topping over the top of the cake and use a butter knife to swirl the topping into the batter.

Bake for 35-40 minutes or until a tester inserted in the center comes out clean. Cool for 10 minutes.
To glaze:
Whisk together the powdered sugar and milk to make the glaze. Add additional milk 1 tablespoon at a time to reach the consistency you prefer. Pour the glaze over the warm cake.

Let glaze set before slicing and serving.
Tips & Notes:
Easy Option: If you're in a rush, skip the homemade cake batter and use a cake mix instead. Just prepare as directed, stir in the chocolate chips, and continue as the recipe says. Bake according to package directions. Storage: Store the cake tightly covered at room temperature for 3-4 days.
Nutrition Information:
Serving: 1piece| Calories: 347kcal (17%)| Carbohydrates: 65g (22%)| Protein: 4g (8%)| Fat: 8g (12%)| Saturated Fat: 5g (31%)| Cholesterol: 44mg (15%)| Sodium: 160mg (7%)| Potassium: 204mg (6%)| Fiber: 1g (4%)| Sugar: 45g (50%)| Vitamin A: 269IU (5%)| Calcium: 107mg (11%)| Iron: 2mg (11%)