This EASY FRUIT SALAD RECIPE is packed with all kinds of fruit – strawberries, raspberries, pineapple, blueberries, kiwi, and grapes! It gets topped off with a little brown sugar and cinnamon and as the fruit sits in the sugar mixture, it releases some if it's juice to create this amazing fruit salad dressing.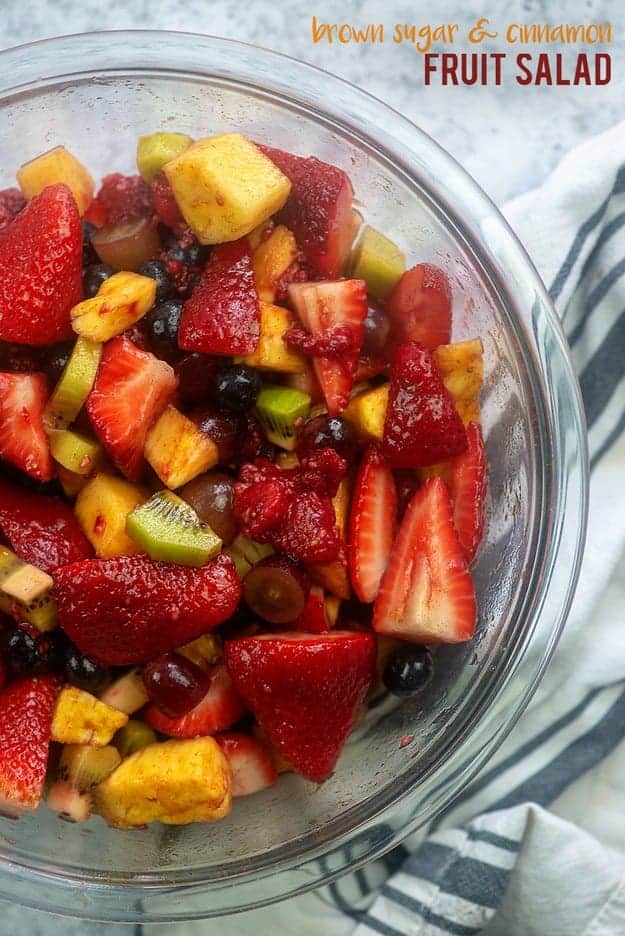 One of my favorite parts of summer is the fruit salad. I mean, yes, you can eat it all year long, but we mostly save it for when all the berries are in season and we'll be outside by the pool.
It's the perfect thing to serve up at a pool party next to your turkey burgers or ranch grilled chicken.
It even makes a great breakfast alongside some breakfast casserole!
This fruit salad recipe is a staple in my house for any get-together, because it's really easy to prepare and it's always one of the first things to get eaten.
How to make fruit salad:
This fruit salad recipe calls for strawberries, blueberries, and raspberries in addition to pineapple, kiwi, and grapes. Feel free to swap in fruits that you love. Blackberries make a nice addition, apples add crunch, and little mandarin orange segments are always a hit too!
I like to quarter my strawberries and halve my grapes. The pineapple and kiwi get chopped into bite-sized chunks.
Toss all your fruit into a serving bowl and top it off with some brown sugar and a sprinkle of cinnamon. The cinnamon adds this extra layer of flavor and everyone LOVES it. So good!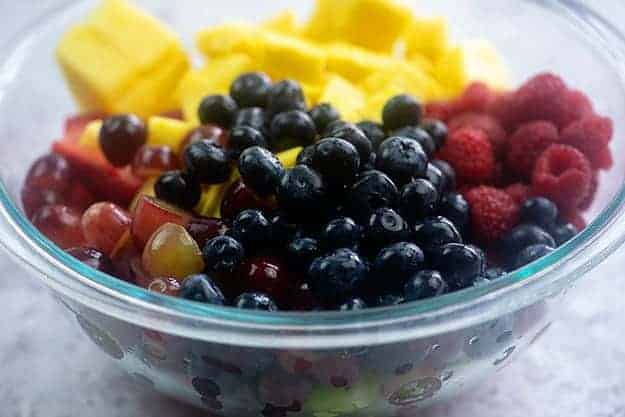 Stir the fruit gently to combine and pop it in the fridge for 30 minutes or so.
The fruit will release some of it's juices as it sits in the sugar and that will create this amazing fruit salad dressing.
Just give it a quick stir before serving and you're good to go.
Can fruit salad be made ahead?
If you'd like to make your fruit salad a day in advance, chop your fruits and add them to the mixing bowl.
For the best texture, do not add the fruit salad dressing until 30 minutes before serving.
As the fruits set in the dressing, they release more juices and the longer they set, the softer the fruits get. For that reason, it's best to wait to add any dressing or sugar until closer to time to serve.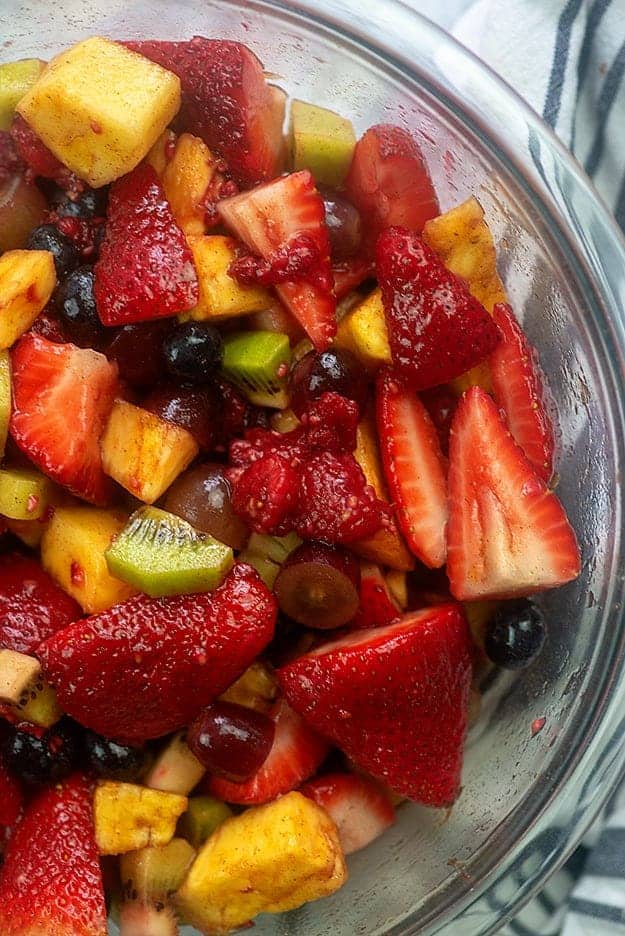 Can fruit salad be served as dessert?
Absolutely, fruit salad is a sweet treat that can double as a dessert or a side dish.
To serve as a dessert, consider pairing it with vanilla ice cream or pound cake with whipped cream.
More fruit recipes to try:
Blackberry Cobbler: One of our favorites!
Watermelon Mint Salad: So refreshing and simple.
Strawberry Cream Cake: Gluten free and low carb!
Lemon Bar Recipe: Hard to go wrong with a classic like these!
Fruit Pizza: With a layer of sweet cream cheese!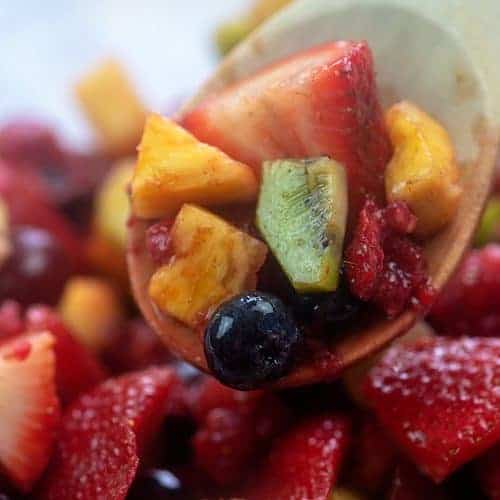 Brown Sugar and Cinnamon Fruit Salad
This easy fruit salad recipe has the simplest two ingredient dressing - just brown sugar and cinnamon! Feel free to mix in any fruits that you like and reduce the sugar if desired.
Prep20 minutes
30 minutes
Total50 minutes
Ingredients
1 pound strawberries
2 kiwi
1 cup grapes
1 cup chopped pineapple fresh or canned
6 ounces raspberries
6 ounces blueberries
1/4 cup brown sugar
1 teaspoon ground cinnamon
Instructions
Rinse all of the fruit well.

Quarter the strawberries and dice the kiwi. Cut grapes in half.

Add all of the fruit and the brown sugar and cinnamon to a large serving bowl and stir gently to combine.

Cover tightly and refrigerate for 30 minutes before serving.
Tips & Notes:
To make in advance, combine all of the chopped fruit in a mixing bowl up to 24 hours in advance. Add the brown sugar and cinnamon and stir gently 30 minutes before serving. Substitute any fruit that you prefer, such as apples, bananas, watermelon, etc. Adjust sugar as needed.
Nutrition Information:
Serving: 1| Calories: 70kcal (4%)| Carbohydrates: 18g (6%)| Protein: 1g (2%)| Fat: 1g (2%)| Saturated Fat: 1g (6%)| Sodium: 3mg| Potassium: 183mg (5%)| Fiber: 3g (13%)| Sugar: 13g (14%)| Vitamin A: 45IU (1%)| Vitamin C: 48.3mg (59%)| Calcium: 24mg (2%)| Iron: 0.5mg (3%)