AMBROSIA SALAD is a simple fruit salad that's loaded pineapple, mandarin oranges, cherries, coconut, and mini marshmallows! It's the perfect fruity salad to serve on a hot summer day and kids love it!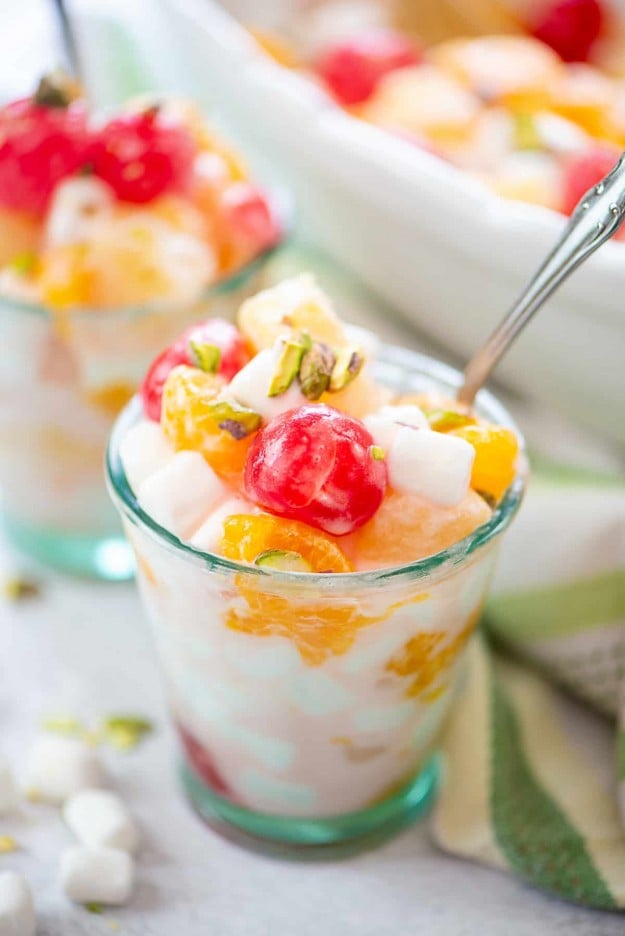 My teen and I have been arguing over what a 'salad' actually is lately.
It all started when I served up my chicken salad with grapes for lunch the other day.
We eat it often, but suddenly she was so confused about why it's called 'salad' if there is no lettuce in it.
Cue Mom, the food nerd, going into excessive detail about the different varieties of salads. 😉
She probably regrets ever questioning it in the first place.
Anyway, today I'm sharing my Ambrosia Salad with you guys – it's a good one!
It starts with a coconut whipped cream (don't worry – super easy!) and then gets all the good fruit added to it, like mandarin oranges, pineapples, and maraschino cherries.
Did I mention the marshmallows? There are marshmallows.
Our kids absolutely love my fruit pizza and brown sugar fruit salad, but this Ambrosia salad is definitely a top contender.
Ingredients:
Pineapple – Fresh or canned. We normally do canned to keep it simple.
Mandarin Oranges – We always go the canned route on this one.
Maraschino Cherries – simple, sweet, and the perfect pop of color!
Mini Marshmallows – Traditional Ambrosia Salad uses the fruity flavored marshmallows and those ARE cuter, but I don't love the flavor. Use those if you like them or plain mini marshmallows if you don't.
Coconut Cream – This comes in a can and is great to keep in the pantry.
Powdered Sugar – We're mixing this with the coconut to sweeten it up.
Vanilla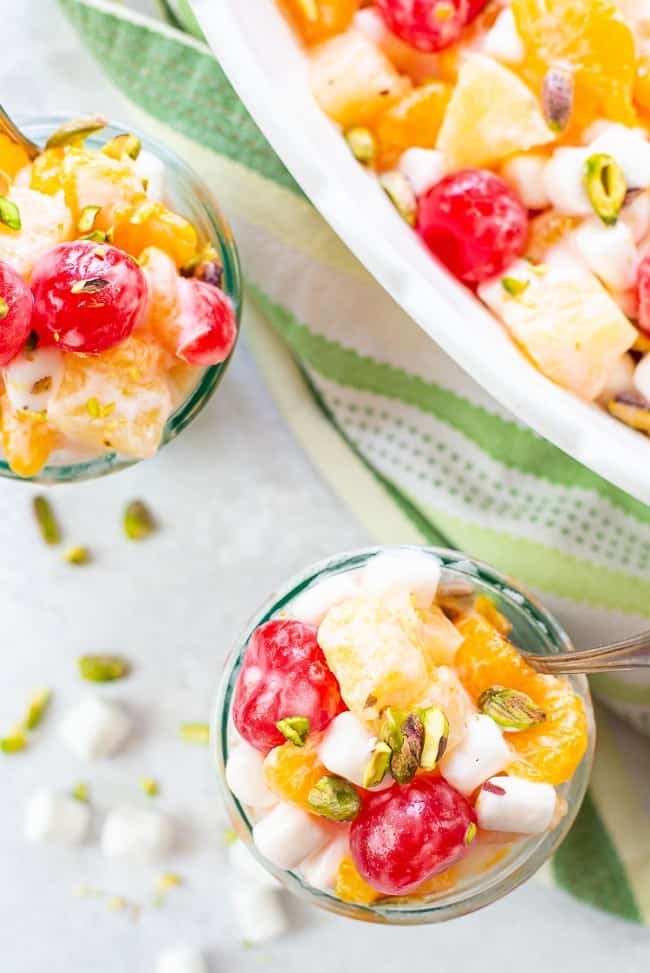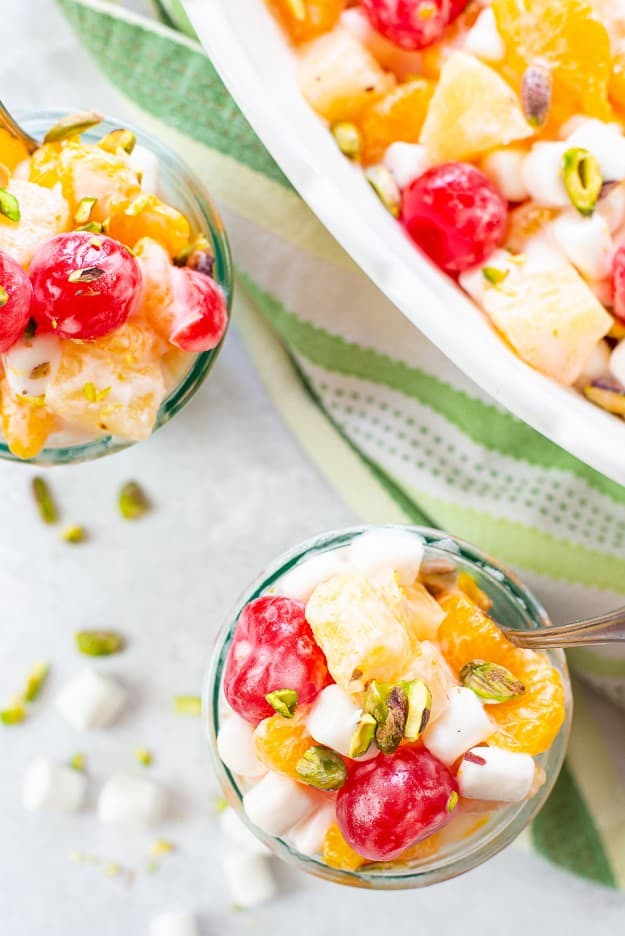 Coconut Cream Vs. Cool Whip:
Traditional Ambrosia salad uses Cool Whip as the 'dressing' in the fruity marshmallow salad, but we mixed things up a bit.
I have nothing against Cool Whip and you'll find it in plenty of my recipes, but we wanted to make this over to be a bit healthier, fresher, and fruitier, so we swapped in coconut cream, powdered sugar, and vanilla to make an accidentally vegan whipped cream. Perfection!
Feel free to use Cool Whip if you prefer.
How to Make:
Refrigerate a can of coconut cream overnight (or longer – you can just store it in the fridge so it's cold when you need it!) and then scoop the cream out into a mixing bowl.
Reserve the liquid for another use – it's great in smoothies!
Beat the cream until it's nice and creamy and then beat in some powdered sugar, and vanilla.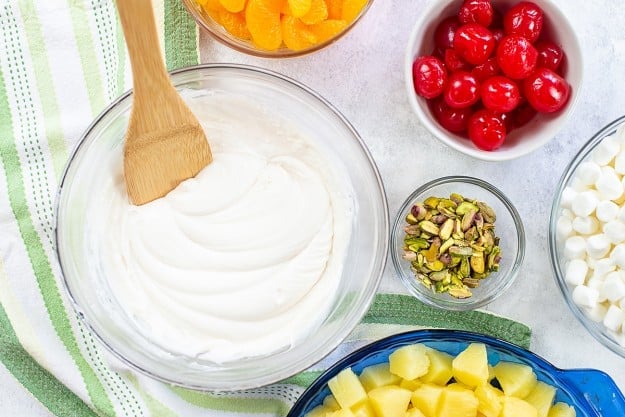 Add mini marshmallows, oranges, pineapple, and cherries to a large bowl and give it a good stir. Pour the cream over the top and fold it altogether.
Chill the ambrosia salad in the fridge for an hour and then top it off with pistachios just before serving. They add the perfect bit of crunch to the salad.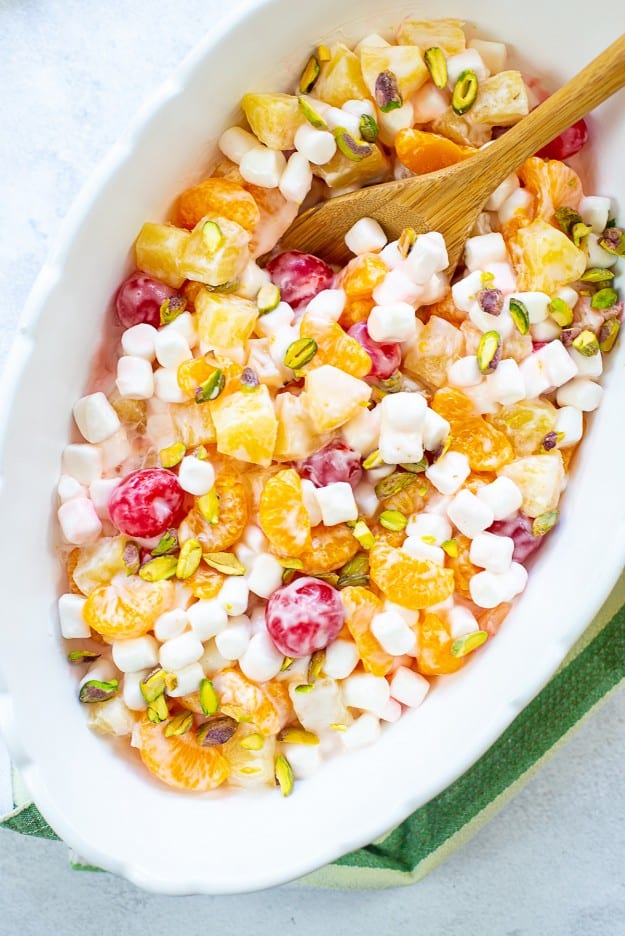 Helpful Tip!
Coconut Whipped Cream
Be sure that the canned coconut cream is good and cold before starting.
Chill your mixing bowl in the freezer for 10 minutes prior to adding the coconut cream.
If your coconut cream has clumps, add a tablespoon of liquid from the can of coconut cream to help soften the mixture.
Reserve any extra liquid from the can to use in smoothies.
More fruity recipes!
Ambrosia Salad
This ambrosia salad skips out on the refrigerated topping in favor of whipped coconut cream. It adds the perfect tropical flavor to this fruit and marshmallow salad!
Prep20 minutes
Chill Time1 hour
Total1 hour 20 minutes
Ingredients
For the Coconut Cream
15 ounce can of coconut cream
¾ cup powdered sugar
½ teaspoon vanilla extract
For the Ambrosia
4 cups mini marshmallows
30 ounces canned mandarin oranges drained
40 ounces canned diced pineapples drained
16 ounces jarred maraschino cherries drained and stems removed
Pistachios de-shelled, for garnish
Instructions
Chill the can of coconut cream overnight in a refrigerator

Before whipping the cream, chill a large mixing bowl for 10 minutes in a freezer

Remove the lid of the coconut cream and scrape out the thickened cream from the top. Reserve the remaining liquid for another use.

Put the cream in the mixing bowl and beat until creamy, about 30 seconds.

Add powdered sugar and vanilla and whip until smooth, about 1 minute.

In a separate bowl, combine the mini marshmallows, mandarin oranges, pineapples, and maraschino cherries and mix to combine.

Pour the coconut cream over the fruit and marshmallows. Stir until well combined.

Refrigerate for at least one hour before serving.

Sprinkle with pistachios just before serving.
Nutrition Information:
Calories: 346kcal (17%)| Carbohydrates: 61g (20%)| Protein: 3g (6%)| Fat: 13g (20%)| Saturated Fat: 11g (69%)| Sodium: 21mg (1%)| Potassium: 337mg (10%)| Fiber: 4g (17%)| Sugar: 51g (57%)| Vitamin A: 994IU (20%)| Vitamin C: 34mg (41%)| Calcium: 48mg (5%)| Iron: 1mg (6%)