Tater Tot Breakfast Casserole is hearty, filling, and absolutely packed with our favorite breakfast foods: bacon, sausage, and tater tots! Everything bakes together into this cheesy dreamy casserole that we like to serve up for breakfast or brinner!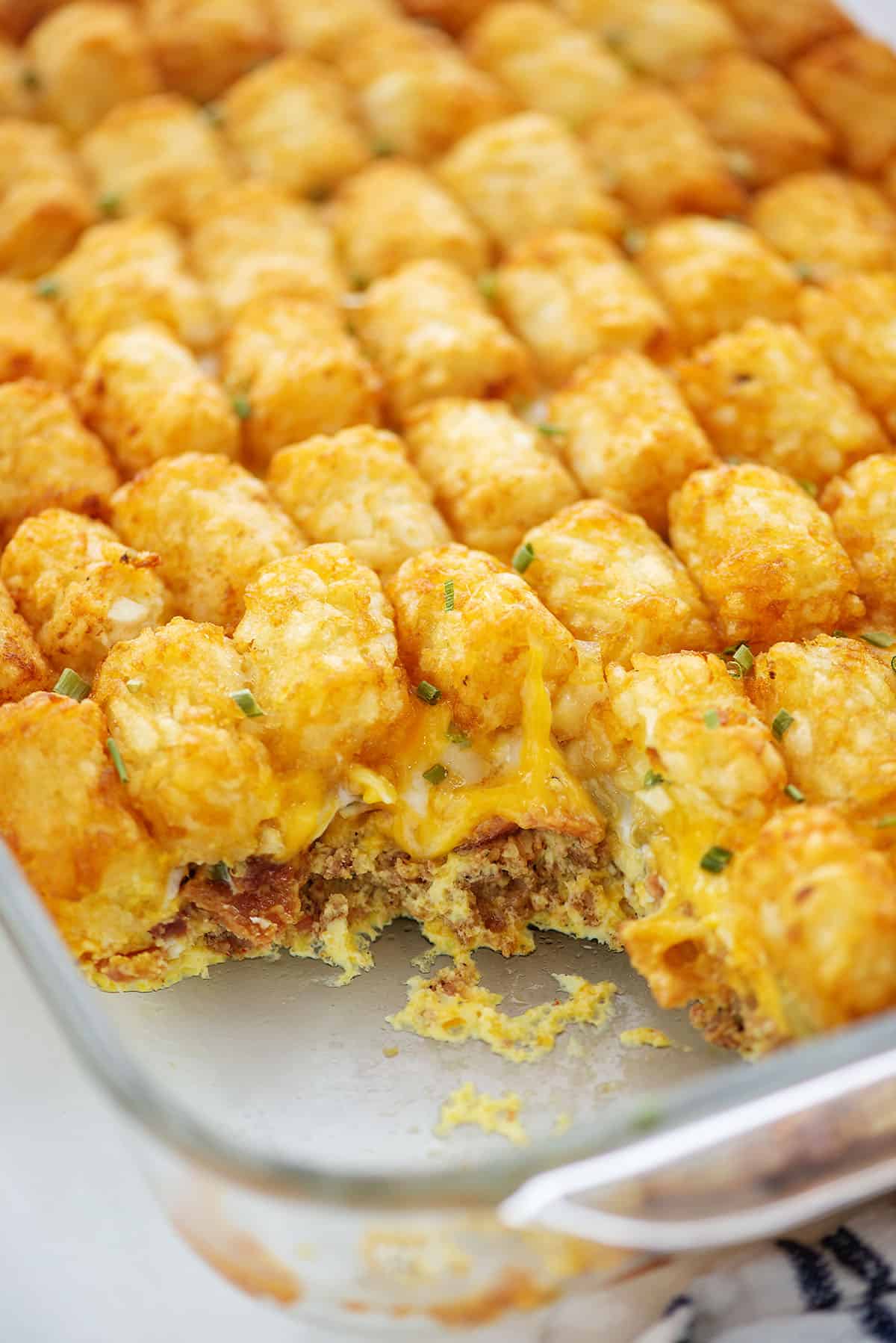 My husband is basically obsessed with breakfast foods.
If I'm making a grocery list and ask him what he wants for dinner, he always asks for some sort of breakfast food. Usually biscuits and gravy (with my homemade biscuits, of course), but lately we've been mixing it up with this tater tot breakfast casserole with sausage and bacon.
We all love the breakfast meats, so the fact that this breakfast casserole has both bacon and sausage is a total win in our house!
This makes a great Christmas breakfast casserole too…decadent, hearty, and filling enough to get you through the unwrapping of all those gifts. Plus, it'll hold you over until the fancy Christmas dinner!

If you like traditional tater tot casserole, you'll love this breakfast version!
Ingredient Notes: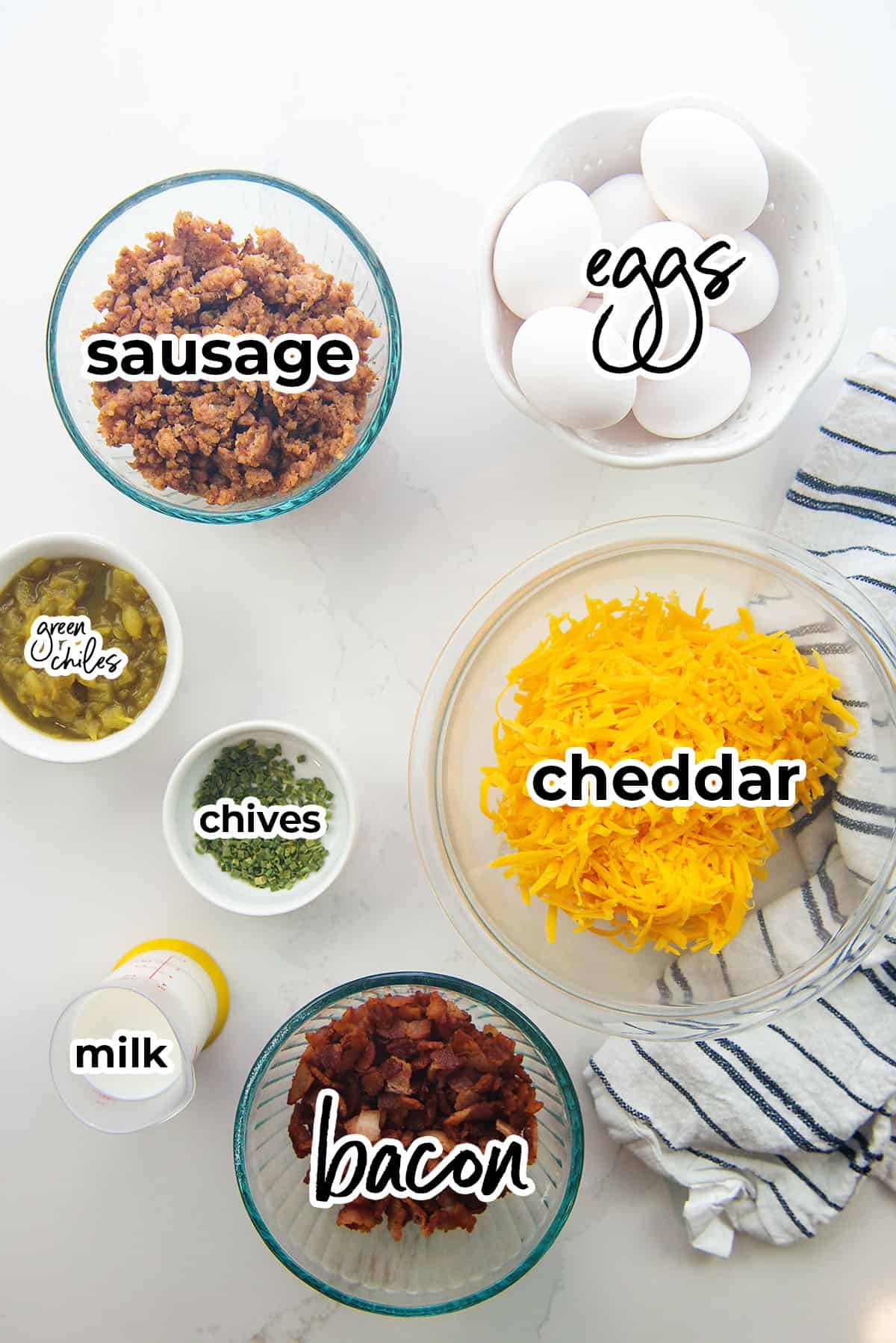 Tater Tots – The frozen tater tots or crispy crowns work great here.
Meat- I'm using lots of bacon and ground sausage in this tater tot breakfast casserole because who doesn't love bacon and sausage? Of course, you can use other breakfast meats like ham or turkey bacon, or try it with some spicy breakfast sausage!
Eggs – You'll whisk together eggs and milk to add a scrambled egg vibe to this breakfast casserole.
Cheese – We prefer cheddar but pepper jack or mozzarella would be nice as well.
Green Chiles – These add a bit of flavor and the tiniest hint of spice. Use diced jalapenos if you really like spice.
What Readers are Saying!
"Made this for a work meal – it was really great and everyone enjoyed it! Thanks for an awesome recipe!" – Angie
How to Make Tater Tot Casserole: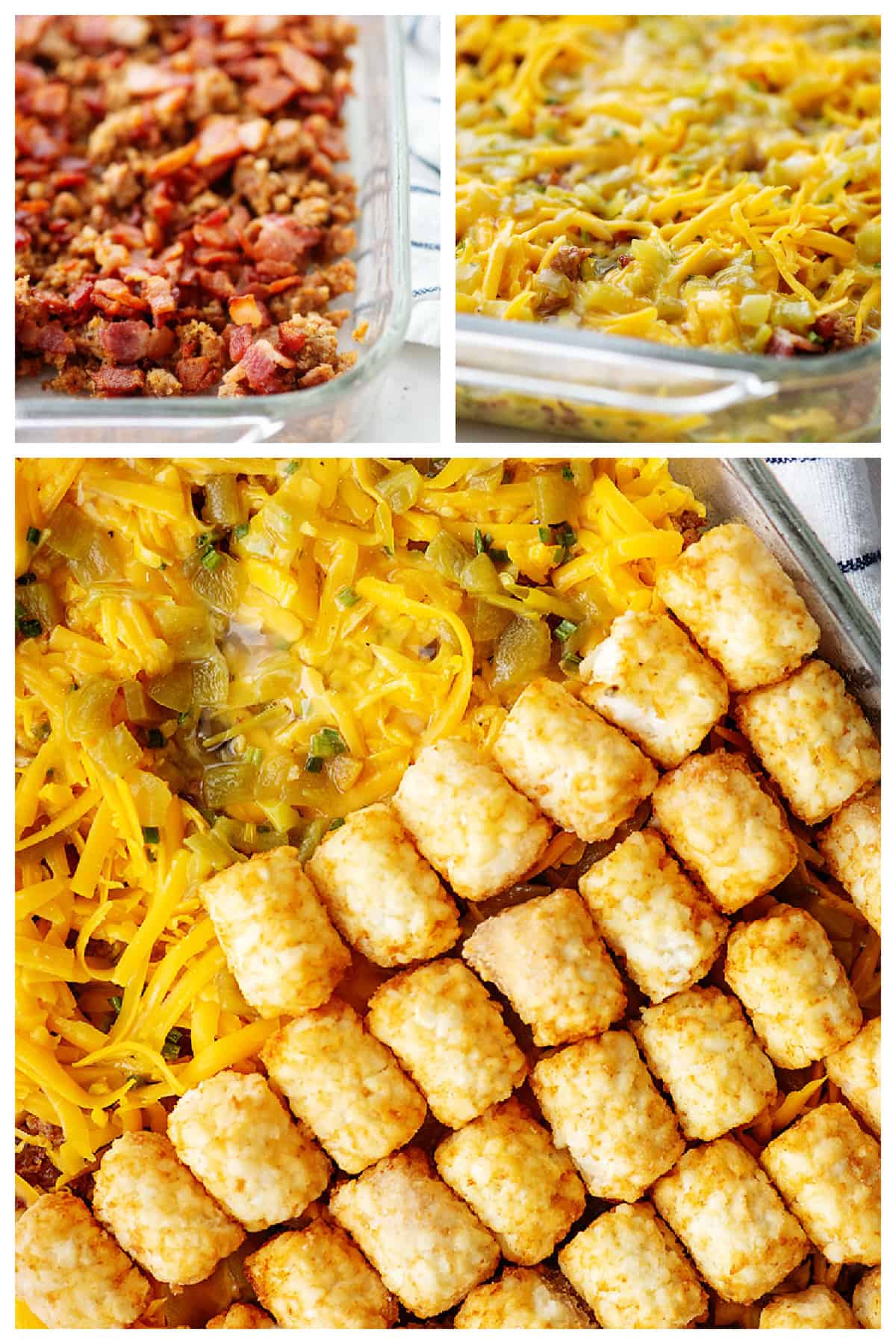 Prep: You'll need a pound of breakfast sausage and 6 strips of bacon all cooked up and ready to go for this tater tot casserole recipe. We like to chop the bacon before frying, but you can also fry it up and then crumble it.
Eggs: Whisk together eggs, milk green chiles, salt, and pepper.
Layer: Place the sausage and bacon in a greased 9×13 baking dish and then top it off with some grated cheddar. Pour the egg mixture over the top.
Tots: Now all that's left to do before baking is to arrange the frozen tater tots in an even layer over the top of the cheesy breakfast casserole. Simple!
Bake: This breakfast tater tot casserole bakes in about 45 minutes. We like to top it off with some chives and serve it while it's good and hot!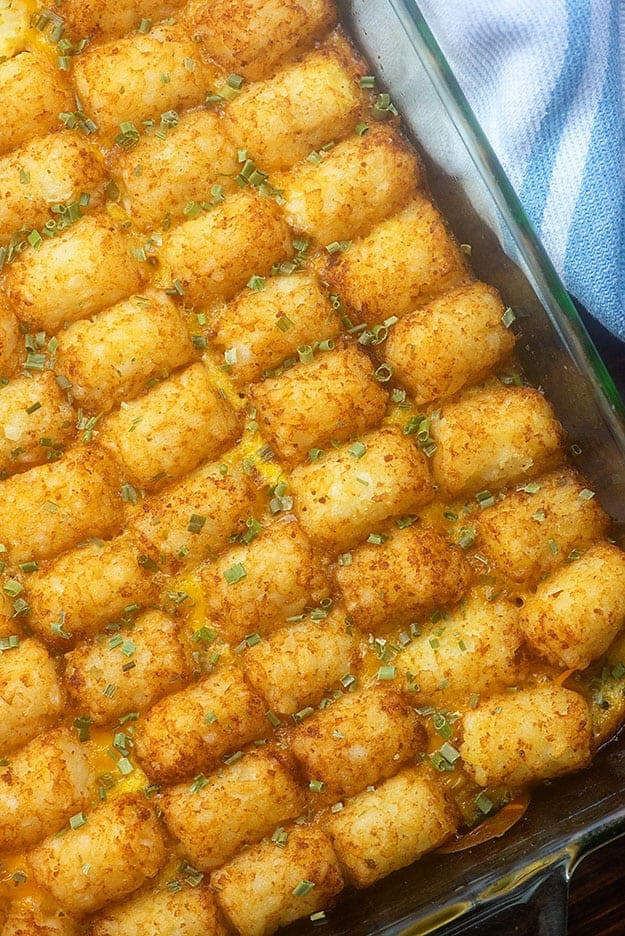 What to serve with breakfast casserole:
Baked goods are always a hit in my house! We love these banana bread muffins (they're chocolate!) or a loaf of English muffin bread.
This Belgian waffle recipe is literally the best and my kids love them!
And, of course, I wrote an entire book of pancake recipes that are perfect for breakfast! Check out my book, Stack Happy!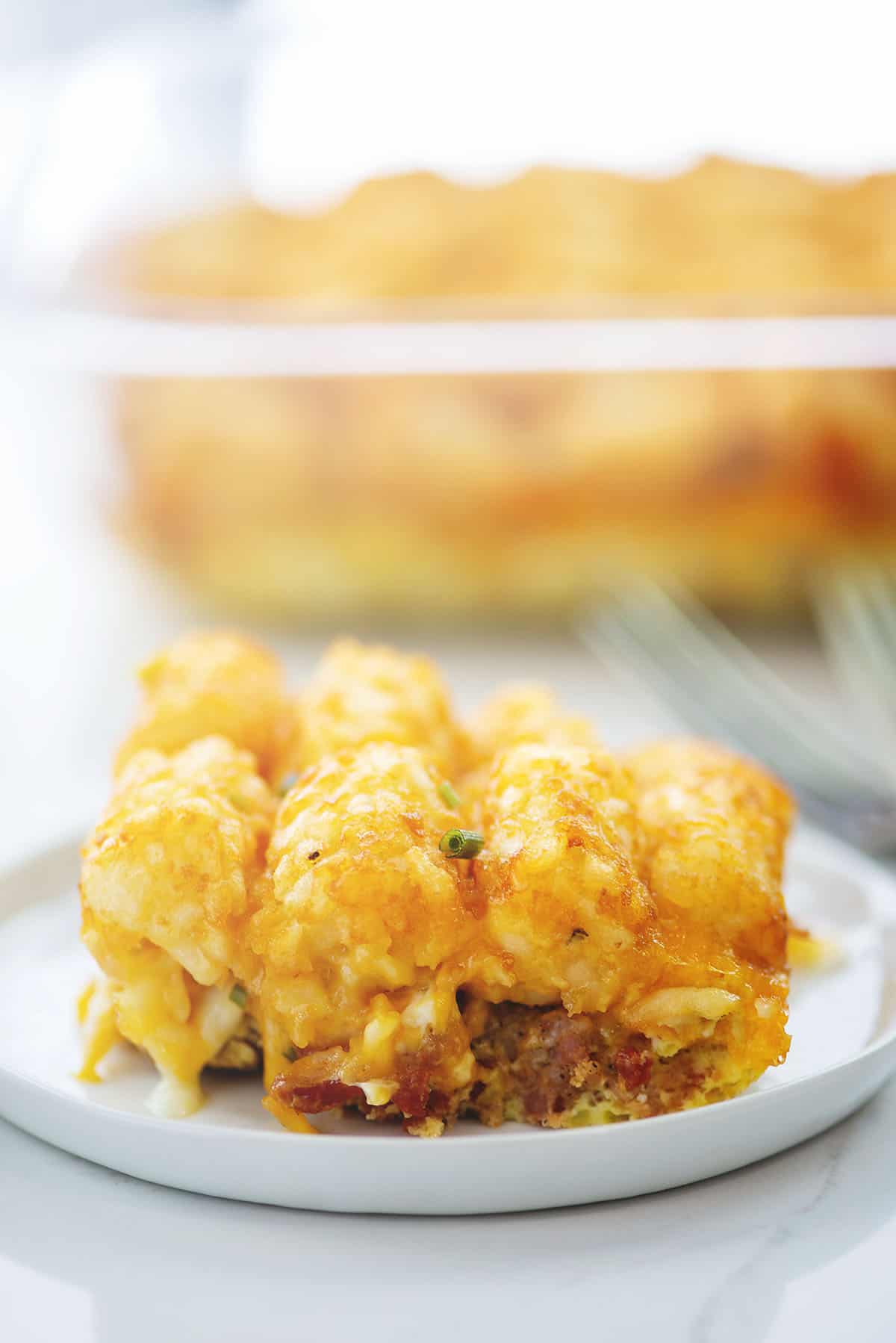 FAQs:
How to store tater tot casserole?
If you've got leftovers just keep them covered in the fridge for up to a couple of days. You can reheat at a low temperature in the oven for 20 minutes.
Can I make this breakfast casserole ahead of time?
If you'd like to make this for Christmas morning (or any busy morning!), you can make this in advance. We like to get everything prepared up to the tater tots and then cover and refrigerate overnight. Place the tots on in the morning, just before baking.

Alternately, you can bake completely and then just reheat in a low oven for 20 minutes.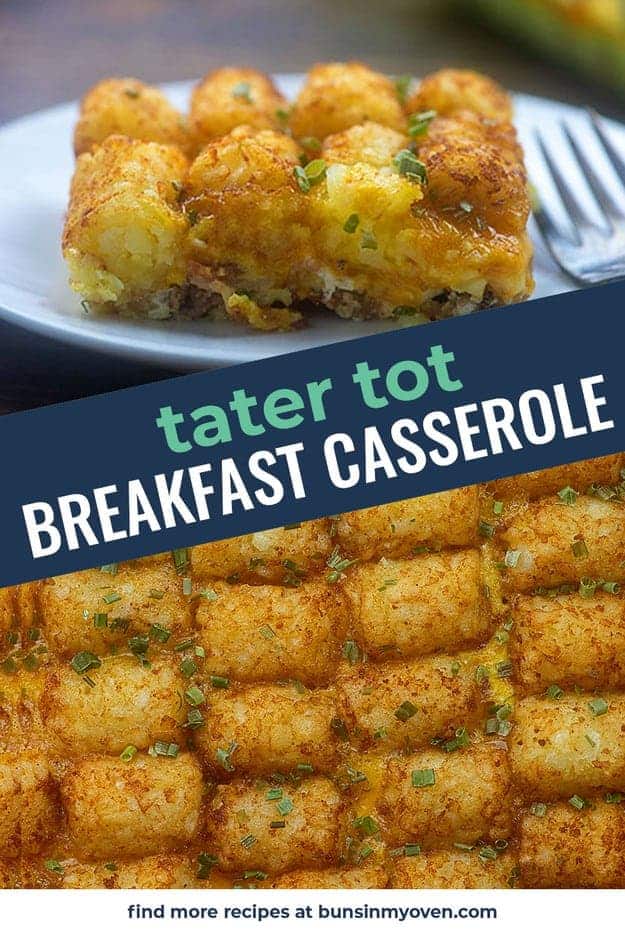 We never make breakfast casserole without a side of this brown sugar cinnamon fruit salad. 🙂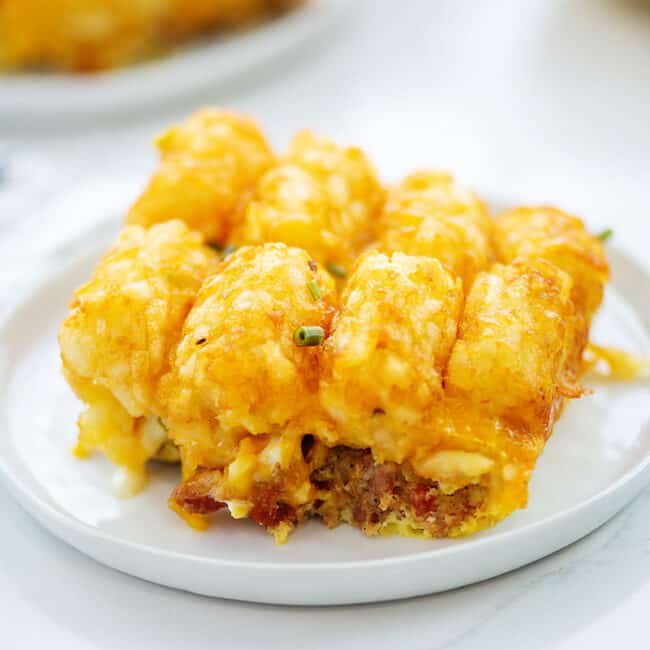 Tater Tot Breakfast Casserole
This breakfast casserole is packed with bacon, sausage, and eggs, and it's topped off with crispy tater tots. Our kids love this one as much as we do!
Prep10 minutes
Cook1 hour
Total1 hour 10 minutes
Ingredients
1 pound breakfast sausage
6 slices bacon chopped
2 cups shredded cheddar
8 large eggs
1/2 cup milk
4 ounces diced green chiles
1 teaspoon salt
1 teaspoon cracked pepper
16 ounces frozen tater tots
1 tablespoon chopped chives
Instructions
Preheat oven to 350 degrees. Spray a 9×13 baking dish with nonstick spray.

Add the sausage to a skillet over medium heat and cook, stirring often to break up the sausage, until the sausage is cooked through. Drain the grease and spread the sausage in a single layer in the prepared pan.

Add the bacon to the skillet and cook until crisp, stirring often. Remove with a slotted spoon and sprinkle over the sausage.

Sprinkle the cheese over the top.

Add the eggs, milk, chiles, salt, and pepper to a mixing bowl and whisk to combine. Pour over the casserole.

Arrange the tater tots in a single layer over the egg mixture.

Bake for 45 minutes or until eggs are set.

Sprinkle with chives before serving.
Tips & Notes:
Onions and bell peppers make a great addition! Finely dice them and cook with the sausage. Tater Tots work great, but we've also used Crispy Crowns here. They're basically the same thing, just shaped a bit differently.
Nutrition Information:
Calories: 540kcal (27%)| Carbohydrates: 16g (5%)| Protein: 26g (52%)| Fat: 41g (63%)| Saturated Fat: 16g (100%)| Cholesterol: 292mg (97%)| Sodium: 1261mg (55%)| Potassium: 456mg (13%)| Fiber: 1g (4%)| Sugar: 1g (1%)| Vitamin A: 665IU (13%)| Vitamin C: 6mg (7%)| Calcium: 252mg (25%)| Iron: 2mg (11%)