This EASY HAMBURGER CASSEROLE is a staple in our family. Made with tender macaroni, ground beef, and loads of veggies, it's an easy way to get dinner on the table and the kids love it just as much as the parents do!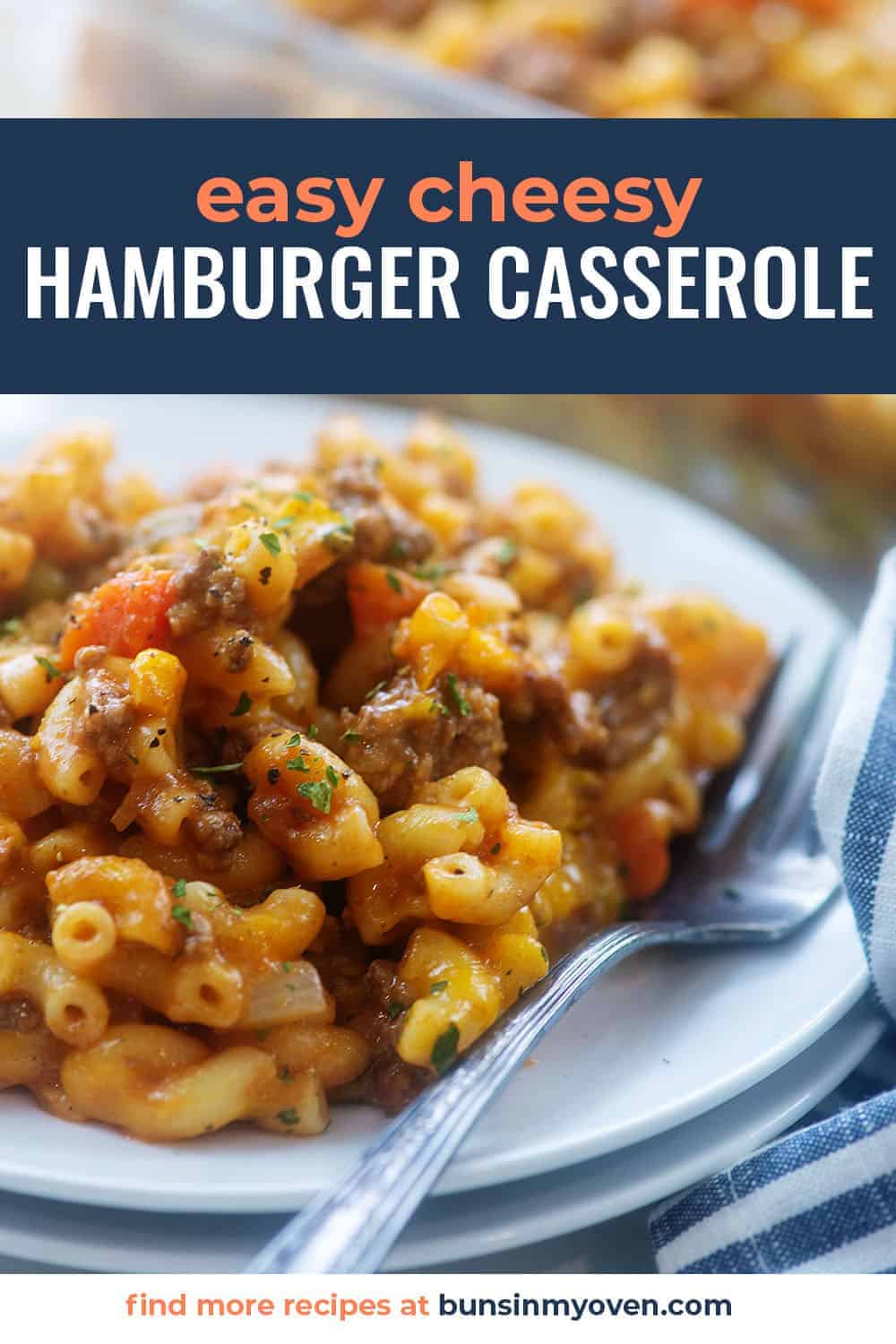 I tend to go through phases when cooking for my family.
For instance, we'll eat Mexican food (think fried tacos and restaurant style salsa) for a month straight.
Then I move on to homemade pizza and the toppings just get more creative as the phase goes on. (Hello, buffalo chicken pizza!)
Currently we're in the midst of a casserole phase.
I LOVE casseroles, both as a cook and as a mom.
They're generally pretty simple – everything goes into one big dish and then you usually add cheese and bake it all together.
The kids usually love them, because even though you can be certain I've snuck in something my kids don't like (peas and carrots, in this case), the noodles and cheese and sauce hide it just enough to get it by them.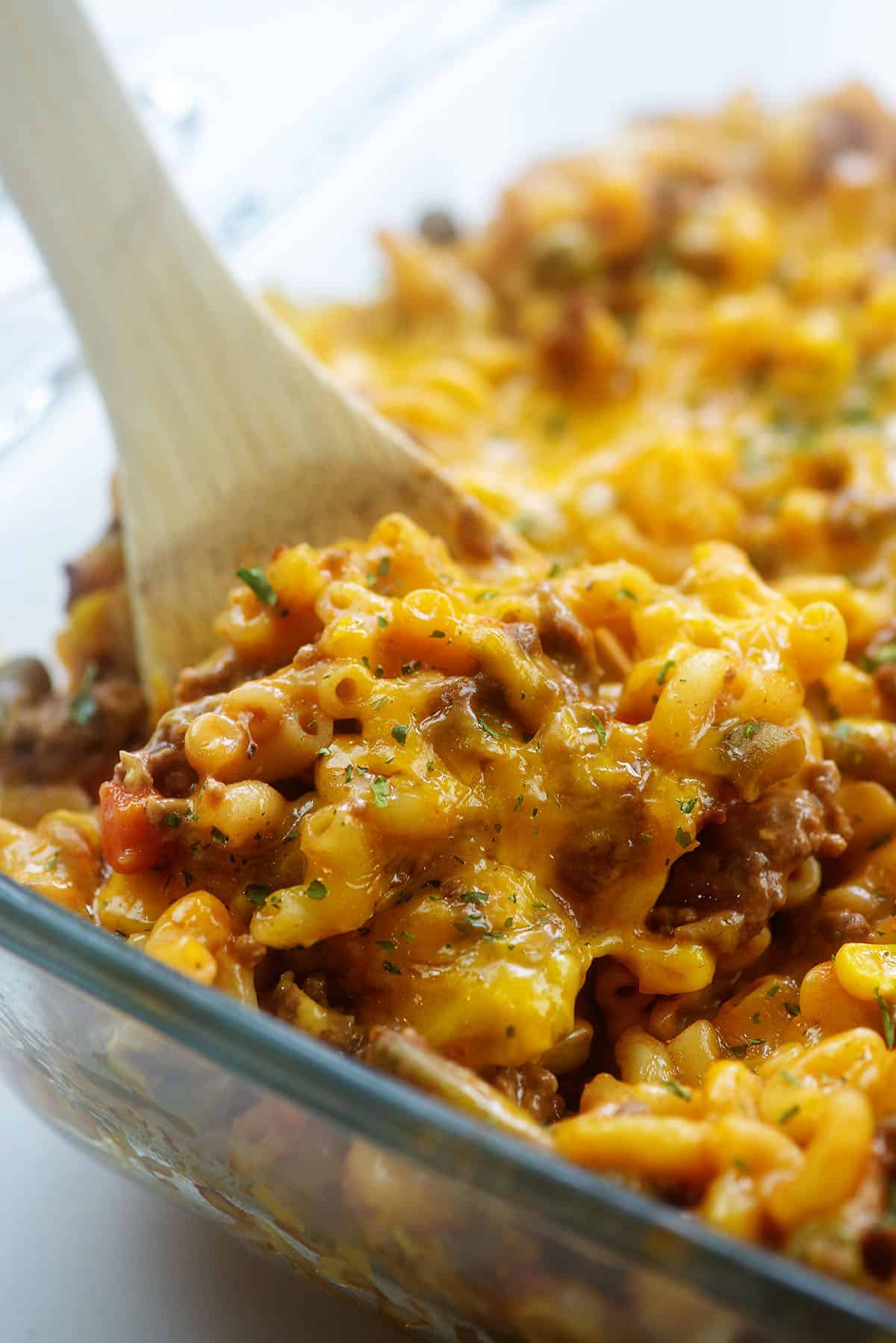 Ingredient Notes:
Macaroni – We use regular elbow macaroni for this hamburger noodle casserole as it does a great job of soaking up all the flavors and cheesy goodness! Just about any shaped pasta or noodle will work though.
Ground Beef – We use lean beef. Ground chicken or turkey would also work, but then it's not really a hamburger casserole anymore, is it?
Cheese – We're using shredded cheddar, but feel free to experiment.
Tomato Soup – An odd ingredient for a casserole, but canned tomato soup adds the perfect flavor!
Vegetables – A can of mixed veggies work well here. Frozen would possibly work as well.
Seasoning – A little mix of Worcestershire sauce and soy sauce will add some extra savory flavors to the casserole.
What We Love About This Recipe!
It's hard not to love an easy cheesy casserole! They are just so simple to throw together, full of hearty and filling good stuff! This hamburger casserole is also an easy recipe to modify so if you've got picky eaters you can be sure everyone in the family will enjoy it.
How to:
Boil the Macaroni: Boil in salted water for 1 minute less than the package directions state. This will keep the pasta from getting too mushy in the oven.
Cook the Hamburger: Brown the beef in a large skillet. When it's about halfway cooked, toss in the some onion and garlic and finish cooking. Drain any excess fat and then stir everything together in a large bowl.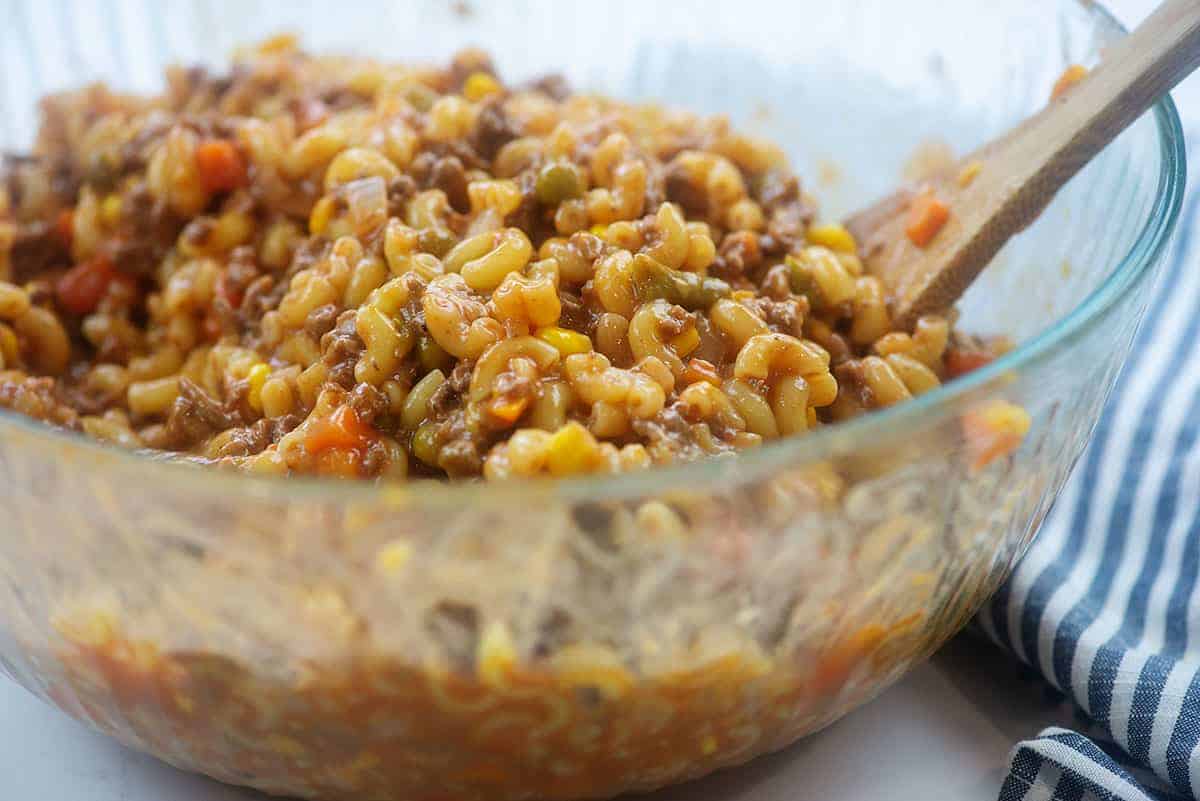 Bake: The final step is to bake this easy hamburger noodle casserole into a savory, cheesy dinner that the whole family will devour. Bake, covered, for 20 minutes, and then remove the cover and bake another 10 minutes.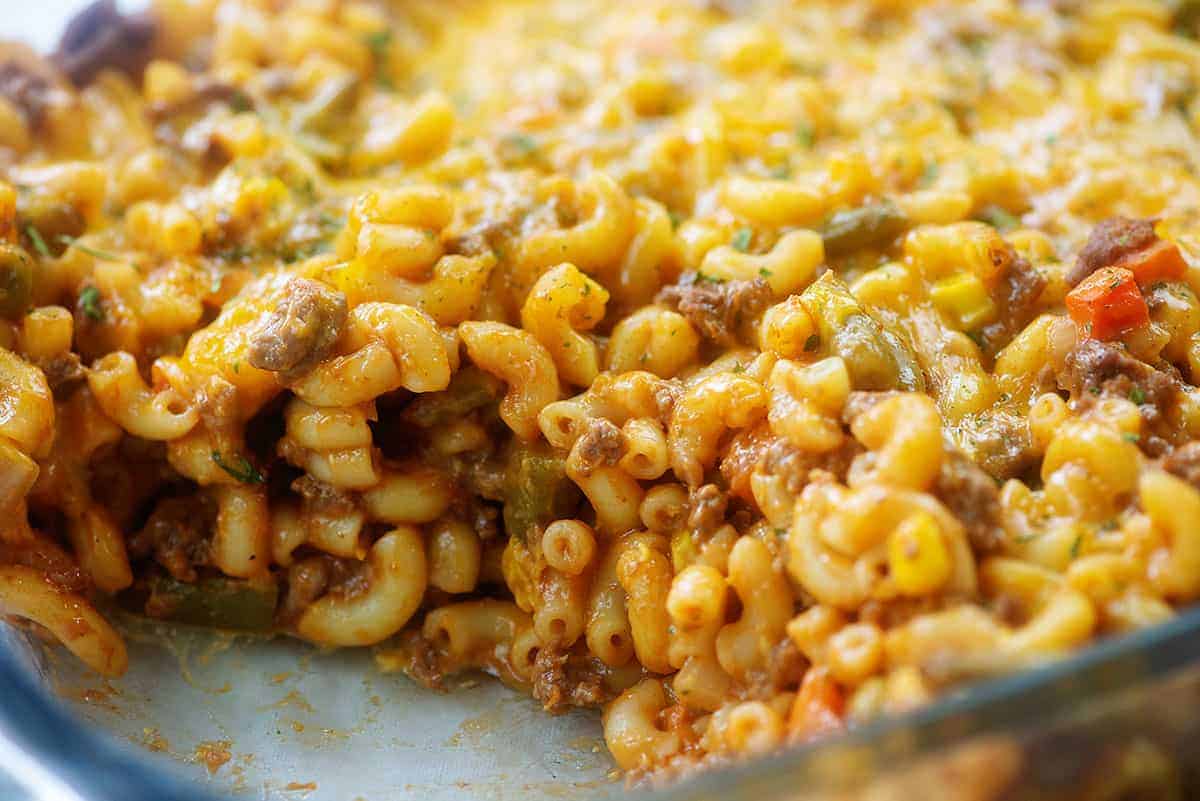 FAQs:
Can I refrigerate hamburger casserole?
Yes, it will last up to 4 days if sealed in an airtight container in the refrigerator. You can easily reheat it in the microwave or oven!
Can I freeze hamburger casserole?
I've never tried it because cooked pasta usually doesn't hold up very well when freezing, it can sometimes turn mushy. You could try making the casserole ahead of time and freezing it before baking. You'll need to thaw it completely when ready to bake.
Can I modify this recipe?
Yes! There are lots of ways to change this up. See the variations section below for some suggestions on how you could modify this recipe.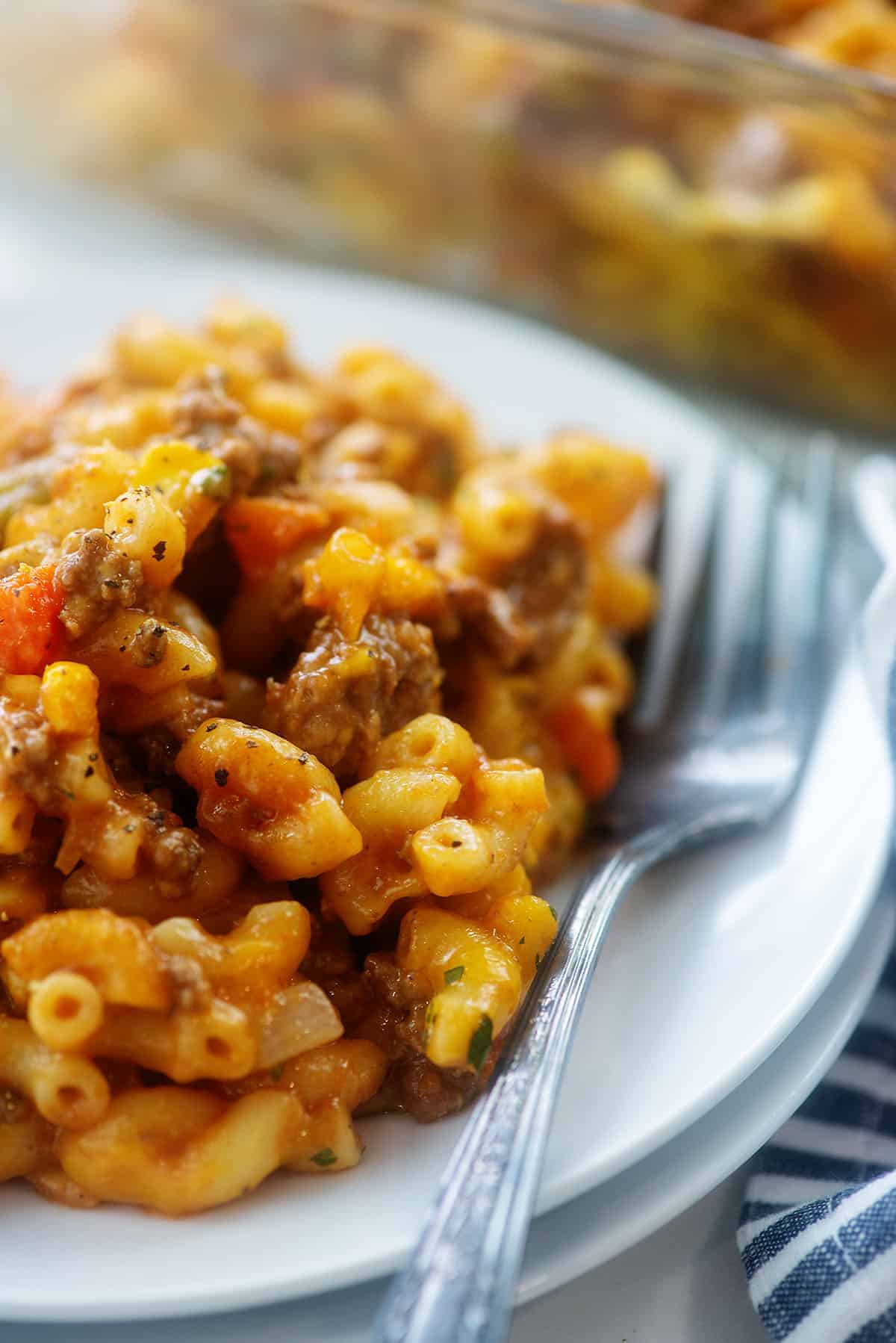 Variations:
Hamburger casserole can be made with many different ingredients. Consider some of these options below:
Egg noodles instead of macaroni.
Add some spice to turn up the heat! Red pepper flakes?
Bacon. What isn't improved with some bacon?
Add in some sautéed mushrooms.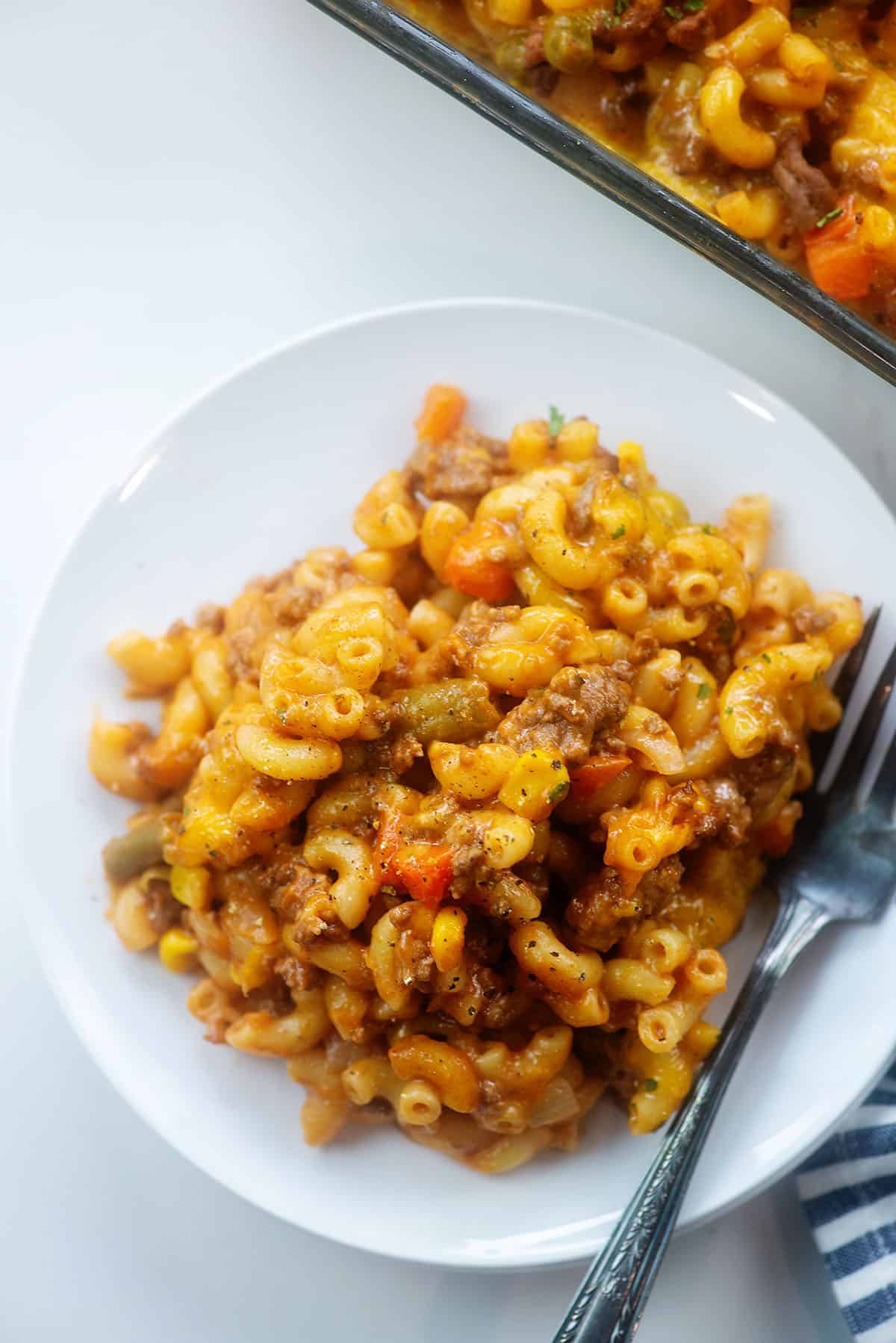 Picky Kid Tip
Not sure you can sneak the mixed veggies by your kiddo? No worries – feel free to swap the can of mixed vegetables for any veggie your kid does like! Green beans, peas, carrots, corn, or spinach are all perfect here.
More favorite casseroles!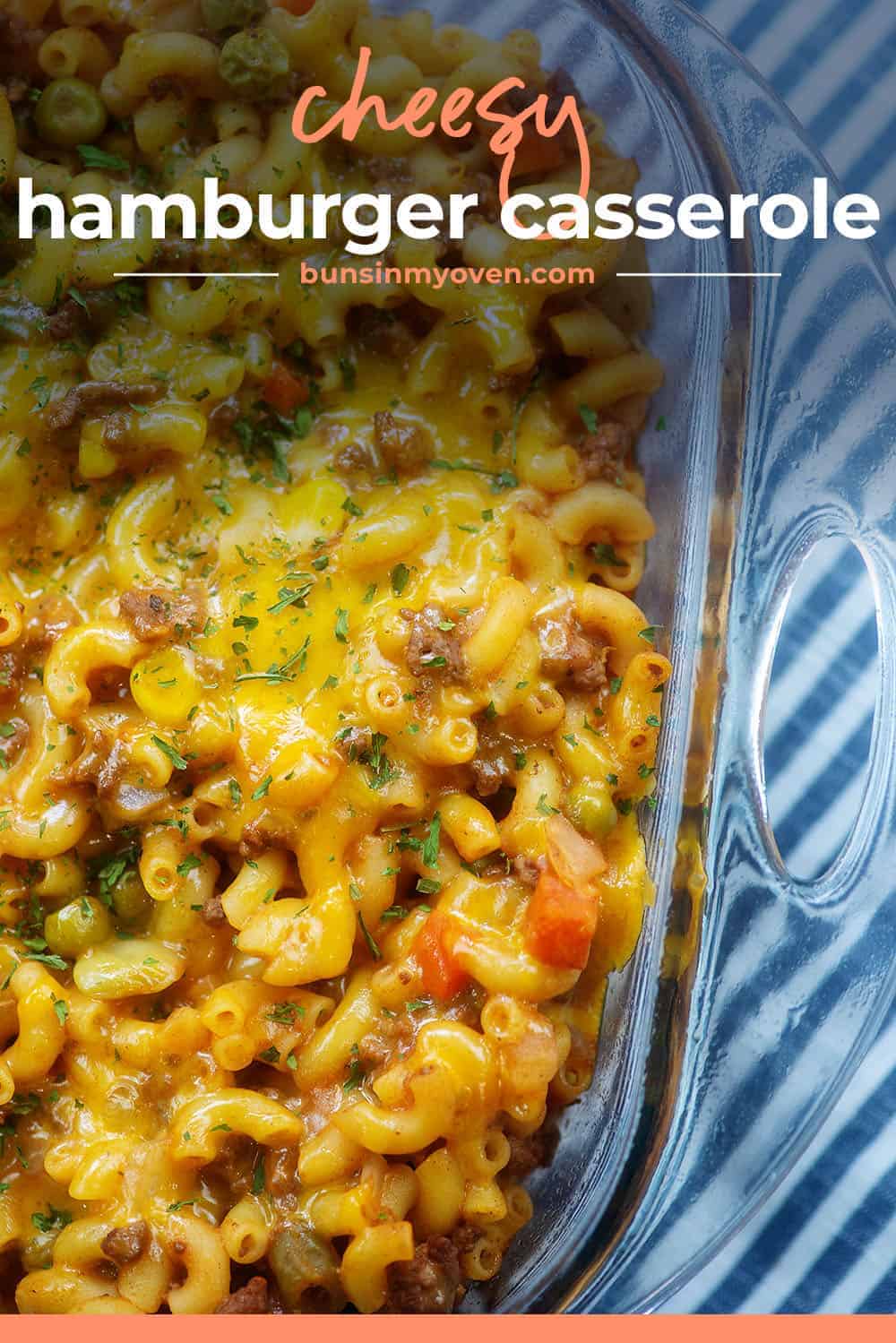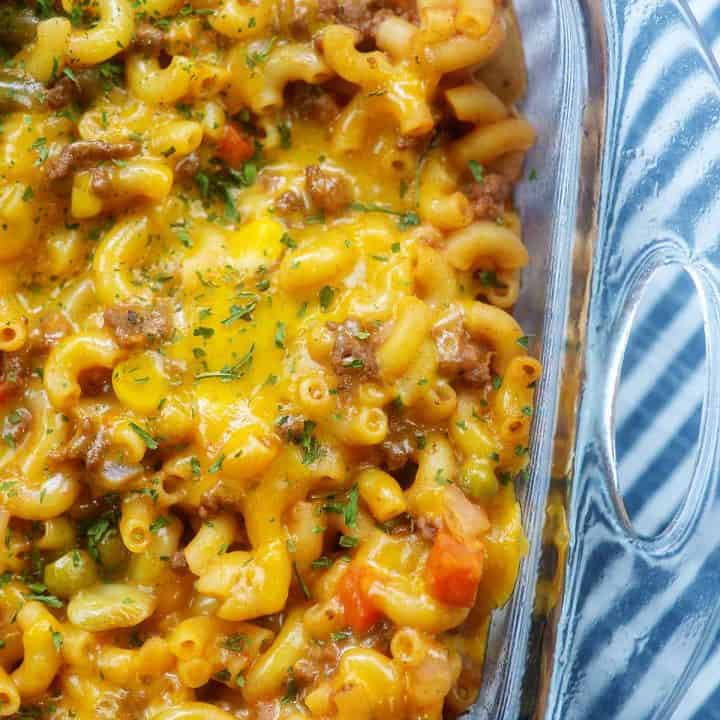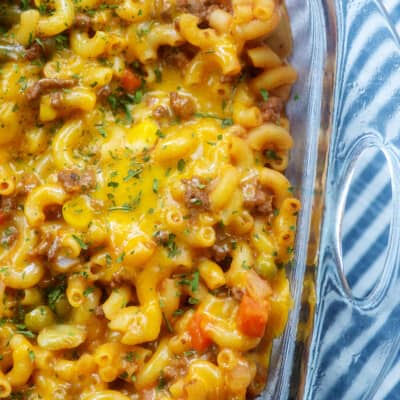 Hamburger Casserole
This is a kid-favorite thanks to the simple ingredients like macaroni, ground beef, and tomato soup! This recipe is simple to throw together and you can use any mix of vegetables you prefer.
Prep10 minutes
Cook40 minutes
Total50 minutes
Ingredients
1 pound uncooked macaroni
1 pound ground beef
1 medium sweet onion chopped
2 cloves garlic minced
1 teaspoon salt
1/2 teaspoon cracked pepper
2 10-ounce cans tomato soup
1 15-ounce can mixed vegetables
1 tablespoon soy sauce
1 teaspoon Worcestershire sauce
2 cups shredded cheddar divided
Instructions
Preheat oven to 375 degrees. Grease a 9×13 baking dish.

Bring a large pot of water to a boil and add the macaroni. Cook for 1 minute less than the package directions state. Drain the macaroni.

While the macaroni is cooking, add the beef to a large skillet over medium heat, breaking the meat up.

When the meat is about halfway cooked through, add the onion and garlic to the skillet and continue cooking until the beef is no longer pink. Season with salt and pepper. Drain the grease and pour the beef into a large mixing bowl.

Add the macaroni, tomato soup, mixed vegetables, soy sauce, Worcestershire sauce, and 1/2 cup of cheddar to the beef. Stir well to combine.

Pour the mixture into the prepared baking dish and top with the remaining cheese.

Cover with foil and bake for 20 minutes. Remove the foil and continue baking for 10 minutes.

Serve hot.
Tips & Notes:
You may use any variety of canned vegetables that your family enjoys. You can double the vegetables without adjusting the other ingredients, if desired.
Nutrition Information:
Calories: 484kcal (24%)| Carbohydrates: 46g (15%)| Protein: 25g (50%)| Fat: 22g (34%)| Saturated Fat: 10g (63%)| Cholesterol: 70mg (23%)| Sodium: 586mg (25%)| Potassium: 362mg (10%)| Fiber: 2g (8%)| Sugar: 4g (4%)| Vitamin A: 289IU (6%)| Vitamin C: 2mg (2%)| Calcium: 235mg (24%)| Iron: 2mg (11%)