These fried tacos are extra crispy and an absolute family favorite. We stuff soft corn tortillas with seasoned beef and then fry them until the shells are crispy and hot. This is the ultimate way to step up your taco night dinner!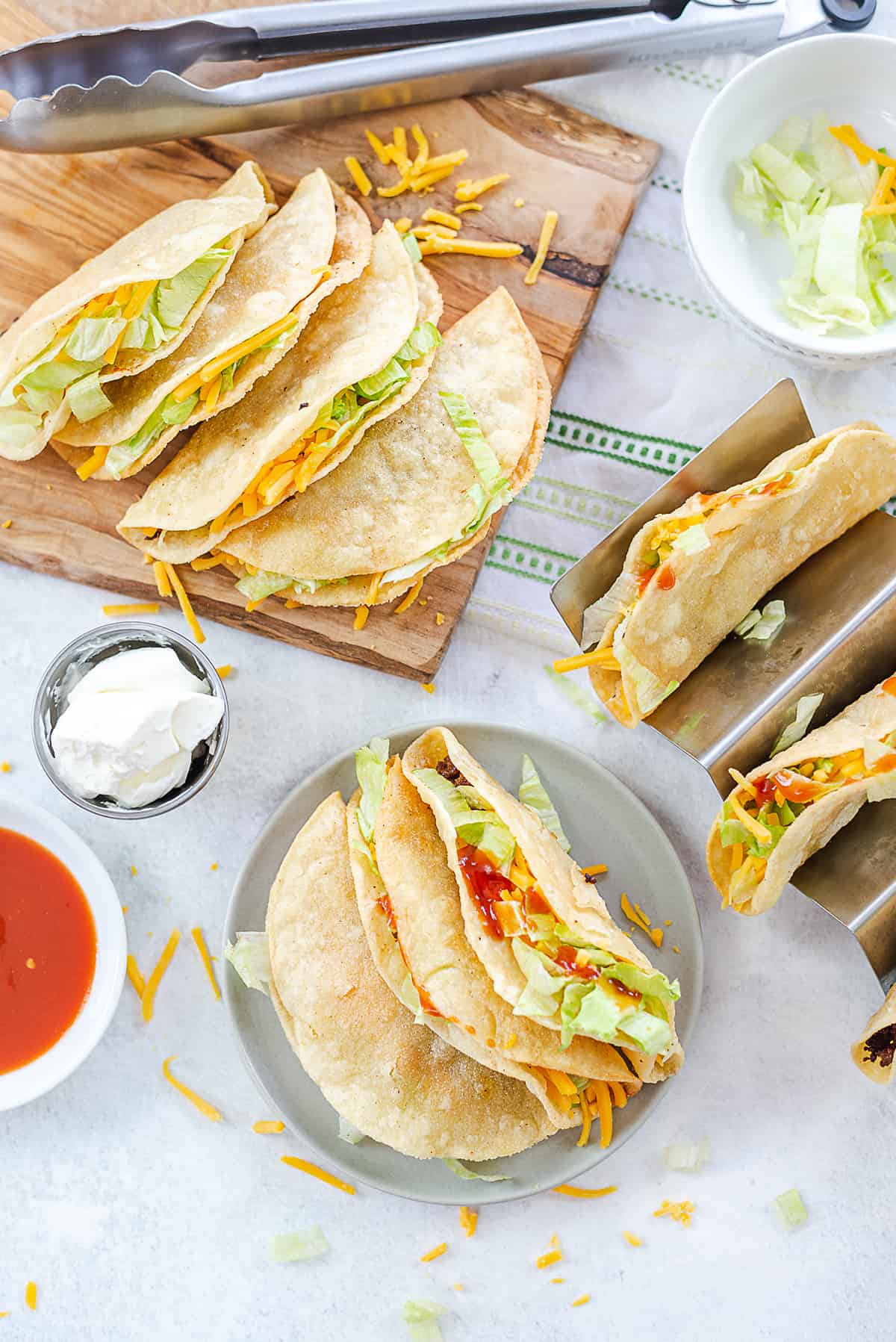 My love for tacos is pretty well known around here.
I can turn just about anything into taco flavored goodness – hello, taco mac and cheese, taco lasagna, and taco tater tot casserole!
But my real love will always be a classic fried taco.
I mean, I love soft tacos with all my heart and am never without flour tortillas in my house. We might be out of bread, but we'll have a stack of tortillas. 😉
We usually reserve the corn tortillas for things like these fried tacos. They're perfect for frying and they turn out so light and crispy, just begging you to eat one. more. taco.
I can't wait for you to make these and give them a try – they're going to change your whole taco dinner routine.
Once you've tried these, please take a snap and tag me on Instagram! I want to see your fried taco creations!
Highly recommend you serve these with our sopapilla cheesecake bars for dessert, too!
Ingredient Notes:
This post contains affiliate links. As an Amazon associate and member of other qualifying programs, I earn from qualifying purchases.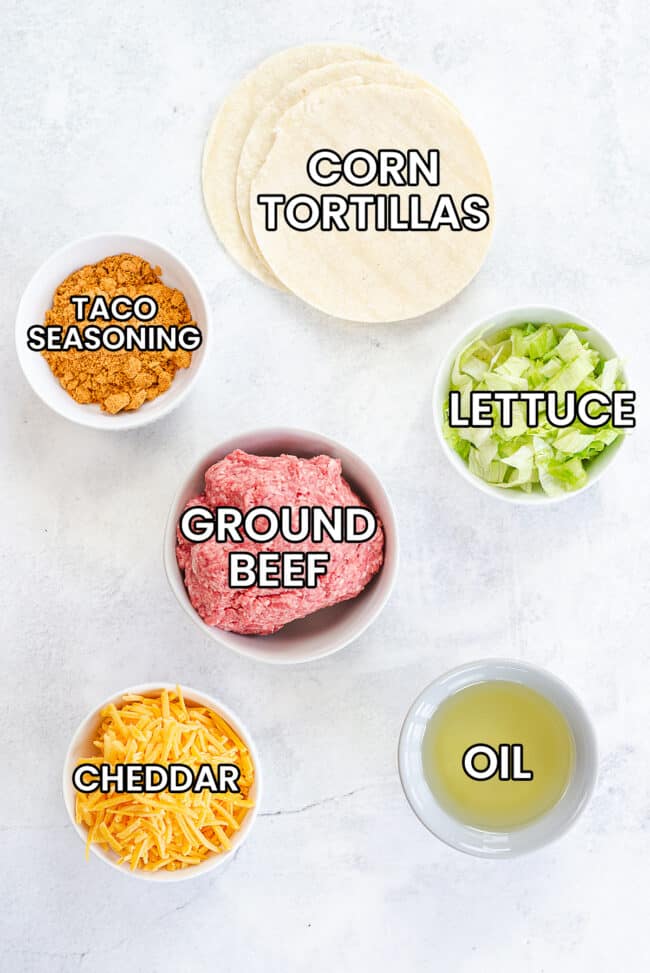 Taco Meat – Seasoned beef is our go to and we often use my crockpot taco meat. Our turkey tacos also make a great filling!
Taco Seasoning – Try out this homemade taco seasoning to go with the meat, or just keep things simple and grab a packet of your favorite brand from the store.
Tortillas – White or Yellow Corn Tortillas are needed for this recipe.
Toppings – We keep it simple with shredded lettuce, cheddar, and hot sauce. Add whatever you like though.
What We Love About This Recipe!
It's hard to improve something as simple and tasty as a taco, but when you take the time to fry one you'll definitely notice the difference! These are nothing like the crunchy taco shells you get from the store – they're so much better!
How to Make Fried Tacos:
Taco Meat: Brown the beef, crumbling it as it cooks. Stir in the taco seasoning and a bit of water.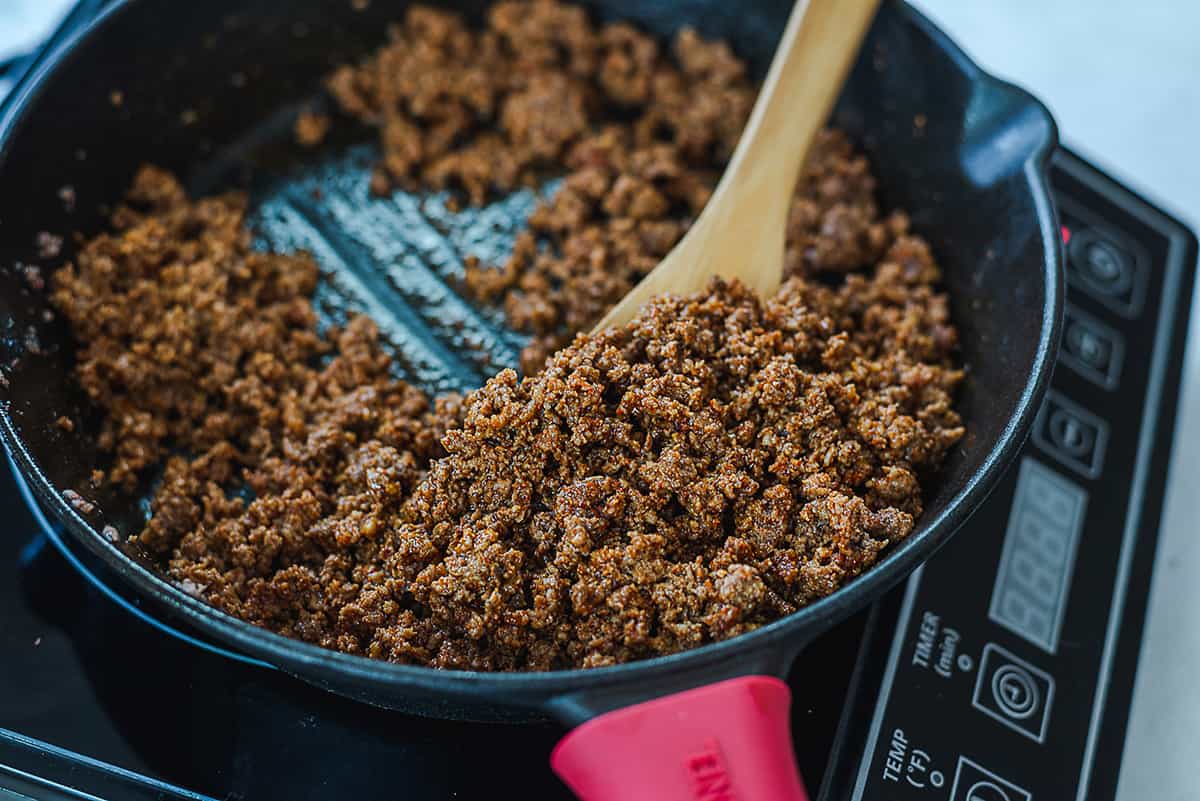 Heat the Oil: Heat a large, deep skillet with about 2 inches of vegetable oil. The oil should be 375 degrees.
Warm Tortillas: Corn tortillas are quite delicate and break very easily when folded. We wrap a stack of tortillas in a damp paper towel and microwave them for 30 seconds to make them more pliable and easy to work with.
Fry Tacos: Spoon a small amount of meat into the center of a tortilla, fold it closed using tongs, and gently place it into the hot oil. Fry for about 1-2 minutes per side.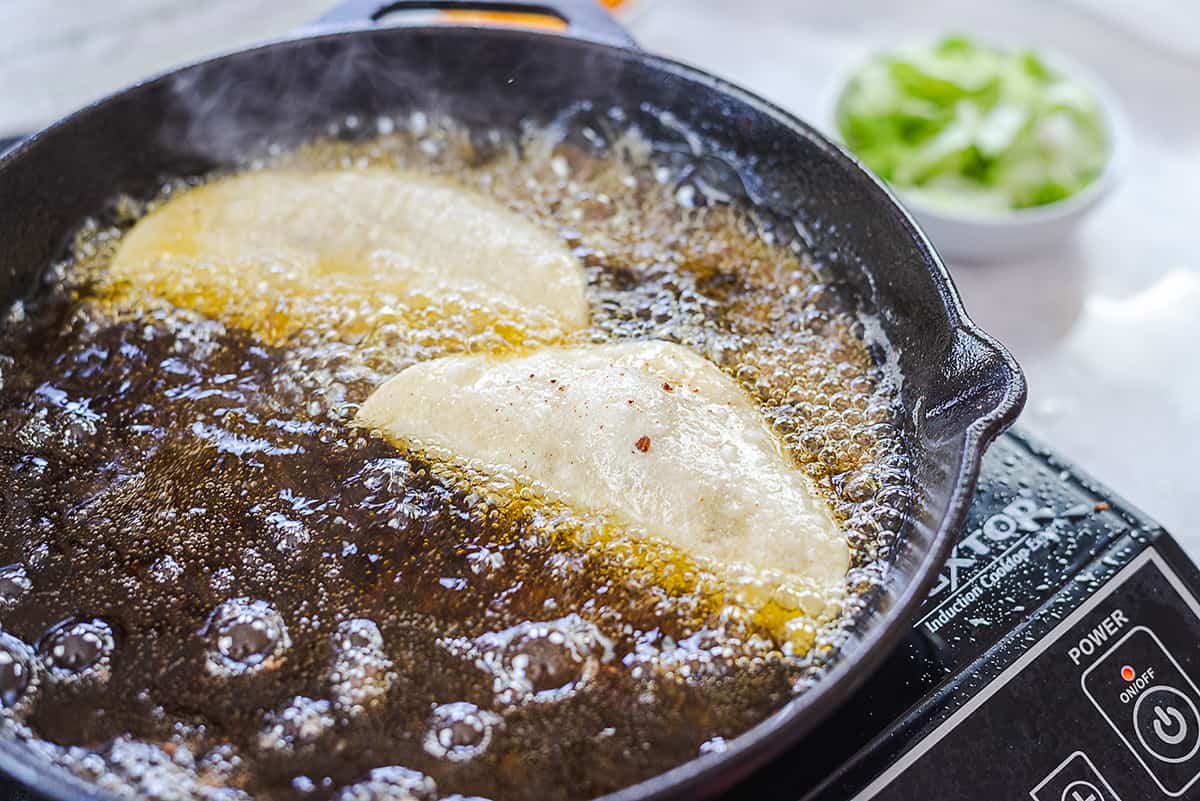 Helpful Tip!
Frying Tacos
Use a set of tongs to place the tacos into the hot oil.
Hold the taco closed with the tongs for 15-20 seconds before letting go of the taco to be sure it stays closed.
Don't overcrowd the pan.
Keep an eye on the temperature of the oil and make sure it hovers around 375. If it too cool the tacos will be very greasy. If it's too hot, they'll get too crunchy.
Drain: Stack about 10 full sized paper towels on top of each other and fold them in half and hold the paper towel stack with one hand. Carefully remove the tacos from the oil, letting excess oil run out of the tacos, and place one into the stack of paper towels. Gently squeeze any excess oil out of the taco. Place the tacos onto a paper towel lined plate.
Add Cheese: Once you've removed all of the tacos from the oil, start a second batch frying. By the time those are frying, the first batch should be cool enough to handle. Gently pry apart the tacos and stuff them with as much shredded cheese as you like. The tacos will still be warm and the cheese will melt inside the shell.
Serve: Once all of the tacos are done frying and are filled with cheese, it's time to serve these up with your favorite fixings on the side. We keep it simple with shredded lettuce, sour cream, and Cholula.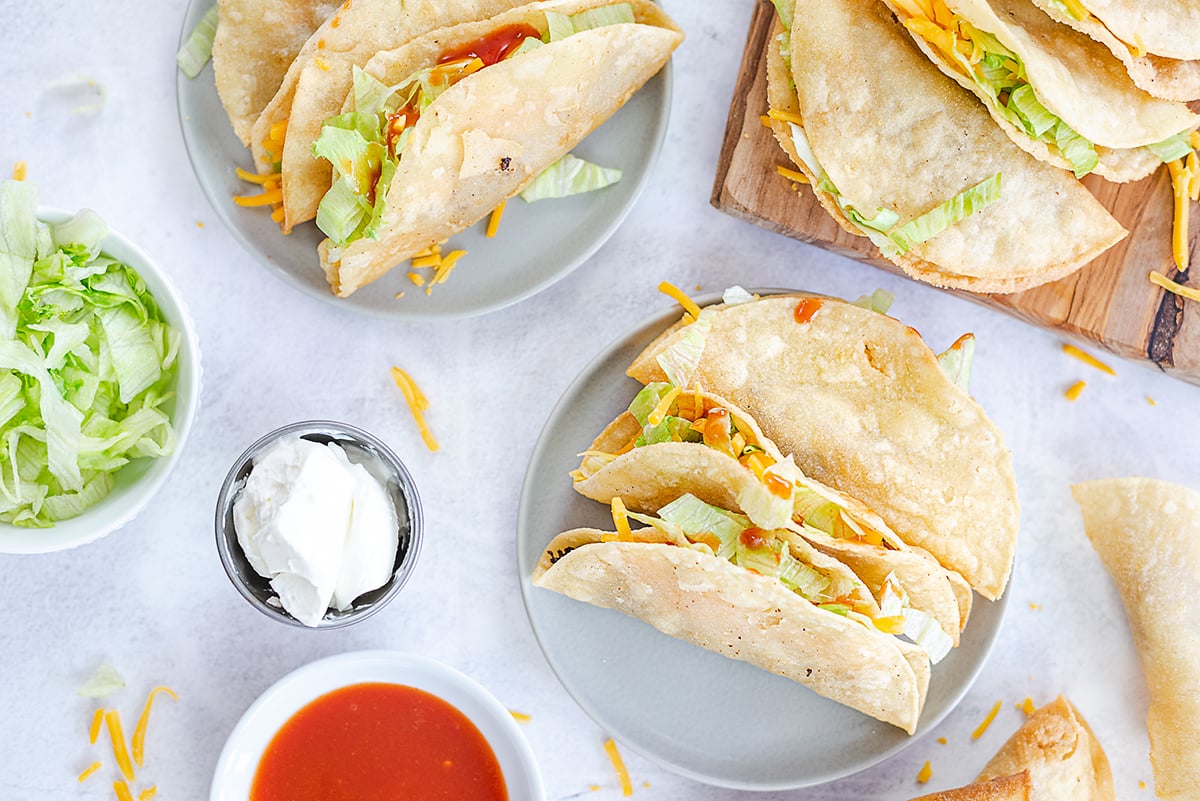 Helpful Tip!
Got an Air Fryer?
While these fried tacos will always be the best, we understand that deep frying food isn't always fun or practical. This Air Fryer Tacos Recipe is basically the same recipe, but tailored for the air fryer.
Jack in the Box Tacos:
Jack in the Box is a chain drive-thru restaurant that is known for their deep fried tacos. While this recipe is not meant to be a copycat of Jack in the Box, it does have a similar vibe, in that the meat and shell are both fried together.
Jack in the Box uses a slice of American cheese in their tacos and the filling is more of a paste, as it's mostly soy combined with beef.
What Readers are Saying!
"I made these for dinner tonight? They were wonderful! I have to admit that I used two toothpicks per taco to keep them closed so the filling wouldn't fall out, and also so I could make them faster. I was able to make 22 tacos? I will definitely be making these again, Thanks for the recipe." – Corrine
FAQs:
How to store fried tacos?
If you have leftovers you can store them covered in the refrigerator for up to 3 days. They can be reheated in the oven at 350 degrees for about 8 minutes.
Why are my tacos so greasy?
Part of the appeal of these tacos is the fact that they are deep fried. They're going to be a bit greasy, but you can eliminate as much of that excess grease as possible by making sure your oil is the right temperature before cooking. When you remove the tacos from the hot oil, place them in a pile of paper towels and squeeze out the excess grease. Let tacos drain on a taco lined plate while frying up the rest of the batch.
Can you fry soft shell tacos?
Yes! It is best to us soft corn tortillas instead of flour tortillas. They will get crisper! Follow our recipe to fill the taco prior to frying and then fry them in a skillet.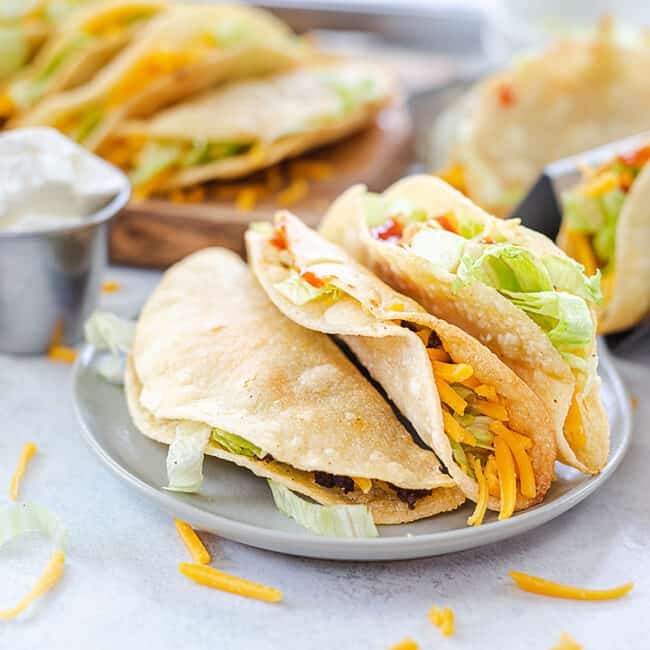 The Best Fried Tacos
These really are the all time best fried tacos! The meat is fried right in the shell and then we fill the tacos with cheese and top with crunchy lettuce and our favorite hot sauce.
Prep10 minutes
Cook30 minutes
Total40 minutes
Ingredients
1 pound ground beef
1 packet taco seasoning
20 corn tortillas
1 cup shredded cheddar cheese
Oil for frying
Taco toppings as desired
Instructions
In a medium skillet, brown the beef crumbling it as it cooks.

Stir in the taco seasoning along with 2 tablespoons of water. Stir to coat the meat in the seasoning. Remove from heat.

Heat 2 inches of oil in a large, deep skillet over medium high heat to 375 degrees.

Place the tortillas on a microwave safe plate and top with a damp paper towel. Warm the tortillas in the microwave for about 30 seconds or until soft and pliable.

Use a dinner spoon to scoop a small amount of meat right down the center of one tortilla. Fold the tortilla in half and grab it with kitchen tongs.

Place the folded taco in the hot oil, continuing to hold it closed, and cook until the taco will hold it's own shape, about 20 seconds.

Let go of the taco and continue filling the pan with tacos, being careful not to overcrowd the pan. Fry tacos about 2 minutes per side, or until as crispy as you'd like. They will crisp up more as they cool.

When the taco is ready to come out of the oil, fold up a thick wad of paper towels in your hand. Pick the taco up with the tacos and gently tilt to allow grease to drain out, place in the wad of paper towels, and squeeze lightly to remove more grease. Make sure you have enough paper towels in your hand so that the grease does not soak through and burn your hand.

Place the taco in a paper towel lined pie plate and repeat with remaining tacos.

When the tacos have cooled enough to handle them, stuff each one with a bit of the shredded cheese.

Serve with your favorite taco toppings.
Tips & Notes:
Use any taco filling you like, such as ground chicken or turkey, shredded chicken, or carnitas. See blog posts for notes about filling and frying the tacos. Use any of your favorite taco toppings – we keep these simple with shredded cheddar, shredded iceberg, and taco sauce or hot sauce. To make these more like Jack in the Box tacos, use a slice of American cheese in place of the shredded cheddar.
Nutrition Information:
Serving: 4tacos| Calories: 190kcal (10%)| Carbohydrates: 13g (4%)| Protein: 7g (14%)| Fat: 13g (20%)| Saturated Fat: 3g (19%)| Polyunsaturated Fat: 2g| Monounsaturated Fat: 6g| Trans Fat: 1g| Cholesterol: 22mg (7%)| Sodium: 203mg (9%)| Potassium: 115mg (3%)| Fiber: 2g (8%)| Sugar: 1g (1%)| Vitamin A: 221IU (4%)| Vitamin C: 1mg (1%)| Calcium: 66mg (7%)| Iron: 1mg (6%)
This recipe was originally published in June 2014. It was updated with new photos in January 2022. Original photos below.