If you love Mexican street corn on the cob, try this Esquites recipe! It's a Mexican corn salad with all the usual street corn ingredients tossed in some mayo and sour cream!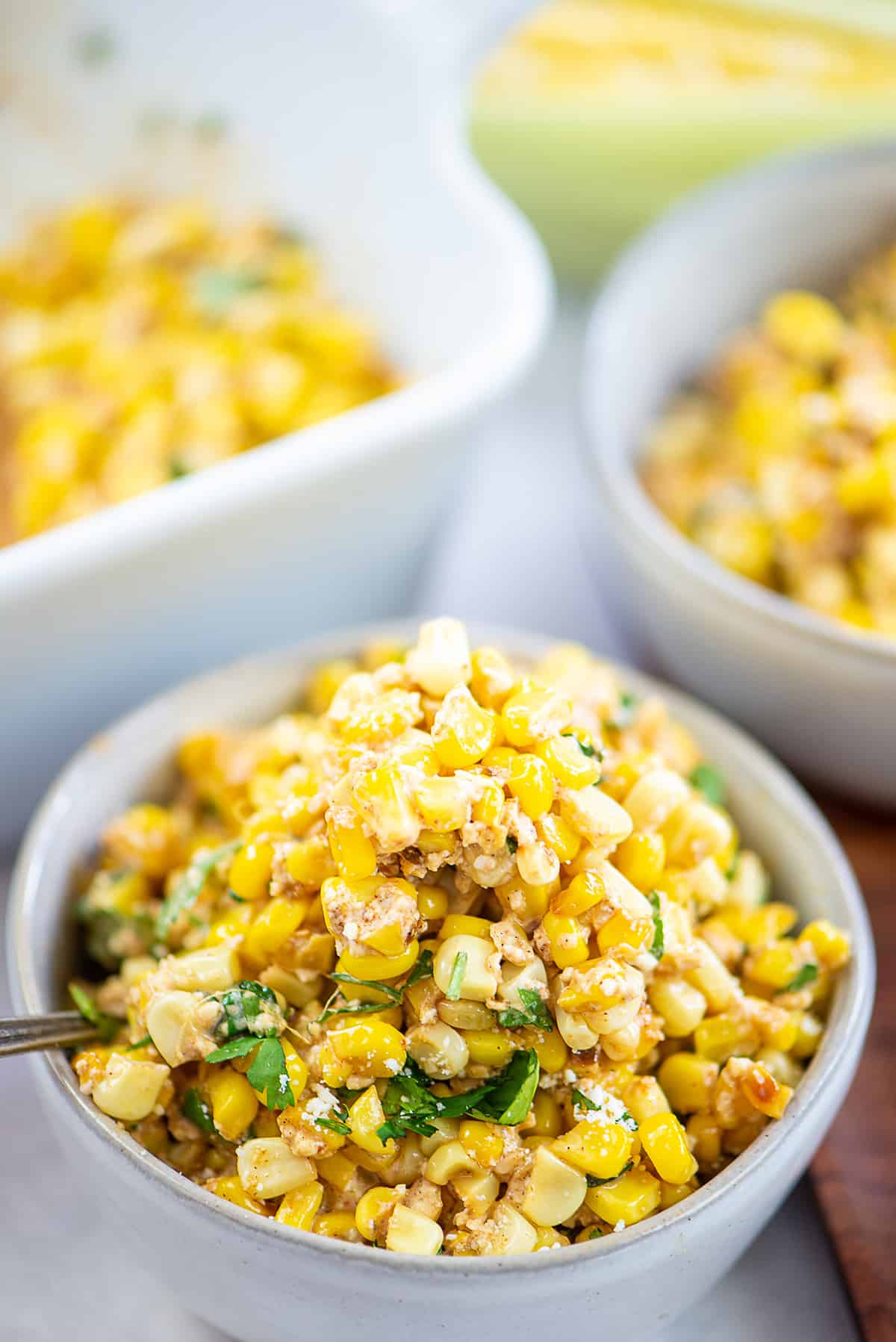 This should come as no surprise to you at all, but we had Mexican for dinner the other night.
I know. I know. That's nothing new. It's definitely our go to for dinner!
My husband is obsessed with street corn (we often make him air fryer Mexican street corn), but I'm not a huge fan of corn on the cob. It gets all stuck in your teeth and you squirt your dinner companions with corn juice. Not the best.
So, we cut the corn off the cob and made esquites instead!
Served with our taco casserole or a crunchwrap, you've got a pretty perfect dinner!
This also makes a great side next to our easy refried beans.
Ingredient Notes:
Corn on the Cob – We prefer to start with fresh sweet corn on the cob. You can also use frozen corn (off the cob) in this recipe, but fresh is always best!
Cheese – You'll need some good Mexican cheese for Esquites, and cotija will work perfectly. If you don't have cotija, some feta or even Parmesan will work fine.
Lime – Some fresh squeezed lime juice will add citrus flavor and help brighten up the dish.
Chili Powder – Chili powder or chipotle chili powder will spice this up! Chipotle has a bigger kick than chili powder.
Mayo & Sour Cream – These are going to help hold everything together in this street corn salad recipe and make everything nice and creamy.
Cilantro – We'll finish things off with my favorite herb, cilantro. If you're not a fan, you can sub in parsley.
What Readers are Saying!
"YUM – made this with all the extra corn I had cut off the cob yesterday (since I cooked it & cut it off the cob, but didn't really have a plan). Had everything else I needed in the house – so whipped this up to go with our fajitas – AWESOME, thanks for this" – Rachel
How to Make Esquites:
Prepare the Corn: Slice the kernels off 5 ears of fresh, sweet corn and set aside for a few minutes while you heat up a skillet with some butter.
When the butter has melted you can add in the corn and stir it once before letting it sit undisturbed for about five minutes or until it starts browning on the bottom.
You'll want to go for that slightly charred look that you get with Mexican street corn. Let the corn sit until it begins popping a bit and is charred.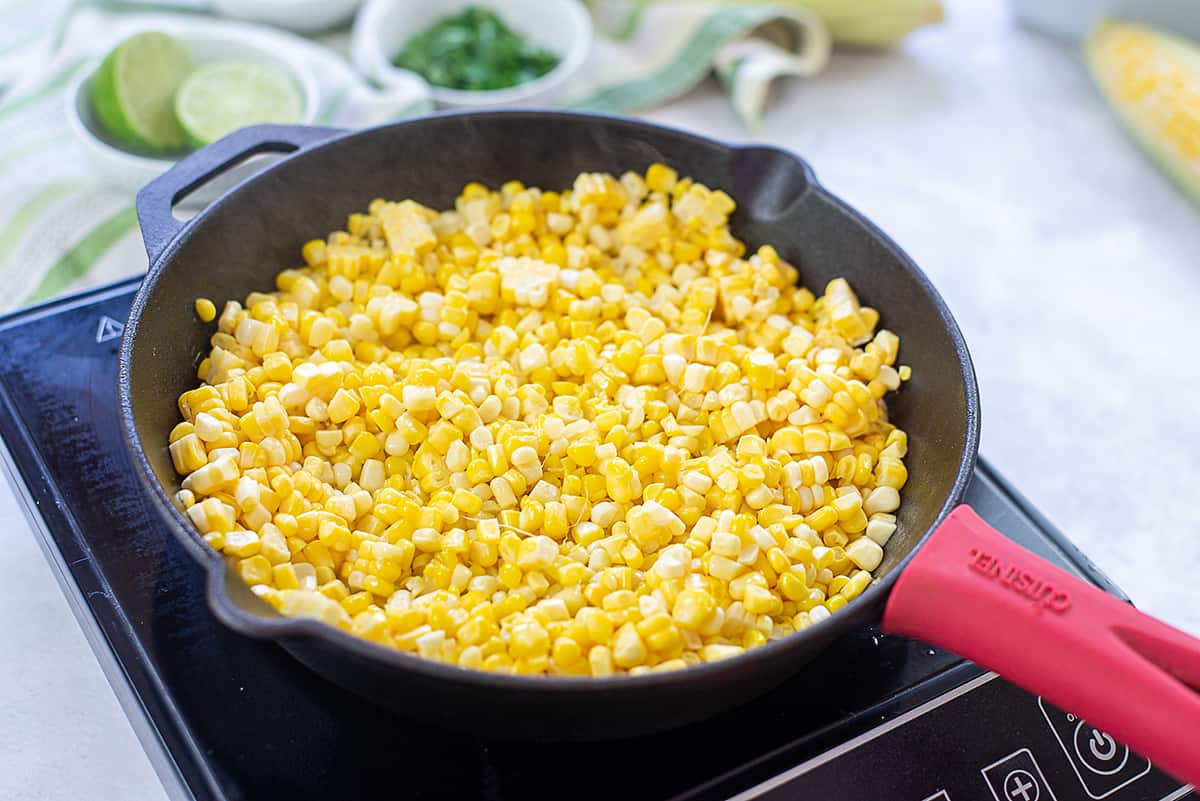 Mix the Corn Salad: When you've finished preparing the toasted corn go ahead and add it to a mixing bowl along with the mayonnaise, sour cream, lime juice, cheese, chili powder and all remaining ingredients.
Give it a good toss to make sure everything is well coated in the mayo, sour cream, and seasoning mixture. That's all there is to it! This esquites recipe is super easy!
Helpful Tip!
If you would like to adjust how spicy this Esquites dish is you can make it spicier by using chipotle or cayenne powder or keep it mild with chili powder.
You can also skip the mayo for more sour cream if you're a mayo hater! We like the mix of both, but one or the other works fine too.
Finely dice a jalapeno and add it to the skillet with the corn for more of a kick!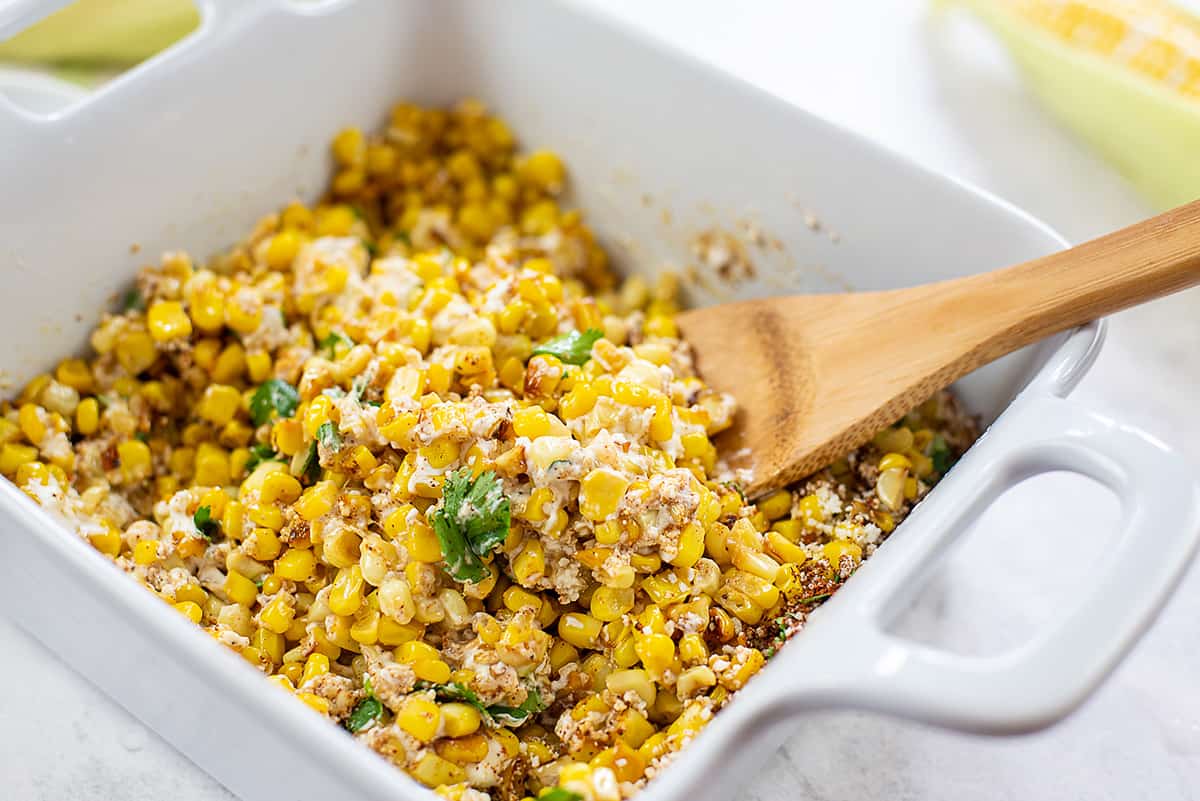 What is the easiest way to cut corn off the cob?
There are two ways to go about removing corn from the cob. The first is with a sharp knife and a large, wide mouth bowl. Place the corn cob in the bowl and slice down with a short, sharp knife from top to bottom. The corn will fall directly into the bowl.
The second option is even easier – use a corn peeler!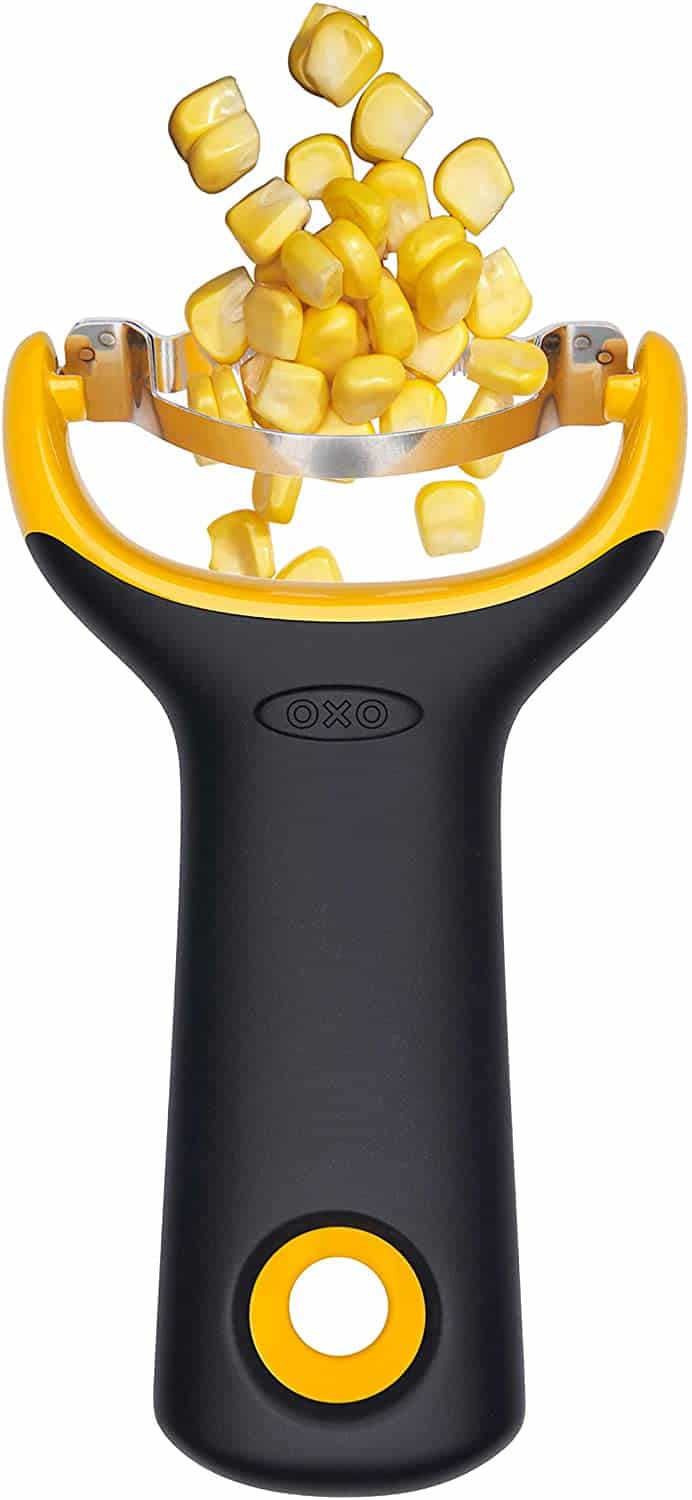 This corn peeler makes cutting corn off the cob a breeze! Just grab your corn and slide the tool right down the side.
FAQs:
What is the difference between Elotes and Esquites?
Elotes is a Mexican street corn recipe using corn on the cob. Esquites is Mexican street corn off the cob. It's more of a street corn salad!
What does Esquites mean in Spanish?
It comes from the Nahuatl word ízquitl, which means toasted corn.
Do I have to use fresh corn?
Nope, but it does taste the best! I've used frozen corn before without any problems, and canned corn would also work.
MORE MEXICAN INSPIRED RECIPES!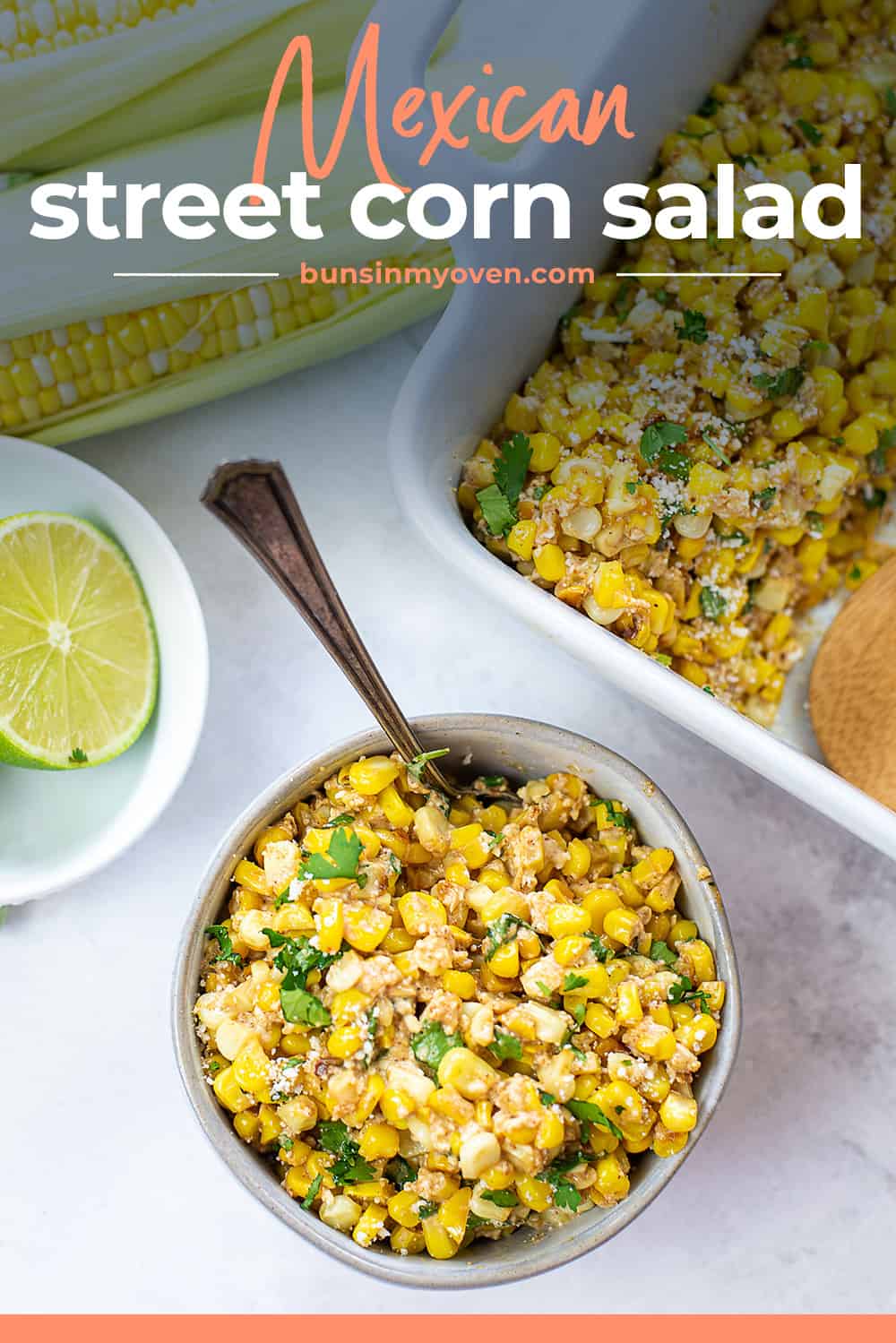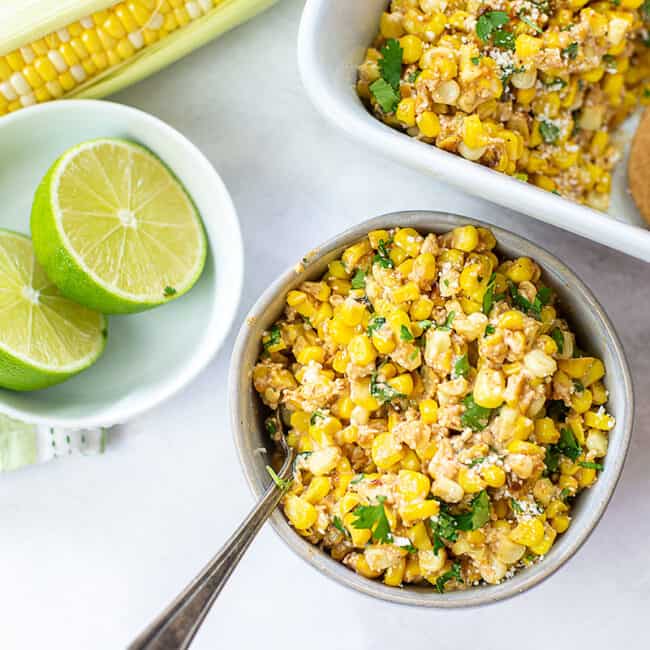 Esquites
This Mexican street corn salad is simple to prepare and loaded with fresh flavors. We serve this alongside tacos and burritos for a tasty Mexican dinner.
Prep10 minutes
Cook5 minutes
Total15 minutes
Ingredients
5 ears corn on the cob
2 tablespoons butter
1 clove garlic finely minced
1-2 tablespoons mayo
1-2 tablespoons sour cream
1/4 cup cilantro chopped
1/2 lime juice of
1/4 cup crumbled cotija cheese
2 teaspoons chili powder more or less to taste
1/2 teaspoon chipotle chili powder more or less to taste, optional
Salt and pepper to taste
Instructions
Slice the corn from the cob and set aside.

Heat a large skillet over medium high heat and add the butter.

Once the butter is melted, add the corn to the skillet and stir once.

Let corn sit undisturbed for about 5 minutes, or until corn starts browning on bottom. Stir again and let corn sit until it begins popping a bit and is charred.

Place corn in a medium bowl and add 1 tablespoon of mayo, 1 tablespoon of sour cream, and the remaining ingredients. Toss to coat.

Taste and add additional mayonnaise, sour cream, and seasonings as needed.

Serve warm.
Tips & Notes:
You can use all mayonnaise or all sour cream if that's your preference. Just adjust the amounts accordingly. Chipotle chili powder is spicier than traditional chili powder and we like the kick it adds. It can be tricky to find, so feel free to sub in ground cayenne. Add the spices to taste – it's easy to add more to individual servings and leave it fairly mild for those that don't like spice. Cotija cheese is a dry, crumbly cow's milk cheese that's fairly salty. If you can't find it, Parmesan or feta both will work well.
Nutrition Information:
Calories: 171kcal (9%)| Carbohydrates: 14g (5%)| Protein: 3g (6%)| Fat: 12g (18%)| Saturated Fat: 6g (38%)| Cholesterol: 27mg (9%)| Sodium: 179mg (8%)| Potassium: 215mg (6%)| Fiber: 1g (4%)| Sugar: 5g (6%)| Vitamin A: 710IU (14%)| Vitamin C: 5.4mg (7%)| Calcium: 37mg (4%)| Iron: 0.5mg (3%)