These easy refried beans taste just like the ones from the local Mexican restaurant! These are such a simple but filling side dish and they're ready in about 20 minutes!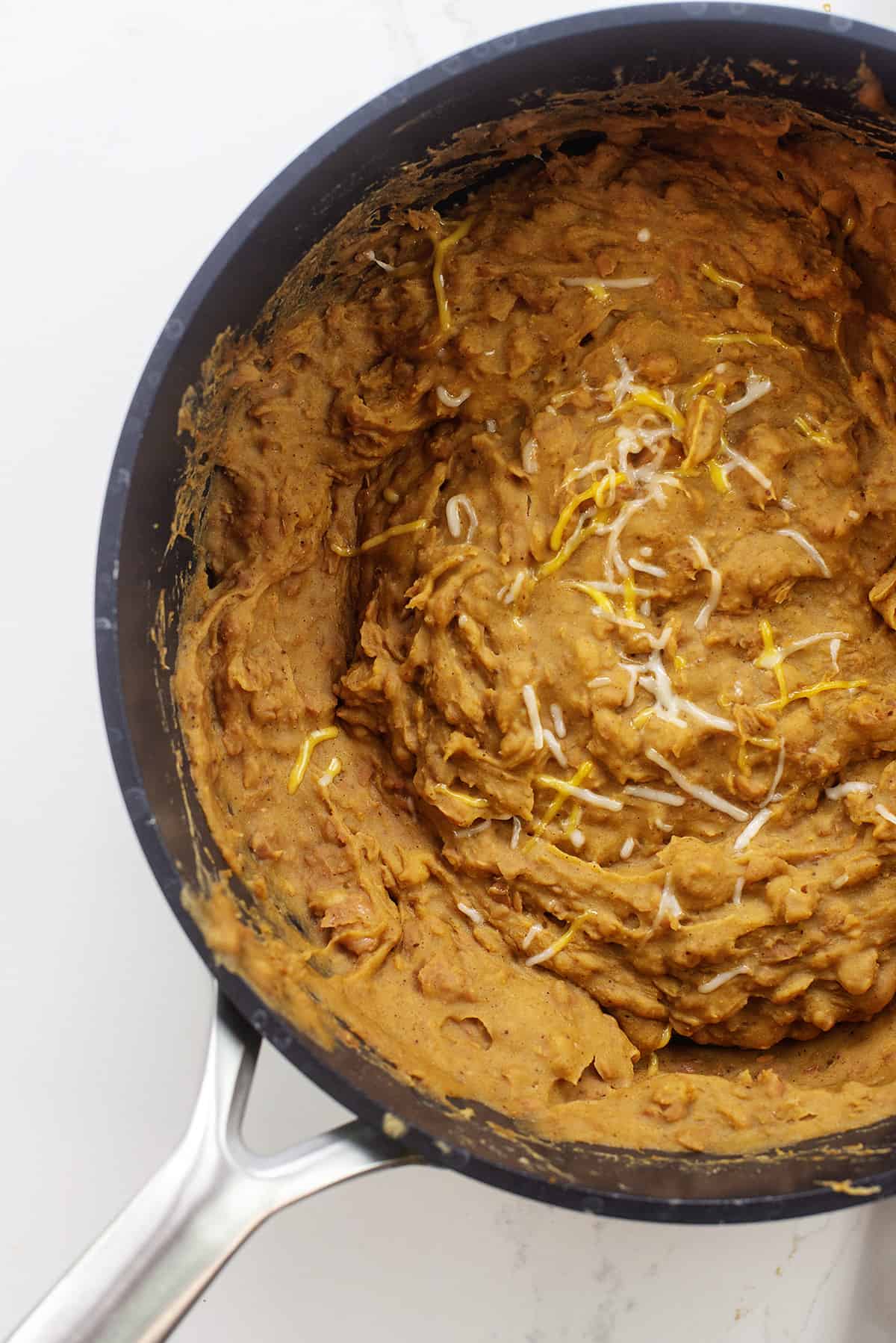 Have you ever tried to photograph refried beans? It looks like…well…a pile of brown mush. Not the most photographic food out there, but I did my best because I absolutely had to share this recipe with you!
I'm not a huge fan of canned refried beans, but I love the ones from the local Mexican restaurant! We set out to recreate those – smooth and creamy, seasoned perfectly, and JUST AS EASY as ordering take out!
Are these authentic? I mean, probably not. I tried my best to recreate the flavors that I find in restaurant style refried beans, but my method and the ingredients used may differ from authentic recipes.
These easy refried beans are absolutely delicious and creamy, full of flavor, and so simple to make that I think you're going to love them either way!
Serve them with our easy Mexican rice and a chicken chimichanga. So good!
Don't forget the margaritas on the rocks!
Ingredient Notes:
This post contains affiliate links. As an Amazon associate and member of other qualifying programs, I earn from qualifying purchases.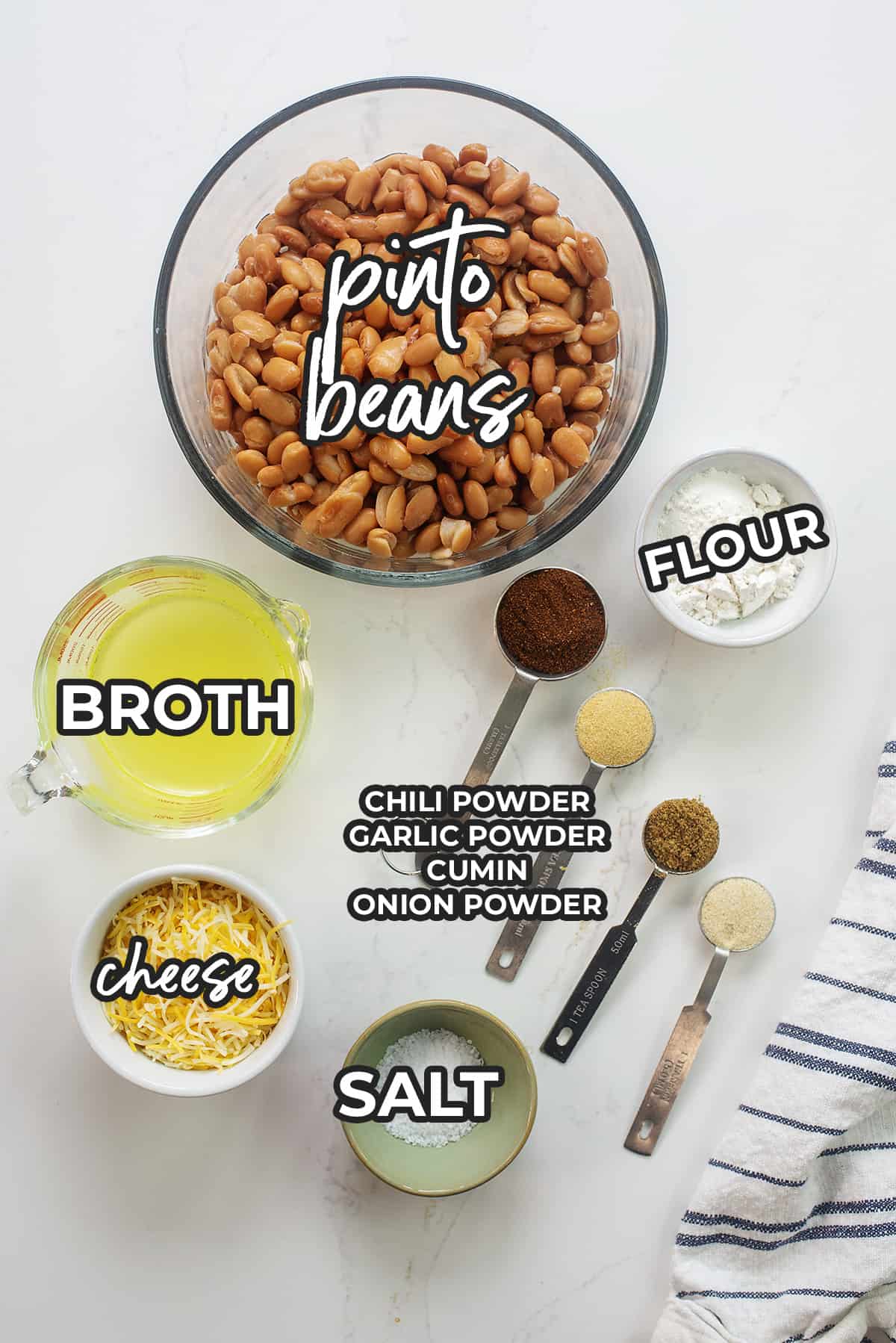 Pinto Beans – We're keeping things easy for this refried beans recipe so just grab a couple cans of pinto beans from the store.
Olive Oil – For toasting the spices and mixing with the flour and other ingredients. You could also use butter, but we prefer olive oil.
Seasoning – You'll need some chili powder, cumin, onion powder, and garlic powder to go into the flour mix. Feel free to adjust these to suit your tastes.
Flour – This gets mixed up with the seasoning and olive oil to thicken it up and form a sort of paste that then gets mixed up with the beans. It helps make the beans thick and creamy.
Chicken Broth – This adds flavor and keeps the beans moist.
Mexican Cheese Blend – It's an easy refried beans recipe so I didn't go to the trouble of grating my own! You can find this mix at any grocery store, or use whatever blend you like. Cheddar, Monterey and Pepper Jack are good too!
Salt – More or less to taste. We tend to find beans need a fair amount of salt.
What We Love About This Recipe:
It's such a simple, hearty, filling side dish that you can serve with just about anything!
This recipe is an easy one, but if you want to get a little fancier you can cook your own dried beans and grate your own blend of cheese!
How to Make Refried Beans: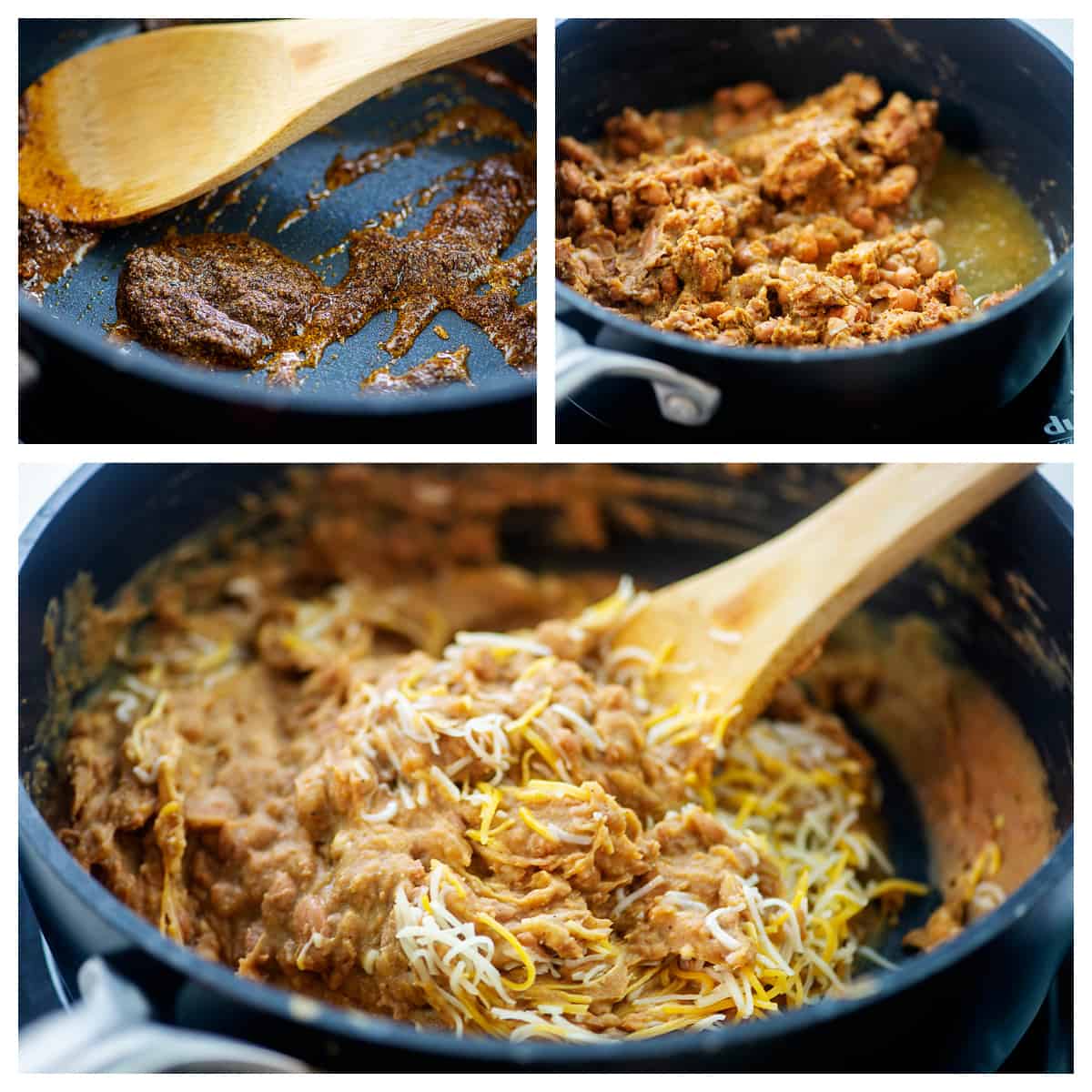 Seasoning Paste: Heat your oil (or butter) in a skillet and then stir in the spices. You'll want to toast these for 1-2 minutes, stirring frequently, until the spices are fragrant. Don't burn the spices – once fragrant, stir in the flour and cook for another minute to form a paste.
Beans: Drain and rinse your canned beans and add them to the flour mixture. Give it a good stir and heat the beans through.
Mash: Break out the potato masher and start mashing the pinto beans. You can make them as smooth or as chunky as you'd like. We do like to leave a little texture.
Cheese: You can now add in the shredded cheese along with the broth and stir to combine it with the mashed beans. When the cheese has melted you can taste and add more salt if necessary.
Helpful Tip!
The consistency of these refried beans will mostly depend on how well you mashed them and on how much of the broth you add to the mixture. If you want to thin it out more, just add extra broth.
Finish: After mixing in the cheese let the beans continue cooking for another 5 minutes until it has all fully heated through and then serve them up hot! Feel free to sprinkle on some more cheese or stir in more broth if you like your beans looser.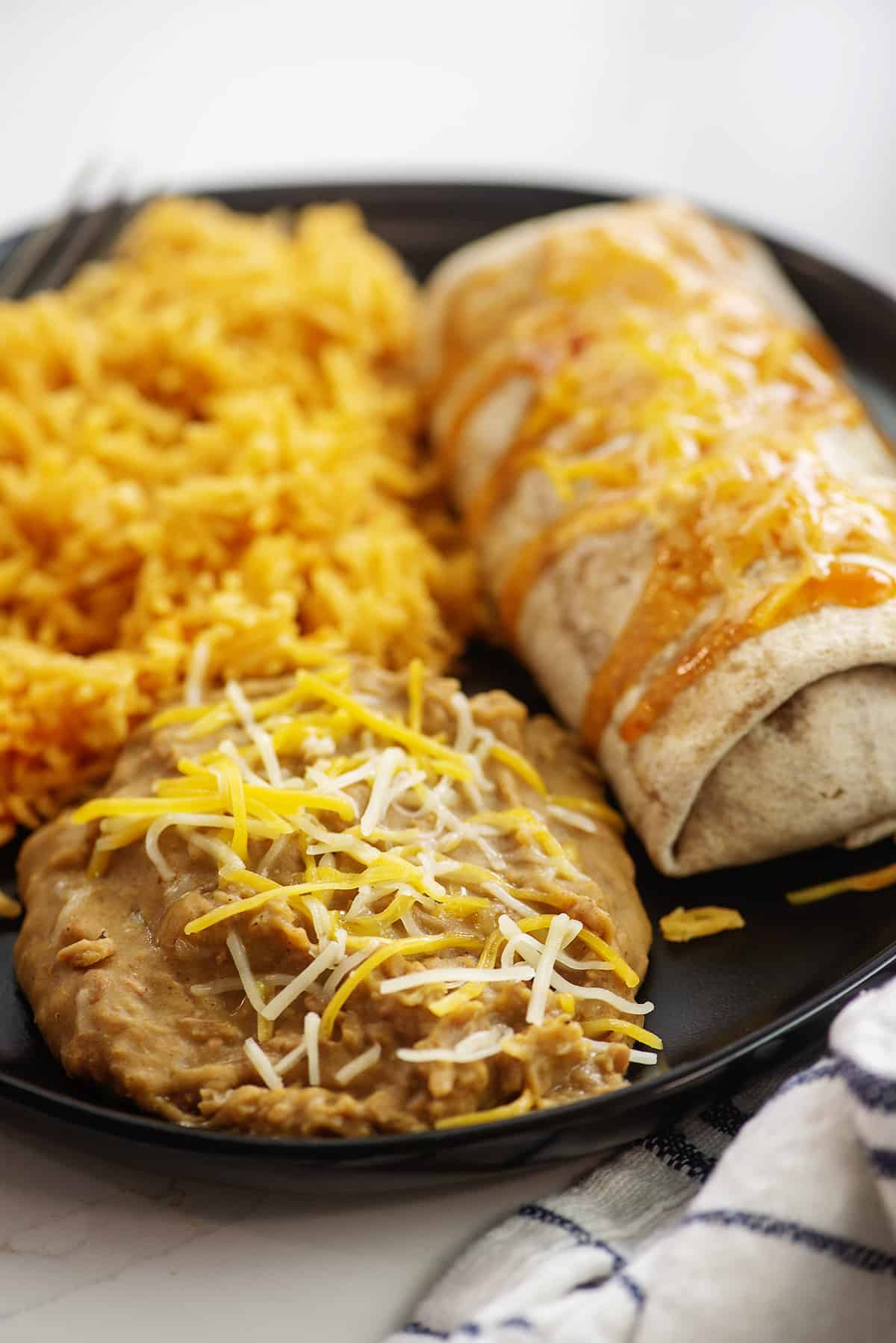 What To Serve With Refried Beans:
These easy refried beans are the perfect side dish to go with any Mexican inspired meal. They're simple but so tasty and filling. Try them with some of these favorite recipes:
Leftover Hack!
There are lots of ways to use up those leftover refried beans! We stuff tortillas with refried beans and rice to make quick burritos. Another good way to use up leftover refried beans would be on homemade tostadas topped with all the fixings, like our pico de gallo, or in something like my refried bean dip.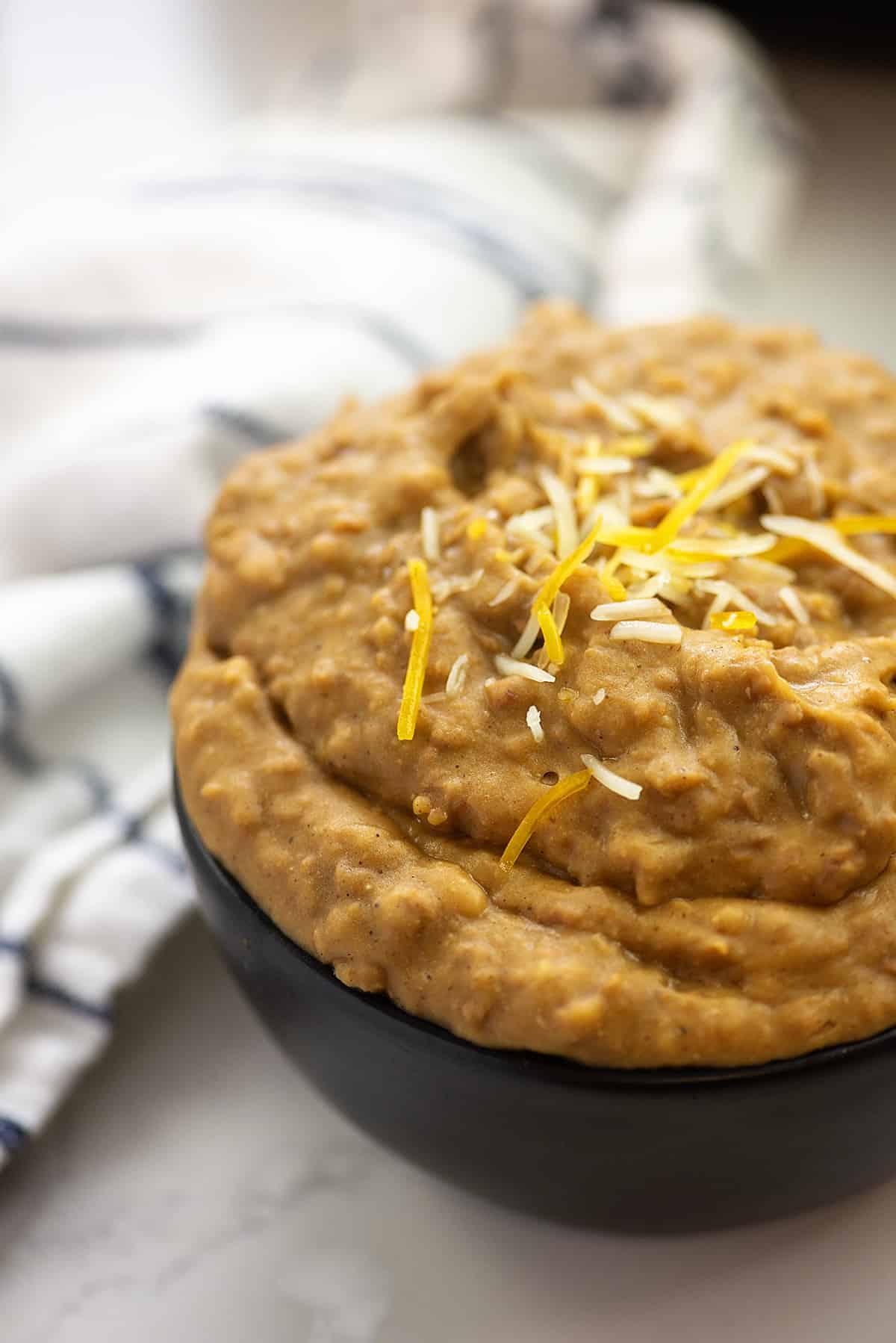 FAQs:
How to store refried beans?
Our homemade refried beans will last in the fridge for 4-5 days. Add a bit of water or broth to the beans when reheating, if needed, to loosen them up a bit.
Why are they called refried beans?
Refried beans aren't actually fried twice. It's a translation of the Spanish name "frijoles refritos," which means well fried beans. It can be confusing because some people assume they are twice fried, when they are not.
MORE EASY SIDE DISH RECIPES!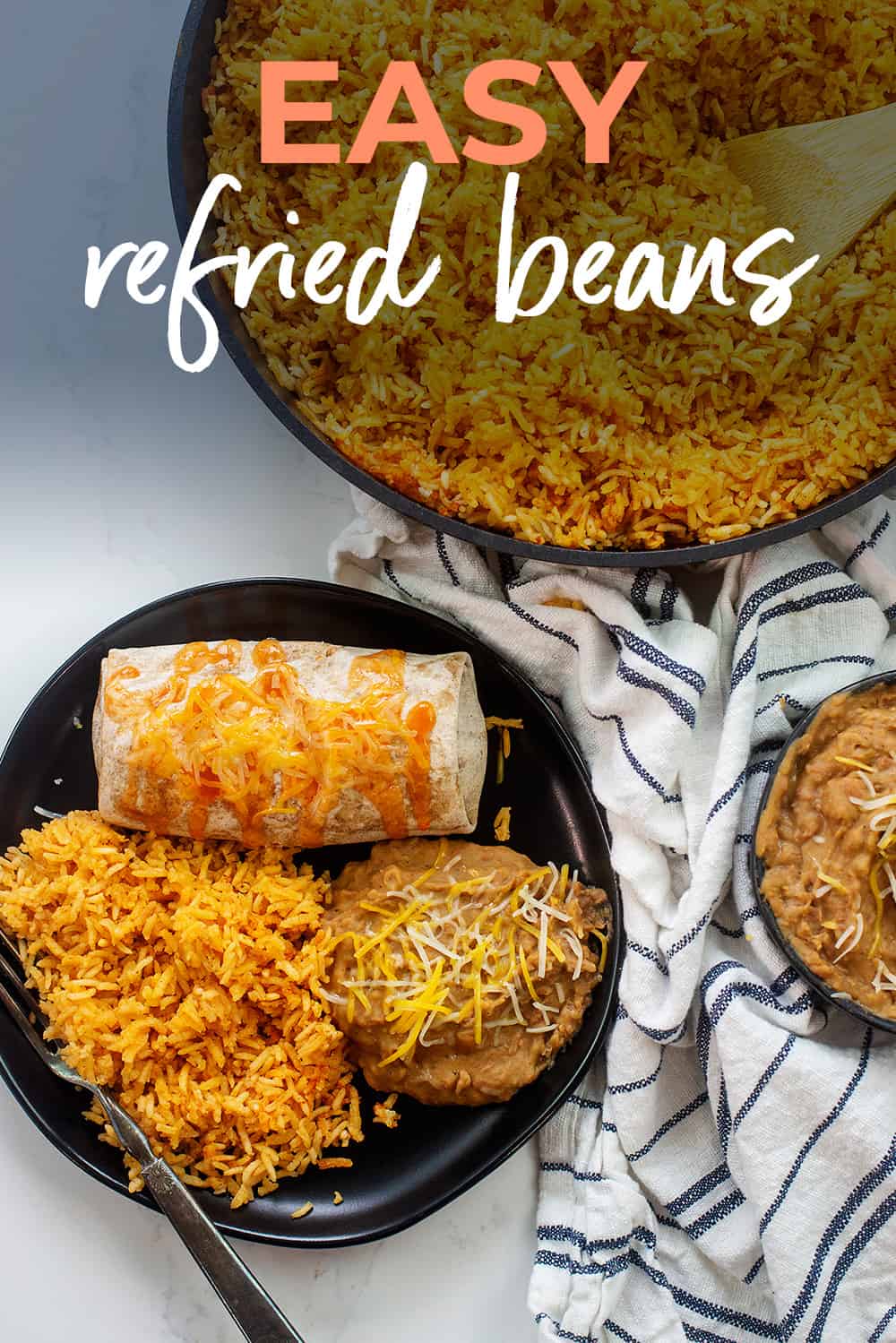 Easy Refried Beans
Rich, creamy, and so easy! These refried beans start with canned pinto beans, but we doctor them up and turn them into restaurant quality refried beans!
Prep5 minutes
Cook15 minutes
Total20 minutes
Ingredients
30 ounces canned pinto beans
2 tablespoons olive oil
1 tablespoon chili powder
1 teaspoon cumin
1 teaspoon onion powder
1 teaspoon garlic powder
2 tablespoons flour
½ cup chicken broth more as needed
1/2 cup shredded Mexican blend cheese
1 teaspoon salt more or less to taste
Instructions
Drain and rinse the canned beans.

Add the olive oil to the bottom of a sauce pan and heat over medium heat.

Add the chili powder, cumin, onion powder, and garlic to the oil and toast the spices, stirring constantly, for about 1-2 minutes or until fragrant. Do not burn the spices.

Stir in the flour to form a paste and cook for 1 minute.

Add the beans to the pot and stir well to combine. Heat over medium heat until beans are warmed through. Use a potato masher to mash the beans.

Add the broth and cheese to the beans and stir to combine. Once cheese is melted, taste beans and season with salt to taste. Add additional broth to thin the beans out, if you prefer a thinner consistency.

Continue cooking beans for 5 minutes to fully heat through and let the flavors distribute.

Serve hot with additional cheese sprinkled on top, if desired.
Tips & Notes:
We like our beans on the saltier side. We start with a teaspoon of salt and add more to taste. You may use any type of cheese you like. Cheddar, monterey jack, and pepperjack are all delicious.
Nutrition Information:
Calories: 157kcal (8%)| Carbohydrates: 19g (6%)| Protein: 7g (14%)| Fat: 6g (9%)| Saturated Fat: 2g (13%)| Polyunsaturated Fat: 1g| Monounsaturated Fat: 3g| Cholesterol: 7mg (2%)| Sodium: 690mg (30%)| Potassium: 335mg (10%)| Fiber: 5g (21%)| Sugar: 1g (1%)| Vitamin A: 346IU (7%)| Vitamin C: 1mg (1%)| Calcium: 104mg (10%)| Iron: 2mg (11%)