These cheesy chicken TACO POCKETS start with refrigerated biscuit dough that's been stuffed a creamy, cheesy chicken taco filling. The whole thing is coated in crushed Doritos for a crunchy, crispy, cheesy coating! Dunk these in queso or salsa and dinner is served!
I'm going to admit something that will probably get me a fair bit of judgement…
I like Taco Bell.
I mean, no, it's not somewhere I go for a fancy dinner, but their food is creative and fun and dang it, it tastes good!
My kids are obsessed with the Doritos Locos Tacos and I can't blame them…Doritos make everything better! See this Doritos chicken casserole as proof. 😉
These chicken taco pockets are such a fun food and my teenagers go nuts for them! They're a fun twist on taco night, but they're also perfect for serving up to a bunch of hungry teens after school or at sleep overs. You'll be the coolest mom on the block.
How to Make:
Brown some ground chicken in a skillet and then stir in some taco seasoning, cream cheese, salsa, and sour cream.
This chicken mixture is packed with flavor, super cheesy, and it's really easy too!
Helpful Tip!
Get creative with the filling!
Swap ground chicken for ground beef, already cooked and shredded chicken, or Mexican shredded beef.
Use jarred salsa or my restaurant style salsa!
Stir in some jalapenos to give this mixture some heat.
Stretch the filling even further by stirring in a can of refried beans.
Grab a couple tubs of refrigerated biscuits and flatten each biscuit out between your hands. Spoon the filling into the biscuits and fold them closed. Pinch the seams to seal the biscuits.
Roll each taco pocket in some beaten egg and then into crushed Doritos.
You can use any flavor of Doritos that you like, but we prefer the Nacho Cheese version. They're the best, if you ask me.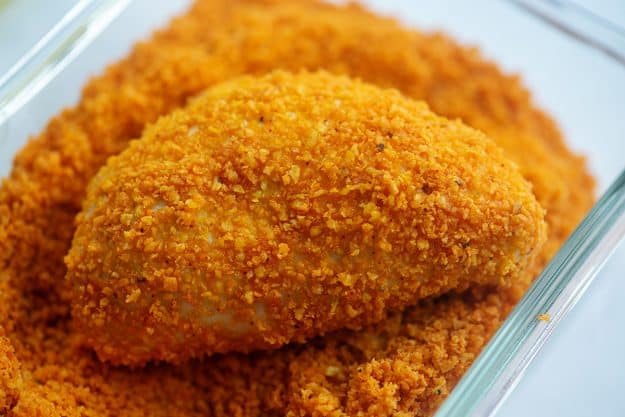 Bake until the outsides are crispy and the biscuit dough is cooked through!
This will take about 18 minutes.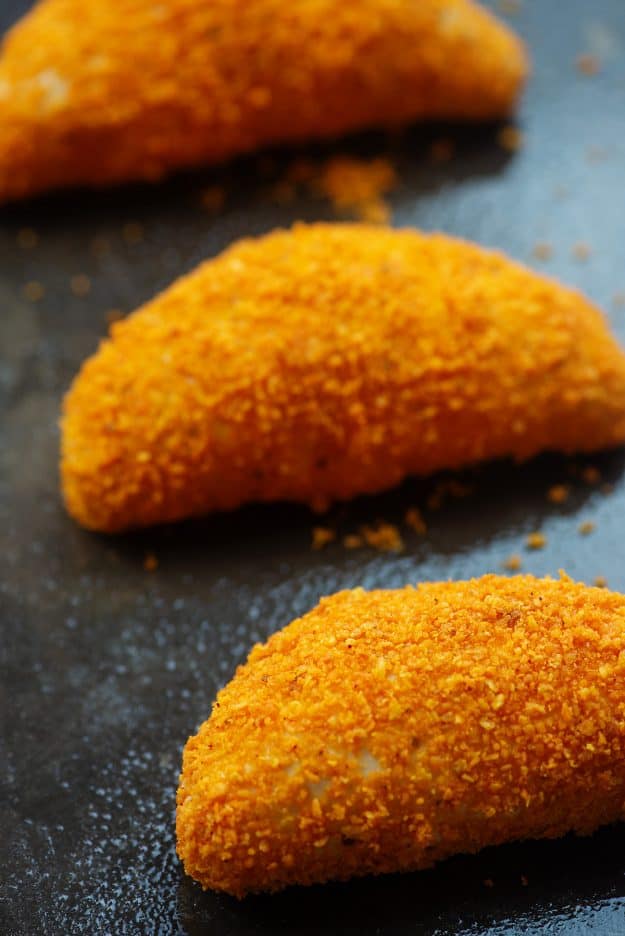 Get creative when it comes to serving!
Set out an assortment of dips such as my homemade queso, homemade guacamole, or white queso dip.
Leftover Hack!
Extra filling?
Save it to make a quesadilla, taco, or burrito for lunch tomorrow!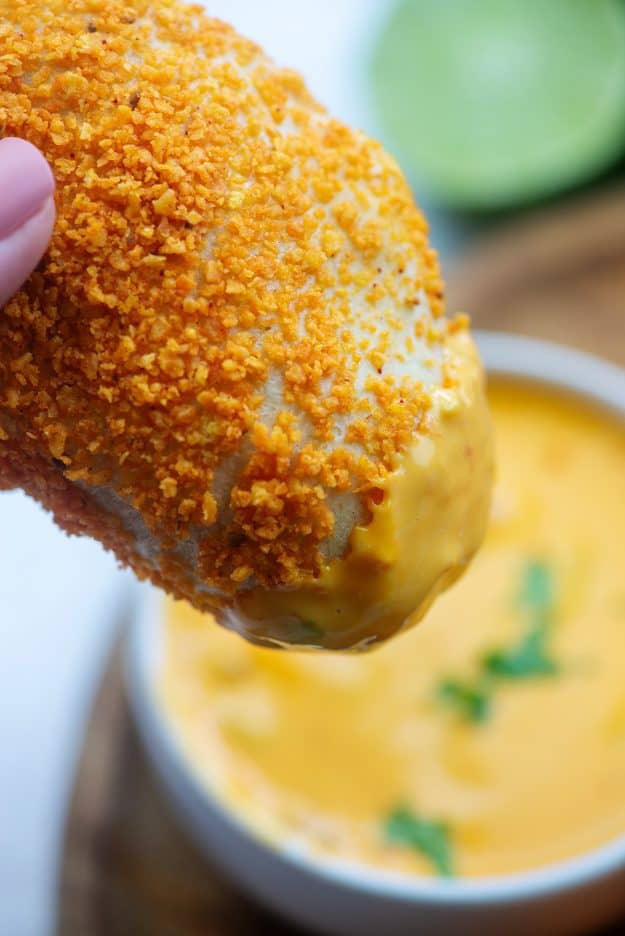 have a fiesta!
Turn this snack into a Mexican party and serve up a few of our other favorites…
Cheesy Chicken Taco Pockets
Creamy, cheesy chicken stuffed inside a biscuit and rolled in Doritos crumbs! This is a favorite with my teens, but I secretly love it too!
Prep15 minutes
Cook25 minutes
Total40 minutes
Ingredients
1 pound ground chicken
1 packet taco seasoning
4 ounces cream cheese
½ cup salsa
2 tablespoons sour cream
1 package refrigerated Grand's Biscuits 8 biscuits
1 large egg
2 cups crushed Nacho Cheese Doritos about 1 bag
Queso for serving
Instructions
Preheat the oven to 375 degrees. Line a large baking sheet with parchment paper.

In a medium sauce pan over medium heat, add the ground chicken and cook over medium heat, crumbling the meat as it cooks. Once cooked through add the taco seasoning and 1 tablespoon of water. Stir to coat.

Add the cream cheese, salsa, and sour cream to the pan. Stir often while the cream cheese melts.

Remove the biscuits from the packaging and flatten them between the palms of your hands. Stretch them to around 5 inches in diameter.

Spoon as much of the chicken mixture as will fit into the center of each biscuit, being careful not to overfill. Fold the dough up to create a half circle and pinch the seams closed tightly.

Whisk together the egg and 1 tablespoon of water in a shallow dish.

Place the crushed Doritos in a second shallow dish.

Dip each of the biscuits into the egg and then the Doritos to coat. Place on the baking sheet.

Bake for 15-18 minutes or until golden brown and cooked through.

Serve with queso, for dipping.
Tips & Notes:
You'll likely have some extra filling leftover, depending on how full you were able to fill the biscuits. Use the leftover mixture to make tacos, burritos, or quesadillas. It will keep in the fridge for 3-4 days.
Nutrition Information:
Serving: 1pocket| Calories: 672kcal (34%)| Carbohydrates: 69g (23%)| Protein: 20g (40%)| Fat: 36g (55%)| Saturated Fat: 8g (50%)| Cholesterol: 90mg (30%)| Sodium: 1466mg (64%)| Potassium: 641mg (18%)| Fiber: 5g (21%)| Sugar: 6g (7%)| Vitamin A: 731IU (15%)| Vitamin C: 2mg (2%)| Calcium: 145mg (15%)| Iron: 4mg (22%)