This cheesy corn dip is made with just a few every day ingredients and served cold. It's one of the easiest dips you'll make! Big thanks to Roth Cheese for sponsoring this post.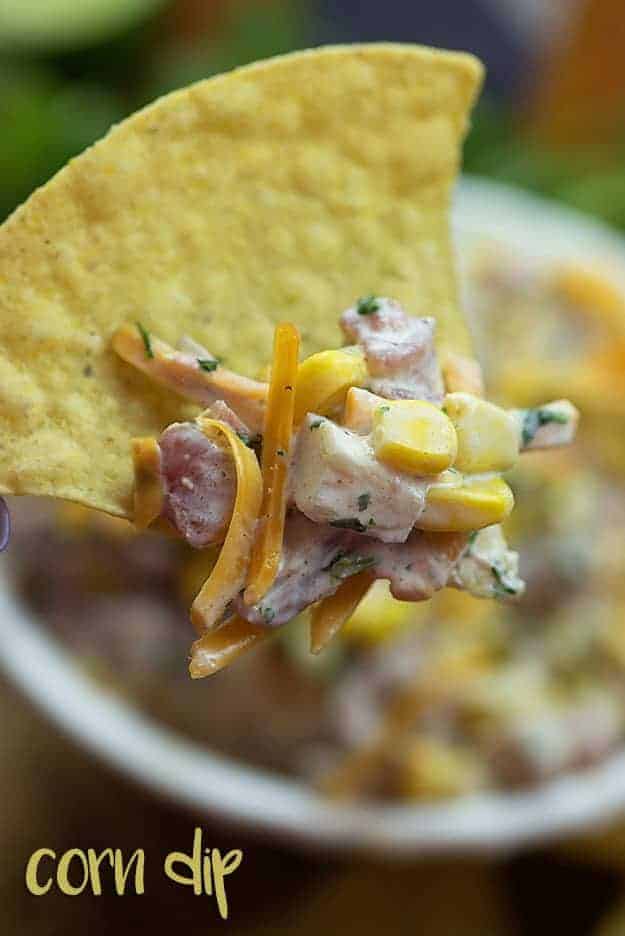 I've lived in the Midwest my entire life.
Basically, life here can be summed up in just a few words – casseroles, cheese, ranch dressing, and corn.
I mean, you probably already knew that if you've read my blog for long. 😉
I turn everything into a casserole and I add ranch in places that it probably shouldn't go with no regrets at all.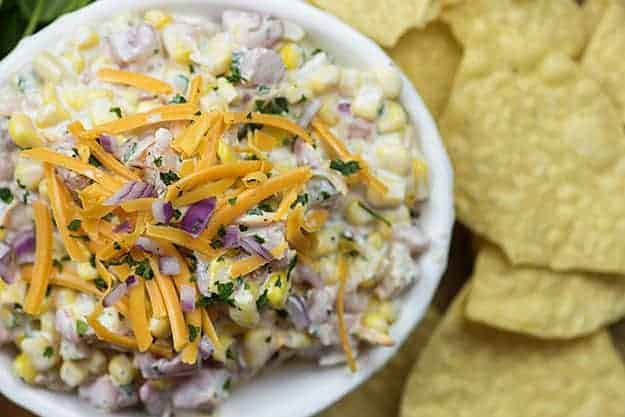 Then there's the corn.
I love corn. My mama counted it as a serving of veggies when we were a kid and it was basically the only veggie I liked, so we had it pretty much every day.

I'm a whole lot meaner than my mama, though. I consider corn a starch and make my kids eat green stuff instead. We still have corn with that green stuff pretty regularly. It's so crunchy and sweet and just totally delicious, you know?
I add corn to lots of recipes. It's used in my chicken enchilada casserole as well as my chicken taco soup.
This jalapeno corn dip is everything I love about corn. The sweet, crunchy corn kernels pair so well with the creamy mix of mayo and sour cream. The jalapeno adds a nice little bite.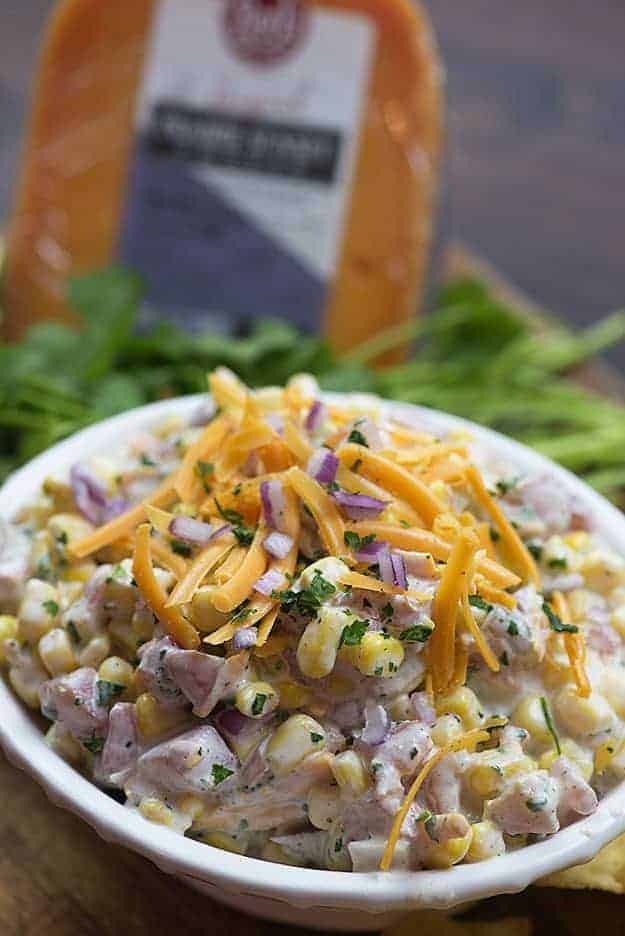 I even added in some cilantro and lime juice to give this some Mexican corn dip flair.
You guys are going to flip for this recipe.
I created this cold corn dip in partnership with Roth Cheese. I've been working with them for some time now, bringing you new ideas for using our favorite ingredient – cheeeeeese.
This time around I started off with their Prairie Sunset cheese.
A little blurb about the cheese from their website: "Driving home from the creamery one evening, we watched the sun slowly descend over the Wisconsin prairie with the sky lit in rich ochre hues. That's when the idea for Prairie Sunset was born — a cheese embodying the color and soul of the American Heartland. Humble, friendly and reliable, this classic table cheese is an everyday favorite for both kids and adults."
Don't you just love that?!
I mean, obviously this cheese and I were meant to be.
The flavor of this cheese can be described as a blend of cheddar and gouda. It's perfect on a cheese board, pairs well with fruit, and is an excellent choice for melting into mac & cheese or sprinkling over a hot bowl of chili.
I'm using it in my corn dip recipe today and it's so good!
I've made hot corn dip plenty of times (it's a favorite, for sure), so when I got the idea to serve corn dip cold, I knew it would be a big hit. I think you're going to love this one!
Cold Corn Dip
This cheesy corn dip comes together in just five minutes with minimal work. Just stir everything together and serve with tortilla chips.

Prep2 minutes
Cook3 minutes
Total5 minutes
Ingredients
30 ounces corn kernels, drained 2 cans
10 ounces diced tomatoes with chiles, drained 1 can
6 ounces Roth Prairie Sunset cheese grated
1/4 cup mayonnaise
1/4 cup sour cream
1 small jalapeno seeded and diced (to taste)
1/4 cup diced red onion
1/4 cup minced cilantro
1 teaspoon lime juice
1 teaspoon ground cumin
1 teaspoon garlic powder
1 teaspoon salt
Instructions
Add all of the ingredients to a medium mixing bowl and stir well to combine.

Serve immediately with tortilla chips or crackers.

Store covered in the fridge for up to 3 days.
Nutrition Information:
Calories: 120kcal (6%)| Carbohydrates: 10g (3%)| Protein: 4g (8%)| Fat: 7g (11%)| Saturated Fat: 3g (19%)| Cholesterol: 14mg (5%)| Sodium: 337mg (15%)| Potassium: 130mg (4%)| Fiber: 1g (4%)| Sugar: 2g (2%)| Vitamin A: 190IU (4%)| Vitamin C: 2.9mg (4%)| Calcium: 89mg (9%)| Iron: 0.6mg (3%)