My firecracker recipe makes the perfect snack! Spicy little crackers that you'll want to munch on all day!

I'm not sure if I love this little snack food more for the name and the wordplay involved or more for the flavor.
Okay, fine. Wordplay is fun and all, but I totally love these because they make my mouth happy. I eat these by the bucketful.
As for the wordplay, yes, I enjoy it. Firecrackers! They are crackers that are hot and spicy, like fire! And they are usually served at the Fourth of July, so Firecrackers works exceptionally well. Also, there are red flecks on them, so one could say they even look like a firecracker exploded on them!
Ever wondered how to make firecrackers? They're easy!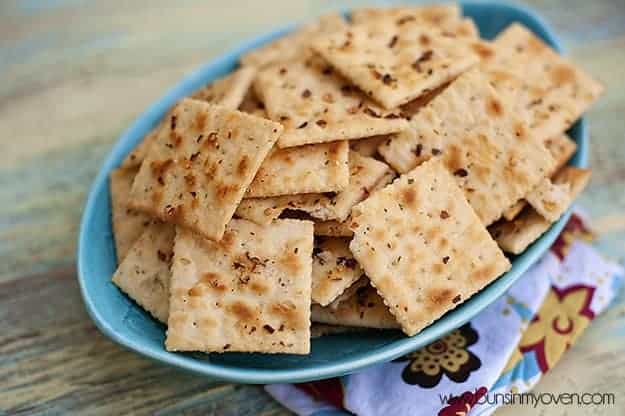 The simplest things amuse me, y'all.
Also, the simplest things taste amazing, and these really could not be simpler. 4 ingredients and about 5 minutes of hands on time. Yes, please. Pass the Firecrackers!
But, just because we always serve them on the Fourth, please don't limit yourself. These would make a great football game snack. They're perfect for New Year's parties. Basically, anytime you have a group of people together, you should also have a bowl of firecrackers at the ready.
They really do make a great little snack. And, yes, they're spicy, but you can definitely reduce the amount of red pepper flakes if you'd like. I like to keep them on the spicier side because it prevents me from hoovering the entire bowl into my face in one sitting. You do you, though.
Some of my other favorite snacks include my homemade pizza rolls, bacon wrapped jalapeno poppers, and grape jelly meatballs.
Just four ingredients in this firecracker recipe!
Firecrackers
My firecracker recipe makes the perfect snack! Spicy little crackers that you'll want to munch on all day!
Prep5 minutes
Cook25 minutes
Total30 minutes
Ingredients
2 sleeves Saltine Crackers about 80 crackers total
1 packet Ranch seasoning mix dry
2 tablespoons red pepper flakes more or less, to taste
1 cup canola oil
Instructions
Preheat the oven to 250 degrees and place a cooling rack on top of a jelly roll pan.

Add all of the ingredients to a gallon sized bag and seal. Shake and squish the bag to coat the crackers as evenly as possible.

Pour the crackers onto the cooling rack/jelly roll pan combination and place in the oven for 10 minutes.

Stir the crackers and continue baking for another 15 minutes.

Remove from the oven and allow to cool before serving.

Store in an air-tight container.
Nutrition Information:
Calories: 133kcal (7%)| Carbohydrates: 20g (7%)| Protein: 2g (4%)| Fat: 4g (6%)| Sodium: 481mg (21%)| Potassium: 69mg (2%)| Fiber: 1g (4%)| Vitamin A: 475IU (10%)| Calcium: 10mg (1%)| Iron: 1.5mg (8%)