This MINI CORN DOG RECIPE is the perfect answer to a kid-friendly lunch! No need to leave the house and hit up the local drive-thru, because these fry up absolutely perfect at home.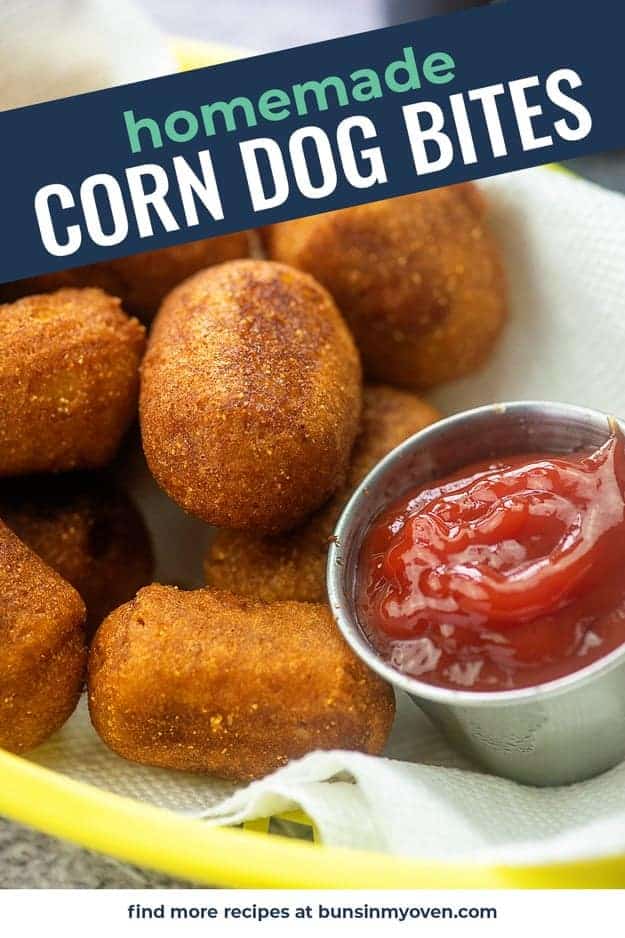 I'm not a huge hot dog person. Just a few times a year is generally good enough for me.
But corndogs? Those are something special and I'd never pass one up. 😉
The batter is the perfect combination of crisp on the outside and sweet and puffy on the inside.

How to make the corn dog batter:
I'm all about easy recipes, so not to worry – you've totally got this.
Stir together some flour, cornmeal, sugar, baking powder, salt, garlic powder, and onion powder in a bowl and then stir in some milk.
That's all it takes to make corn dog batter.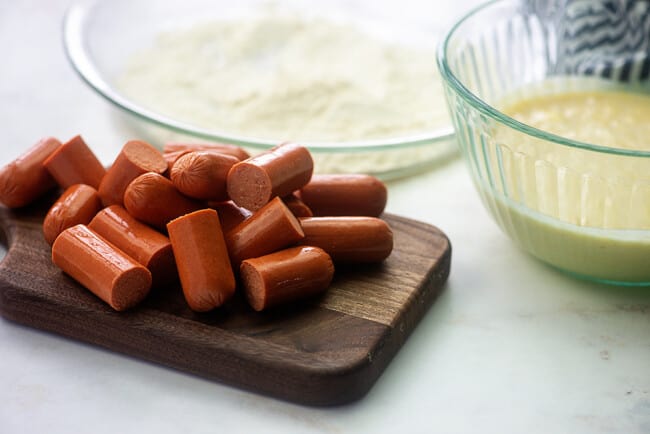 Making the mini corn dogs:
Start by cutting your corn dogs into thirds. Of course, if you wanted full sized dogs, you could leave them whole, but what fun is that?!
I use 100% beef corn dogs in my recipe, but you can use any hot dogs you like.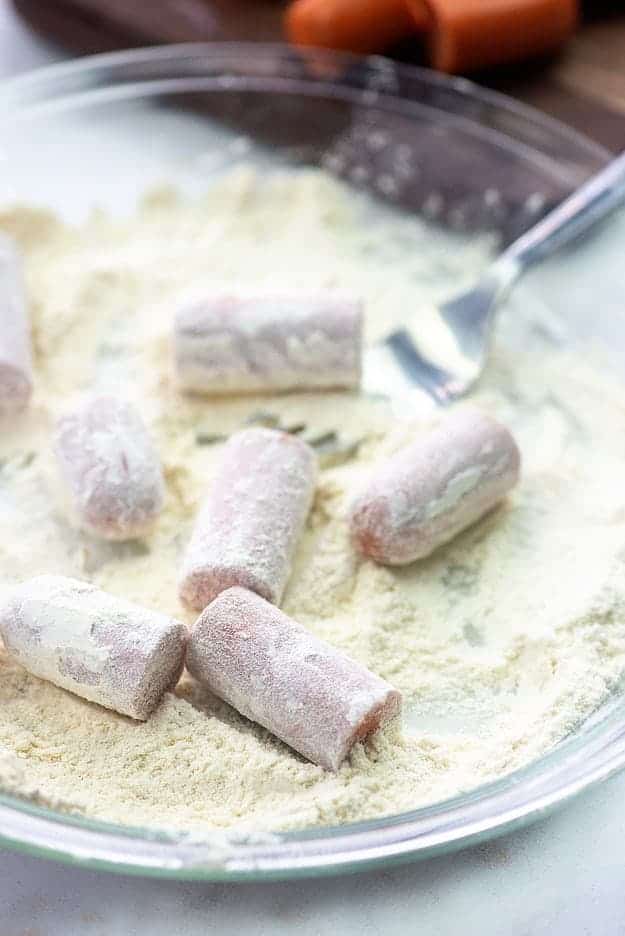 Roll your hot dog piece in some flour and then dip it into the wet batter before putting into your frying pan.
I use a fork to dunk the hot dog in the batter and then carefully use a toothpick to push the hot dog off the fork and into the hot oil.
Frying tips:
Canola, vegetable, peanut, and avocado oil all work well for frying. Use whatever you prefer.
The hot dog should be fully covered in batter and as evenly coated as possible. This will help ensure even frying.
Don't overcrowd the pan as it will cool the oil or cause the corn dogs to stick together. It is best to cook these in batches.
Rotate the dogs halfway through the cooking. They will want to flip themselves back over, so use tongs and hold them in place for a few seconds.
What to do with leftovers:
I mean, if you have leftover corn dogs, you definitely have more restraint than me. 😉
These will last in the fridge for a few days. To reheat, I recommend using the oven or an airfryer. Like most fried food, they'll just get soggy in the microwave.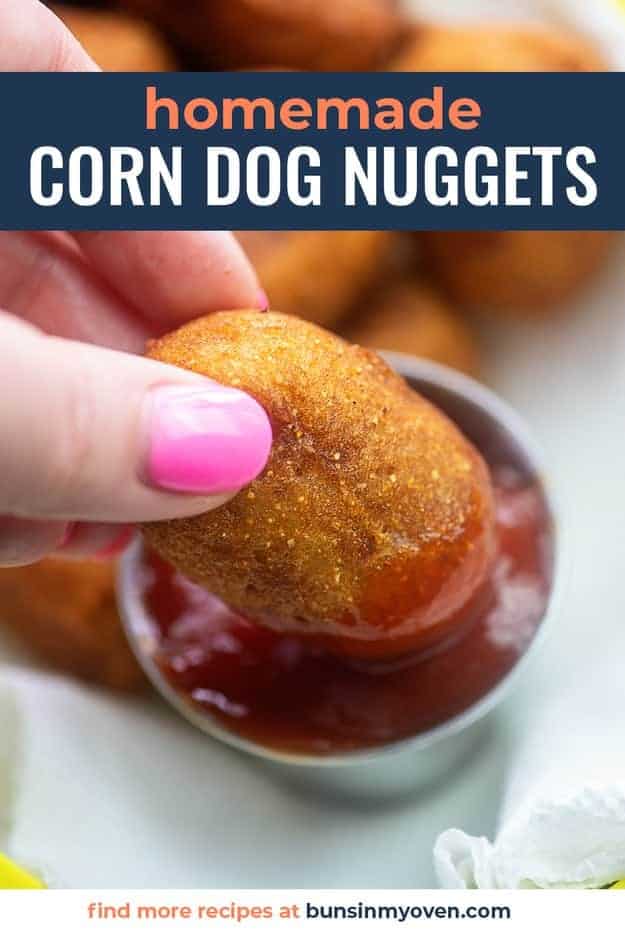 Corn Dog Bites
These homemade corn dog bites taste better than anything you'd find in your grocer's freezer section! The batter gets perfectly crisp on the outside and fluffy on the inside.
Prep10 minutes
Cook5 minutes
Total15 minutes
Ingredients
1 cup flour, divided
1/4 cup cornmeal
1/4 cup sugar
1 tablespoon baking powder
1/4 teaspoon salt
1/2 teaspoon garlic powder
1/2 teaspoon onion powder
1 cup milk
8 hot dogs, cut into thirds
vegetable oil, for frying
Instructions
Preheat about 3 inches of oil to 350 degrees over medium heat.

Combine 2/3 cup of flour, cornmeal, sugar, baking powder, salt, garlic powder and onion powder in a large mixing bowl. Stir in the milk.

In a pie plate or other shallow dish, add the remaining flour.

Dredge each hot dog piece in the flour and then dip it into the cornmeal batter. Shake off any excess batter, but be sure that the hot dog is fully covered in batter.

Drop into the hot oil and fry for 3-4 minutes, turning halfway through, until golden brown and crispy.

Fry in batches, being careful not to over crowd the pan.

Drain on a paper towel lined plate and keep warm in a 200 degree oven until all of the hot dogs are fried.

Serve immediately with ketchup and mustard, if desired.
Nutrition Information:
Calories: 77kcal (4%)| Carbohydrates: 10g (3%)| Protein: 2g (4%)| Fat: 2g (3%)| Cholesterol: 7mg (2%)| Sodium: 131mg (6%)| Potassium: 96mg (3%)| Sugar: 2g (2%)| Vitamin A: 15IU| Calcium: 38mg (4%)| Iron: 0.7mg (4%)
This post was originally published in June 2012. It was updated in March 2020 with new photos.