This homemade Hot Dog Chili is the perfect topping for hot dogs. The beef is so tender and the sauce is slightly sweet. We top our dogs off with this chili sauce, shredded cheddar, and a sprinkling of yellow onions. The perfect hot dog, if you ask me!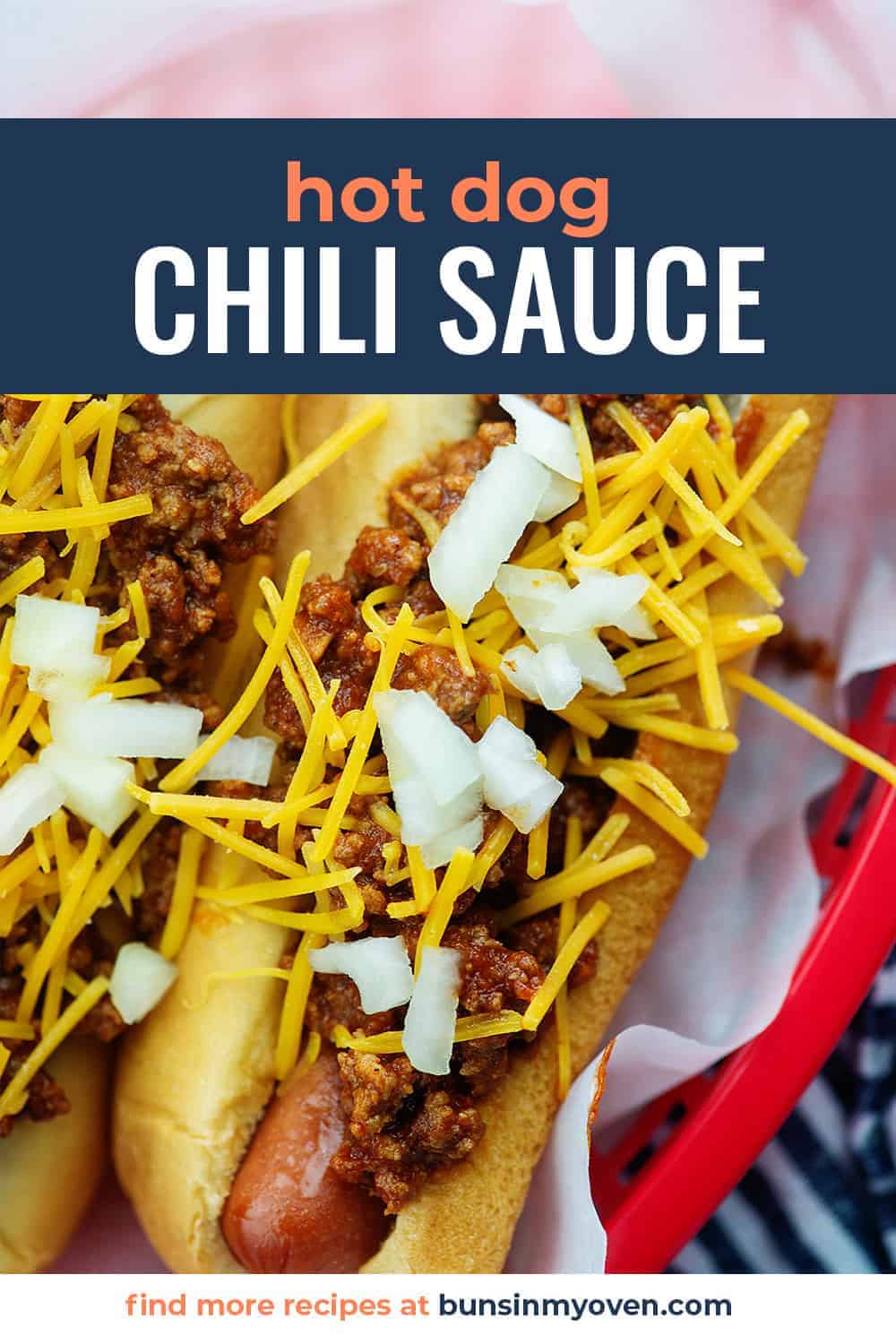 Hot dogs are one of my favorite summer dinners.
I mean, let's be honest – it doesn't get much easier than heating up a grill and tossing a hot dog on it.
My daughter and I love a nice grilled hot dog, but the son absolutely refuses to eat them. Something to do with the way his younger sister peeled them before eating them when she was a toddler. He's been traumatized. 😉
My husband doesn't like hot dogs either, unless it's a chili dog and then he. is. down.
He'd eat a dozen, honestly.
Our hot dog chili sauce is super easy to whip up and it just takes dogs to another level.
You might be wondering the difference between hot dog chili and traditional chili…read on to find out why hot dog chili is it's own delicious thing, quite different from the usual chili.
How to Make:
To achieve a finer texture of beef in hot dog chili, start by adding the ground beef and the beef broth to a skillet together. Use a fork to mash the beef really finely. The broth helps this process and you end up with a finer texture. If you like the beef a bit chunkier, brown the meat first and then add the broth.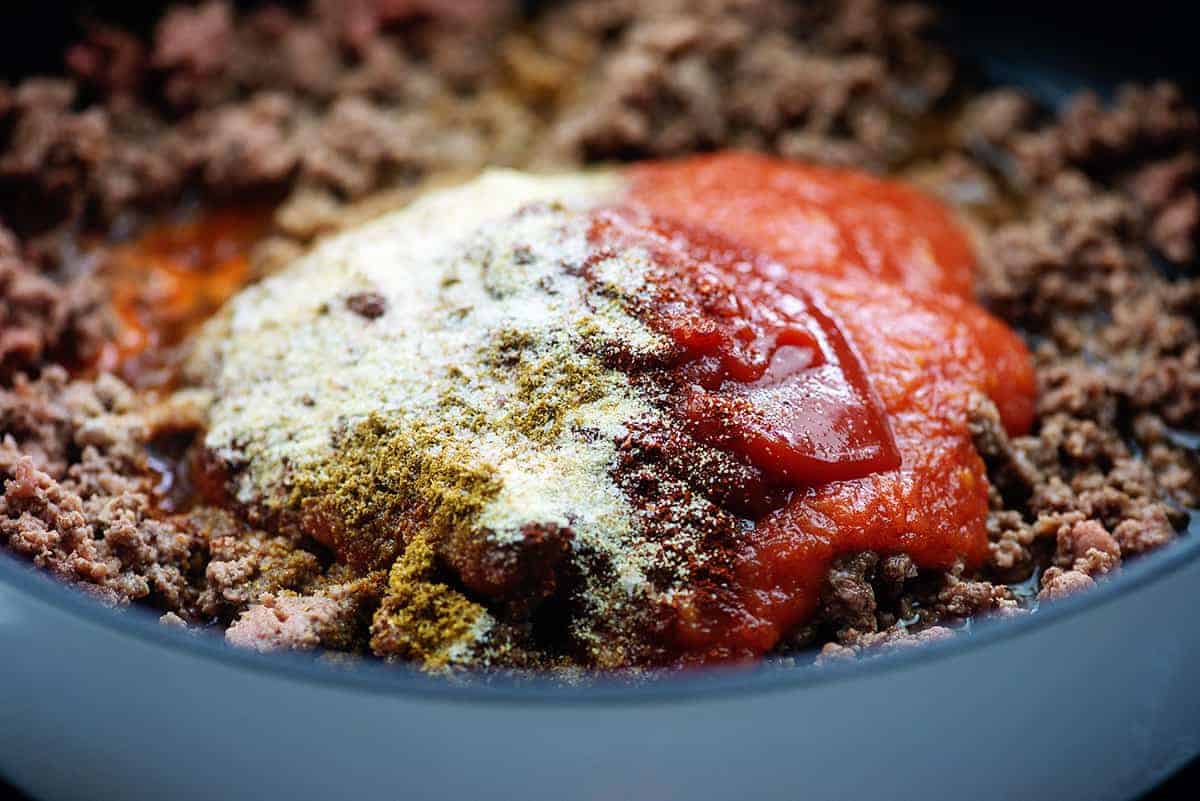 Add the tomato sauce, ketchup, and seasonings to the skillet and bring to a simmer.
Simmer for 20-30 minutes or until the chili is a thick as you'd like. We likes ours fairly thick to keep things a bit less messy when eating!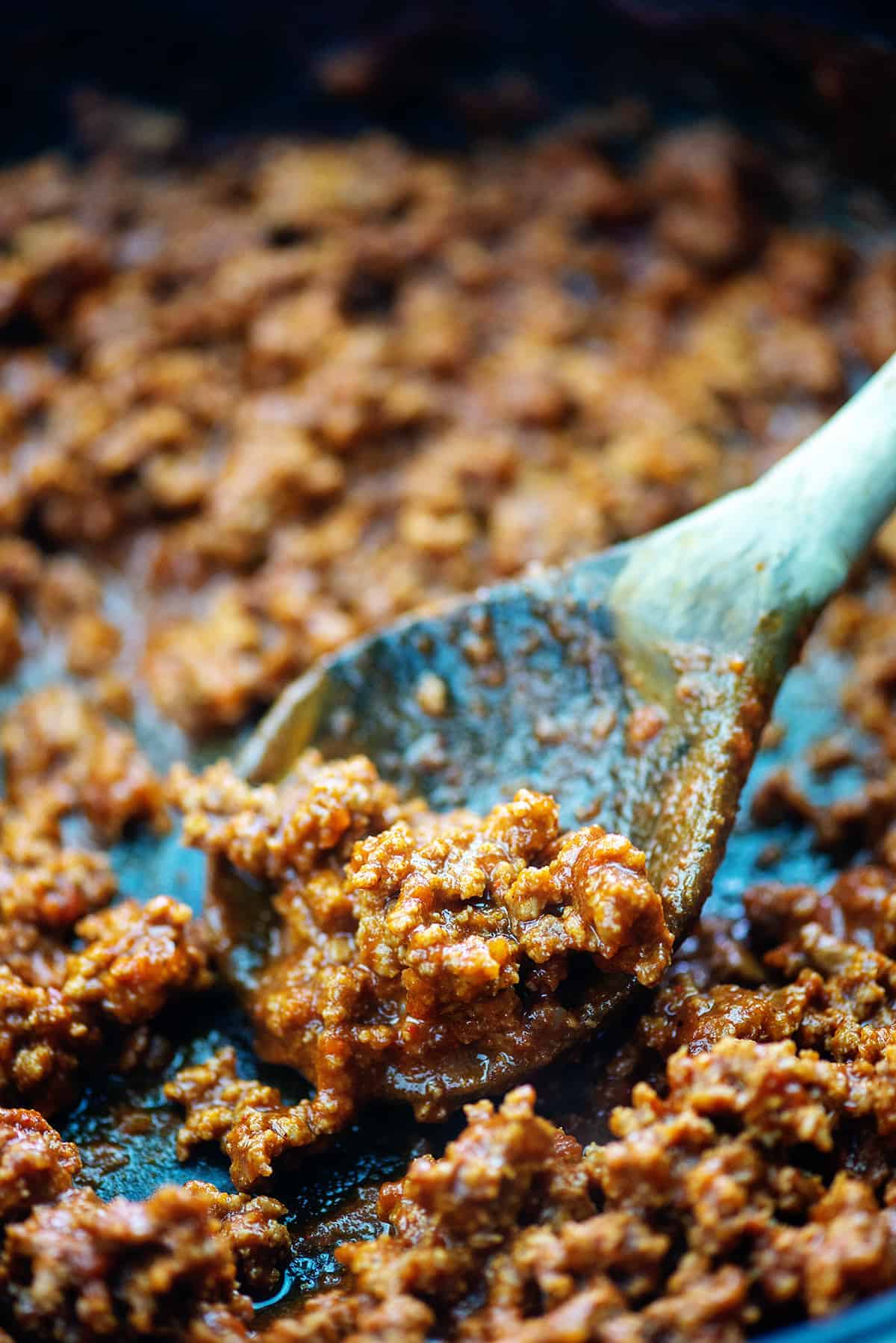 FAQ:
What is the difference between traditional chili and hot dog chili?
Hot dog chili has a sweeter taste and is made with ketchup.
Traditional chili tends to have a spicier flavor and chunkier texture.
Does hot dog chili have beans?
Nope! Hot dog chili is traditionally made with only beef.
Serving Suggestions:
We suggest topping your hot dog with a squirt of mustard, a heaping spoonful of this hot dog chili recipe, a sprinkle of diced onion, and as much shredded cheddar as your heart desires. Chili dog perfection!
Helpful Tip!
Achieving a finer beef texture
Use a lean ground beef since you won't draining the fat.
Add the liquid in with the beef and mash with a fork until you have a very fine texture.
Keep mashing with the fork until the meat is mostly browned and then switch over to a spatula as you normally would.
The texture of the beef is completely up to you!
I almost always brown beef in liquid these days, because I prefer the smaller pieces and more tender beef, but if you prefer a big, chunky, meaty texture just go ahead and brown the beef like you normally would and add the broth in after it's cooked through.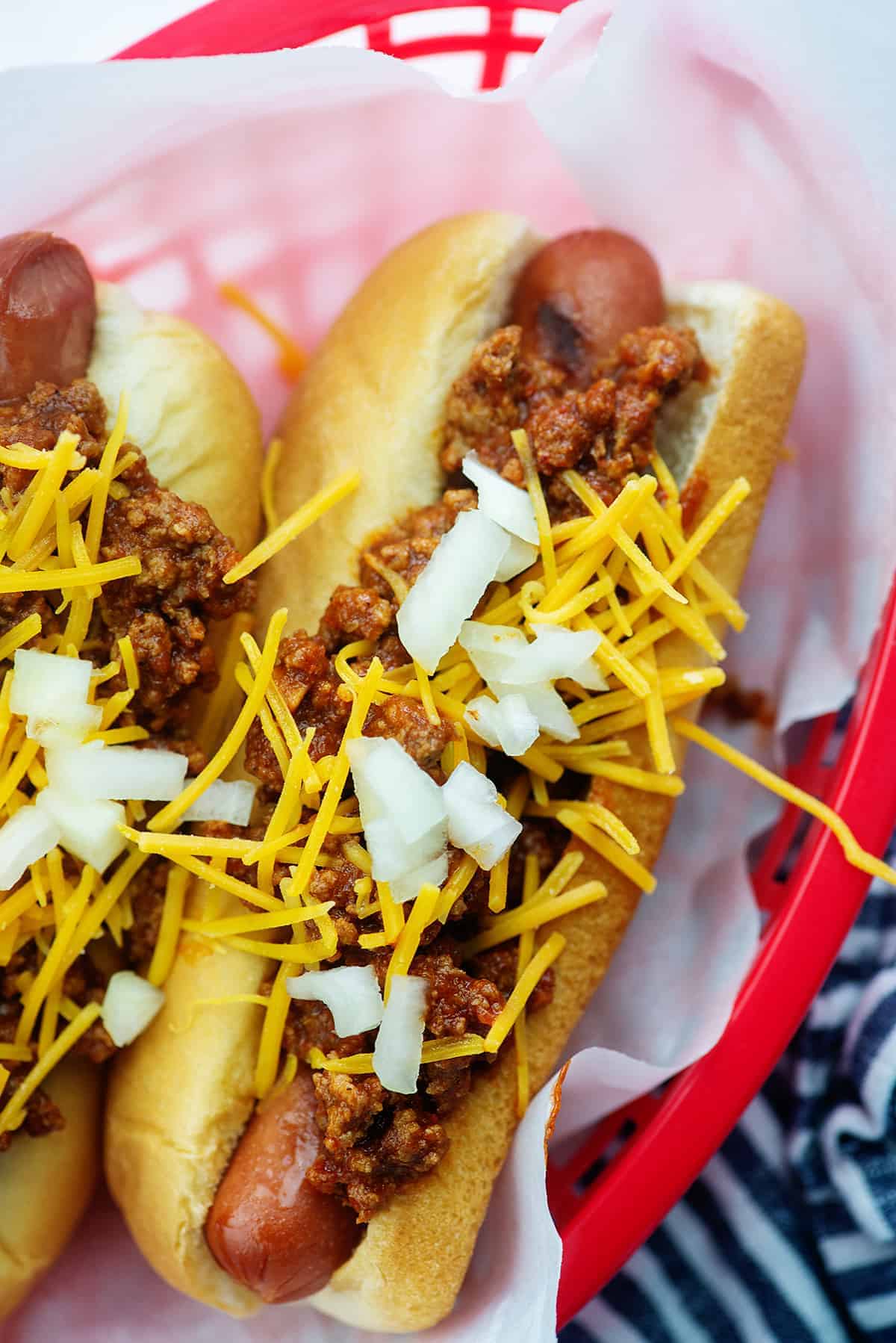 Leftover Hack!
Hot dog chili is sweeter than traditional chili, so you likely won't want to eat a bowl full of it, but it's delicious served over french fries with a bit of cheddar and sliced jalapeno.
More summer favorites!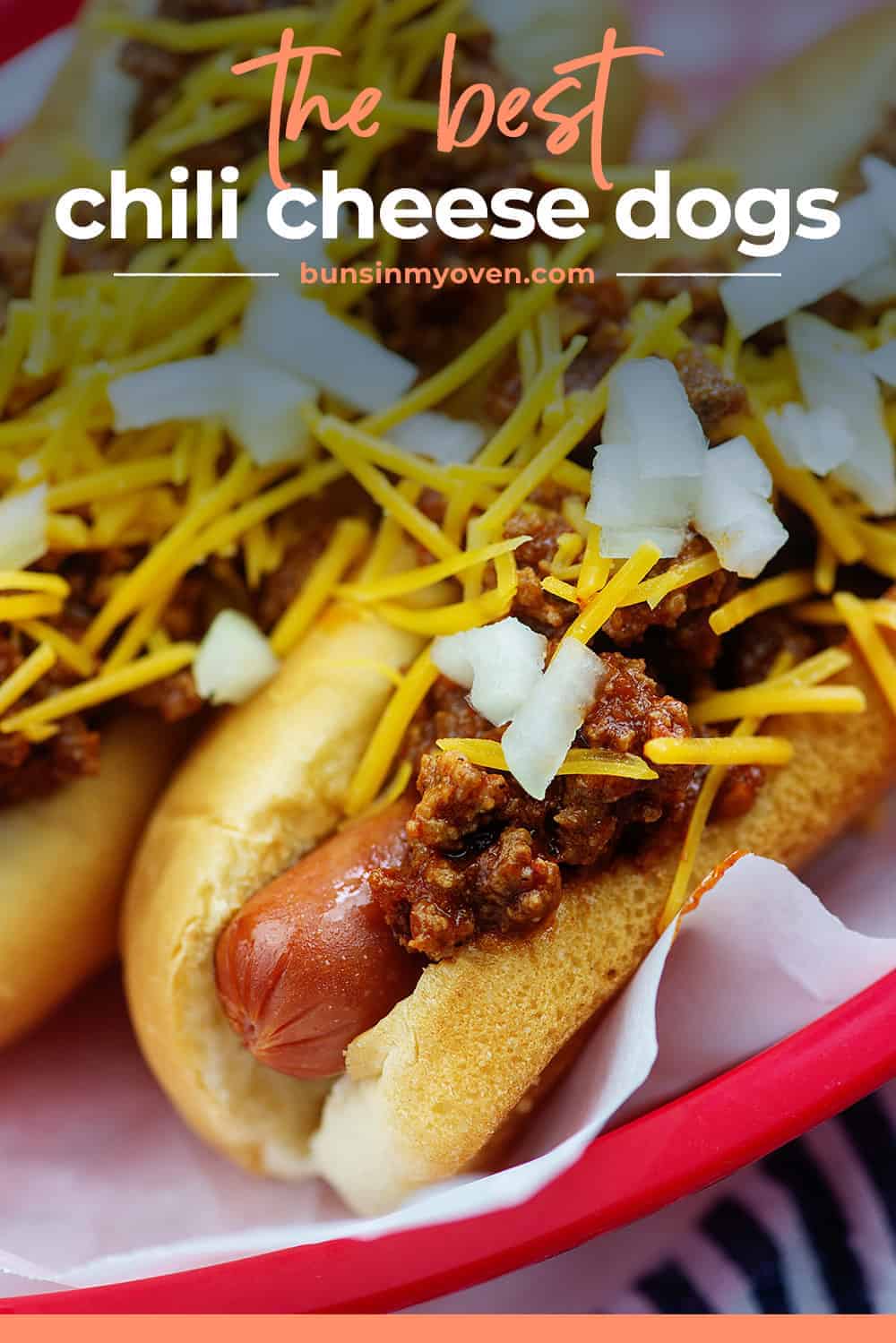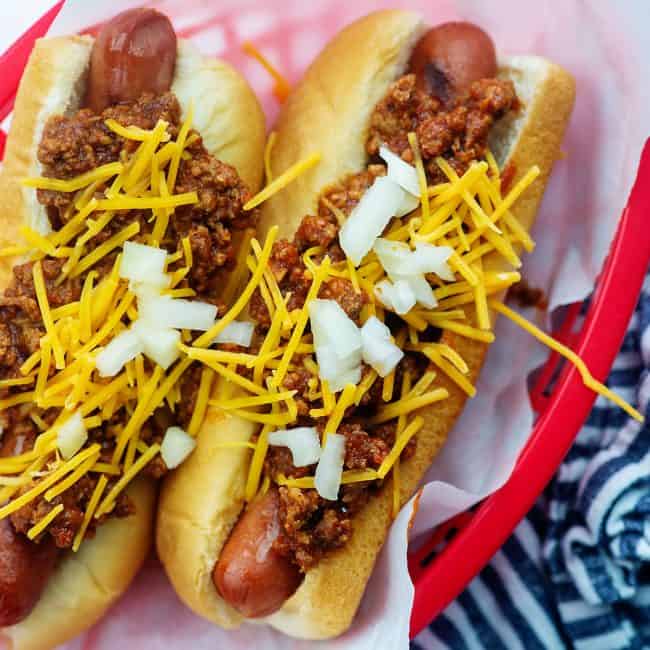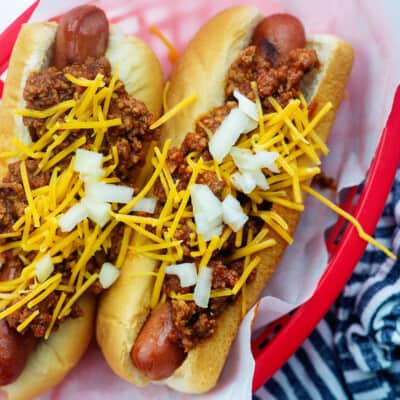 Hot Dog Chili
This hot dog chili is a bit different from traditional chili – it has a finer texture and a sweeter flavor. It's perfect served over hot dogs with some shredded cheddar and chopped onion.
Prep5 minutes
Cook30 minutes
Total35 minutes
Ingredients
1 pound lean ground beef
½ cup beef broth
8 ounces tomato sauce
½ cup ketchup
1 tablespoon chili powder
1 teaspoon onion powder
1 teaspoon garlic powder
1 teaspoon salt
½ teaspoon cumin
Instructions
Add the beef and beef broth to a deep skillet over medium heat and use a fork to break the meat into small pieces, smashing the meat with the fork to create a finer texture than a traditional ground meat.

Add the remaining ingredients to the skillet with the beef and bring to a boil. Reduce to a simmer and cook for 20 minutes or until chili has thickened to your liking.

Serve over hot dogs.
Tips & Notes:
Nutrition information is based on chili only. Serve over hot dogs or french fries. Store tightly covered in the refrigerator for up to 5 days.
Nutrition Information:
Serving: 1| Calories: 108kcal (5%)| Carbohydrates: 6g (2%)| Protein: 13g (26%)| Fat: 3g (5%)| Saturated Fat: 1g (6%)| Cholesterol: 35mg (12%)| Sodium: 686mg (30%)| Potassium: 369mg (11%)| Fiber: 1g (4%)| Sugar: 5g (6%)| Vitamin A: 496IU (10%)| Vitamin C: 3mg (4%)| Calcium: 14mg (1%)| Iron: 2mg (11%)