Pineapple coleslaw is a sweet, tangy slaw that is quick to prepare and brightens up any summer meal! We love this served on top of pulled pork sandwiches, but it makes a great side dish as well! This recipe was inspired by my sponsored trip on the Caribbean Princess!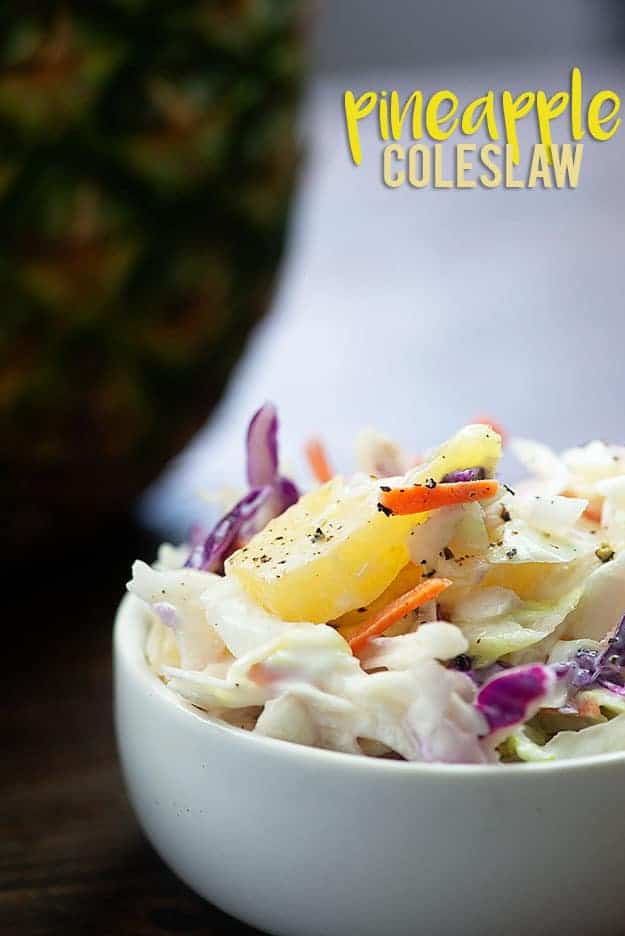 My family and I are currently deep in a love affair with pineapple.
Weird, but true.
You see, we've never been huge pineapple fans in the past. I mean, we enjoy it every now and then if it's around, but it's not something we seek out or buy often at the grocery store.
Then we went to Mexico.
Y'all. The thing I love most about travel is the way it opens you up to new experiences.
Sure, the relaxing is great (have you been on a Princess cruise? Relaxation to the max!), but the things we experience and learn and fall in love with all come home and stick with us.
I was lucky enough to be invited on a Princess cruise along with my family, in exchange for sharing the experience with you here.
The four of us had such a wonderful time in the Caribbean last month and I'm so excited to bring a little piece of that back with us to share with you in the form of this pineapple coleslaw.
During our cruise, we stopped for the day in Costa Maya, Mexico and chose to go on an excursion to tour the Chacchoben ruins.
One of my favorite parts of cruising is how easy it is to plan – pick an excursion and allow Princess to do the rest of the work for you!
The ruins themselves were amazing to see. The tour guide was knowledgeable and friendly and my boys really loved learning the history of the Mayans.
My daughter and I wimped out about 30 minutes in – it was so hot and humid in the jungle, so we went to the little concession/shops area and waited on the boys. No regrets. 😉
I have to admit that my favorite part of this experience was on our way back to the ship when our bus stopped at one of the numerous road side pineapple stands for us to try fresh pineapple.
The pineapple was sliced and placed in baggies and served to you along with a little pouch of dried and ground jalapeno. The women at the stands dried the jalapenos in the sun and then ground them into a powder with a little salt. It was the perfect thing to sprinkle over the sweet, fresh pineapple.
We ate it, straight from the bag, juice dripping down our chins and arms. Delightful.
Even my daughter, who isn't generally a pineapple fan, was in love with this fresh pineapple. It's so much better straight from the source than from the grocery store after it's traveled thousands of miles, you know?
Anyway, we're all still craving pineapple so I've been finding the best I can get locally and slicing it up as a side with dinner or a quick snack.
This pineapple coleslaw was the perfect side dish when I grilled up hot dogs the other night and just wait until you see what I put it on next week! I have a tasty recipe for you that includes this pineapple coleslaw and you're going to love it!
How to make pineapple coleslaw:
I like to keep things simple, so I start with a bag of coleslaw mix. You'll need a 16 ounce bag of the mix or about 7 1/2 cups of shredded cabbage.
Add your coleslaw to a large mixing bowl along with some diced pineapple.
Fresh pineapple is the best, if you have it, but you can start with canned pineapple if you're in a hurry. No worries!
To that, you'll add some mayonnaise, sugar, apple cider vinegar, and a bit of salt and pepper.
Such a simple mixture, but wait til you stir it all together and give it a taste! You're going to love this pineapple coleslaw!
Interested in cruising? Read my top 6 reasons to plan a Princess cruise!
Big thanks to Princess for sponsoring this blog post! As always, all opinions are my own.
Pineapple Coleslaw
This pineapple coleslaw is sweet, tangy, and perfect for a hot summer day.
Prep10 minutes
Total10 minutes
Ingredients
20 ounces pineapple fresh or canned
16 ounces coleslaw mix
1 small jalapeno more or less, to taste
1/4 cup chopped red onion
3 tablespoons chopped cilantro
3/4 cup mayonnaise
1/4 cup sugar
3 tablespoons apple cider vinegar
1 teaspoon salt
Instructions
Chop the pineapple into small pieces and add to a large mixing bowl with the coleslaw mix.

Slice the jalapeno in half lengthwise and use a spoon to scrape out and discard the seeds and membranes. Mince the jalapeno.

Add the jalapeno, red onion, and cilantro to the bowl of coleslaw mix and stir to combine.

In a small bowl, stir together the mayonnaise, sugar, apple cider vinegar, and salt.

Pour the dressing over the coleslaw mix and stir to combine. Serve immediately or cover and store in the fridge for up to 2-3 days.
Tips & Notes:
This coleslaw makes a great summer side dish, but it's also delicious piled on a pulled pork sandwich.
Nutrition Information:
Calories: 220kcal (11%)| Carbohydrates: 20g (7%)| Protein: 1g (2%)| Fat: 16g (25%)| Saturated Fat: 2g (13%)| Polyunsaturated Fat: 9g| Monounsaturated Fat: 4g| Trans Fat: 1g| Cholesterol: 9mg (3%)| Sodium: 436mg (19%)| Potassium: 195mg (6%)| Fiber: 3g (13%)| Sugar: 15g (17%)| Vitamin A: 139IU (3%)| Vitamin C: 57mg (69%)| Calcium: 36mg (4%)| Iron: 1mg (6%)