August 26, 2018
Dill Pickle Slaw
If you're looking for how to make cole slaw, this dill pickle slaw is the perfect recipe! This is also a great low carb coleslaw, if you're trying to eat a little healthier.


My daughter had a little friend over a couple of weeks ago and they were running around the house, playing whatever it is that 10 year old girls play, when they came to a sudden screeching halt in the kitchen.
I had just dragged the big, brown Amazon box in from the front porch and was about to rip it open.
I'm pretty Amazon obsessed and I order quite a bit of random items from there. My kids don't usually get too excited when they see a box on the front porch, because they know it's probably nothing too exciting.
Then again, every now and then I'm the cool mom who gets a random shipment of marshmallows or candy bars from clients. So, while they don't jump for joy any time they see a box, they do lurk in the general vicinity when I'm opening packages. Just in case.
On this particular day, I opened the box to discover a jar of Duke's mayonnaise that I had ordered from Amazon.
I live in central Illinois and you can't buy Duke's here. I was tired of hearing from my Southern friends how Duke's was the one true mayo. So, I decided to put it to the test.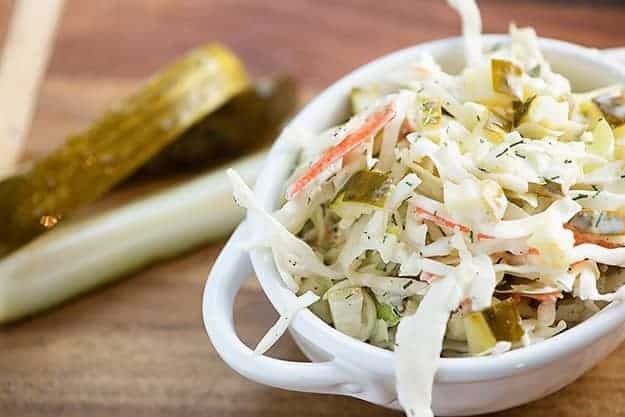 As I lovingly lifted my new jar of mayo from the box, my daughter's friend gave me the side eye.
I said, in a rather reverent tone, "My mayonnaise is here."
My daughter's friend piped up with, "At my house, we just buy mayo from the grocery store." She left out the "…like normal people," but I know she was thinking it.
Anyway, that's the story of me getting hardcore judged by a ten year old.
And, because I know you're all wondering, yes. Absolutely. It was definitely worth it. If you don't live in an area that sells Dukes, you should probably go order some right now. (This is not a sponsored post. Duke's has no idea who I am, but hey Duke's! I'd love to work with you, if you're looking for a girl who loves mayo and is willing to be judged harshly for it.)
So, I put my Duke's to good use in this dill pickle slaw that I made. I love coleslaw, but this stuff. Wow. It is nothing like the traditional version you'd normally find at the dinner table. The dill pickle adds the best flavor and crunch to this easy side dish. But, to really amp up the flavor, I stirred in a bit of the juice from my jar of pickles. Holy heck. It was good stuff.
I'm pretty addicted to Claussen Kosher Dill pickles and recommend them for this recipe. If you have another favorite dill pickle, I'm sure it would work just as well.
Just wait a couple more weeks and I'll be back with a sandwich recipe that uses this slaw. It'll blow your mind.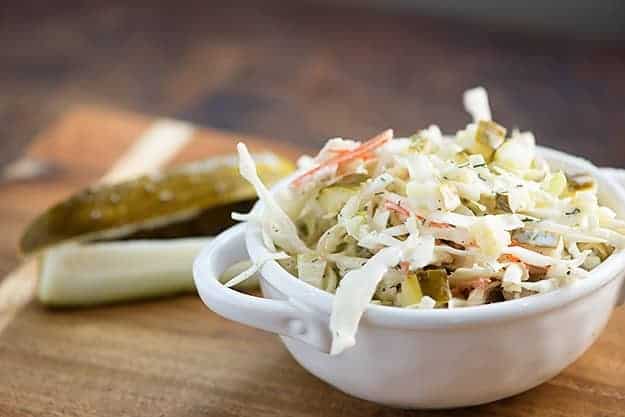 Dill Pickle Slaw
Servings: 6 servings
Course: Side Dish
Cuisine: American
Keyword: easy side dish recipes, low carb recipes, summer recipes
Calories: 42 kcal
If you're looking for how to make cole slaw, this dill pickle slaw is the perfect recipe! This is also a great low carb coleslaw, if you're trying to eat a little healthier.
Ingredients
3 cups shredded coleslaw mix
1/2 cup diced dill pickles
2 tablespoons mayonnaise
1 teaspoon dill pickle juice
1/2 teaspoon fresh dill
1/4 teaspoon salt
1/4 teaspoon pepper
Instructions
Add all of the ingredients to a medium sized bowl and toss to coat.

Chill for 15 minutes before serving.
Nutrition Facts
Dill Pickle Slaw
Amount Per Serving
Calories 42 Calories from Fat 27
% Daily Value*
Fat 3g5%
Cholesterol 1mg0%
Sodium 249mg11%
Potassium 70mg2%
Carbohydrates 2g1%
Fiber 1g4%
Sugar 1g1%
Vitamin A 55IU1%
Vitamin C 12.8mg16%
Calcium 19mg2%
Iron 0.2mg1%
* Percent Daily Values are based on a 2000 calorie diet.
Nutrition Disclaimer: All information presented on this site is intended for informational purposes only. I am not a certified nutritionist and any nutritional information shared on bunsinmyoven.com should only be used as a general guideline.