Our Pickle de Gallo recipe is sure to be a new favorite dip or topping! Ready in no time with freshly chopped pickles, peppers, onion, garlic, and dill all mixed up in pickle brine!
Here I am, back again with another dip recipe! Can't help myself – dip is life and this one in particular always gets oohs and ahhs from friends and family!
Maybe you've seen Pickle de Gallo at the store before and wondered what the heck it was? Well, I'm here to say that it's exactly what it sounds like! It's a fun twist on pico de gallo – you swap the tomatoes for dill pickles!
I was super skeptical about this when I first saw the container at the store, but I gave it a try and was so surprised. It tastes exactly how you think it would – salty, sour, crisp – but everyone that tried it was surprised that they liked it so much.
Our Pickle Dip is another crowd favorite! Crunchy dill pickles mixed with cream cheese – perfect on Ruffles!
Ingredient Notes:
This post contains affiliate links. As an Amazon associate and member of other qualifying programs, I earn from qualifying purchases.
Dill Pickles – Use your favorite dill pickles here – ones that are nice and crunchy with a bold flavor. Our refrigerator dill pickles work well or try Claussen brand!
Onions – I'm using yellow onions but any variety should work.
Bell Pepper – I'm using sweeter red bell peppers for this but you could really use any color that you prefer!
Garlic – Mince some fresh garlic cloves for lots of flavor!
Jalapeno or Serrano – Use jalapeno for less heat and serrano for more heat. Remove the seeds and membranes to tone things down a bit or leave them in for extra spice.
Pickle Brine – Adding the pickle juice is a good way to add even more pickle flavor, plus the chopped veggies taste great when mixed up in it!
Dill – You'll want some freshly chopped dill to add in for extra dill pickle flavor!
What We Love About This Recipe:
It's a quick and easy recipe to make and if you love pickles it's perfect for you!
You can use it as a dip with some chips or as a topping for hot dogs and burgers.
This is one of those recipes that gets your guests talking and most everyone ends up loving it!
How to Make Pickle de Gallo:
Chop: First up you'll need to prepare all the chopped veggies! Dice up the pickle, onion, bell pepper, and jalapeno. Mince the garlic and add all of that to a mixing bowl.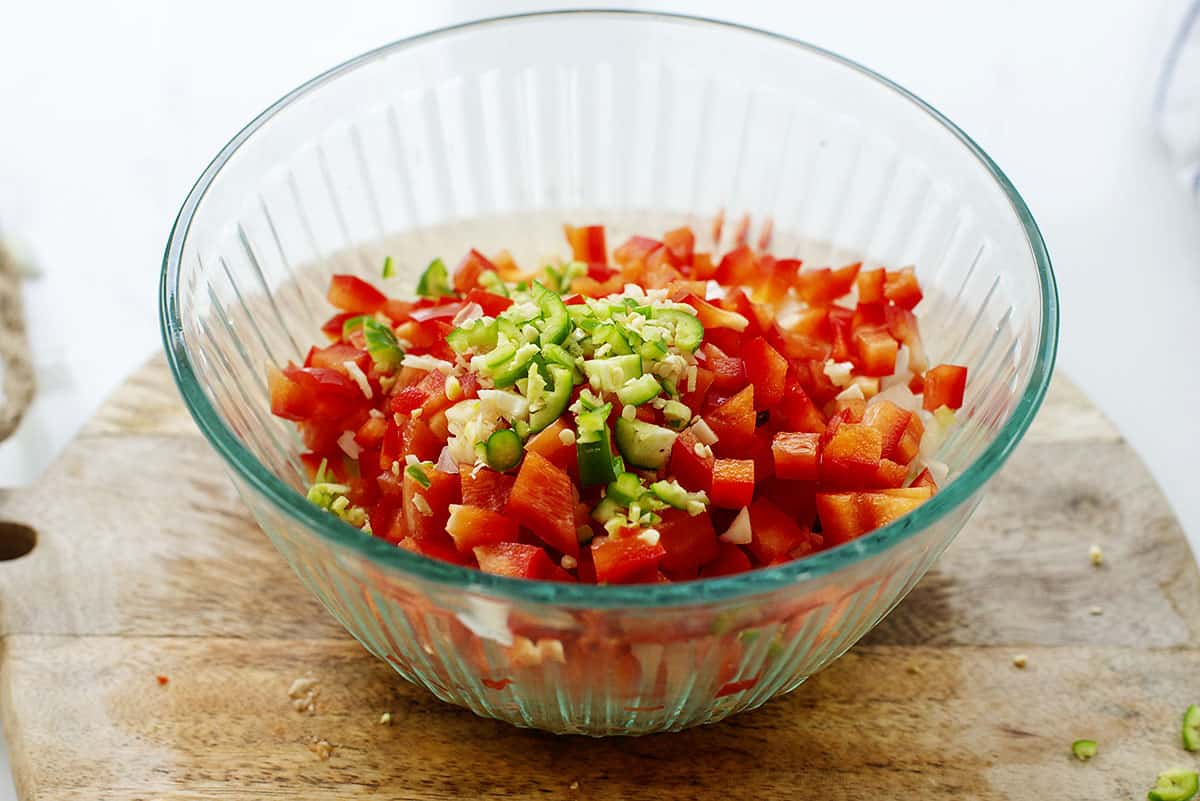 Mix: With all the chopped veggies added you can now pour in the pickle juice and add in the chopped dill. Stir all that up until it is well combined. You'll need to let it chill for an hour so cover the bowl and put it in the fridge.
Serve: After chilling in the fridge for an hour you can serve this Pickle de Gallo with some tortilla chips, or maybe use it top a hot dog or even hamburgers!
Leftover Hack!
We love to serve this with tortilla chips and it's usually gone pretty quick at parties! If you do have leftovers, use them like you would relish and top your hot dogs or burgers. You could even swap the pickles for pickle de gallo in our Instant Pot potato salad!
FAQs:
What is Pickle de Gallo?
It's pretty much just like Pico de Gallo but made with pickles, pickle brine, and dill instead of tomatoes, lime juice, and cilantro.
How to store Pickle de Gallo?
You can keep this dip stored in the refrigerator, well sealed, for about 4 to 5 days.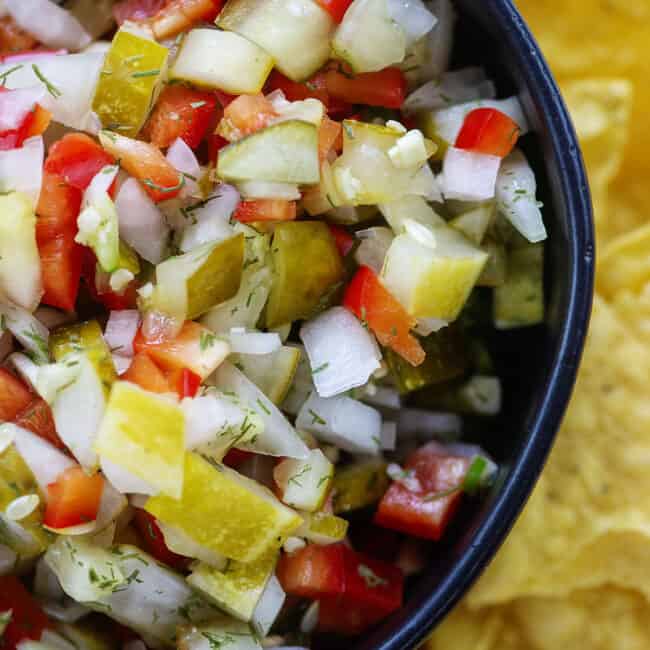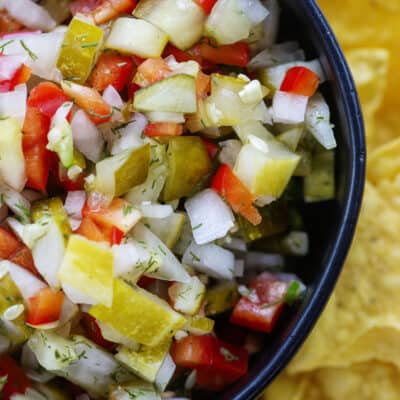 Pickle de Gallo
If you're a pickle lover, you're going to go crazy for this pickle de gallo dip! It's perfect on tortilla chips, but we've also used it to top hot dogs and hamburgers. So fresh, crisp, and bursting with dill pickle flavor!
Prep10 minutes
Cook0 minutes
Chill Time1 hour
Total1 hour 10 minutes
Ingredients
1 1/2 cups diced dill pickles about 2 whole pickles
½ cup diced yellow onion
½ cup diced red bell pepper
1 small jalapeno minced
1 clove garlic minced
¼ cup pickle brine
2 tablespoons minced fresh dill
Instructions
Add everything to a small bowl and stir to combine.

Refrigerate for at least 1 hour before serving.

Serve with tortilla chips for dipping or over hot dogs or burgers.
Tips & Notes:
Be sure to chop your veggies fairly small and evenly for a nice texture. For a more mild dip: Remove the membranes and seeds from the jalapeno. Reduce the amount of jalapeno to taste. For a spicier dip: Swap the jalapeno for a serrano pepper and do not remove the seeds or membranes.
Nutrition Information:
Serving: 0.25cup| Calories: 7kcal| Carbohydrates: 1g| Protein: 0.2g| Fat: 0.1g| Saturated Fat: 0.02g| Polyunsaturated Fat: 0.03g| Monounsaturated Fat: 0.003g| Sodium: 174mg (8%)| Potassium: 41mg (1%)| Fiber: 0.4g (2%)| Sugar: 1g (1%)| Vitamin A: 61IU (1%)| Vitamin C: 3mg (4%)| Calcium: 14mg (1%)| Iron: 0.1mg (1%)