You're going to flip for this pineapple coconut baked shrimp recipe! The coconut shrimp dipping sauce will leave you feeling like you're enjoying shrimp at the beach – so summery and full of pineapple coconut flavor!
This baked coconut shrimp reminds me a bit of my husband's favorite alcoholic drink.
I don't know what the drink would be called or if it even has a name, to be honest.
It's just raspberry lemonade with a big healthy pour of coconut rum. And by big and healthy, I mean it's basically equal parts lemonade and rum. 😉
Personally, I think that drink tastes like suntan lotion. I just can't get past the smell of coconut rum. I might as well be squirting a bottle of sunscreen in my mouth.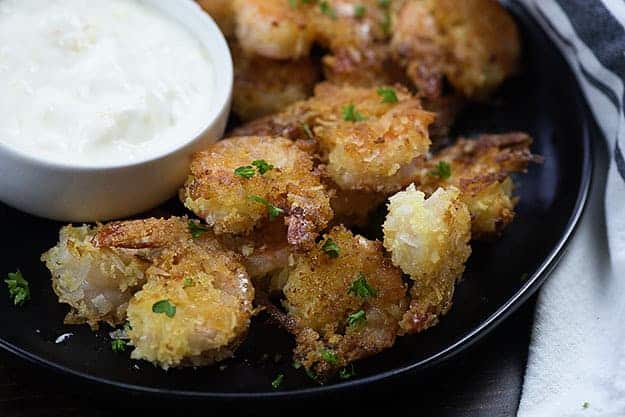 I know that so many people loooooove coconut rum, so I had to create this baked shrimp recipe with a pineapple coconut dipping sauce and oh boy. This whole recipe was SUCH a hit!
I swear, you'll feel like you're sitting on a beach, enjoying the warm sunshine and salty air, popping crispy oven fried shrimp in your mouth. This recipe just tastes like summer and I feel like we could all use a little summer right now. 😉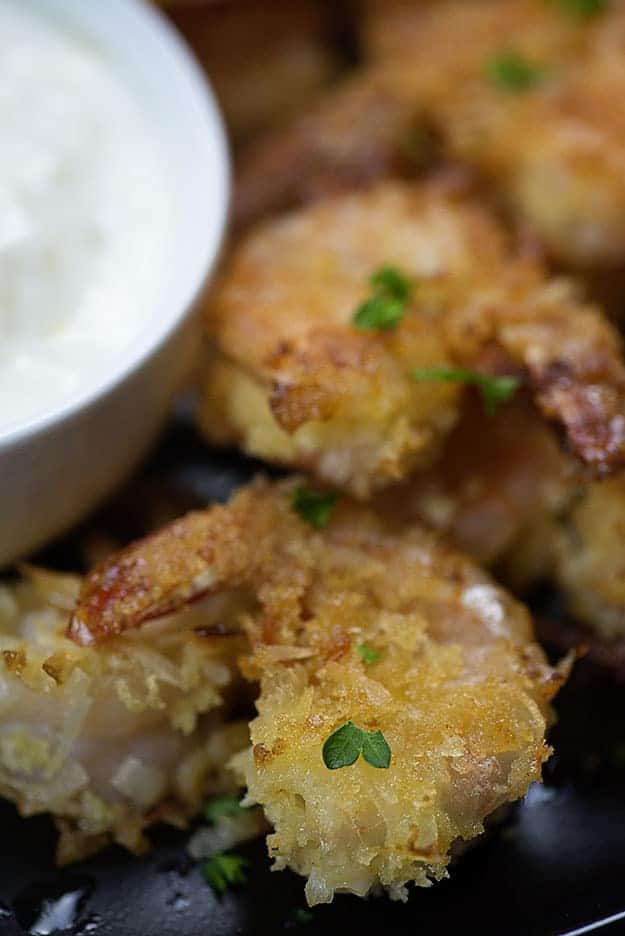 I started with thawed large shrimp and dipped them first in flour, then in a mixture of egg beaten with coconut rum (hellooooooo there), and then in a mixture of sweetened coconut flakes and Panko bread crumbs.
This is such an easy recipe!

If you don't have rum or just don't drink it, use water in place of the rum to beat with the egg.
The shrimp comes out super crispy, and even though it's baked in the oven, it tastes fried – all thanks to my secret little tip!
When you are baking food that you want to taste fried, melt a stick of butter and pour it on a sheet pan. Put your breaded shrimp (or chicken or fish or whatever) right in the melted butter and bake in a hot oven. It comes out extra crispy and just a bit greasy to give it that fried flavor we all crave.
And it's a million times easier than frying, obviously.
I use that trick in my chicken strips recipe and everyone LOVES them! Serve those with my honey mustard recipe for extra goodness. 😉
The coconut shrimp dipping sauce is super simple to whip up with a handful of ingredients.
You'll just stir together sour cream, cream of coconut, crushed pineapple, pineapple juice, coconut rum, and a bit of sugar.
You can 100% skip the rum in this part too if you don't have it on hand or if you just aren't into alcohol. Replace the rum with extra pineapple juice for the dipping sauce.
I've also served these baked coconut shrimp with sweet chili sauce when I couldn't get my hands on coconut cream. That was tasty as well!
Serve this with my easy coleslaw recipe and some french fries! Heaven!
Love seafood? Try this baked cod next!
Baked Coconut Shrimp with Pineapple Dipping Sauce
This baked coconut shrimp recipe tastes fried, but it's actually baked in the oven. The pineapple rum dipping sauce adds to the coconut flavor and makes such a tasty addition this shrimp recipe!
Prep10 minutes
Cook15 minutes
Total25 minutes
Ingredients
For the shrimp
1/2 cup melted butter
1/2 cup flour
1/2 teaspoon salt
1 large egg
1/4 cup coconut rum
1 cup sweetened coconut flakes
1/2 cup panko
1 pound large shrimp
For the pineapple dipping sauce
1/2 cup sour cream
1/4 cup crushed pineapple
2 tablespoons coconut cream
2 tablespoons sugar
1 tablespoon pineapple juice
1 tablespoon coconut rum
Instructions
Preheat oven to 425 degrees.

Pour the melted butter over a rimmed half sheet pan to coat the bottom.

Add the flour and salt to a small dish and stir to combine.

Add the egg and rum to a small dish and whisk well until combined.

Add the coconut flakes and Panko to a small dish and stir to combine.

Dip each shrimp first in the flour, then the egg mixture, and then the mixture of coconut and Panko to coat.

Place the shrimp evenly spaced on the buttered sheet pan and bake for 15 minutes or until cooked through. Flip halfway through cooking.

To make the sauce, add all of the ingredients to a small bowl and whisk together.

Serve the shrimp with the sauce on the side for dipping.
Nutrition Information:
Calories: 688kcal (34%)| Carbohydrates: 41g (14%)| Protein: 29g (58%)| Fat: 40g (62%)| Saturated Fat: 26g (163%)| Cholesterol: 408mg (136%)| Sodium: 1531mg (67%)| Potassium: 324mg (9%)| Fiber: 3g (13%)| Sugar: 20g (22%)| Vitamin A: 975IU (20%)| Vitamin C: 8.8mg (11%)| Calcium: 229mg (23%)| Iron: 4.4mg (24%)