We recreated Bonefish Grill's Bang Bang Shrimp Tacos recipe at home in the air fryer! Crispy air fried shrimp tossed in a delicious 3 ingredient sauce that no one can resist! These are a total game changer for taco night.
We shared our recipe for air fryer bang bang shrimp over on AirFried.com a few weeks ago, but now it's time to turn that crispy, saucy shrimp into tacos!
If you've been to a Bonefish Grill before, you've probably had their Bang Bang Shrimp. It's their most popular item on the menu and it's not hard to see why – crispy shrimp drizzled with a delicious creamy, spicy sauce that keeps you coming back for seconds.
We turned those crispy little shrimps into tacos and I'm telling you – this is a must make recipe! I love the sauce (just 3 ingredients!), the charred corn tortillas, and of course, the crispy shrimp is the star of the show!
Love the combo of seafood and tacos? Me too! One of my favorite lunch recipes are these fish stick tacos. It sounds so ridiculous to use fish sticks, but they turn out crispy in the air fryer and they're perfectly shaped for tacos. I'm kinda obsessed. We're also pretty in love with our
Ingredient Notes:
This post contains affiliate links. As an Amazon associate and member of other qualifying programs, I earn from qualifying purchases.
Shrimp – You'll need fresh or frozen and thawed shrimp that has been deveined with the shell and tails removed.
Shrimp Breading – The breading for this bang bang shrimp is prepared from a mix of flour, cornstarch, garlic & onion powder, salt, and Panko bread crumbs. That's going to add loads of flavor to the air fried shrimp!
Bang Bang Sauce – This homemade bang bang sauce is prepared by mixing together some mayonnaise, Thai sweet chili sauce, and a little bit of sriracha! You can add more sriracha if you want to increase the heat.
Tacos – We're using white corn tortillas, charring them over an open flame, and then topping our tacos with thinly sliced purple cabbage, chopped cilantro, and diced tomato!
What We Love About This Recipe:
The crispy shrimp makes an excellent taco filling and the sauce is so flavorful!
This is a fun twist on take out and there is no deep-frying involved!
Everyone LOVES tacos, so this is a fun way to experiment with the fillings and try something new.
How to Make Bang Bang Shrimp Tacos:
Breading: To get started mix together the flour, cornstarch, salt, garlic & onion powder in a bowl. In a separate bowl, add the Panko bread crumbs. Finally, in a third bowl crack the eggs and beat them together. Dip the shrimp first in the flour, then egg, then panko.
Air Fry: Spritz some oil into an air fryer basket and then place the shrimp into the basket in a single layer. Spritz some more oil over the shrimp and then you can begin air frying. It'll take about 10 minutes, flipping halfway through.
Helpful Tip!
In A Hurry?
We LOVE our crispy fried shrimp that we've created here, but if you're in a hurry, you could try using already breaded frozen shrimp and cooking it in the air fryer. It'll still be tasty and save you a few minutes!
Sauce: While the air fried shrimp is cooking you can prepare the homemade bang bang sauce! It's perfectly creamy, sweet, and spicy! Whisk together some mayonnaise, Thai sweet chili sauce, and as much sriracha as you can handle! Toss your crispy shrimp through the sauce right before assembling and serving your tacos.
Helpful Tip!
Keep It Crispy!
Toss your shrimp in the sauce just before assembling your tacos. If you sauce the shrimp too soon, the breading will get soggy.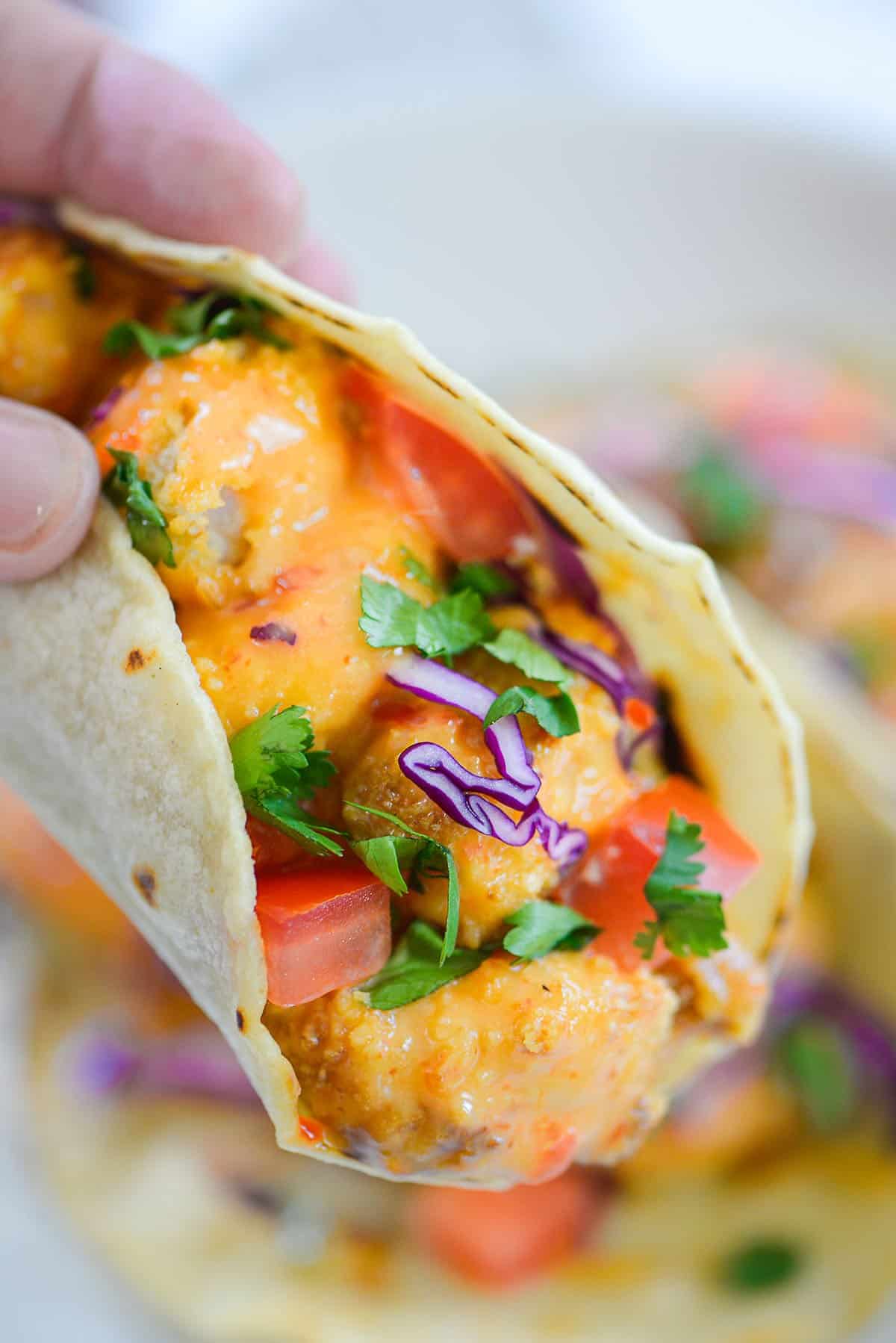 Tacos: We like to warm our tortillas over an open flame – we use our gas stove or a grill for this. They just take a minute to warm up and get a little char around the edges.You can warm them on a skillet as well, but they won't get that char.
You can then add the fried shrimp, cabbage, cilantro, and tomatoes to the tortillas and dig in!
FAQs:
How to store shrimp?
If you plan to keep leftovers it's best to store the shrimp and sauce separately in airtight containers in the fridge. Reheat the shrimp at 350 in the air fryer for a few minutes to heat it back up and then toss in sauce and assemble your tacos.
What is bang bang sauce?
Bang Bang Sauce is a creamy mayo based sauce made popular by the restaurant chain, Bonefish Grill. This sauce is a mixture of mayo, Thai sweet chili sauce, and sriracha.
Bang Bang Shrimp Tacos
We put a little spin on Bonefish Grill's Bang Bang Shrimp by cooking that crispy shrimp in the air fryer and then turning it into tacos. The 3 ingredient Bang Bang sauce is spot on and total perfection!
Prep20 minutes
Cook10 minutes
Ingredients
For the shrimp:
1 pound medium raw shrimp thawed, deveined, tails and shell removed
½ cup flour
2 tablespoons cornstarch
1 teaspoon onion powder
1 teaspoon garlic powder
1 teaspoon salt
2 large eggs beaten
1 cup panko bread crumbs
For the Bang Bang sauce:
½ cup mayonnaise
¼ cup Thai sweet chili sauce
½ teaspoon sriracha more to taste
For the tacos:
10 corn tortillas
2 cups thinly sliced purple cabbage
¼ cup chopped cilantro
1 large tomato diced
Instructions
To make the shrimp:
Add the flour, cornstarch, onion powder, garlic powder, and salt to a shallow dish and whisk to combine.

Add the eggs to a second dish and the panko to a third dish.

Dip each shrimp, one by one, into the flour mixture, then the egg, and finally the panko. Press the shrimp into the panko to coat.

Place shrimp in an oiled air fryer basket and spritz liberally with oil spray.

Air fry at 385 degrees for 10 minutes, flipping halfway through cooking.
To make the sauce:
Whisk together the mayonnaise, chili sauce, and sriracha until smooth.

Taste and add additional sriracha, if desired, for more spice.
To serve:
Toss the shrimp in half of the bang bang sauce and set aside remainder of sauce for serving.

Heat the tortillas over an open flame or on a large skillet until warm and pliable.

Assemble tacos with shrimp, cabbage, cilantro, and tomatoes. Drizzle additional bang bang sauce over the top before serving, if desired.
Tips & Notes:
In a hurry? Use a box of frozen, breaded shrimp and heat in the air fryer at 400 degrees for 8 minutes or until crisp. Proceed with the rest of the recipe as directed. Be sure to toss the shrimp in the sauce just before serving or the breading on the shrimp will lose some of its crunch and become a bit soggy. Any leftover sauce makes a tasty dip for chicken tenders or french fries.
Nutrition Information:
Serving: 1taco| Calories: 237kcal (12%)| Carbohydrates: 24g (8%)| Protein: 11g (22%)| Fat: 11g (17%)| Saturated Fat: 2g (13%)| Polyunsaturated Fat: 6g| Monounsaturated Fat: 3g| Trans Fat: 1g| Cholesterol: 99mg (33%)| Sodium: 637mg (28%)| Potassium: 185mg (5%)| Fiber: 2g (8%)| Sugar: 1g (1%)| Vitamin A: 322IU (6%)| Vitamin C: 3mg (4%)| Calcium: 67mg (7%)| Iron: 1mg (6%)