This CAJUN SHRIMP PASTA has just the right amount of kick for a tasty dinner that's loaded with shrimp and sausage over a simple creamy pasta.
Pasta is a go to dinner for so many and, because it's so adaptable, we never get tired of it!
Whether we're tossing fettucine in our Alfredo sauce or serving up our homemade spaghetti sauce over a pile of noodles, my family is going to go nuts for anything pasta related.
This Cajun shrimp pasta recipe is no exception. We toss fettucine noodles in a super simple cream sauce and then stir in sauteed shrimp and sausage that's been seasoned Cajun style.
A little spicy, a lot creamy, and totally satisfying. Plus, this Cajun shrimp pasta recipe is ready in just about 20 minutes!
If you liked our garlic shrimp pasta, I know you'll like this one too!
Ingredients for Cajun Shrimp and Sausage Pasta:
Fettucine – Any shape of pasta will work fine here, we just prefer fettucine.
Olive Oil
Butter
Shrimp – We use large, peeled and deveined shrimp with the tail off. You can use any size of shrimp you prefer, but adjust cook times accordingly.
Andouille Sausage – Smoked Sausage also works well.
Cajun Seasoning – My family is OBSESSED with Tony Chachere's Cajun seasoning, but any brand you like will work.
Bell Pepper
Garlic
Cream – Heavy cream will make a nice thick sauce. We haven't tested this with anything else.
Parmesan
Parsley
How to Make:
Pasta: For this recipe we're going to be making plenty of pasta, so start by bringing a large pot of salted water to a boil. Follow the instructions for cooking al dente. When it is finished, drain the pasta but save half a cup of the pasta water.
Shrimp: While the pasta is cooking, heat up a heavy bottomed skillet over medium heat. This seafood pasta wouldn't be complete without the shrimp, and shrimp wouldn't be complete without butter!
Add the oil and butter to the skillet and cook until the butter has melted. While it is heating, season the shrimp with your favorite Cajun seasoning!
Cook the shrimp through.
Helpful Tip!
How To Tell When Shrimp is Cooked Through
When fully cooked, shrimp should be an opaque white with hints of pink and red.
As the shrimp cooks, it will curl up.
If your shrimp is gray or translucent, it is not yet cooked through.
Sausage: When the shrimp is cooked through, remove and set aside. Add the andouille sausage and the peppers to the skillet. Sprinkle some more of the Cajun seasoning over the top and cook until the sausage has browned and the peppers have softened. Stir in your garlic.
Remove the sausage, peppers, and garlic from the pan and add to the shrimp.
Cream Sauce: Pour the hot cream into the same skillet you cooked the shrimp and sausage. No need to clean it out – all the flavor will be delicious in the sauce.
Bring the cream to a simmer and then remove it from the heat and stir in the Parmesan.
Combine: When the cheese has melted add all of the cooked pasta, shrimp, sausage, and peppers back into the skillet with the cream and cheese and stir thoroughly to coat. Add in the reserved pasta water a tablespoon at a time to thin out the sauce to the consistency you like. Finally, top with some parsley and serve!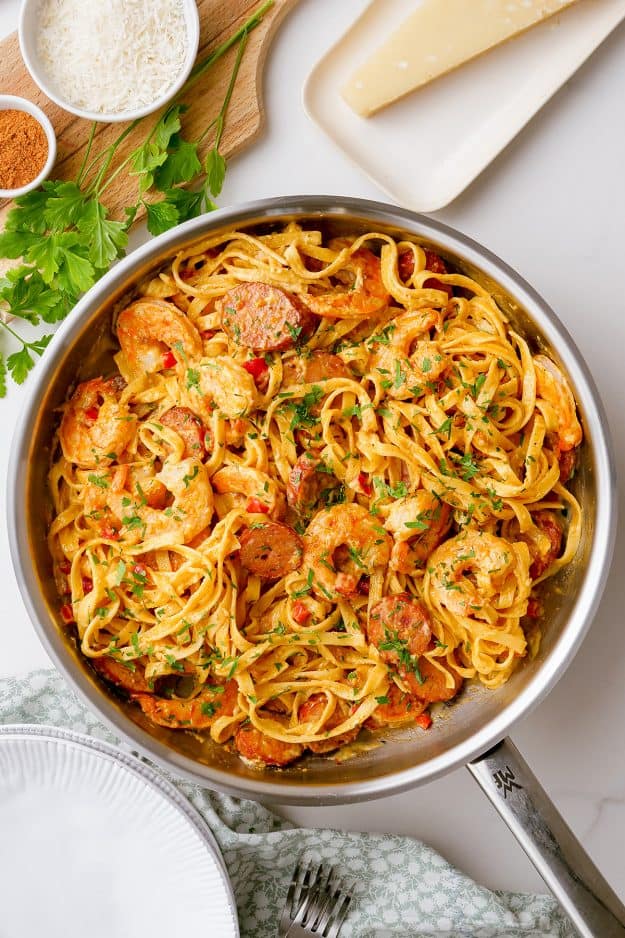 Helpful TipS!
If you don't have any fettucine or you prefer other types of pasta, you can mix it up! Gluten free should also work well.
Not spicy enough for you? Turn up the heat with either more Cajun seasoning or some red pepper flakes!
Add in a can of diced tomatoes, saute up some mushrooms, or add in some onion with the peppers to mix things up.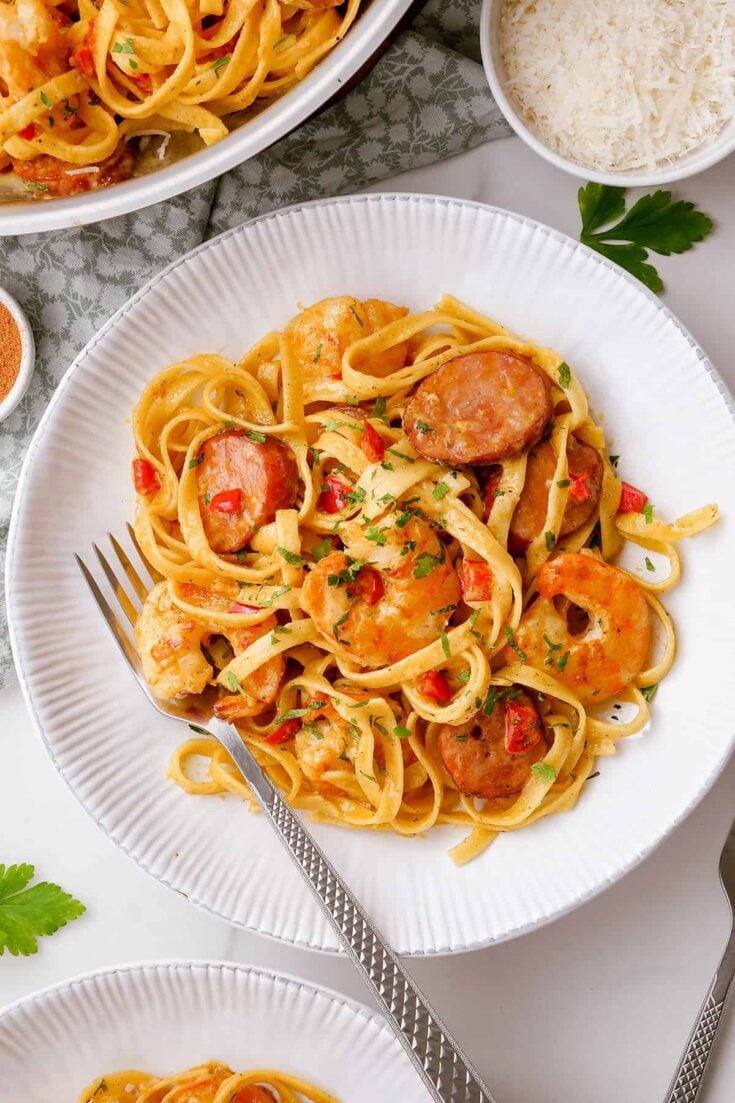 More pasta recipes!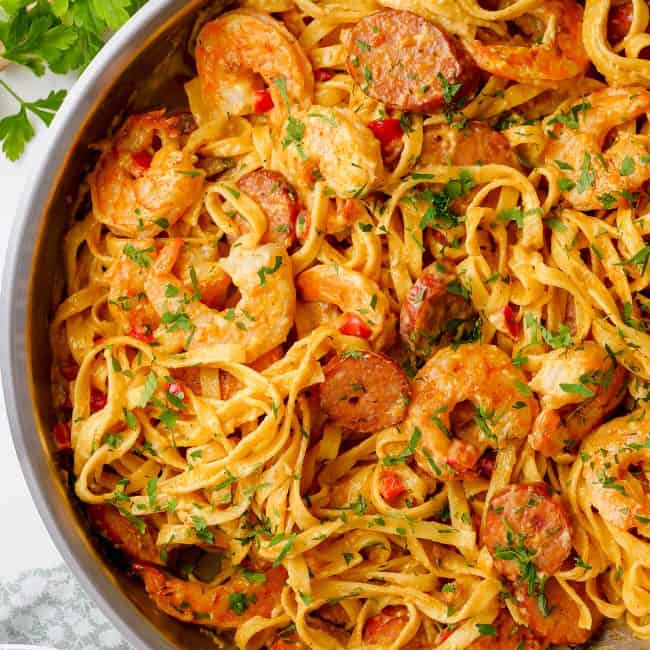 Cajun Shrimp Pasta
Packed with protein from both shrimp and sausage, this pasta dish is filling and flavorful. Ready in 30 minutes, it's the perfect dinner for a busy weeknight and the whole family loves the Cajun flavors.
Prep5 minutes
Cook25 minutes
Total30 minutes
Ingredients
8 ounces fettuccine pasta
1 tablespoon olive oil
1 tablespoon butter
1 pound large shrimp peeled, deveined, and tails removed
1 tablespoon Cajun seasoning divided
8 ounces andouille sausage
1 red bell pepper diced
2 cloves garlic minced
1 ¼ cups heavy cream
¾ cup shredded Parmesan cheese
1 tablespoon minced parsley
Instructions
Bring a large pot of salted water to a boil. Cook pasta to al dente. Drain, reserving ½ cup of pasta water.

While the water is coming to a boil and the pasta is cooking heat a large heavy bottomed skillet over medium heat. Add the oil and butter and cook until butter has melted.

Season the shrimp with half of the Cajun seasoning.

Add the shrimp in an even layer, working in batches if needed. Cook, flipping once, for 4-5 minutes or until shrimp are cooked through. Remove and set aside.

Add the sausage to the skillet along with the peppers. Sprinkle the remaining Cajun seasoning over the top and cook for 5 minutes, stirring often, until the sausage has browned and the peppers have softened. Stir in the garlic and cook for 30 seconds more. Remove from the pan and set aside with the shrimp.

Add the cream to the pan and bring to a simmer. Remove from the heat. Add the Parmesan cheese and stir until the cheese has melted.

Return the shrimp, sausage, and pepper to the pan along with the cooked pasta. Stir well to coat.

To thin the sauce, add reserved pasta water, a couple tablespoons at a time, until the sauce reaches your desired consistency.

Sprinkle with parsley before serving.
Tips & Notes:
The majority of the sodium is coming from the andouille sausage and Cajun seasoning. Use a lower sodium sausage and no salt Cajun seasoning to reduce this, if needed.
Nutrition Information:
Calories: 923kcal (46%)| Carbohydrates: 46g (15%)| Protein: 51g (102%)| Fat: 59g (91%)| Saturated Fat: 29g (181%)| Trans Fat: 1g| Cholesterol: 503mg (168%)| Sodium: 1357mg (59%)| Potassium: 555mg (16%)| Fiber: 3g (13%)| Sugar: 3g (3%)| Vitamin A: 2648IU (53%)| Vitamin C: 45mg (55%)| Calcium: 470mg (47%)| Iron: 5mg (28%)