Our Old Bay Shrimp is ready from start to finish in just 10 minutes, making this an easy way to get a healthy, family friendly recipe on the table any night of the week!
I've always been picky about seafood, and I'm not always in the mood for it, but it's hard to turn down shrimp. It's my favorite type of seafood and as you may know it can be prepared in countless ways.
You can BBQ it, broil it, boil it, bake it, sauté it, pan fry it, deep fry it, stir fry it, and best of all… you can air fry it! Seriously, it's so easy. And mess free.
Our Old Bay Shrimp is the ultimate weeknight main dish, taking just 10 minutes to make with minimal ingredients, prep, and clean up.
And with classic Old Bay seasoning and a lemon butter sauce, this Old Bay Shrimp is not short on flavor!
Old Bay seasoning has just the right mix of herbs and spices to enhance the flavor of shrimp and seafood. And I've never met a shrimp recipe that couldn't be improved with butter and lemon. You'll love this air fryer shrimp recipe!
Try our Shrimp Alfredo next!
Ingredient Notes:
This post contains affiliate links. As an Amazon associate and member of other qualifying programs, I earn from qualifying purchases.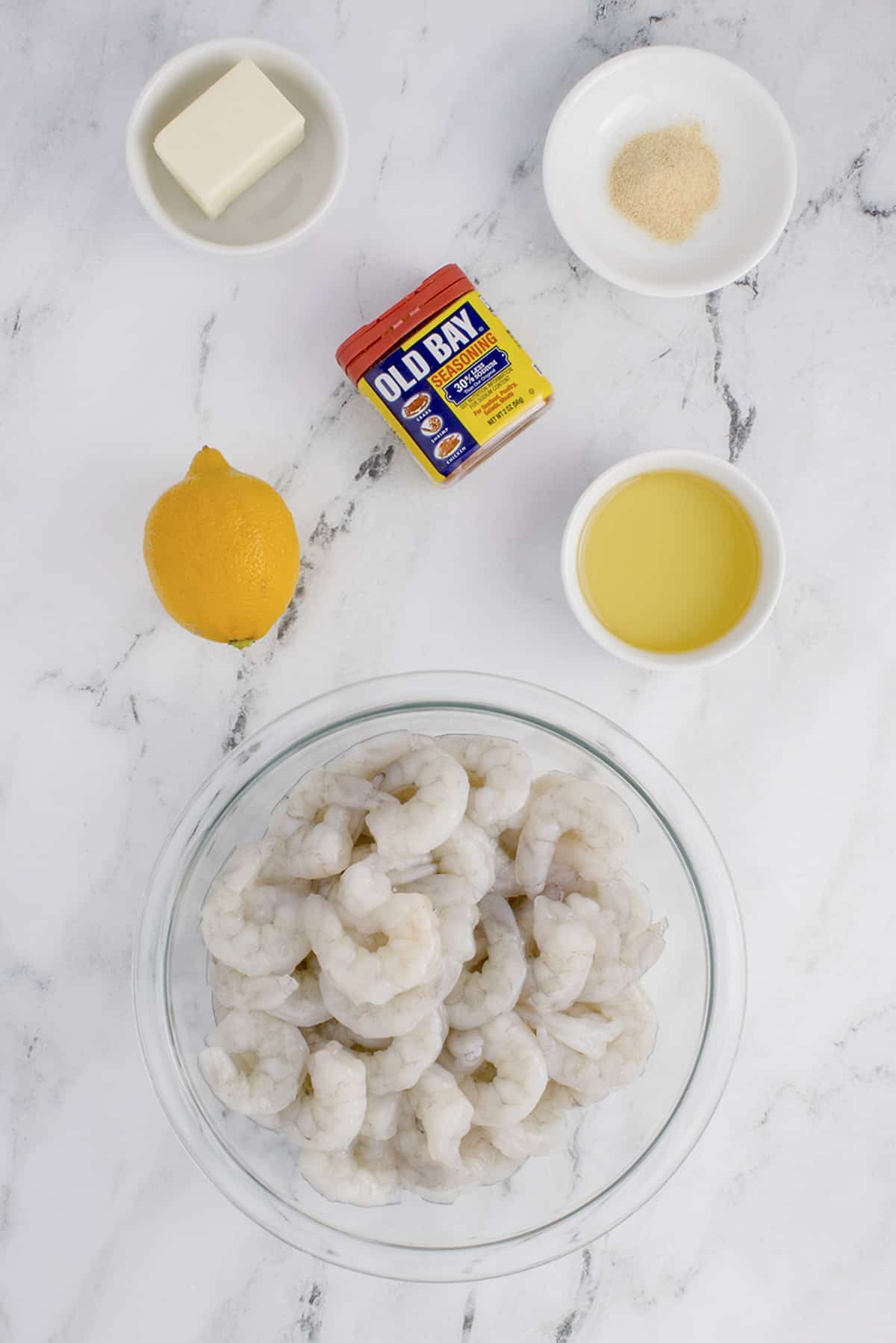 Shrimp – We're starting with peeled, deveined shrimp with the tails removed. You can use fresh or frozen and thawed.
Olive Oil – Shrimp is a very lean protein, so we're adding a bit of olive oil for flavor and to keep the shrimp from drying out as it cooks.
Old Bay Seasoning – This popular blend of spices is made for seafood, but it's so good on chicken, vegetables, and more. Alternatively, you could use a Cajun or Creole seasoning.
Garlic Powder – We can never get enough garlic, so we add a bit more here.
Lemon Butter Sauce – You'll create a rich, buttery lemon sauce to toss the cooked shrimp in. It's the perfect finishing touch.
What We Love About This Recipe:
The air fryer is an excellent way to prepare shrimp! It makes things quick, easy, and mess free.
You can use the prepared shrimp in so many other recipes, like shrimp pasta, tacos, and more!
We can't get enough of that lemon butter sauce with the shrimp! It adds so much rich flavor.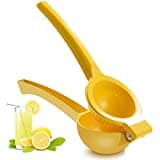 Citrus Juicer
Freshly squeezed lime and lemon juice is useful in lots of recipes, and this tool makes it easy and mess free.
How To Make Old Bay Shrimp: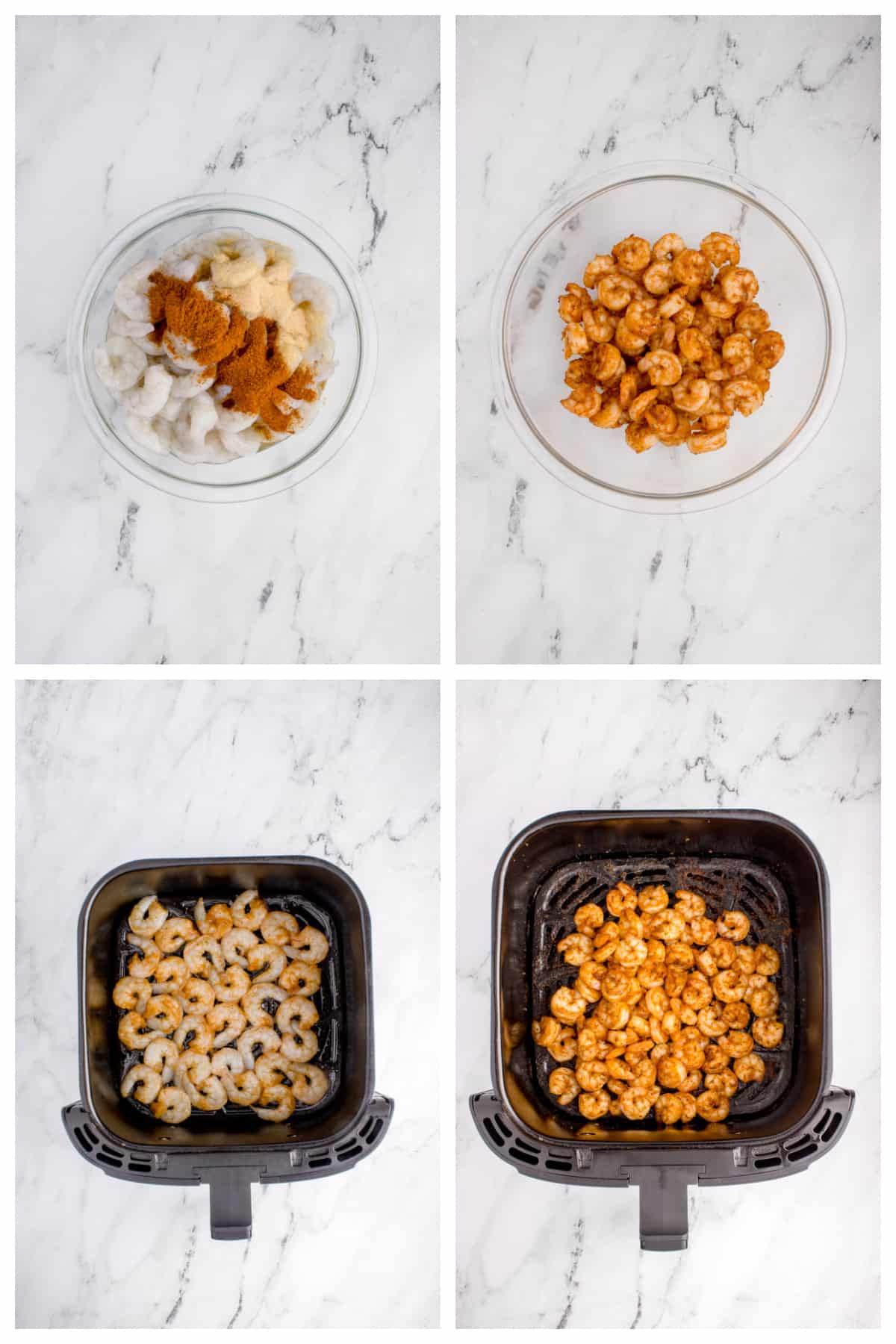 Seasoning: While your air fryer preheats begin preparing the seasoned shrimp. Add shrimp to a medium bowl with the olive oil, Old Bay seasoning, and garlic powder and toss until the shrimp are well coated.
Air Fry: Arrange the shrimp in a single layer in the basket. You may need to air fry the shrimp in batches depending on the size of your air fryer basket and the shrimp. Don't overcrowd the basket for the best results. Cook for 4-5 minutes, flipping them halfway through cooking.
Air Fry: Place the basket back into the air fryer and allow the Old Bay shrimp to cook for 4 to 5 minutes, flipping them once halfway through.
Sauce: Mix melted butter together with freshly squeezed lemon juice in a small bowl and then toss the Old Bay shrimp with the sauce.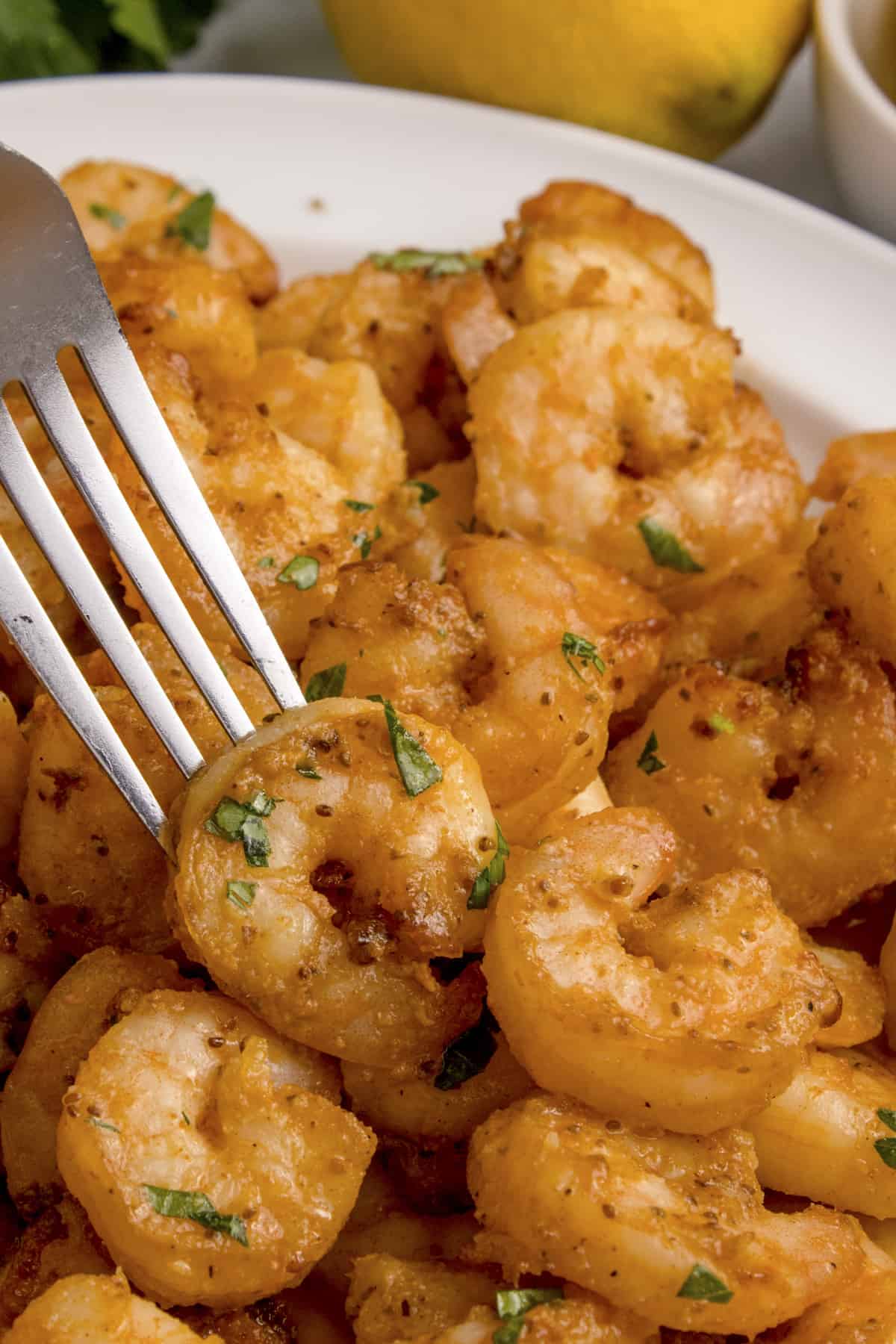 Serving Suggestions:
Our Old Bay Shrimp is delicious served in a variety of ways. A few favorites include:
Rice – Pile your shrimp over white rice or or our Greek lemon rice. Simple and delicious.
Shrimp Bowl – Toss your shrimp in a bowl with your favorite grain (quinoa, farro, rice) and pile on the roasted vegetables. Squeeze lemon juice over the top of it all and dig in.
Shrimp Pasta – Double the lemon butter sauce and pour it over some cooked pasta. Toss together and dig in.
Easy Shrimp Pasta:
This air fryer shrimp is great for use in other recipes that require shrimp! And what could be better than some shrimp pasta?
It's as easy as cooking up some pasta and combining it with this shrimp and sauce, or use it in a couple of my favorite shrimp pasta recipes:
Cajun Shrimp Pasta has just the right amount of spicy kick to it!
Garlic Shrimp Pasta isn't lacking in flavor either!
Air fried shrimp would work well in both of those recipes. You could even combine it with some easy air fryer scallops to make a seafood pasta!
How to Thaw Shrimp:
We quickly thaw shrimp by placing them in a large bowl of cool water for 15 minutes or until the shrimp are thawed.
Drain off the water and pat the shrimp dry before seasoning and cooking.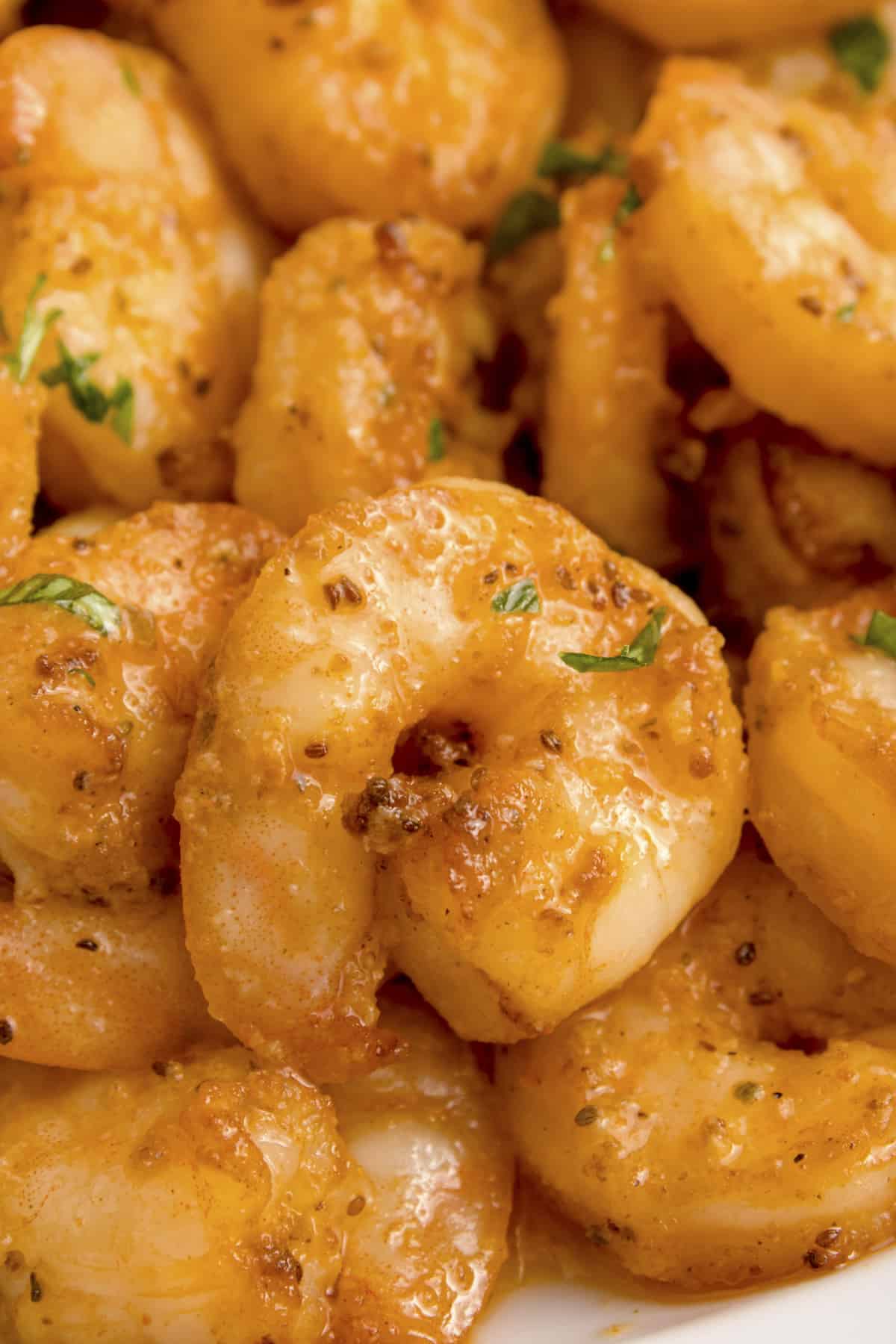 How to Tell Shrimp is Cooked Through:
When shrimp are cooked through, they should be opaque (not translucent) and curled up into a c-shape, and the shrimp should be white with pops of pink or orange.
FAQ's:
What is Old Bay seasoning?
Old Bay seasoning is a flavorful blend of 18 spices commonly
used when cooking seafood. It includes celery salt, pepper, paprika, and other spices.
Can I air fry shrimp with the shells on?
Yes, just make sure to remove them before eating!
How to store leftover shrimp?
You can keep any leftover shrimp stored in an airtight container in the fridge for up to 3 days.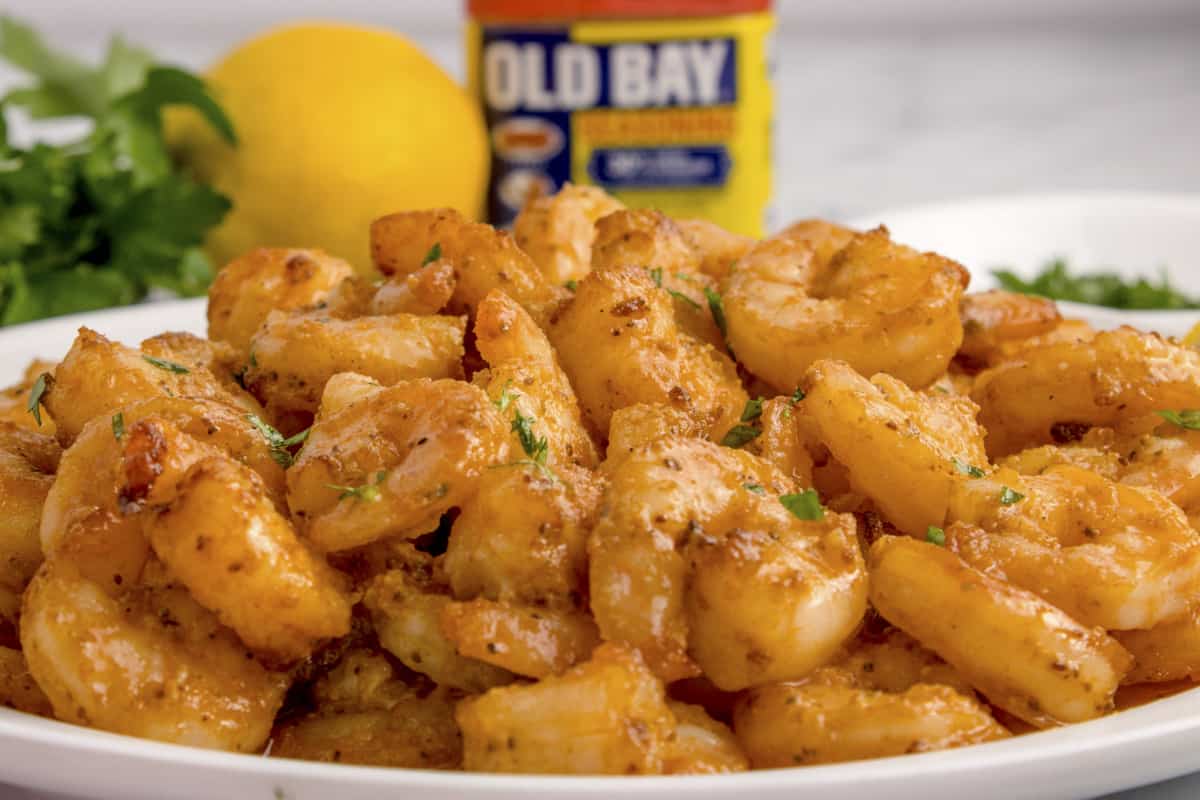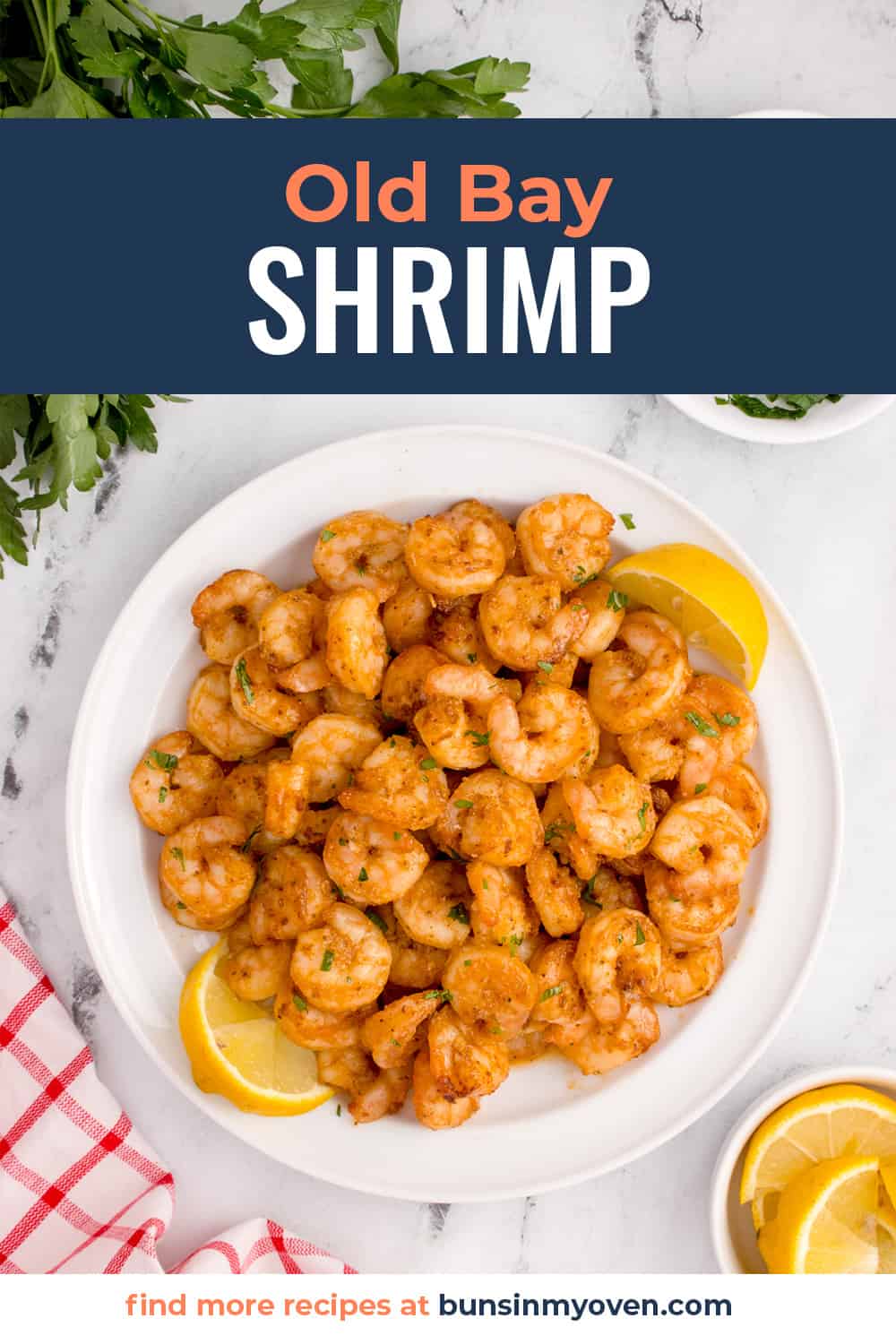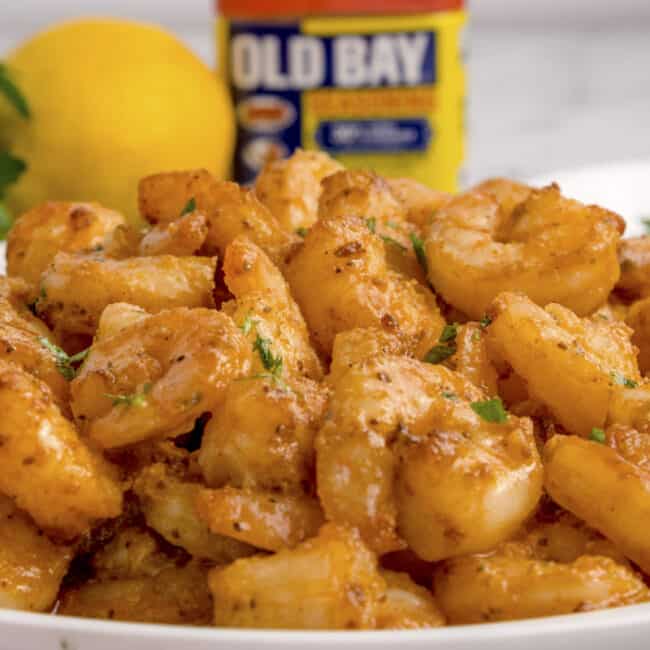 Old Bay Shrimp
Our Old Bay Shrimp is ready from start to finish in just 10 minutes, making this an easy way to get a healthy, family friendly recipe on the table any night of the week!
Prep5 minutes
Cook5 minutes
Total10 minutes
Ingredients
1 pound large shrimp peeled and deveined
2 tablespoons olive oil
2 tablespoons melted unsalted butter
4 teaspoons Old Bay seasoning
1 teaspoon garlic powder
1 tablespoon Lemon juice
Lemon slices for garnish
Instructions
Preheat the air fryer to 375°F for 2-3 minutes.

While the air fryer preheats, add the shrimp, olive oil, Old Bay seasoning, and garlic seasoning to a mixing bowl. Toss to coat.

Arrange the fresh shrimp in a single layer in an air fryer basket brushed with olive oil or sprayed with cooking spray.

Air fry the shrimp for 5-6 minutes, flipping them halfway through the cooking time. The shrimp should turn pink and opaque when cooked through.

While the shrimp is cooking, mix the melted butter and lemon juice together in a small bowl.

Once the shrimp is cooked, transfer them to a large bowl. Pour the butter and lemon sauce over the shrimp. Toss gently to coat.

Garnish with lemon wedges and parsley and serve immediately.
Tips & Notes:
Not a fan of Old Bay? Swap it for Cajun seasoning instead! You may use any size of shrimp desired. Adjust cook time accordingly.
Nutrition Information:
Calories: 122kcal (6%)| Carbohydrates: 2g (1%)| Protein: 0.4g (1%)| Fat: 13g (20%)| Saturated Fat: 5g (31%)| Polyunsaturated Fat: 1g| Monounsaturated Fat: 7g| Trans Fat: 0.2g| Cholesterol: 15mg (5%)| Sodium: 2mg| Potassium: 28mg (1%)| Fiber: 0.3g (1%)| Sugar: 0.2g| Vitamin A: 228IU (5%)| Vitamin C: 2mg (2%)| Calcium: 22mg (2%)| Iron: 1mg (6%)