If you're on TikTok, you've almost certainly come across this FETA PASTA RECIPE! It went so viral that grocery stores were running out of feta cheese. It's no surprise, because not only is this TikTok pasta recipe simple, it's so rich and flavorful.
I admit it – I spend way too much time aimlessly watching TikTok videos. It's my favorite way to wind down before bed each night.
Of course, sometimes I stay up way too late because I just can't stop scrolling. Anyone else? 😉
I first saw this feta pasta from Feel Good Foodie and her TikTok account, fell in love, and now follow her blog. My feta pasta is a bit different from hers, but I think you're going to love it!
It's been done by, well, everyone on TikTok at this point. This TikTok pasta is famously delicious!
Feta was even sold out in many grocery stores for awhile, because so many people were making this dish!
We love Greek flavors. If you do too, try this Greek pasta salad next!
Want another viral TikTok recipe? Try these s'mores folded tortillas! Heaven!
Ingredients for the TikTok Pasta: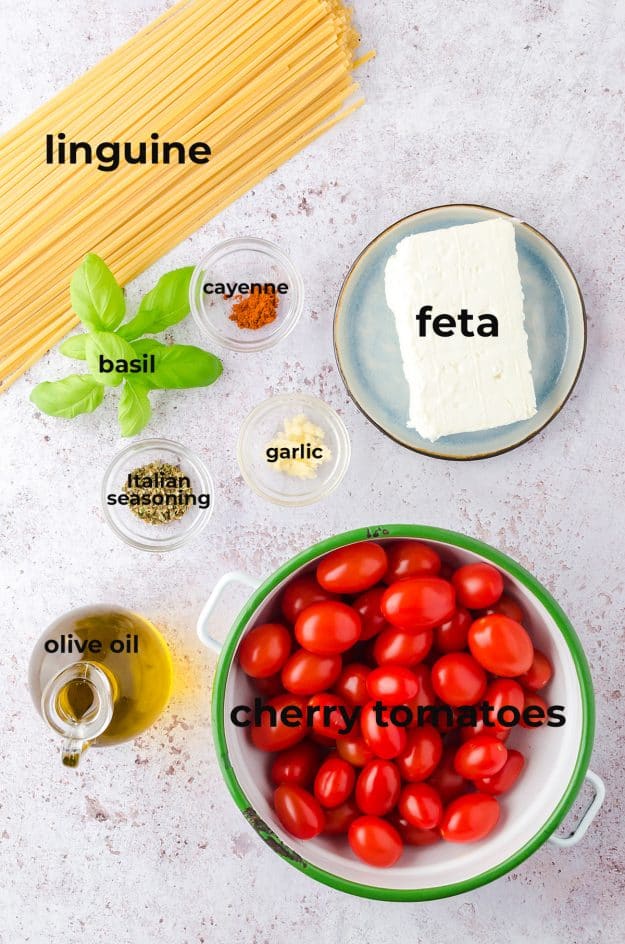 Pasta – We're using linguine in our feta pasta, but you may use any shape of pasta that you like. Macaroni, cavatappi, farfalle…they all work perfect.
Feta – This is a key ingredient and you'll want to choose the best feta you can afford. A truly creamy Greek feta in brine will result in the best sauce. We don't recommend crumbled feta as it's much drier.
Cherry Tomatoes – Cherry tomatoes have a thin skin and lots of juice, making them perfect for this sauce.
Garlic
Italian Seasoning
Cayenne – Just a pinch to add a little balance to all that creamy goodness. You can also serve with red pepper flakes on the side, if preferred.
Olive Oil
Basil – Fresh basil is the perfect finishing touch.
How to Make:
Prepare – Add the tomatoes to a roasting pan and drizzle with olive oil. Toss them well to coat. Place the feta in the center. Sprinkle with the garlic and seasonings and then drizzle the feta with a bit more olive oil.
Roast – Pop this in a 425 degree oven and roast for about 25 minutes or until the tomatoes are soft and the feta is browning.
Boil – During the last 10 minutes of cooking, boil your pasta. We like ours al dente, but you may cook it however you prefer.
Combine – Use a spoon to stir together the feta and tomatoes to create a creamy sauce. The tomatoes will break up a bit as you stir – you can leave this as chunky or as smooth as you like. Stir in a bit of pasta water to smooth things out and then toss in the pasta.
Serve – Top with the freshly chopped basil and sprinkle on some red pepper flakes, if desired. Serve this while it's hot and creamy.
Helpful Tip!
Swaps & Substitutes
Add chopped bell peppers and zucchini to the roasting pan for additional vegetables.
Stir in some chopped, cooked chicken to add protein.
Skip the pasta and toss in some roasted spaghetti squash to keep this lower in carbs.
More pasta favorites!
Baked Feta Pasta
If you've been on TikTok lately, you've probably seen this viral recipe! This is a simple dish that starts with roasted tomatoes and feta cheese to make a flavorful creamy sauce that's perfect for tossing your pasta in.
Prep15 minutes
Cook25 minutes
Total40 minutes
Ingredients
2 pints cherry tomatoes
1/3 cup extra virgin olive oil divided
8 ounces feta cheese
2 cloves garlic minced
1 teaspoon Italian seasoning
pinch cayenne pepper
1 pound linguine
6-8 basil leaves
salt and pepper to taste
Instructions
Preheat oven to 425 degrees. Bring a large pot of salted water to a boil.

Add the tomatoes to a 9×13 or 7×11 baking dish. Drizzle with half of the olive oil and stir to coat.

Place the feta cheese in the center of the dish, surrounded by the tomatoes. Sprinkle the garlic, Italian seasoning, and cayenne over the top of the feta and tomatoes. Drizzle with the remaining olive oil.

Place dish in the hot oven and roast for 25 minutes.

Add the pasta to the boiling water 10 minutes before the tomatoes are finished cooking. Cook pasta according to package directions. Drain pasta and reserve 1/2 cup of pasta water.

Remove the tomatoes from the oven and stir well to combine. The tomatoes will break up as you stir. Stir in 1/2 cup of pasta water to create a creamy, silky pasta sauce.

Add the cooked linguine to the baking dish and toss to coat. Taste and add salt and pepper, if needed.

Sprinkle with basil and serve hot.
Tips & Notes:
Add chopped, cooked to the sauce with the pasta if you'd like to add protein. Sprinkle with red pepper flakes before serving, if desired.
Nutrition Information:
Calories: 352kcal (18%)| Carbohydrates: 45g (15%)| Protein: 12g (24%)| Fat: 14g (22%)| Saturated Fat: 5g (31%)| Cholesterol: 25mg (8%)| Sodium: 323mg (14%)| Potassium: 213mg (6%)| Fiber: 2g (8%)| Sugar: 3g (3%)| Vitamin A: 278IU (6%)| Vitamin C: 7mg (8%)| Calcium: 161mg (16%)| Iron: 1mg (6%)