This cheesy taco pasta gets a kick from the jalapenos, but it's tempered with the sweet crunch of corn. We love one pot chicken recipes and the flavors in this one are phenomenal!
Okay, guys, I have some news.
My son. My precious baby. The sweet little angel that I brought home from the hospital, like, a week ago, is suddenly almost an adult.
He's 17 and 9 months old. He doesn't count the months at this stage of the game, but I'm his mama, so I do.
Anyway, he's basically a grown man, which is totally unreasonable, but to make matters worse, he thinks he's a tough guy.
I mean, don't get me wrong. He's as sweet as he can possibly be. Always holding doors and lifting heavy things for me.
But, he gets all cocky when it comes to spicy food. He likes to out-spice me and I'm sorry, but I'm your mother and you will not make me feel like a wimp.
Except he totally makes me feel like a wimp. The kid likes his hot sauce and peppers.

Which, whatever, I do too. But maybe not quite as much as him. I love him though, so I like to keep him happy at dinner.
I set out to make a spicy cheesy taco pasta for our dinner the other night.
Y'all. This one is good stuff.
I'm working with Roth to bring you this recipe and I'm featuring their GranQueso cheese in it. Have you heard of/tried the GranQueso yet? It's got this gorgeous reddish-orange rind which comes from the cinnamon and paprika they rub on it. It's been an American Cheese Society winner 7 years in a row.
This cheese is perfect over some pasta, but it works well on a cheeseboard too. The sweet, buttery taste is a little unexpected and a lot amazing.
If you need some new skillet chicken recipes, this is a one dish dinner that I think you'll really love.
If you're feeding this to people who aren't big fans of the spice, go ahead and swap in a bell pepper for the jalapeno. Add a little hot sauce to your portion and you're good to go.
This dish is ready in just about 30 minutes, so it's perfect for busy weeknights and all that pasta and chicken is super filling and comforting.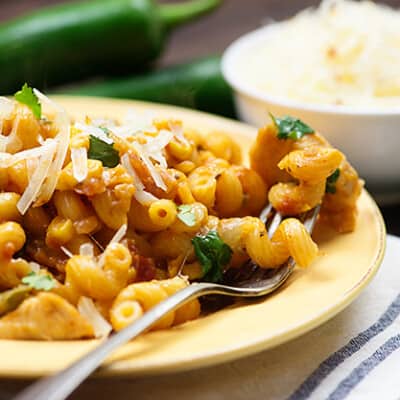 Cheesy Chicken Taco Pasta
This cheesy chicken taco pasta gets a spicy kick from the jalapenos. To make this recipe more kid friendly, swap in a bell pepper for the jalapeno.
Prep10 minutes
Cook22 minutes
Total32 minutes
Ingredients
1 pound boneless skinless chicken breasts
1 teaspoon ground cumin
1/2 teaspoon salt
1/2 teaspoon pepper
2 teaspoons olive oil
1 jalapeno pepper
1 sweet onion
1 cup frozen corn
1 packet taco seasoning
2 cups dry pasta such as macaroni or cellantani
2 cups salsa
1 cup milk
1 cup water
6 ounces Roth GranQueso grated
1 tablespoon chopped cilantro
Instructions
Dice the chicken into bite-sized pieces. Season with the cumin, salt, and pepper.

Add the oil to a deep 12 inch skillet and heat over medium heat.

When the oil is hot, add the chicken to the pan and cook, stirring occasionally, for 6 minutes.

Dice the jalapeno and onion and add to the pan with the chicken. Stir in the corn and taco seasoning and continue cooking for 4 minutes, stirring occasionally.

Add the pasta, salsa, milk, and water to the pan and stir well.

Bring to a boil, reduce to a simmer, and cover.

Cook for 12 minutes, stirring once halfway through.

Turn off the heat and sprinkle the grated cheese over the top of the pasta. Cover with the lid and let set for 2 minutes to melt the cheese.

Stir well and sprinkle the cilantro on top before serving.
Nutrition Information:
Calories: 537kcal (27%)| Carbohydrates: 59g (20%)| Protein: 39g (78%)| Fat: 17g (26%)| Saturated Fat: 7g (44%)| Cholesterol: 110mg (37%)| Sodium: 2782mg (121%)| Potassium: 1268mg (36%)| Fiber: 7g (29%)| Sugar: 17g (19%)| Vitamin A: 1890IU (38%)| Vitamin C: 18.9mg (23%)| Calcium: 294mg (29%)| Iron: 2.8mg (16%)