This pizza pasta bake combines two favorite family dinners – pizza and pasta – all in one dish! This pizza pasta is loaded with all of our favorite pizza toppings and it's easy to customize to suit your tastes.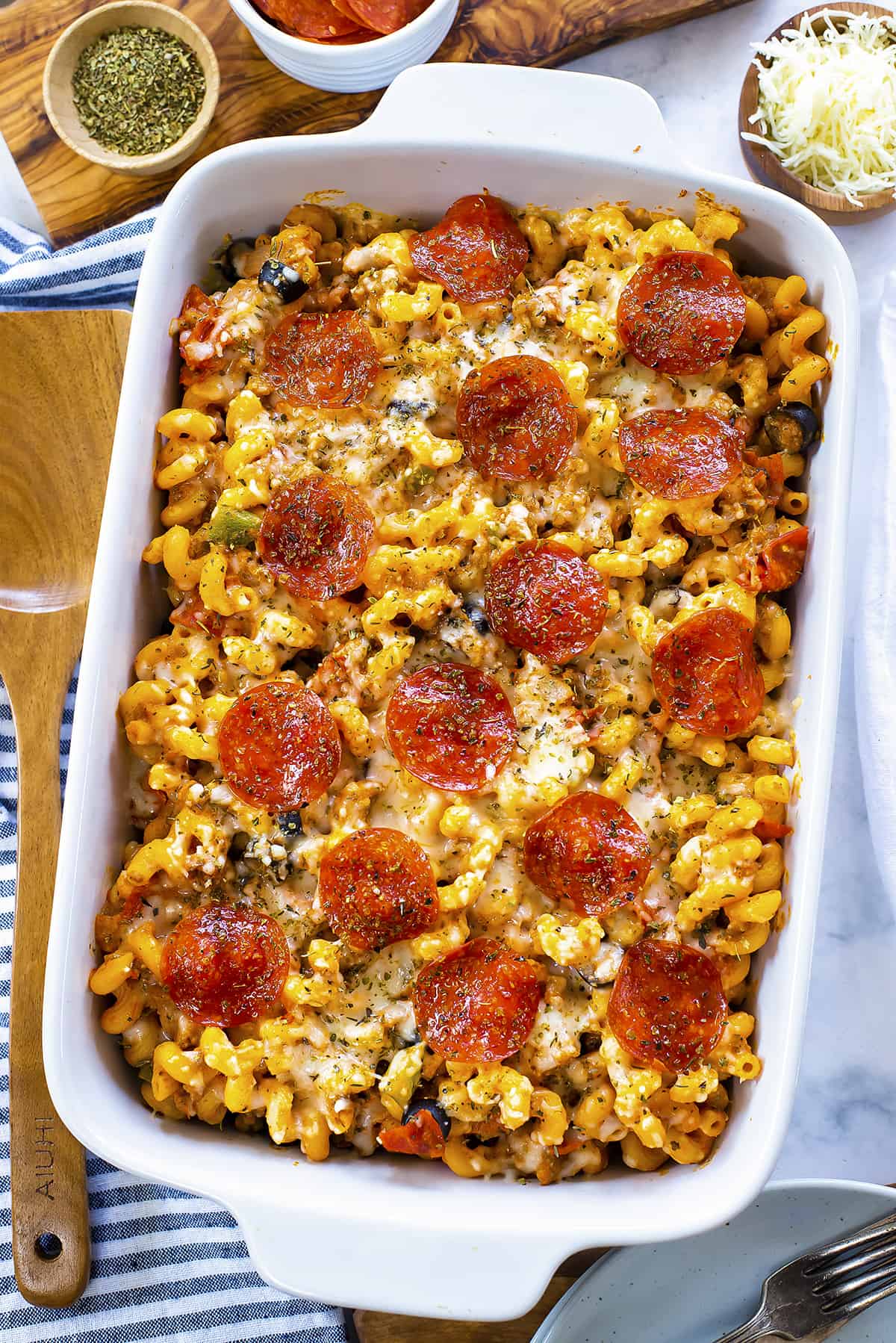 We have a few go-to meals in our house that I bet are favorites for most of you as well!
Pizza, of course. Pasta, obviously. Then there are the other usuals, like fried tacos or homemade sloppy joes that we make on repeat.
But, let's be honest. Pizza and pasta are guaranteed to be a weekly meal in our house, so I thought it would be fun to combine the two into one delicious cheesy pizza pasta bake.
We added our personal favorite toppings (hello, pepperoni that gets all crisped up, tender chunks of sausage, bits of onion and pepper, and a sprinkling of black olives) to this pizza pasta, but, like any good pizza, this is easy to customize to suit your tastes!
Another pizza favorite around here is our buffalo chicken pizza. And our pizza bread is a definite staple when it comes to easy lunches for the kiddos.
Pizza Pasta Ingredient Notes:
This post contains affiliate links. As an Amazon associate and member of other qualifying programs, I earn from qualifying purchases.
Pasta – We used cellentani pasta this time around (love how twirly it is), but we've also used penne, ziti, macaroni, farfalle, and campanelle. Basically any small shape will work well here!
Italian Sausage – You'll be cooking up a whole pound of ground Italian sausage to load this pizza pasta bake with flavor and protein.
Pepper & Onion – We like diced green pepper and sweet onion with our pizza so I'm adding those into the dish too. You can use any color of bell pepper or variety of onion that you prefer and you can definitely leave these out for picky eaters.
Pepperoni – A requirement for any pizza recipe in our house! You can buy the pre-sliced pepperoni or even buy a stick and slice your own if you want to get fancy.
Black Olives – Another favorite pizza topping of ours and an easy ingredient to mix into this dish. You could use green olives too or swap these out for something else.
Marinara – We're using marinara rather than pizza sauce. While you definitely could use pizza sauce, we find it a bit overpowering in pasta. Highly recommend Rao's brand, regardless of if you choose pizza sauce or marinara. It's the best jarred sauce we've found, though it can be a bit spendy.
Cream Cheese – This adds a nice creamy richness to the pasta sauce. The final dish won't taste like cream cheese, so don't worry about picky eaters here.
Mozzarella Cheese – Would it really be a pizza recipe without lots of melty mozzarella? I'd recommend grating your own for this!
Italian Seasoning – It's got all the right herbs and spices for pizza and pasta!
What We Love About This Recipe:
Comfort Food: Pizza and pasta are two foods that everyone loves for a quick comfort food meal. Combining them just ups the yum.
Family-Friendly: This combination of pizza and pasta is a kid's dream come true. They'll be asking for seconds, guaranteed.
Cheesy Saucy Goodness: The combination of melty cheese and rich tomato sauce make an irresistible combination, especially when paired with your favorite pizza toppings and tender pasta.
Meal Prep: This dish reheats like a dream and is perfect for meal prep!
How To Make Pizza Pasta Bake:
Italian Sausage: Start cooking the sausage in a skillet on medium heat until it is only lightly pink in color, then dice up the green pepper and onion and add them in with the sausage. Heat until the sausage is cooked through.
Sauce: When the sausage is ready cut the pepperoni into bite sized pieces and add it along with the olives, cream cheese, and pasta sauce to the skillet with the sausage. Cook over low heat until the cream cheese has melted and the meat mixture is nice and saucy.
Assemble: Add cooked pasta to the pot and give it a stir to combine. Pour half of that mixture into a 9×13 baking dish and sprinkle with half of the mozzarella. Top with the remaining half of the pasta, the rest of the mozzarella, and a few slices of pepperoni for good measure. Sprinkle with the Italian seasoning and pop this in a hot oven for 25 minutes to melt the cheese.
Serving Suggestions:
What goes better with pizza than a nice, fresh, green salad?
A green salad topped with homemade dressing, of course!
You'll want to give our keto ranch dressing or Greek dressing a try. So fresh and flavorful.
Pizza Pasta Topping Ideas:
We love a good pizza loaded with toppings! This pizza pasta is just as versatile as a traditional pizza and you can add whatever toppings you like right in with the pasta and sauce.
Here are a few ideas:
Canadian Bacon
Ham
Ground Beef
Bacon
Diced, Cooked Chicken
Green Olives
Mushrooms
Jalapenos
Tomatoes
Pineapple
Sun-dried Tomatoes
Spinach
Green Onion
FAQ's:
What is a pasta bake?
It's pretty much any dish with pasta and sauce that is baked! Pizza pasta bake is a dish made by combining pasta, sauce, pizza toppings, and cheese, then baking it in the oven until the cheese is melted and bubbly.
What pizza toppings can I add to a pizza pasta bake?
Any pizza toppings that you'd normally use on a pizza can be added to this baked pasta dish!
How to store pizza pasta bake?
If you've got leftovers either wrap the dish well in plastic wrap or transfer it to an airtight container and store in the fridge for up to 3 days. The texture of the pasta will probably change a bit after reheating.
MORE PIZZA & PASTA RECIPES!
Pizza Pasta
This pizza pasta bake is loaded with all of your favorite pizza toppings for a quick dinner that your whole family will gobble up.
Prep10 minutes
Cook30 minutes
Total40 minutes
Ingredients
1 pound pasta any small shape will work
1 pound Italian sausage
1 green pepper
1/2 sweet onion
4 ounces pepperoni slices
2 ounces sliced black olives
2 ounces cream cheese
24 ounces pasta sauce
2 cups shredded mozzarella cheese
1/2 teaspoon Italian seasoning
Instructions
Bring a large pot of salted water to a boil and cook the pasta for one minute less than the package directions state.

While the pasta is boiling, add the sausage to a large skillet over medium heat. Cook for 2-3 minutes to break up the sausage.

Dice the green pepper and onion and add to the sausage. Continue cooking until the meat is cooked through. Drain the grease from the sausage.

Cut most of the pepperoni slices into quarters, reserving a few for adding to the top of the pasta.

Add the pepperoni, olives, cream cheese, and pasta sauce to the pan with the sausage and heat over low heat until warmed through and cheese is melted.

When the pasta is done, drain and return to the pan. Stir the sausage mixture into the pasta and stir to coat the pasta.

Add half of the pasta mixture to a 9×13 baking dish and top with half of the mozzarella cheese. Repeat with the remaining pasta and mozzarella.

Sprinkle with the Italian seasoning and place a few pepperoni slices on top.

Bake in a preheated 350 degree oven for 25 minutes or until the cheese is melted and the pasta is heated through.

Serve hot.
Tips & Notes:
We used cellentani pasta in these photos, but macaroni, ziti, penne, campanelle, and farfalle all work great as well. We highly recommend Rao's sauces. They're a bit spendy, but they're our favorite jarred sauce on the market. Feel free to adjust the pizza 'toppings' as you'd like. We included a list of ideas in the blog post.
Nutrition Information:
Calories: 627kcal (31%)| Carbohydrates: 51g (17%)| Protein: 26g (52%)| Fat: 35g (54%)| Saturated Fat: 14g (88%)| Polyunsaturated Fat: 4g| Monounsaturated Fat: 14g| Trans Fat: 0.2g| Cholesterol: 86mg (29%)| Sodium: 1355mg (59%)| Potassium: 647mg (18%)| Fiber: 4g (17%)| Sugar: 7g (8%)| Vitamin A: 738IU (15%)| Vitamin C: 20mg (24%)| Calcium: 196mg (20%)| Iron: 3mg (17%)
This recipe was originally published in April 2014. It was updated with new photos in May 2023.