This easy one pot spaghetti recipe couldn't be simpler! The meat, sauce, and pasta all cook together in one pot for the perfect spaghetti dinner!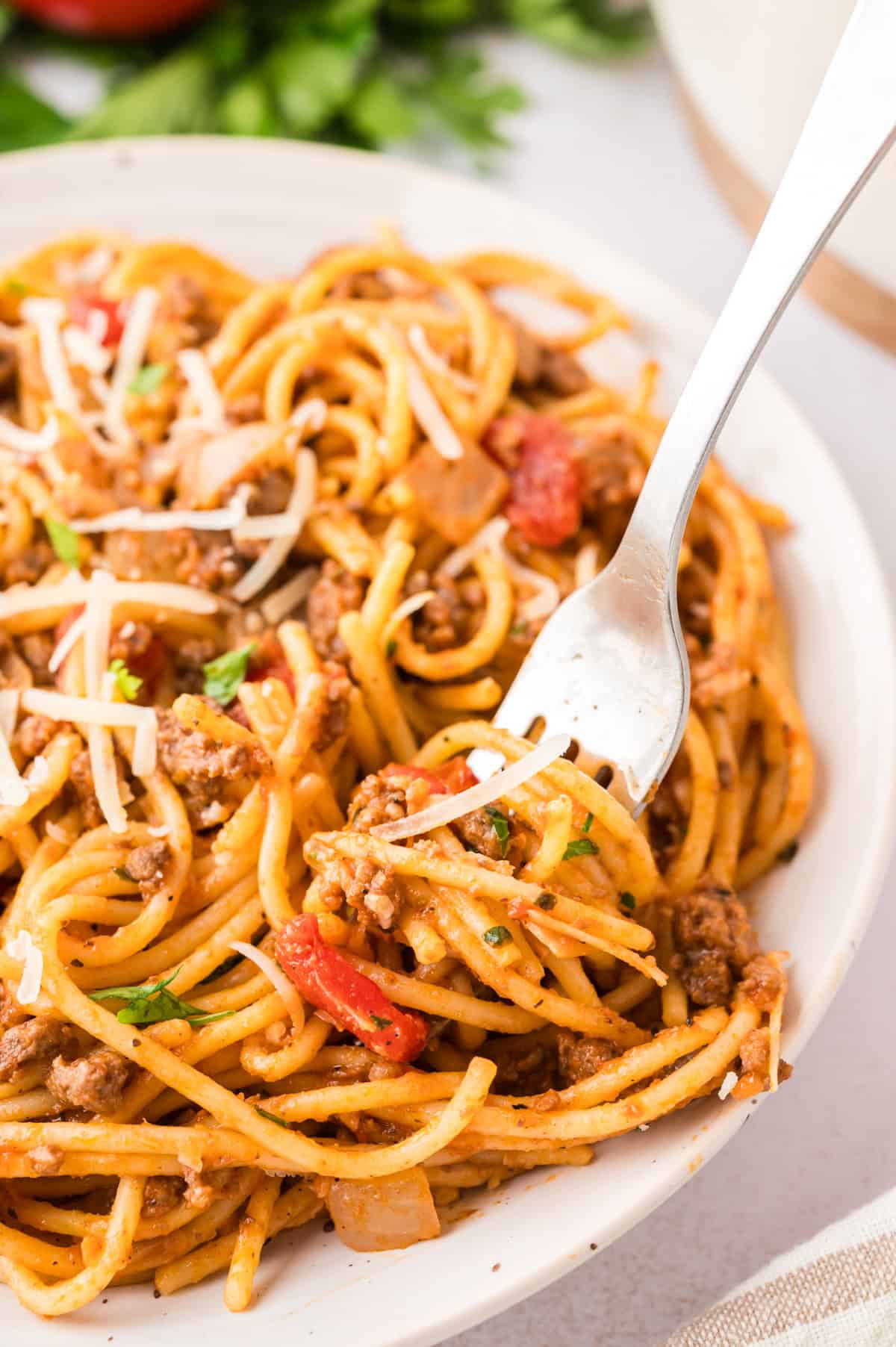 Growing up, spaghetti was always a go to recipe for my parents.
It was actually never one of my favorites, probably because we ate it fairly often.
My parents went with the route of a box of spaghetti noodles, a bit of ground beef, and a jar of spaghetti sauce.
That's fine. It tastes okay. I'm not needing anyone to spend 30 hours slaving over a pot of simmering tomato sauce, but I just don't get super excited about that recipe, you know?
My kids, however, LOVE spaghetti and would happily eat it all the time.

Between my baked spaghetti, chicken spaghetti, and our taco spaghetti recipe, we do a fair amount of spaghetti in this house. 😉
This one pot spaghetti is perfect for busy nights – you brown the beef, dump in the sauce ingredients, and add the dry noodles right to the sauce! As they cook in the sauce, they soak up all the flavors and the mixture thickens up and turns into the perfect one pot spaghetti dinner!
Ingredient Notes:
This post contains affiliate links. As an Amazon associate and member of other qualifying programs, I earn from qualifying purchases.
Noodles – We're using spaghetti noodles, but you could switch things up and use fettucine or linguine, if that's what you have on hand.
Spaghetti Sauce – We're using a mixture of tomato sauce, diced tomatoes, and water to make our sauce.
Seasoning – Add flavor by stirring in onion, garlic, and Italian seasoning.
Ground Beef – I always use ground beef in my spaghetti, but you can use a mix of beef, veal, sausage – whatever you like!
Topping – To finish this one pot spaghetti recipe you'll top it of with some Parmesan cheese and freshly chopped parsley!
Why should you add sugar to spaghetti sauce?
A pinch or two of sugar helps cut the acidity of the tomatoes and balances out the flavors of the sauce. We're just using a small amount, so not too worry – your spaghetti sauce won't taste like dessert!
What Readers are Saying!
"This recipe is awesome! I used to just boil noodles and add ground beef to some jarred spaghetti sauce and call it a day – this is MUCH tastier and even easier because it's all done in one pot. Even my Italian boyfriend gave it a thumbs up." – Alison
How to Make One Pot Spaghetti:
Beef: Brown the beef, onions, and garlic until cooked through.
Spaghetti Sauce: Stir in the tomato sauce, undrained canned tomatoes, and some water.
Season: Stir in the Italian seasoning, salt, pepper, and sugar and bring the sauce to a boil.
Spaghetti Noodles: Add the noodles directly to the boiling sauce. We break them in half to make sure they fit nicely. Cook until al dente.
Serve: Stir the spaghetti to make sure everything is all mixed up and then stir in some shredded Parmesan and minced parsley before serving.
Helpful Tip!
Spice up your sauce by stirring in some red pepper flakes!
FAQs:
How long does leftover spaghetti last?
Store your leftover spaghetti in the fridge, tightly covered, for 3-5 days. Reheat in the microwave when ready to enjoy.
How do you make spaghetti taste better?
Be sure to use fresh ingredients, like onion and garlic. Stir in a splash of red wine. Add fresh herbs to taste. Drop a pat of butter into the finished spaghetti before serving – the richness of the butter is delicious!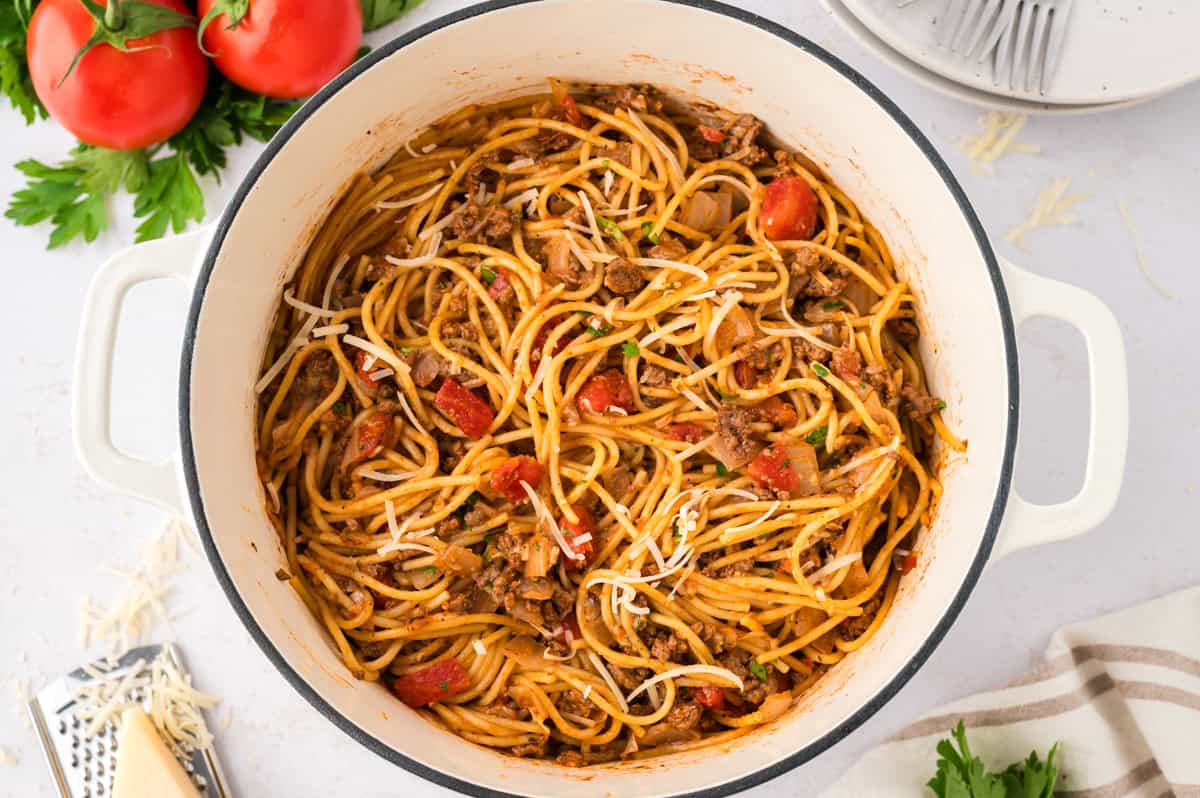 Serving Suggestions:
Nothing beats a pile of spaghetti served alongside our cream cheese garlic bread.
Serve next to our fresh vegetable salad or make a green salad topped with our keto ranch dressing or this homemade Italian dressing.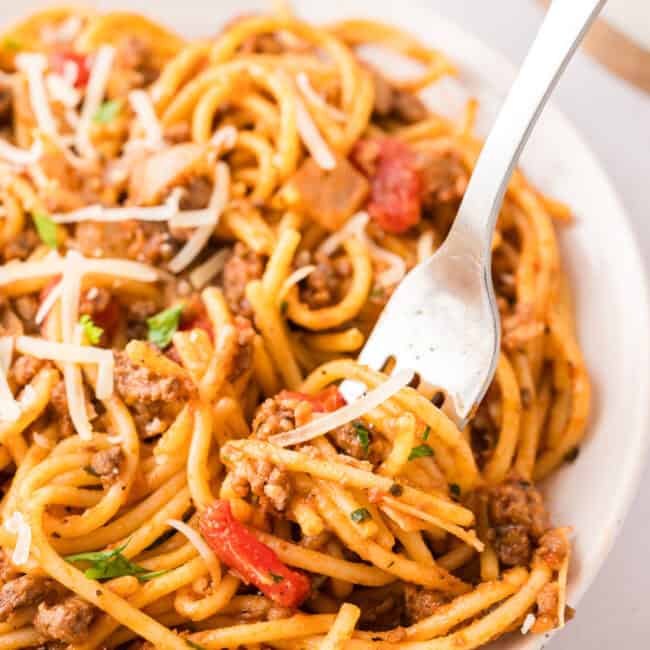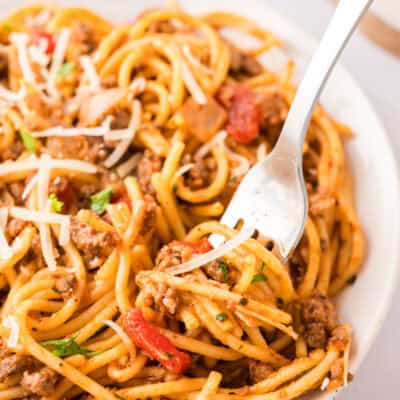 One Pot Spaghetti
This easy spaghetti recipe is made in just one dish for minimal clean up! I love the way the spaghetti sauce soaks into the noodles as they cook.
Prep5 minutes
Cook25 minutes
Total30 minutes
Ingredients
1 pound lean ground beef
1 sweet onion diced
5 cloves garlic minced
15 ounces canned tomato sauce
15 ounces canned diced tomatoes
2 3/4 cup water
1 tablespoon Italian seasoning
1 teaspoon salt
1 teaspoon pepper
1 teaspoon sugar
12 ounces dried spaghetti noodles
3/4 cup shredded Parmesan cheese
2 tablespoons fresh chopped parsley
Instructions
Add the ground beef and onion to a large dutch oven over medium heat and cook until browned. Drain the grease.

Add the garlic to the pan and cook for 30 seconds, stirring constantly.

Stir in the tomato sauce, undrained canned tomatoes, and water. Add the Italian seasoning, salt, pepper, and sugar. Bring to a boil over medium heat.

Once boiling, break the spaghetti in half and add to the pot. Stir to submerge the noodles in the liquid.

Return to a boil, reduce to a simmer, and cover.

Cook, stirring occasionally, for 10-12 minutes or until noodles are cooked through.

Sprinkle the Parmesan cheese and parsley over the top and stir to combine.

Serve immediately.
Tips & Notes:
We break our spaghetti in half to be sure it's submerged in the sauce. You can skip this step, but you'll want to be sure you get those noodles covered in the liquid so they cook evenly. Taste the spaghetti before serving and stir in additional herbs and spices to add more flavor, if you like a more robust sauce.
Nutrition Information:
Calories: 483kcal (24%)| Carbohydrates: 56g (19%)| Protein: 28g (56%)| Fat: 16g (25%)| Saturated Fat: 6g (38%)| Cholesterol: 62mg (21%)| Sodium: 1116mg (49%)| Potassium: 826mg (24%)| Fiber: 4g (17%)| Sugar: 9g (10%)| Vitamin A: 625IU (13%)| Vitamin C: 16.7mg (20%)| Calcium: 227mg (23%)| Iron: 4.4mg (24%)
This recipe was originally published in February 2018. It was updated with new photos in February 2022.