I have an easy spaghetti recipe for you guys that's cooked in just one pot! It takes an already simple meal and makes it even quicker with less clean up!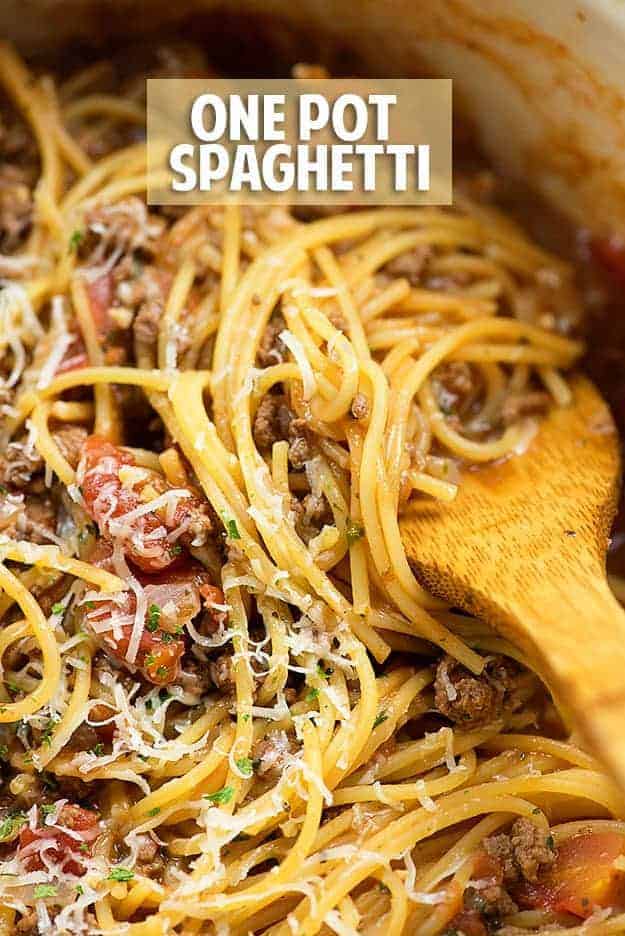 Growing up, spaghetti was always a go to recipe for my parents.
It was actually never one of my favorites, probably because we ate it fairly often.
My parents went with the route of a box of spaghetti noodles, a bit of ground beef, and a jar of spaghetti sauce.
That's fine. It tastes okay. I'm not needing anyone to spend 30 hours slaving over a pot of simmering tomato sauce, but I just don't get super excited about that recipe, you know?
My kids, however, LOVE spaghetti and would happily eat it all the time.

We do a lot of my baked spaghetti. It's full of cream cheese, cottage cheese, and sour cream. Sounds weird, but it's so decadent.
I just like to doctor things up, including spaghetti!
But, sometimes you need a really quick easy spaghetti recipe and you don't want to bust out a jar of sauce or dirty any extra dishes. Totally cool. I get it.
Boiling water for pasta is actually one of my least favorite things to do in the kitchen, which I know is silly. It just seems to take forever when you're waiting on water to boil.
This spaghetti recipe is extra easy because everything happens in one pot. Don't you love recipes like that?
I always use ground beef in my spaghetti, but you can use a mix of beef, veal, sausage – whatever you like.
Onions, garlic, and Italian seasoning add flavor to this recipe. Feel free to add more or less to your personal tastes. I sometimes go way crazy on the garlic. It's tasty, but we all stink for the next couple of days. 😉
This easy spaghetti recipe is cooked in just one pot for minimal clean up and maximum flavor.
I use canned tomato sauce and canned diced tomatoes to keep things simple. If you have homemade tomato sauce, it should work just fine here.
Dried noodles get added right into the spaghetti sauce and boiled.
I love the way the noodles soak up the flavors of the spaghetti sauce as they cook. It really helps amp up the flavor of the whole dish.
My kiddos love this easy spaghetti recipe.
My daughter especially likes spaghetti recipes, because she saw a video on Facebook where a man used a pair of scissors while eating long noodles to avoid having to slurp them up into his mouth.
She now requires scissors on the table at pasta night.
Kids are weird. And pretty entertaining, to be honest.
Anyway, whether you slurp your noodles or not, I hope you enjoy this simple one pot spaghetti!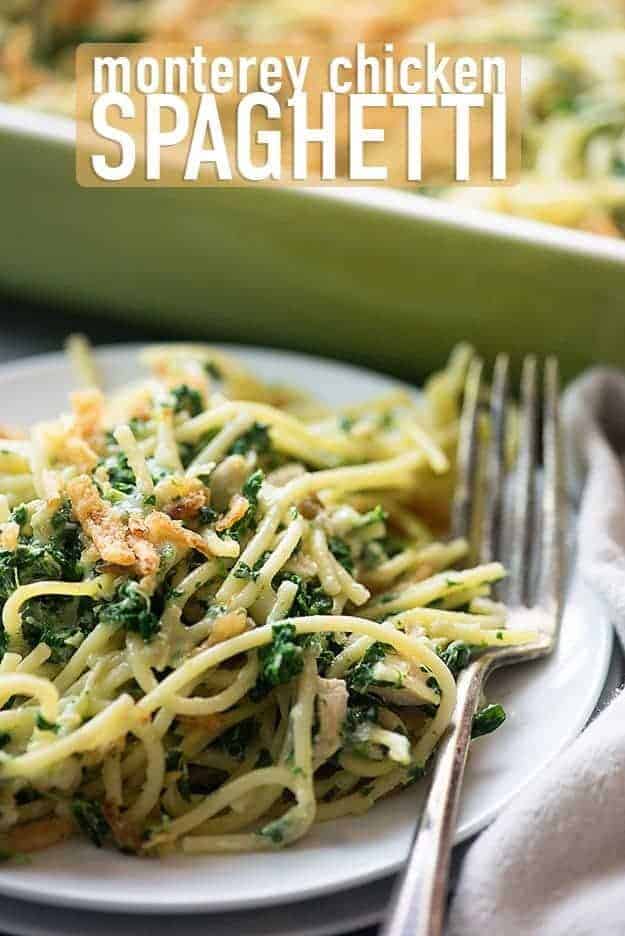 Have you tried my chicken spaghetti? It's a favorite around here too and it's full of spinach.
It's not quite as simple as this one pot spaghetti, but it's a nice way to use up those boxes of spaghetti noodles you have lurking in your pantry!
If you try this easy spaghetti recipe, I hope you'll let me know what you think! 🙂
One Pot Spaghetti
This easy spaghetti recipe is made in just one dish for minimal clean up! I love the way the spaghetti sauce soaks into the noodles as they cook.
Prep5 minutes
Cook25 minutes
Total30 minutes
Ingredients
1 pound 85/15 ground beef
1 sweet onion diced
5 cloves garlic minced
15 ounces canned tomato sauce
15 ounces canned diced tomatoes
2 3/4 cup water
1 tablespoon Italian seasoning
1 teaspoon salt
1 teaspoon pepper
1 teaspoon sugar
12 ounces dried spaghetti noodles
3/4 cup grated Parmesan cheese
2 tablespoons fresh chopped parsley
Instructions
Add the ground beef and onion to a large dutch oven over medium heat and cook until browned. Drain the grease.

Add the garlic to the pan and cook for 30 seconds, stirring.

Stir in the tomato sauce, undrained canned tomatoes, and water. Add the Italian seasoning, salt, pepper, and sugar. Bring to a boil over medium heat.

Once boiling, break the spaghetti in half and add to the pot. Stir to submerge the noodles in the liquid.

Return to a boil, reduce to a simmer, and cover.

Cook, stirring occasionally, for 10-12 minutes or until noodles are cooked through.

Sprinkle the Parmesan cheese and parsley over the top and stir to combine.

Serve immediately.
Nutrition Information:
Calories: 483kcal (24%)| Carbohydrates: 56g (19%)| Protein: 28g (56%)| Fat: 16g (25%)| Saturated Fat: 6g (38%)| Cholesterol: 62mg (21%)| Sodium: 1116mg (49%)| Potassium: 826mg (24%)| Fiber: 4g (17%)| Sugar: 9g (10%)| Vitamin A: 625IU (13%)| Vitamin C: 16.7mg (20%)| Calcium: 227mg (23%)| Iron: 4.4mg (24%)