If you're looking for a CREAMY GARLIC PASTA RECIPE, this is the one! It's an easy one pot dish that's full of Parmesan and garlic and ready in just 20 minutes!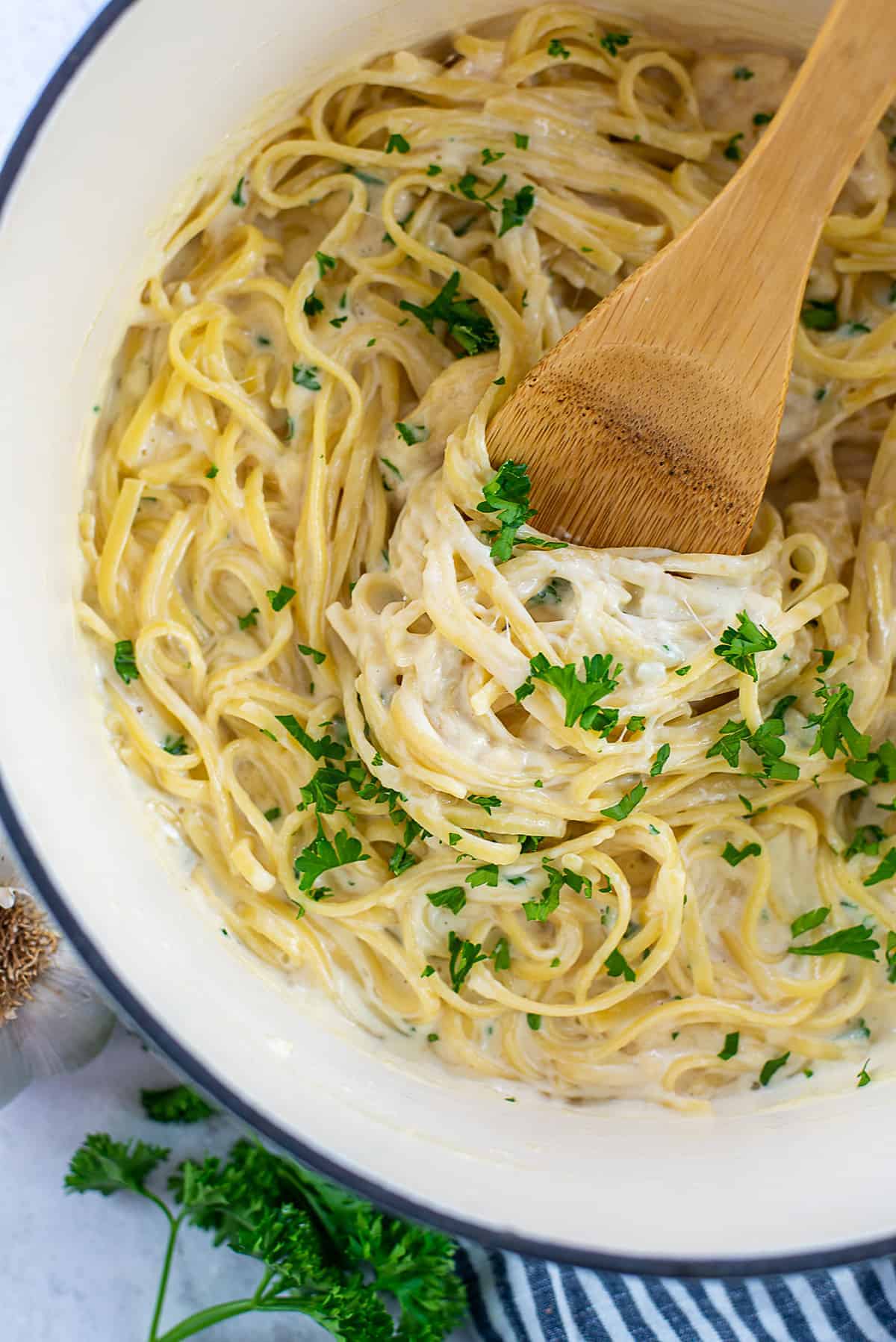 I'm basically physically incapable of resisting a recipe that has the word creamy in the title.
I mean, no. I can not pass it up.
If it's creamy, I will eat it. (Go ahead. Make the that's what she said joke. I deserve it.)
Anyway, I was pinning all the things one day, when I came across this recipe for Creamy Garlic Pasta from The Cheese Pusher and it sounded like a simple, flavorful dinner that would be pretty much perfect for a cheesy, creamy, garlic pasta lover like myself.
We love this dish because the noodles cook right in the sauce, giving them a ton of flavor without dirtying any extra dishes! The cream and cheese gets stirred in right at the end, no need to even drain the pasta. This is basically a one pot Alfredo and it's darn delicious.
If you love Alfredo sauce, you'll also want to try our homemade Alfredo sauce. It's so creamy and decadent!
Ingredient Notes: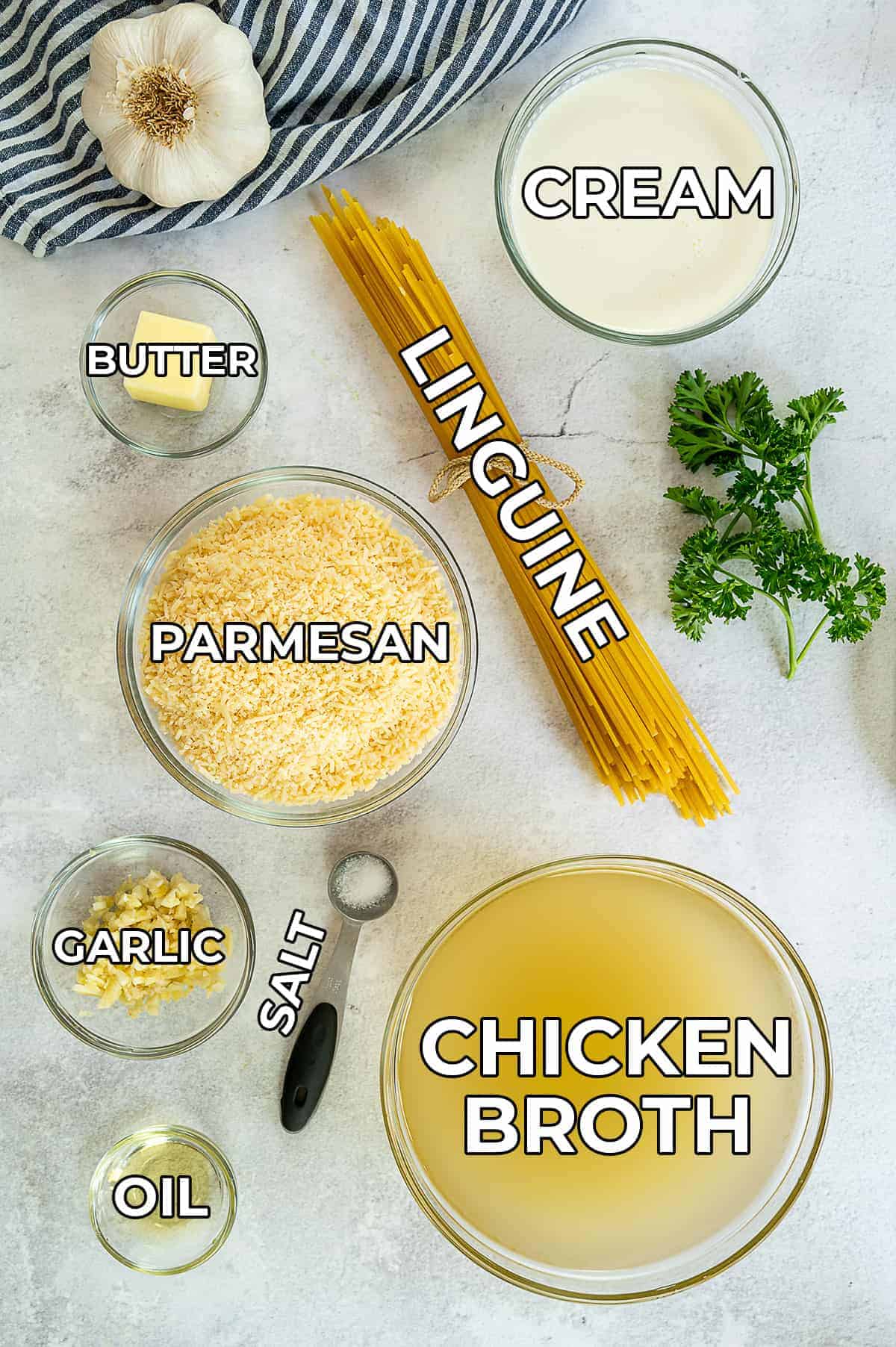 Linguine – Any shape of pasta should work here, but we love twirling strands of linguine on our fork.
Parmesan – Make sure to use the shredded stuff (in a bag, or shred your own) and not the powdery kind in the green can.
Heavy Cream – This is necessary for the rich, creamy sauce. You can try swapping for half and half, if you must, but the sauce won't be as thick creamy.
Chicken Stock – We're boiling the pasta in chicken stock to add extra flavor. Use vegetable broth if you'd like to keep this vegetarian.
How to make creamy pasta:
Melt your butter in a large stock pot. While it is melting, add in the olive oil and garlic. Cook for about one minute over medium heat.
Add salt and chicken stock to the pot and bring to a boil over high heat.
Add the pasta to the pot and cook according to directions. After cooking, remove about 1/4 cup of liquid from the pot and set it aside for later.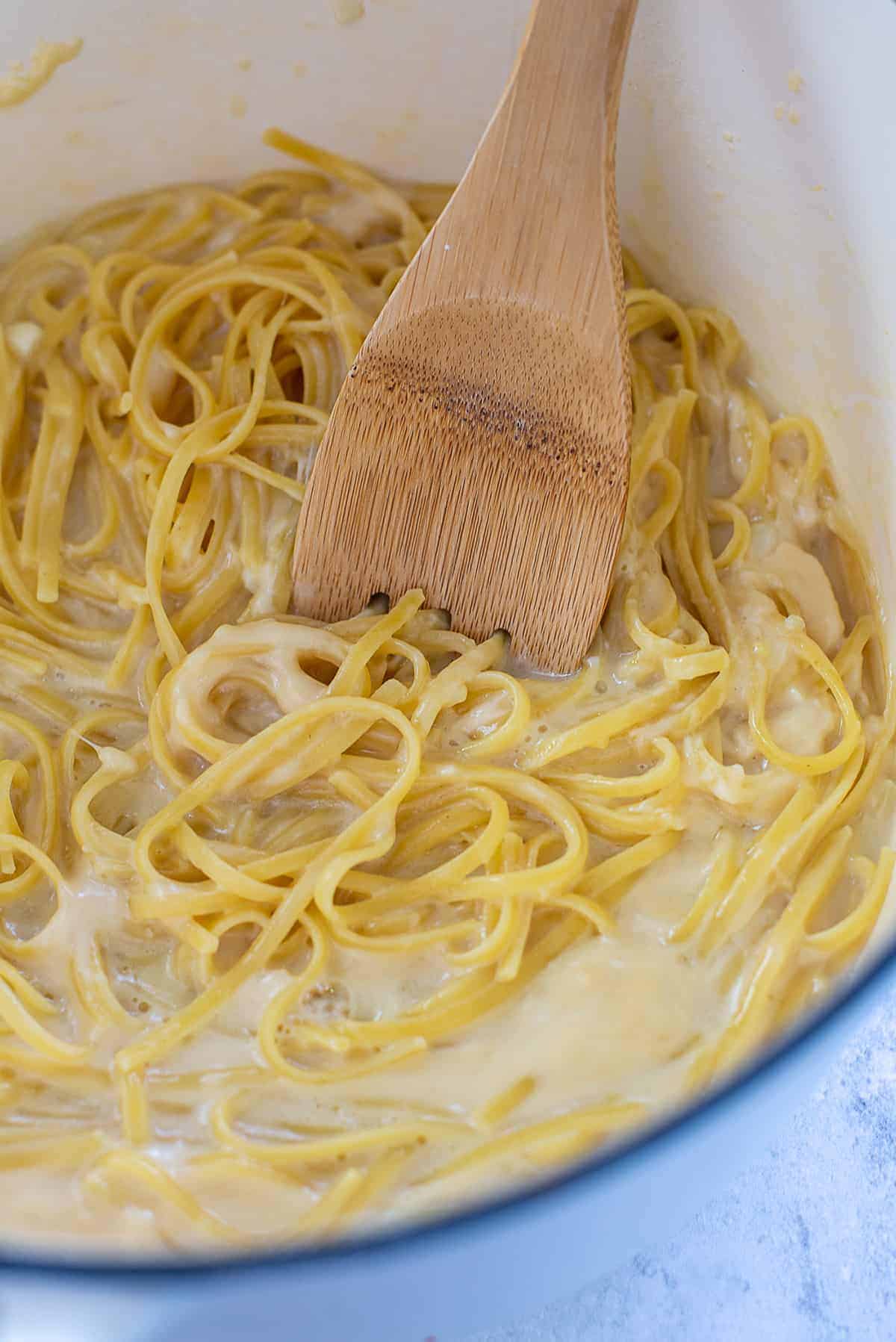 Helpful Tip!
Reserved Liquid:
We're removing about 1/4 cup of liquid from the pot to help get the right consistency for the sauce. You may want to add the liquid back in to thin the sauce or you may choose to discard it.
Reduce the heat to medium and add in cheese. Stir to combine it all. After the cheese is fully melted you can remove the pot from heat and stir in your heavy cream and parsley.
Give it a taste and stir in the reserved liquid if you'd like a thinner sauce. We like to keep our sauce thick and creamy, so we don't often add the reserved liquid back in, but we have it if we need it. If you're not using the liquid, just discard it.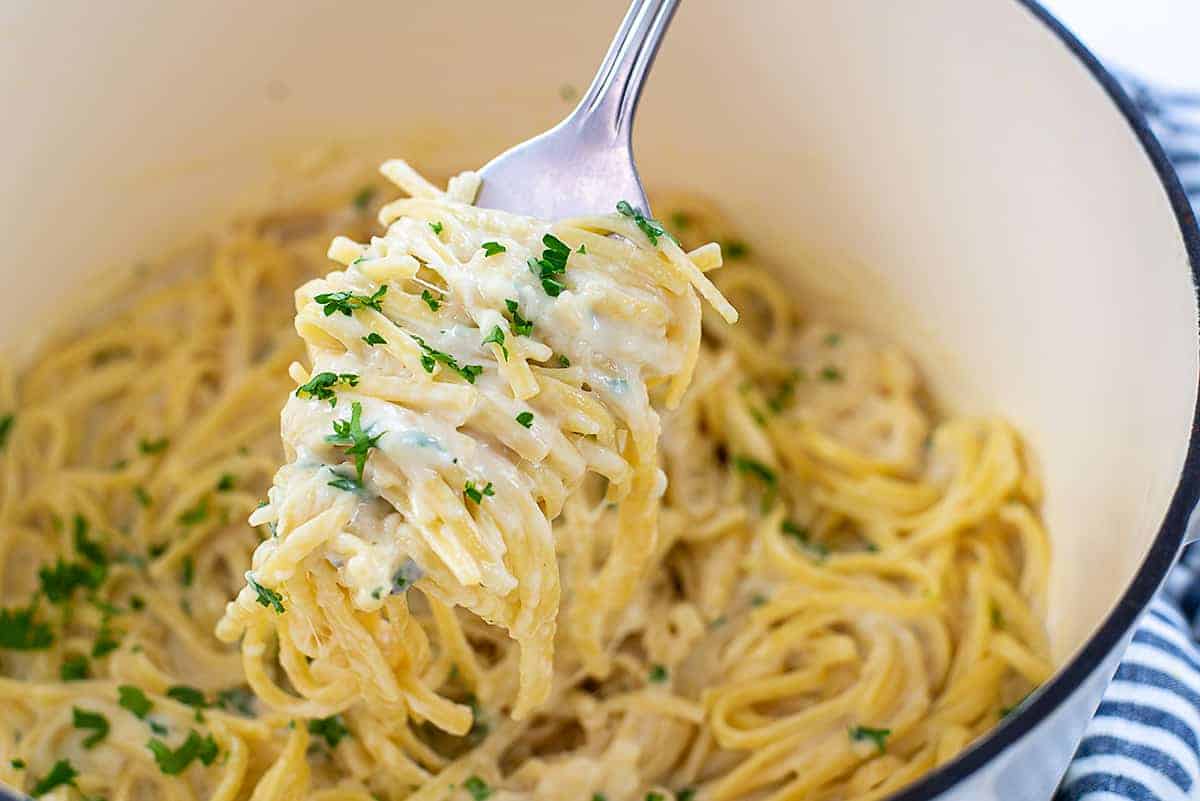 FAQ's:
Does this pasta recipe reheat well?
This creamy garlic parmesan pasta should be stored in the fridge, covered, for up to 3 days. It'll reheat well in the microwave. Be sure to stir halfway through cooking for even heating.
Can I add chicken to this dish?
Absolutely! Serve this creamy garlic parmesan pasta with sliced grilled chicken over the top, or stir cooked and cubed chicken into the pasta along with the cheese and cream.
What other seasonings can I add to this pasta dish?
We love Cajun seasoning paired with Alfredo sauce and it works well in this recipe too! Sprinkle with Cajun seasoning to taste (be careful – many brands are quite salty) just before serving.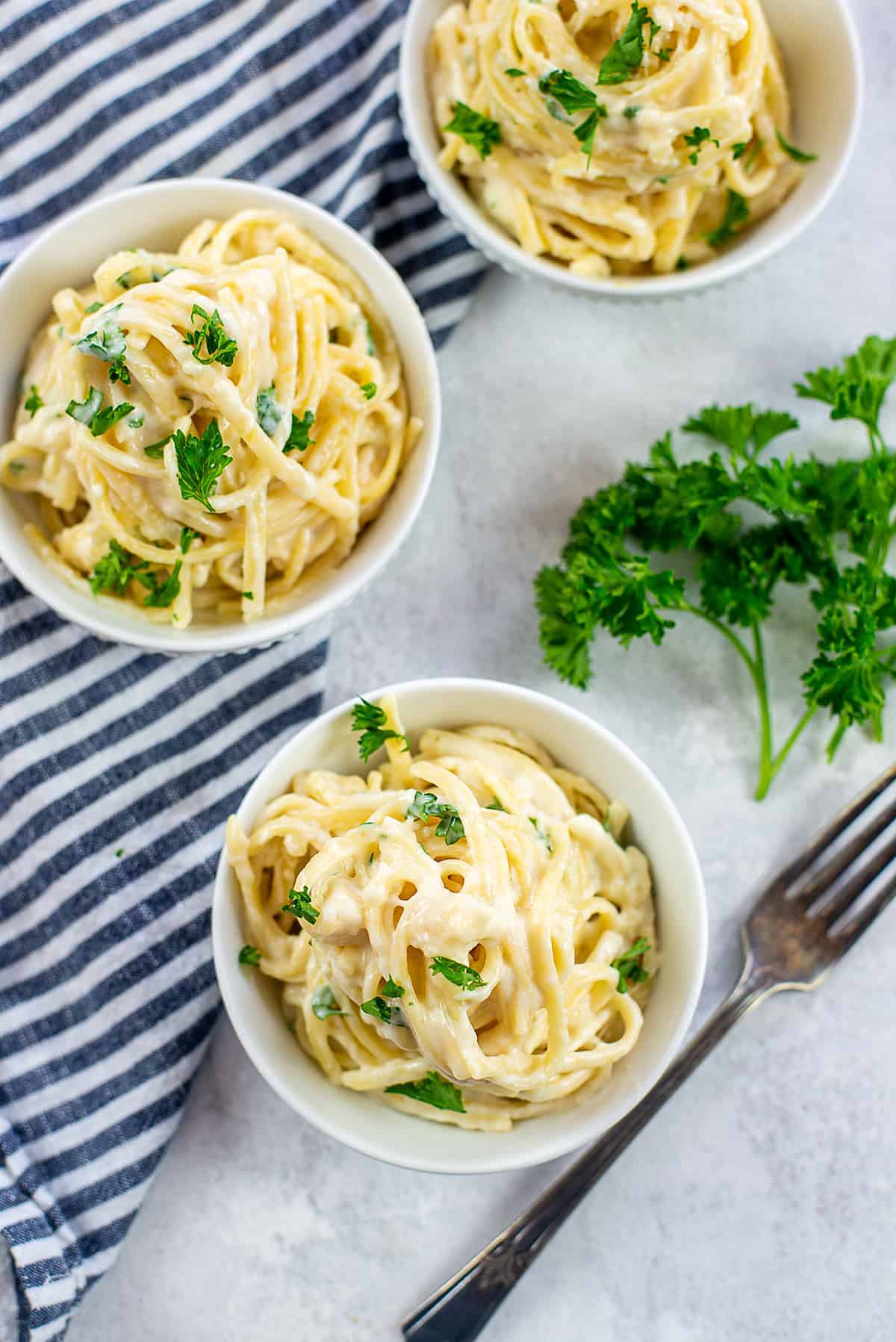 More pasta recipes to try: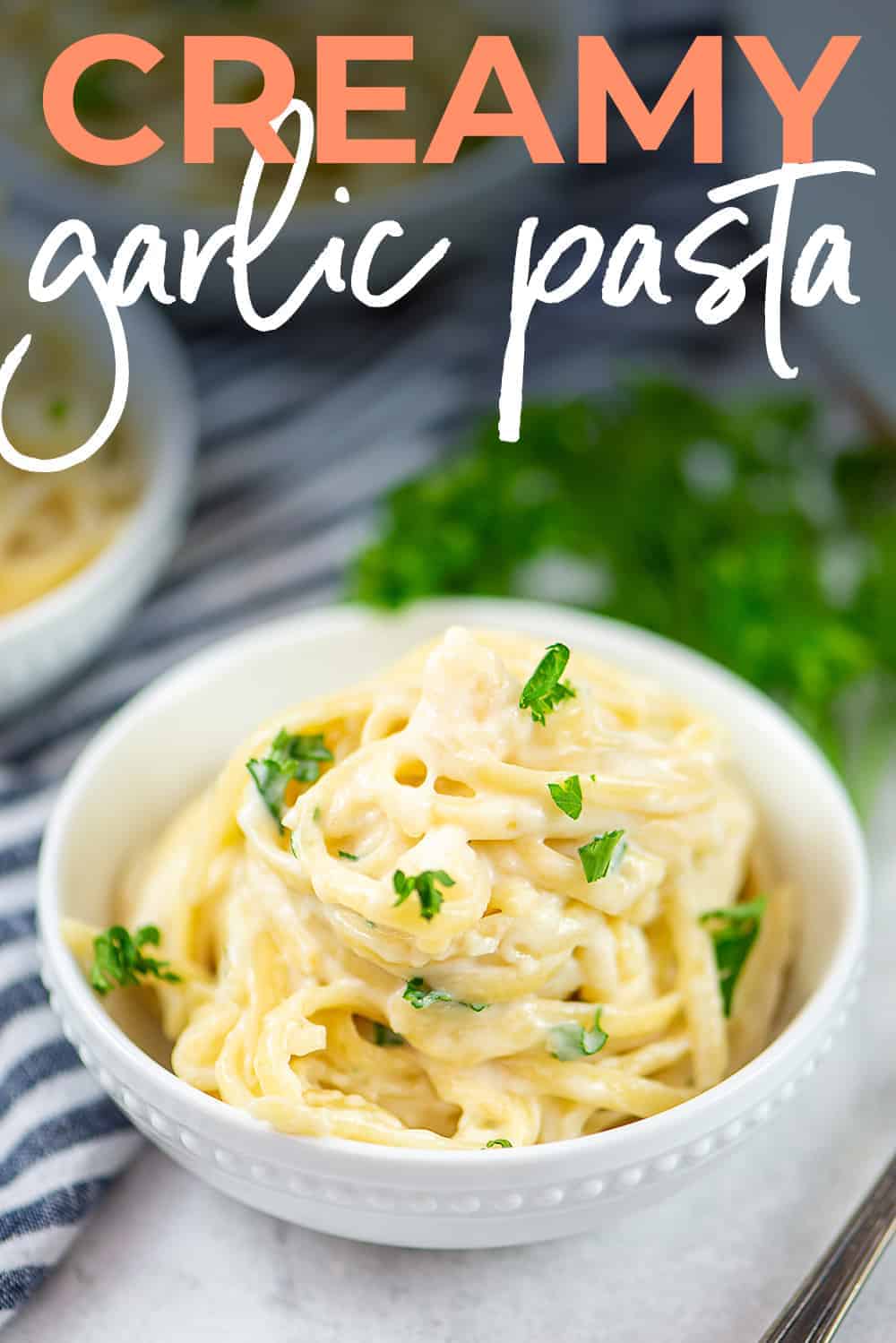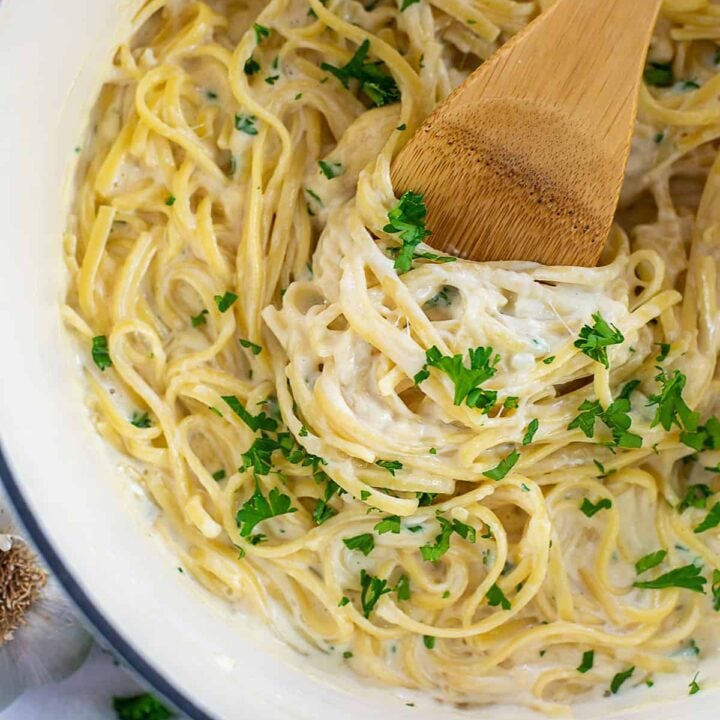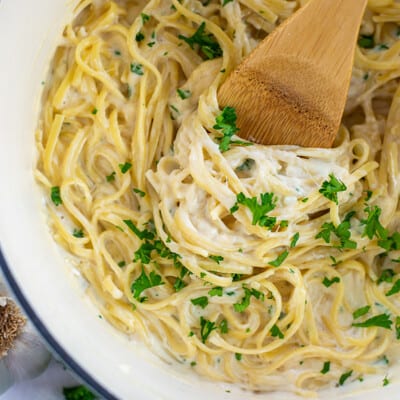 Creamy Garlic Pasta
We love that this creamy garlic pasta is cooked in just one dish in 20 minutes. It's perfect for a busy night and tastes so decadent!
Prep5 minutes
Cook15 minutes
Total20 minutes
Ingredients
2 tablespoons butter
2 teaspoons olive oil
4 cloves garlic minced
3 cups chicken stock
8 ounces linguine
8 ounces Parmesan cheese grated
3/4 cup heavy cream
2 tablespoons chopped fresh parsley
1/4 teaspoon salt
Instructions
In a large stock pot, heat the butter and olive oil over medium heat. When the butter has melted, add the garlic and cook until fragrant, about 1 minute.

Add the chicken stock to the pan. Raise the heat to high and bring the stock to a boil.

Add the linguine to the boiling liquid. Cook according to package directions. Use a measuring cup to remove 1/4 cup of the liquid from the pot and set aside.

Remove from the heat add the cheese to the pasta, stirring to combine.

When cheese has melted, stir in the cream, parsley, salt. Add the reserved liquid, if desired, to thin the sauce to your desired consistency.

Serve immediately.
Tips & Notes:
We serve this pasta as a side with grilled chicken. For a meatless main dish, it will serve 2-3 people.
Nutrition Information:
Calories: 543kcal (27%)| Carbohydrates: 33g (11%)| Protein: 35g (70%)| Fat: 28g (43%)| Saturated Fat: 10g (63%)| Cholesterol: 116mg (39%)| Sodium: 1079mg (47%)| Potassium: 618mg (18%)| Fiber: 1g (4%)| Sugar: 2g (2%)| Vitamin A: 815IU (16%)| Vitamin C: 21.4mg (26%)| Calcium: 63mg (6%)| Iron: 2.7mg (15%)