Our Baja Shrimp Tacos start with chili lime shrimp, a homemade slaw made with freshly shredded cabbage, and a drizzle of our creamy chipotle sauce. Everything gets topped off with pickled onions and fresh slices of jalapeno for a taco that packs a punch!
Y'all know how we feel about tacos around here and yeah, I'll be the first to admit that we're usually serving up the Midwestern classic…ground beef seasoned with a packet on a flour tortilla. 😉
But, sometimes we get a bit fancy, like with our fried tacos or turkey tacos.
These Baja Shrimp Tacos really amp up the taco goodness, though.
We season shrimp with a bit of chili powder and lime so the shrimp is packing some flavor all on it's own. Then we serve it in a charred corn tortilla and drizzle some creamy chipotle sauce over the homemade slaw. The pickled onions on top add the perfect touch to these shrimp tacos.
If you're looking for a simple recipe to serve to friends or family, this one is a definite winner. Serve next to our Mexican rice with some chips and mango avocado salsa.
Ingredient Notes:
This post contains affiliate links. As an Amazon associate and member of other qualifying programs, I earn from qualifying purchases.
For the shrimp:
Shrimp – You'll want to use fresh or frozen and thawed shrimp that has been peeled and deveined with the tails off.
Olive Oil – For sautéing the shrimp!
Seasoning – We'll keep it simple with a bit of chili powder, paprika, and lime juice. We try to use freshly squeezed lime juice whenever possible.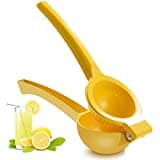 Citrus Juicer
Freshly squeezed lime and lemon juice is useful in lots of recipes, and this tool makes it easy and mess free.
For the coleslaw:
Cabbage & Carrots – You'll need shredded cabbage and carrots to prepare this homemade coleslaw. You can do that yourself with fresh carrots and a head of cabbage, or keep it simple and buy a packaged mix!
Cilantro – Some fresh, roughly chopped cilantro will add plenty of flavor to the slaw. It's optional if you don't like cilantro!
Jalapeno – The minced jalapeno is where most of the spiciness in this dish will come from. You can add more or less to taste!
Apple Cider Vinegar – The tangy sweet dressing for the coleslaw starts with some ACV. You could use regular white vinegar too if that's all you've got.
Honey – If you can find local honey I'd always recommend that first. Otherwise, any brand will work! We really enjoy this honey.
Salt – To help balance out the tangy and sweet flavors in the dressing.
For the assembly:
Tortillas – We prefer corn tortillas for this one, but you could also use flour tortillas. Charring the tortillas over an open flame (we toss them right on our gas stove) will add a little flavor to the tortilla and soften it up.
Pickled Onions – We love the taste of pickled red onion on pretty much any taco! They're a simple way to add big flavor.
Sauce – We're topping these Baja Shrimp Tacos with our Creamy Chipotle Sauce. It adds the perfect creamy spice to these tacos.
What We Love About This Recipe:
Fresh & Flavorful: These Baja shrimp tacos are bursting with zesty and fresh flavors, thanks to the cilantro, lime, jalapenos, and pickled onion.
Simple: Shrimp cooks quickly and easily and the slaw is quick to stir together!
Vibrant and Colorful: The combination of colorful ingredients, from the vibrant shrimp to the fresh toppings, creates an enticing and visually appealing dish.
Taco Truck Vibes: Enjoy the taste of street-style Baja shrimp tacos, as if you were dining from your favorite taco truck.
Customizable: These tacos are versatile and can be personalized with your favorite toppings, salsas, and sauces, allowing you to make them your own.

Cast iron skillets are my favorite! They heat so evenly, get piping hot for searing, and nothing is better than bacon fried in a cast iron skillet.
How To: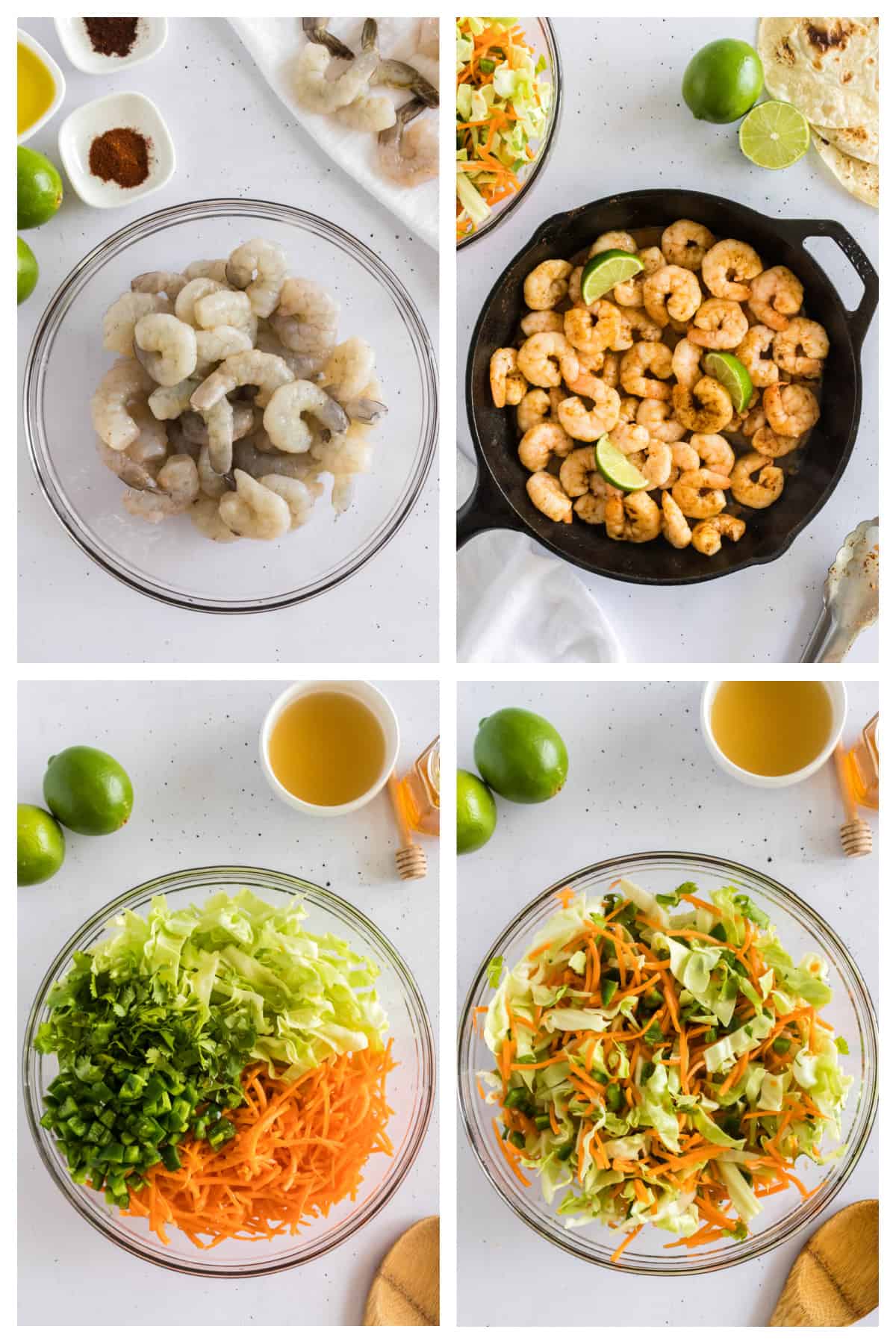 Prep: Pat the shrimp dry and heat a large heavy-bottomed skillet over medium high heat. Swirl in some oil.
Cook: Add the shrimp to the skillet and sprinkle with the chili powder and paprika. Cook on both sides until the shrimp are pink and cooked through. Squeeze lime juice over the cooked shrimp.
Coleslaw Mix: You're going to need a standard coleslaw mix of shredded cabbage and carrots. You can prepare these freshly yourself or use a bagged mix. Add that to a bowl with the minced jalapeno and chopped cilantro. Toss those together to combine.
Dressing: You can now start drizzling the apple cider vinegar and honey over the top of the coleslaw mix to make the tangy sweet dressing. Add some salt to taste and stir until it is all well combined. Set aside for now.
Assemble: Arrange the shrimp in your tortillas and top with the coleslaw, pickled onions, and creamy chipotle sauce. If you like extra spice, add a few thin slices of fresh jalapeno.
Pickled Onions in Minutes!
Making pickled red onions couldn't be easier! Thinly slice a red onion and place it in a bowl or mason jar. Cover with white or apple cider vinegar and let sit for 15-20 minutes. Use immediately or cover and store for up to 10 days.
Serving Suggestions:
Serve these up with our air fryer tortilla chips and homemade salsa, or some homemade guacamole!
We also enjoy serving these tacos with my easy refried beans.
You're also going to need something to wash all that down with, and what could be better than margaritas on the rocks?
FAQ's:
How to store Baja shrimp tacos?
If you have leftovers store the shrimp, coleslaw, and chipotle sauce in separate airtight containers in the fridge. The shrimp and slaw can last for about 4 to 5 days. The chipotle sauce should keep for up to 10.

Can I substitute/add ingredients?
You could turn these into Baja fish tacos by swapping out the shrimp for some flaky white fish like halibut, cod, or mahi mahi. Or try this with some coconut shrimp! You can also use any toppings you like.

Feel free to swap or add any ingredients that you like in this recipe.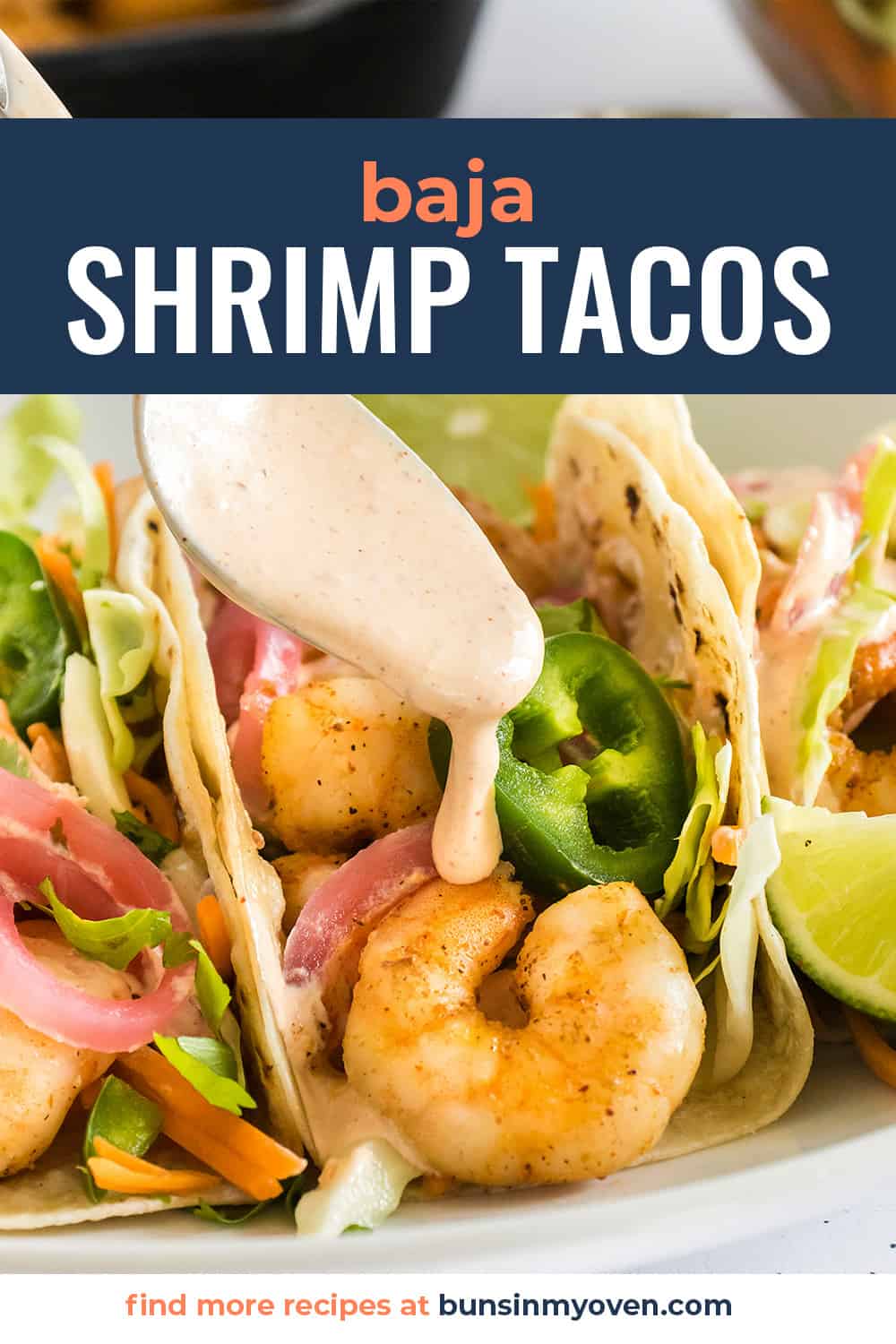 Baja Shrimp Tacos
These Baja Shrimp Tacos pack in a big punch of flavor, but only take about 20 minutes to prepare. The whole family loves the bright, fresh flavors happening here and I love how quickly they come together.
Prep15 minutes
Cook5 minutes
Total20 minutes
Ingredients
For the Shrimp:
2 pounds shrimp peeled and deveined, tails off
1 tablespoon olive oil
1/2 teaspoon chili powder
1/2 teaspoon paprika
4 teaspoons lime juice
For the Slaw:
2 cups shredded cabbage
2 cups shredded carrots
1/2 bunch cilantro roughly chopped
1 small jalapeno minced
2 tablespoons apple cider vinegar
1 tablespoon honey
1 teaspoon salt
For assembly:
Pickled onions
Corn or Flour Tortillas
Instructions
To prepare the shrimp:
Pat shrimp dry with a paper towel. Heat a cast iron skillet over medium high heat.

Coat the bottom of the skillet with olive oil and add the shrimp in a single layer (if all the shrimp don't fit, cook in batches), sprinkle the chili powder and paprika evenly over shrimp and cook both sides until pink and cooked through (about 2 minutes per side). Squeeze the lime juice over the shrimp and set aside.
To make the slaw:
In a large mixing bowl, toss together the shredded cabbage, shredded carrots, cilantro, and jalapeno. Drizzle the apple cider vinegar and honey over the top, sprinkle with salt, and stir until evenly coated. Set aside.

Drizzle the apple cider vinegar and honey over the top, sprinkle with salt, and stir until evenly coated. Set aside.
To assemble:
Assemble tacos by adding shrimp on a tortilla and topping with the cabbage slaw and pickled onions, followed by a drizzle of creamy chipotle sauce. Enjoy!
Tips & Notes:
If preferred, the shrimp can be grilled instead of cooked on a skillet. Toss the shrimp in a bowl with olive oil and paprika and chili powder before putting on the grill. Once its finished, drizzle the lime juice over the shrimp. We prefer to serve these on charred tortillas. Toss them directly over an open flame (your grill or your gas stove) and cook until browned spots appear. This only takes a minute and adds flavor to the tortilla while softening it up. To make the pickled onions, thinly slice a red onion and place in a bowl or mason jar with enough vinegar to cover. Let sit for 15-20 minutes before using.
Nutrition Information:
Serving: 3tacos| Calories: 136kcal (7%)| Carbohydrates: 13g (4%)| Protein: 1g (2%)| Fat: 9g (14%)| Saturated Fat: 3g (19%)| Polyunsaturated Fat: 1g| Monounsaturated Fat: 4g| Cholesterol: 17mg (6%)| Sodium: 640mg (28%)| Potassium: 279mg (8%)| Fiber: 2g (8%)| Sugar: 9g (10%)| Vitamin A: 11176IU (224%)| Vitamin C: 10mg (12%)| Calcium: 55mg (6%)| Iron: 0.4mg (2%)