If you've ever wondered how to make taco soup, have I got the recipe for you! This is an easy taco soup recipe and my kids absolutely loved it. Everyone went back for seconds.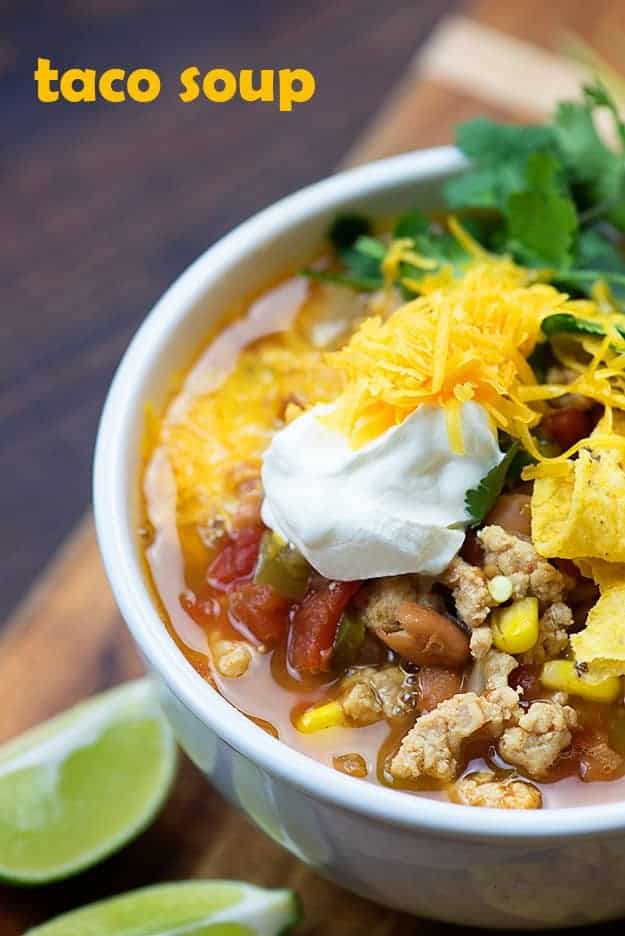 Friends, I have a little bit of news.
Okay.
It's not news. Y'all probably already know this about me.
I am obsessed with tacos.
Like, majorly obsessed.
This week I meal prepped a big batch of this easy taco soup for lunches and a big batch of my slow cooker chicken tacos for quick dinners on the nights we were busy.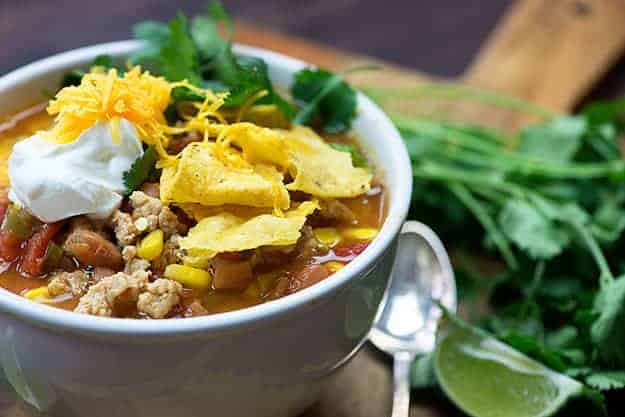 I basically ate some form of taco every single day this week and you know what? I only regret that I didn't think to make scrambled egg tacos for breakfast each morning to really bring the week home.

I told you I was obsessed.
My husband has a tendency to get a little sick of Mexican food, especially if we're eating out. He's a bit picky and ethnic food can be a challenge for him.
Luckily, he loves my taco casserole, taco chili, and fried tacos. It's not like we have a shortage of tacos around here. I guess I'll keep the man.
We all ate this easy taco soup and went back for seconds!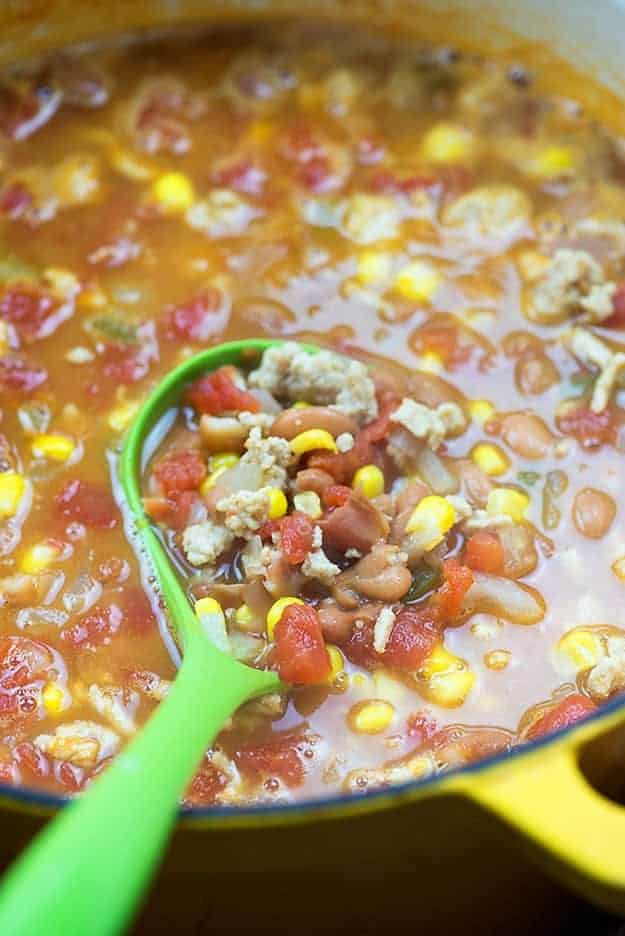 So, I have been sharing low carb recipes on here off and on for the last year or two and they always go over so well! You guys really seem to love them.
Curious what y'all would think about a sprinkling of Weight Watchers recipes mixed in?
Whether you're on the Weight Watchers plan or not, the recipes are great for people trying to eat a little lighter. Their plan seems to focus heavily on lowering fat and calories with a nod towards whole foods over processed foods. <– From my very limited research of being on the plan for a week now. 😉
So, this is actually Weight Watchers taco soup. And, y'all, it's zero points on the new Freestyle plan.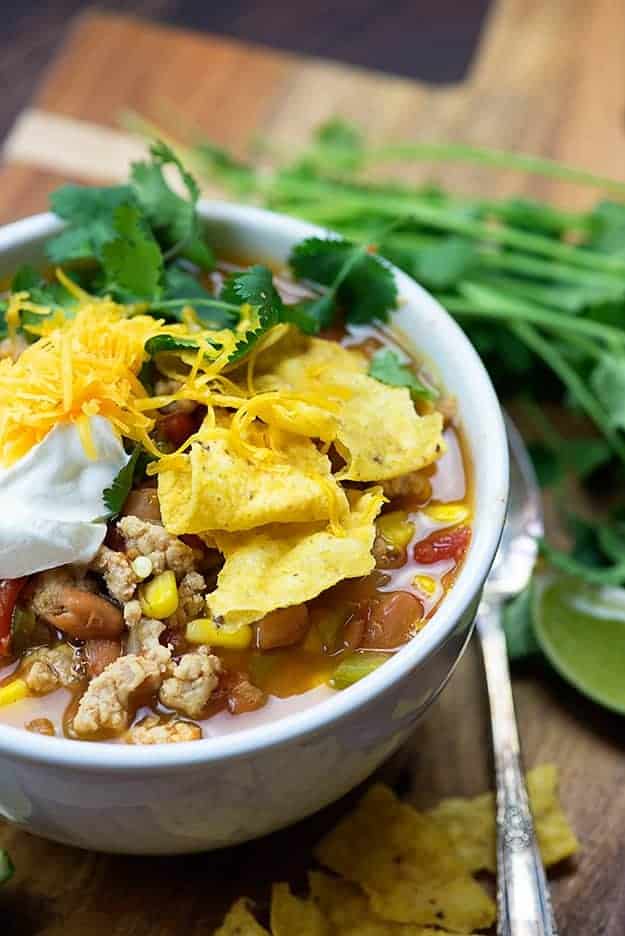 Like, I said, I meal prepped this and then I had it for lunch all week. It was perfect to have a zero point lunch (two points for me, since I added a little bit of corn chips to the top for crunch), because then I didn't have to feel bad about using my favorite coffee creamer in my coffee every morning and I had more than enough points for dinner each night.
And this easy taco soup is ready in no time. I mean, you just brown some lean ground chicken (or turkey!), stir in some chopped veggies, a couple cans of beans, and some frozen corn, and then let things simmer.
Try my turkey meatloaf for another lightened up recipe!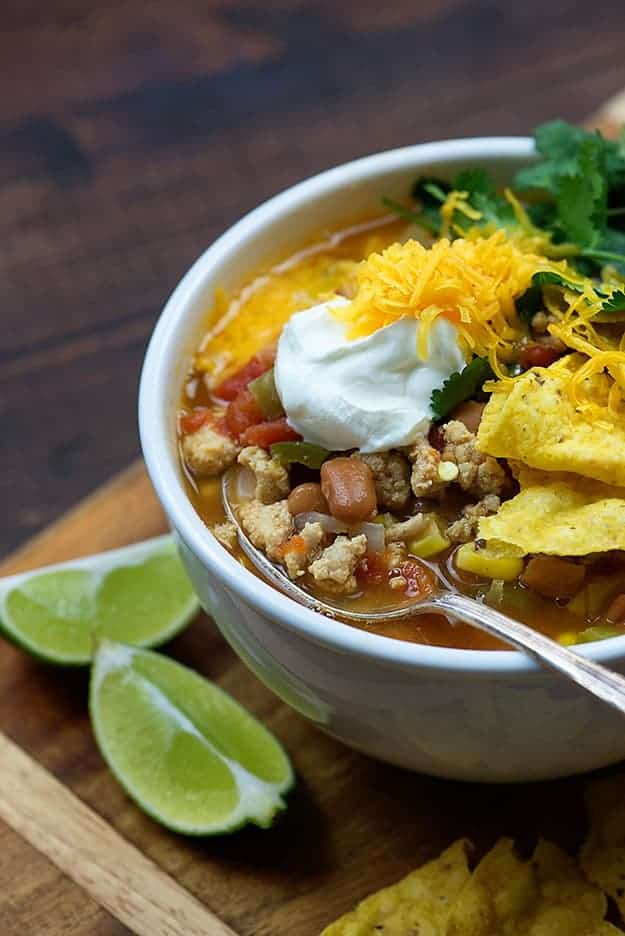 I topped my bowl of soup with some fat free grated cheddar, a dollop of 0% Greek yogurt, a little cilantro, a squeeze of lime, and just a couple of corn chips. The chips add a great crunch, the lime and cilantro brightens the soup up, and the cheese and yogurt make things creamy and decadent tasting.
So, I would LOVE it if you would let me know if you'd like more Weight Watchers recipes sprinkled in – always family friendly and kid-approved, of course. I gotta get all this food past my own kids, so I won't be doing anything too ridiculous. Let me know what you think in the comment section below! 🙂
And, as always, if you make this recipe, please snap a photo and tag me on Instagram at @bunsinmyoven or #bunsinmyoven! I love seeing what you guys are up to!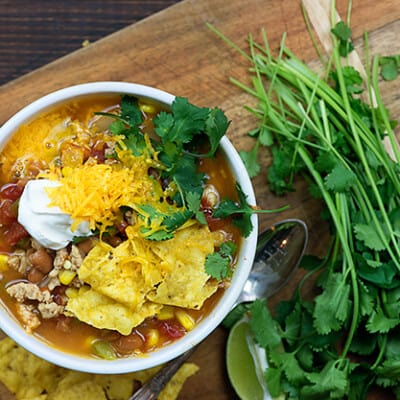 Chicken Taco Soup
This easy taco soup recipe is a light and healthy favorite in our house! It's packed with chicken, veggies, and taco flavors and is ready in about 40 minutes.
Prep10 minutes
Cook30 minutes
Total40 minutes
Ingredients
1 pound 99% lean ground chicken
1 bell pepper
1 sweet onion
32 ounces pinto beans 2 cans
20 ounces diced tomatoes with chiles 2 cans
1 cup frozen corn
1 packet taco seasoning
2 cups chicken broth
Chips, cheese, cilantro, sour cream or Greek yogurt, fresh lime - for topping, as desired
Instructions
Add the chicken to a 5 quart pot over medium heat and brown, crumbling as it cooks.

While the chicken cooks, dice the onions and bell peppers.

When chicken is nearly cooked through, stir in the onions and peppers and continue cooking to soften, about 5 minutes.

Add in the tomatoes, pinto beans, corn, taco seasoning, and broth. Stir well.

Bring to a boil, reduce to a simmer, and cook for 20 minutes.

To serve, ladle soup into bowls and top with corn chips, grated cheese, cilantro, sour cream, and a squirt of fresh lime juice, as desired.
Tips & Notes:
This Chicken Taco Soup is ZERO Weight Watchers Points on their new Freestyle plan, using 99% lean ground chicken but that does not include toppings.
Nutrition Information:
Calories: 406kcal (20%)| Carbohydrates: 58g (19%)| Protein: 29g (58%)| Fat: 7g (11%)| Saturated Fat: 2g (13%)| Cholesterol: 65mg (22%)| Sodium: 820mg (36%)| Potassium: 1482mg (42%)| Fiber: 17g (71%)| Sugar: 7g (8%)| Vitamin A: 1280IU (26%)| Vitamin C: 48.1mg (58%)| Calcium: 119mg (12%)| Iron: 5.7mg (32%)