LEMON CHICKEN ORZO SOUP has such a delicious pop of flavor thanks to the lemon. It's comfort food without being too heavy and makes the perfect soup for serving with some crusty bread or crackers.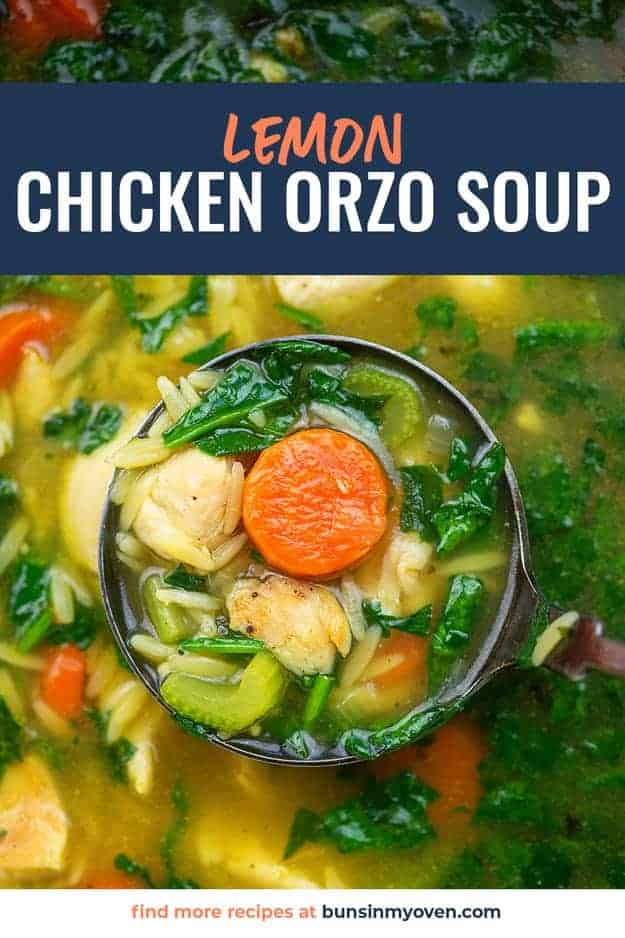 My son is a total soup fiend, which is kind of funny since his dad almost never considers soup an actual meal.
These boys like to keep me on my toes. One requests soup regularly, the other looks at a bowl of soup and asks where the main course is.
I tend to serve up soup for lunch as a compromise. It's meant to be a lighter meal and it keeps both of my guys happy.
This lemon chicken orzo soup is a newer recipe to my family.
I tried the Panera lemon chicken orzo soup once and knew that I was going to have to recreate those flavors at home. My family is so happy I did, because this soup is simply amazing.

The lemon just brightens the soup up in a way that speaks to my soul. You're going to love this recipe.
How to make lemon chicken orzo soup:
I'm starting with a pound of chicken breasts, but you could also use chicken thighs if that's more your speed.
Just chunk the meat up and then cook it in a bit of oil until it's nice and golden.
Set the chicken aside and toss some onions, carrots, celery, and garlic into the pot to soften.
Add the chicken back in, along with some broth and seasonings and bring all that to a boil.
This recipe calls for orzo, which is a pasta that's shaped like rice.
Toss your orzo in and let that cook for about 10 minutes to soften up the pasta.
Add in your spinach to wilt and then squeeze in some fresh lemon juice.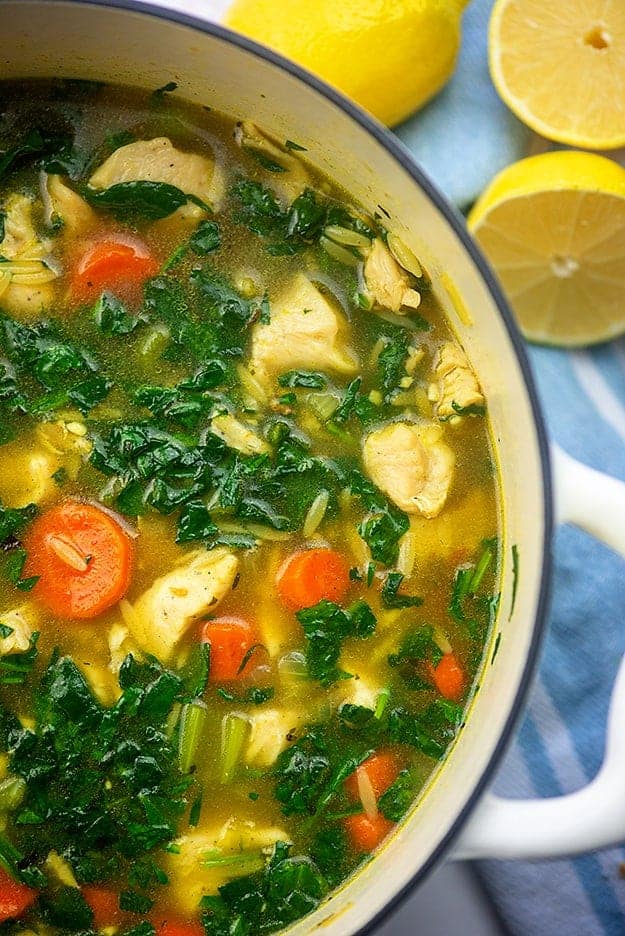 If you've never added lemon to soup before, I think you're going to love it. It brightens it up and adds so much flavor.
I love how quickly this soup comes together with easy ingredients that we often have on hand.
Ingredient swaps:
The chicken breasts can be swapped for already cooked, shredded rotisserie chicken. Just add it in after sauteeing the veggies.
The onions can be left out for picky eaters. I often omit them for my husband.
Any small shape of pasta will work fine here, but we love the orzo.
Storage:
This soup will last in the fridge for 3-4 days or one month in the freezer.
You can also freeze this soup for later. Cool the soup and then ladle into freezer ziptop bags. Squeeze out any excess air, seal, and lay flat to freeze.
Thaw the soup in the fridge overnight.
More soup recipes to try:
My crockpot potato soup is a total favorite in my family. We top it off with bacon, cheddar, and green onions.
Other favorites include homemade tomato soup, Instant Pot bean soup, and cheeseburger soup. This keto soup is packed with taco flavors and my Instant Pot vegetable soup is perfect for those days when you're kitchen is running on E and you haven't made it to the grocery store. 😉
Completely obsessed with these homemade chicken and dumplings!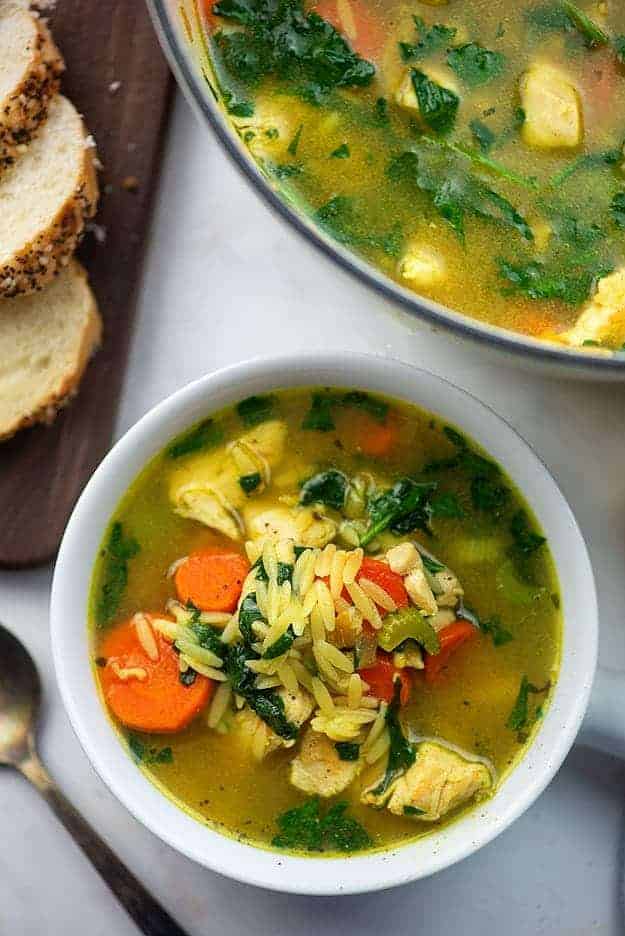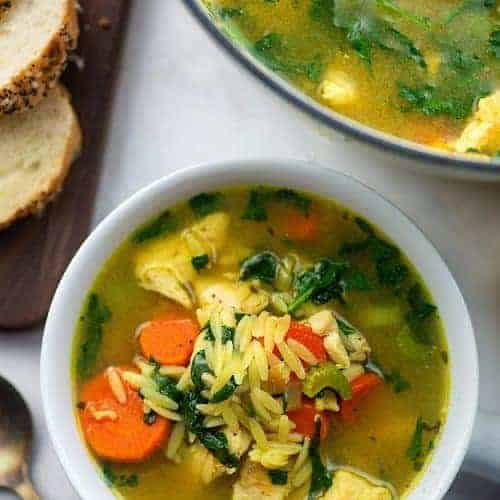 Lemon Chicken Orzo Soup
This soup is so bright and refreshing thanks to the fresh lemon!
Prep10 minutes
Cook25 minutes
Total35 minutes
Ingredients
1 pound boneless, skinless chicken breasts
1 tablespoon olive oil
1 medium onion, diced
3 carrots, diced
3 celery ribs, diced
3 cloves garlic, minced
6 cups chicken stock
1 bay leaf
½ teaspoon oregano
¾ cup uncooked orzo
8 ounces fresh baby spinach
Juice of 1 lemon
Salt and pepper to taste
Instructions
Chop the chicken into bite-sized pieces. Season with salt and pepper.

Heat the oil in a dutch oven or large pot over medium heat. Add the chicken and cook, stirring often, until golden on all sides, about 5 minutes. Remove chicken to a bowl and set aside.

Add the onions, carrots, and celery to the pot and cook over medium heat, stirring often, until softened, about 5 minutes. Stir in the garlic and cook for 30 seconds more.

Add the chicken stock, bay leaf, and oregano to the pot and bring to a boil.

Add the orzo and chicken to the pot and simmer for 10 minutes or until the orzo has softened.

Stir in the spinach and cook until wilted, about 2 minutes.

Remove from the heat and stir in the lemon juice. Season with salt and pepper, as needed.

Serve immediately.
Tips & Notes:
Store in the refrigerator for 3-4 days.
Nutrition Information:
Calories: 441kcal (22%)| Carbohydrates: 44g (15%)| Protein: 39g (78%)| Fat: 12g (18%)| Saturated Fat: 2g (13%)| Cholesterol: 83mg (28%)| Sodium: 726mg (32%)| Potassium: 1372mg (39%)| Fiber: 4g (17%)| Sugar: 10g (11%)| Vitamin A: 12994IU (260%)| Vitamin C: 23mg (28%)| Calcium: 108mg (11%)| Iron: 3mg (17%)