This chicken pot pie soup recipe is a favorite in our house! My kids love the crunchy pie crust crackers that I serve on the side!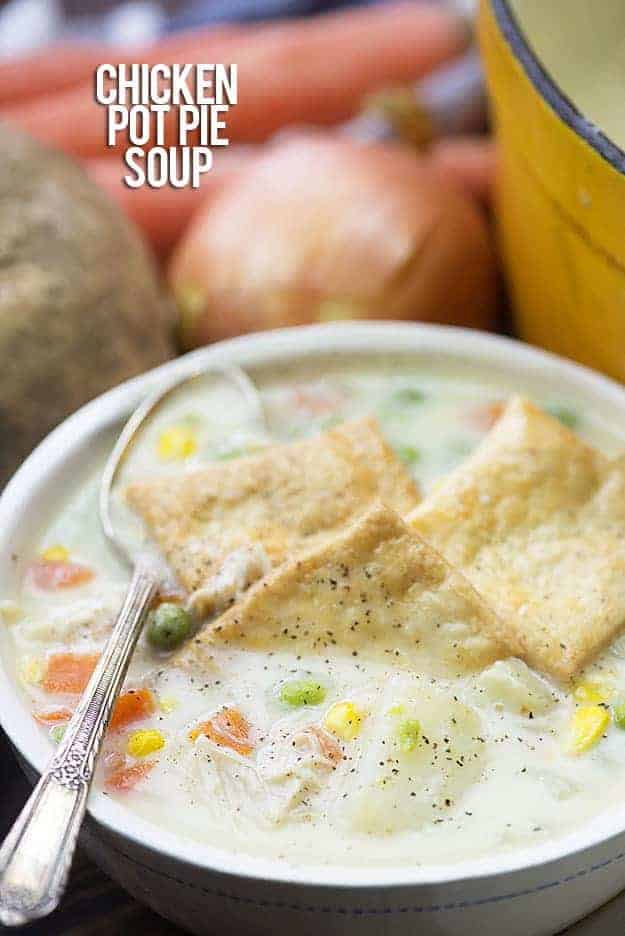 You know, my husband has long been a hater of soup.
I mean, he will eat it. He just won't like it. (Except for my chicken gnocchi soup – he loves that one!!)
He prefers meat and potatoes, on a plate, with a fork, because he's a big manly man.
Or maybe he just really likes to eat with a fork. I don't know.
Either way, this soup was another one that quickly won him over!
This chicken pot pie soup recipe is full of the warm, comforting flavors of my chicken pot pie, but it's served up in a bowl with little pie crust crackers.
The soup is so creamy, loaded with tender chicken, there are plenty of veggies, and the topping is made of pie crust…what's to dislike about that?
Ingredient Notes:
Chicken – We're using leftover rotisserie chicken in this recipe. You can also boil up a whole chicken, shred the meat from the bones, and use the stock in this recipe. It's all about how much time you have and effort you feel like putting into your dinner!
Veggies – We used onion, potatoes, peas, carrots, and corn. You can feel free to sub in whatever vegetables you like. A bag of frozen mixed vegetables works great here.
Liquid – This is a creamy soup, so we're thickening it with flour and butter and then adding in milk and chicken broth or stock.
How to:
Soften the Veggies: Heat a large pot and add some butter. Add in the vegetables and let them cook for about 5 minutes to start softening up.
Simmer the Soup: Add a bit of flour to the vegetables and cook for another minute. This will help thicken the soup and make it more creamy. Stir in the milk and chicken broth and bring the soup to a simmer for about 15 minutes or until the potatoes are tender.
Make the Crackers: What is a pot pie without pie crust?? Roll out store bought or homemade pie dough and brush with an egg wash. Sprinkle with salt and cut into small squares to make crackers. Bake for about 8 minutes while the soup is simmering.
Add the Chicken: After the potatoes are tender, stir the chicken, corn, salt, and pepper into the soup and let it cook for about 5 minutes or until the soup is heated through.
Serve: Ladle your soup into bowls and top with the pie crust crackers to serve!
Helpful Tip!
Pie Crust Crackers
While it may be tempting to just serve this soup with saltines, this soup really is best with the pie crust crackers! Just use store bought pie crust, roll, and cut into small pieces. Bake these up while the soup simmers. It's worth it!
FAQ's:
How do I thicken my chicken pot pie soup?
Want your soup even thicker? Whisk 2 tablespoons of cornstarch into 1/2 cup of water to make a slurry. Pour that into the soup as it simmers and stir well to combine. You'll have an even thicker, creamier soup!
What seasonings should I add to my chicken pot pie soup?
We keep it very simple here and let the chicken and veggies shine, but additional seasonings could include poultry seasoning, thyme, basil, and bay leaves.
How do I store chicken pot pie soup?
Store leftover soup in the refrigerator in an airtight container for up to 5 days. To freeze leftover soup, transfer the soup to a freezer safe zip top bag and remove as much air as possible when sealing the bag. Lay the bag flat in your freezer and freezer for up to 3 months.
More soup recipes to try: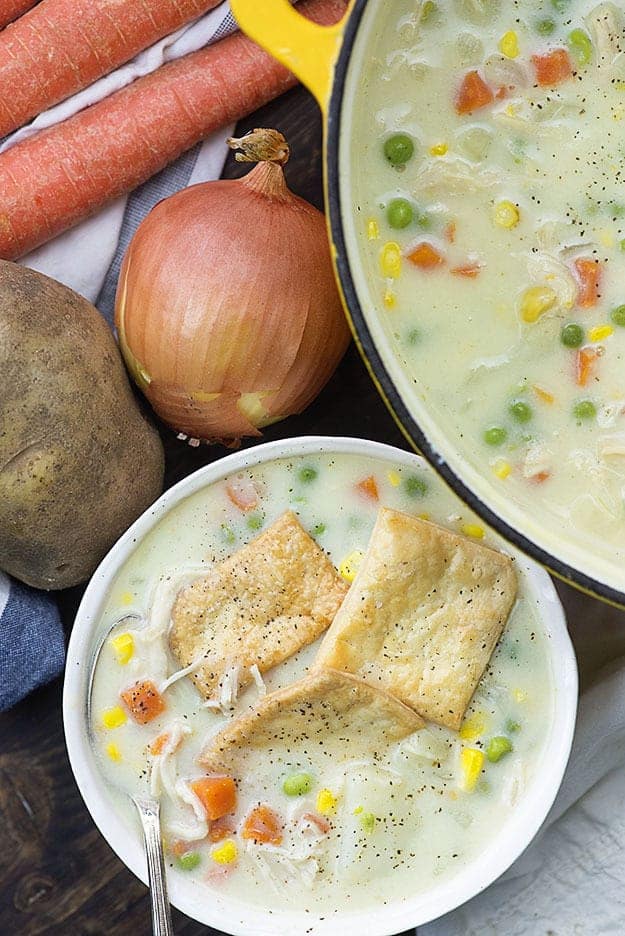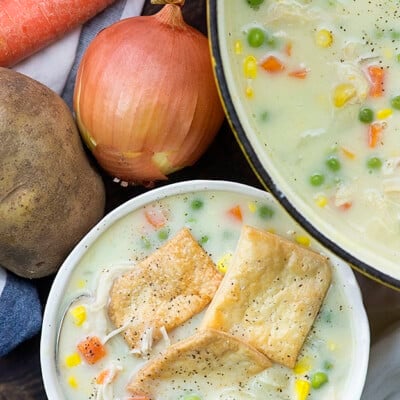 Chicken Pot Pie Soup
This chicken pot pie soup has everything you love in a chicken pot pie! The pie crust crackers are my favorite part!
Prep5 minutes
Cook25 minutes
Total30 minutes
Ingredients
For the soup
2 tablespoons butter
1 sweet onion diced
1 cup diced potatoes
1 cup frozen peas
1 cup frozen carrots
1/2 cup flour
4 cups chicken broth
2 cups milk
2 cups cooked shredded chicken
1 cup frozen corn
1 teaspoon salt
1 teaspoon pepper
For the pie crust crackers
1 store bought pie crust
1 large egg
1 tablespoon water
1/2 teaspoon coarse salt
Instructions
Add the butter to a dutch oven over medium heat and melt.

Add the onions, potatoes, peas, and carrots to the butter and stir well. Cook over medium heat, stirring occasionally, for 5 minutes.

Add the flour to the vegetables and stir to combine.

Whisk in the chicken broth and milk. Bring to a boil, reduce to a simmer, and cook for 15 minutes or until potatoes are tender.

While soup is simmering, preheat oven to 400 degrees.

Roll out the pie crust. Whisk together the egg and water and brush over the pie crust.

Sprinkle with salt and cut into small squares for crackers.

Bake on a large baking sheet for 8-10 minutes or until golden brown.

When potatoes are tender, add the chicken, corn, salt, and pepper to the soup and continue cooking until warmed through.

Serve soup with pie crust crackers on top.
Tips & Notes:
The pie crust crackers really help drive home the pot pie vibe of this soup. Highly recommend! If you like your soup extra thick and creamy, make a slurry of 2 tablespoons cornstarch and 1/2 cup cold water. Whisk to combine and stir into the simmering soup to thicken it up even more.
Nutrition Information:
Calories: 433kcal (22%)| Carbohydrates: 47g (16%)| Protein: 21g (42%)| Fat: 18g (28%)| Saturated Fat: 7g (44%)| Cholesterol: 85mg (28%)| Sodium: 1507mg (66%)| Potassium: 809mg (23%)| Fiber: 5g (21%)| Sugar: 9g (10%)| Vitamin A: 4060IU (81%)| Vitamin C: 30.5mg (37%)| Calcium: 152mg (15%)| Iron: 3.8mg (21%)