This chicken gnocchi soup is perfect for a quick weeknight dinner! If you love the Olive Garden chicken gnocchi soup, you have to try this!
The other day, on Facebook, I took a poll asking what recipe you'd like to see posted today.
It was between Tuscan roasted vegetables and this chicken gnocchi soup.
Y'all overwhelmingly voted for this soup recipe!
I mean, I choose soup over veggies most day too. I feel you.
And, besides, it's worked out great because my kids have been so obsessed with Olive Garden lately and this recipe is a riff on the Olive Garden chicken gnocchi soup recipe!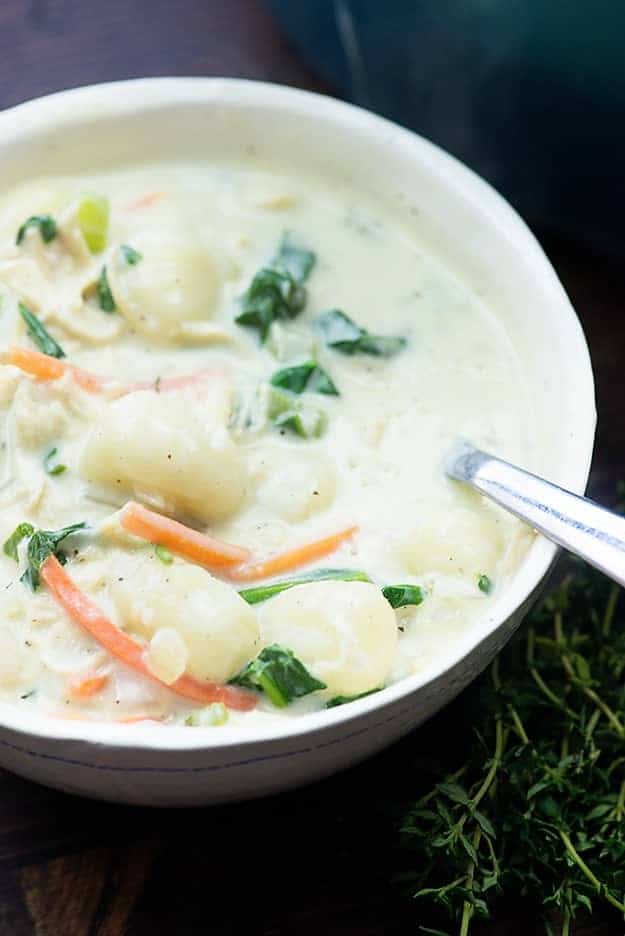 This soup cures your Olive Garden chicken gnocchi soup cravings!
Unfortunately for them, the nearest one is almost 30 minutes away, so that means we don't eat there too terribly often.
I have to really be craving a breadstick to make that drive. 😉
And when they go, they almost always order spaghetti.
Spaghetti.
Plain Jane boring spaghetti.
Don't they know that I make this baked spaghetti at home that's loaded with cream cheese, sour cream, and cottage cheese that is world's better than any restaurant spaghetti?!
Kids, man.
The other thing they always order is this chicken and gnocchi soup.
I always have the hardest time choosing between soup and salad at Olive Garden. I mean, both are so fantastic.
How's a girl to choose?
So, now I get the salad and just make this Olive Garden chicken gnocchi soup at home! It's so easy!
To make this soup, you'll want some cooked, shredded or diced chicken. I use this crockpot shredded chicken. I always have some on hand in my freezer.
You'll cook your veggies in a bit of olive oil, add in some flour, and then pour in some chicken broth, cream, and milk.
You want your soup to be nice and creamy! That's a big part of what makes it so filling and satisfying.
This chicken gnocchi soup recipe calls for packaged gnocchi. You can find it in the pasta section at your grocery store.
Yes, I imagine homemade gnocchi could be substituted here, but I've never done it myself. I need to get on that, though!
For now, the packaged gnocchi is just fine. It's tender and soft and chewy and just so good!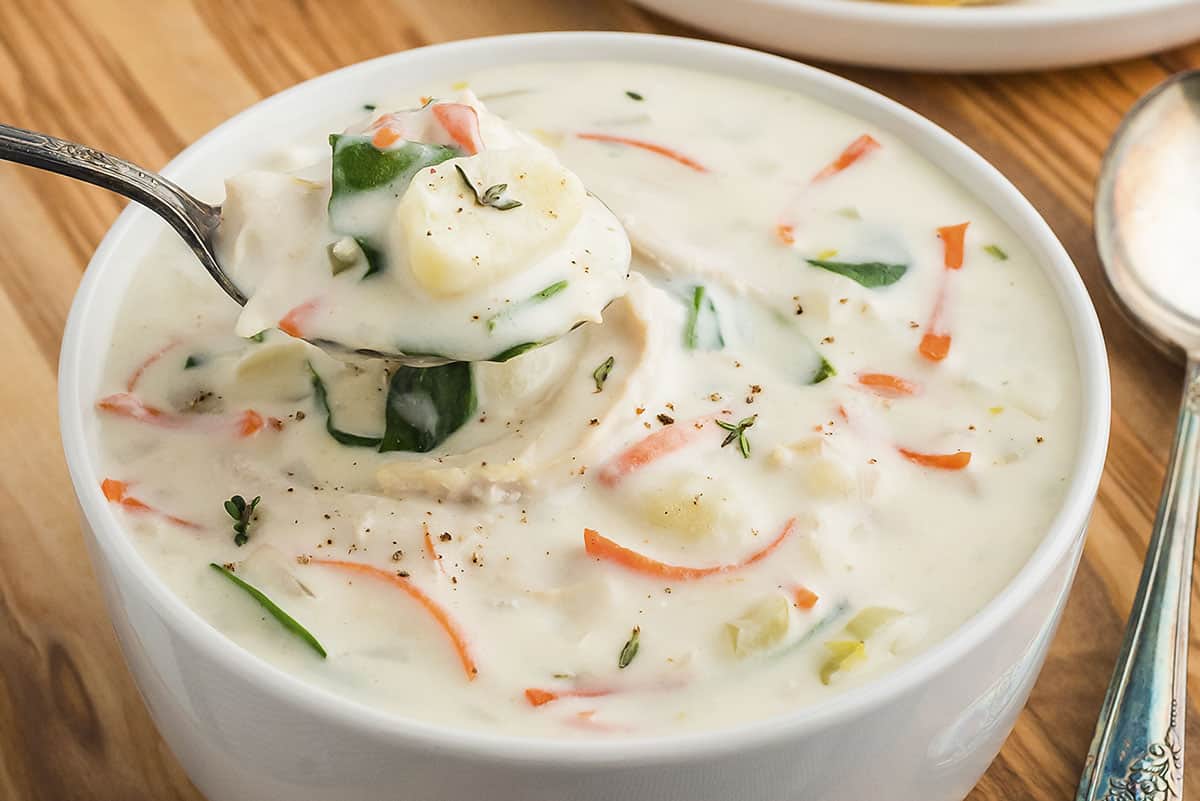 Now that you can buy Olive Garden's salad dressing (affiliate link) by the bottle, I usually serve this soup with a side salad. Lots of fresh tomatoes, olives, red onions, and crunchy lettuce.
This also goes great with my creamy onion garlic bread. It's literally the best garlic bread in the world, in my humble opinion. 😉
If you make this chicken gnocchi soup recipe, I hope you'll let me know what you think! I'm always anxious to hear how you guys like my recipes.
And, if you haven't heard, I've just created a Facebook group for foodie friends! Please come join us and share recipes while making new friends!
Chicken Gnocchi Soup
This chicken gnocchi soup recipe is ready in less than 30 minutes! It's full of juicy chicken and tender gnocchi in a creamy broth.
Prep5 minutes
Cook20 minutes
Total25 minutes
Ingredients
1 tablespoon olive oil
1 cup onion diced
1/2 cup celery diced
2 cloves garlic minced
1/4 cup all-purpose flour
2 cups chicken broth
1 cups heavy cream
1 cup milk
1 1/2 cups cooked shredded chicken
1 1/2 cup fresh spinach leaves chopped
16 ounce package potato gnocchi
1 cup shredded carrots
1 tablespoon fresh thyme
1 teaspoon salt
1 teaspoon pepper
Instructions
Heat the olive oil in a large pot over medium heat.

Add the onions and celery and cook, stirring constantly, for 2 minutes.

Add the garlic and cook for 30 seconds.

Sprinkle the flour over the vegetables and whisk for 1 minute.

Whisk in the chicken broth, cream, and milk. Bring to a simmer, whisking constantly, until soup has thickened slightly, about 5 minutes.

Add the chicken, spinach, gnocchi, carrots, thyme, salt, and pepper and stir.

Continue simmering for 10 minutes or until gnocchi and carrots are tender and cooked through.

Serve immediately.
Nutrition Information:
Calories: 405kcal (20%)| Carbohydrates: 40g (13%)| Protein: 14g (28%)| Fat: 21g (32%)| Saturated Fat: 11g (69%)| Cholesterol: 85mg (28%)| Sodium: 1090mg (47%)| Potassium: 405mg (12%)| Fiber: 3g (13%)| Sugar: 4g (4%)| Vitamin A: 5020IU (100%)| Vitamin C: 13.5mg (16%)| Calcium: 126mg (13%)| Iron: 3.8mg (21%)