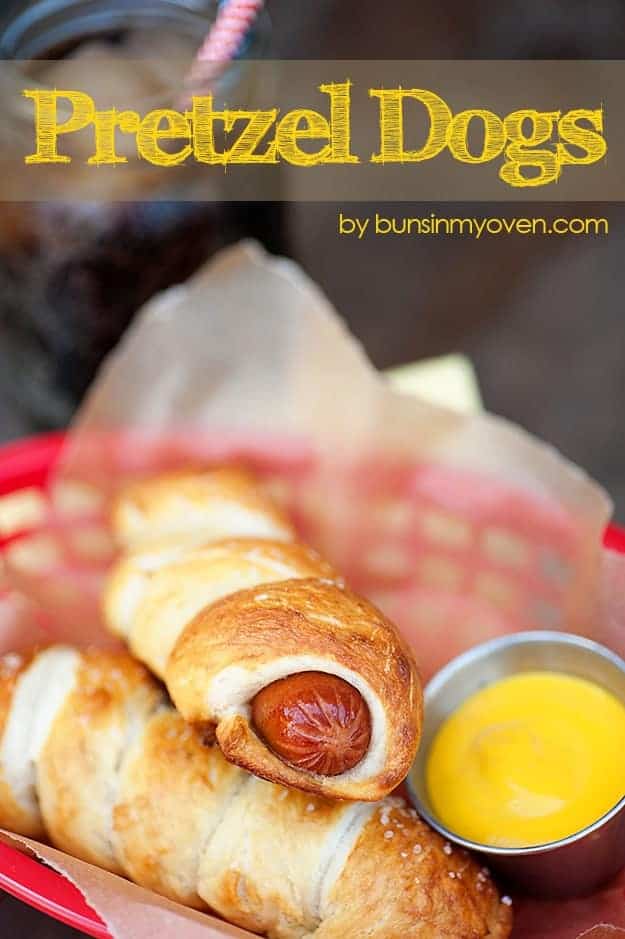 I made lunch. Then I ate it.
That's about the end of that story.
Except for, you know, the part where I cried tears of joy because these pretzel dogs were ridiculous in all the right ways. They even made it to the Buns In My Oven Favorites Category! While I love all of the recipes that I share with you, the Favorite Recipes section is where you'll find the best of the best, those recipes that I make for my family as often as I can get away with!
I mean, plain hot dogs aren't really my thang. I'll eat them, of course, but I have to do it very fast and without thinking about it. Kinda like when I see my daughter take a swig from my water bottle and half of the water from her mouth goes right back in the bottle? I basically have to give myself amnesia to drink from the bottle again.
Anyway, hot dogs are delicious if you don't over-think them and if you make them into something a little more fabulous than just a boring ol' dawg.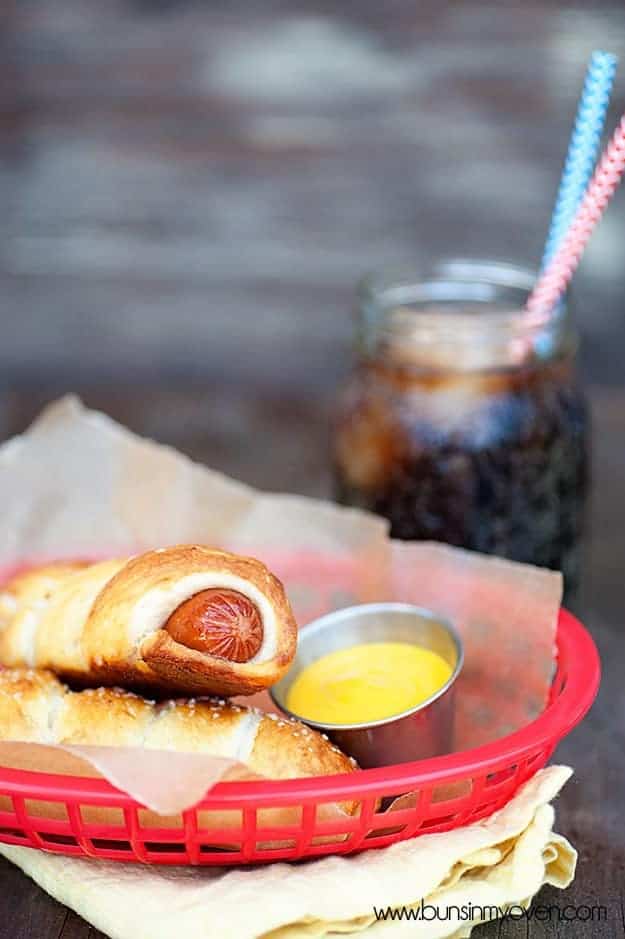 So, I whipped up some pretzel dough and wrapped it around a hot dog, just like the ones you find in the mall at Auntie Anne's. Then I ated them all gone, oopsies, sorry about that kids! No lunch for you!
These are definitely a leeeeetle more involved than the traditional hot dog cooked in the microwave and popped on a store bought bun. Worth every bit of extra effort, though. This recipe is lightly adapted from Alton Brown's soft pretzels. I halved his recipe to make 8 pretzel dogs, but you can totally make the full batch and enjoy some soft, buttery pretzels with your pretzel dogs! You can freeze these, too. Instructions for freezing are in the recipe below.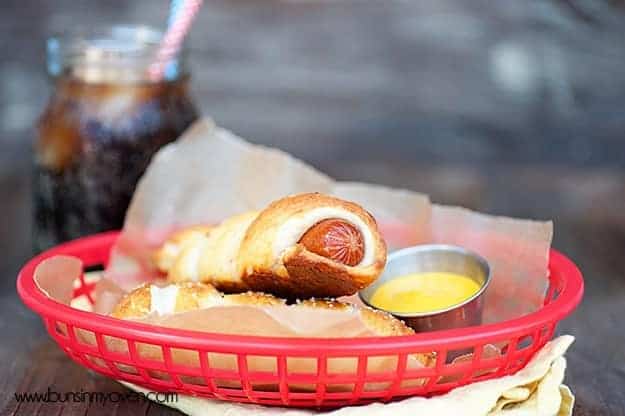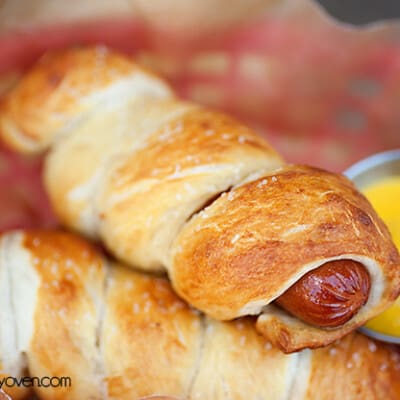 Pretzel Dogs
Hot dogs are delicious if you don't over-think them and if you make them into something a little more fabulous than just a boring ol' dawg.
Prep20 minutes
Cook20 minutes
Total1 hour 40 minutes
Ingredients
3/4 cup warm water 110 to 115 degrees F
2 teaspoons sugar
1 teaspoon kosher salt
1 1/2 teaspoons active dry yeast
2 1/4 cups flour
1 tablespoon butter melted
Vegetable oil for pan
10 cups water
2/3 cup baking soda
1 large egg yolk beaten with 1 tablespoon water
Pretzel salt
8 hot dogs
Instructions
Combine the water, sugar and kosher salt in the bowl of a stand mixer and sprinkle the yeast on top. Let set for 5 minutes or until the mixture begins to foam.

Add the flour and butter and mix on low speed using the dough hook until well combined. Increase to medium speed and knead until the dough is smooth and pulls away from the side of the bowl, about 4 to 5 minutes.

Remove the dough from the bowl and place in a clean, oiled bowl. Cover with plastic wrap and sit in a warm place for approximately 50 minutes or until the dough has doubled in size.

Preheat the oven to 450 degrees. Line a large cookie sheet with parchment paper and brush with the vegetable oil.

Bring the 10 cups of water and the baking soda to a rolling boil in a large, deep pan.

In the meantime, separate the dough into 8 equal pieces. Use your hands to roll and stretch the pieces of dough into ropes, about 12 inches long.

Wrap one piece of dough around each hot dog, leaving just a bit of the dog peeking out at the ends. Press the ends of the dough together to hold in place.

Place the pretzels, one at a time, into the boiling water for 30 seconds.

Remove them from the water using a slotted spoon. Return to the prepared cookie sheet, brush the top of each pretzel with the beaten egg yolk and water mixture and sprinkle with the pretzel salt.

Bake until dark golden brown in color, approximately 12 to 14 minutes. Transfer to a cooling rack for at least 5 minutes before serving.
Tips & Notes:
If you're freezing the pretzels, do not brush the tops with the egg wash or add the pretzel salt. Bake them until just lightly browned and cool completely. Place them into the freezer on the cookie sheet for 1 hour to harden. Remove from the cookie sheet and place in a freezer safe bag and freeze until ready to use. To prepare, brush the frozen pretzels with egg wash and sprinkle with salt. Bake at 350 degrees for about 15 minutes or until warmed through and golden brown.
Nutrition Information:
Calories: 269kcal (13%)| Carbohydrates: 37g (12%)| Protein: 9g (18%)| Fat: 9g (14%)| Saturated Fat: 3g (19%)| Cholesterol: 47mg (16%)| Sodium: 3366mg (146%)| Potassium: 124mg (4%)| Fiber: 1g (4%)| Sugar: 1g (1%)| Vitamin A: 75IU (2%)| Calcium: 28mg (3%)| Iron: 2.8mg (16%)
Looking for more hot dog recipes?
Cajun Andouille Hot Dog from Country Cleaver
Fried Green Tomato and Pimento Cheese Hot Dogs from Buns In My Oven
Green Chile Mole Hot Dogs from A Spicy Perspective
Mac and Cheese Dogs from Taste and Tell
Corn Dog Bites from Buns In My Oven